Next to a park, beautifully furnished, carpeted throughout, large, light-filled bedroom with queen bed, smaller bedroom with single bed, an easy walk to downtown RWC and Caltrain. Quiet, tree-lined neighborhood. Single air mattress for 4th person.
We are steps away from a basketball court, tennis courts, and a play structure. Lots of storage. Cottage is surrounded by trees, providing privacy from neighboring houses. Cozy and inviting. Kitchen amenities include stove, microwave, toaster oven, refrigerator/freezer and garbage disposal as well as dishes, utensils and some basic cookware. Bath towels and some incidentals are included. Additionally, this quiet, private space is equipped with a full bath, 40" HD TV with cable, secure WiFi, and 2 large closets.
12 minutes to Stanford University, 25 minutes to San Francisco. While just a few minutes walk from the heart of downtown RWC, with its magnificent multi-plex movie theatre and many charming restaurants, as well as an award-winning library, several live performance venues, and many interesting shops, not to mention all the free summer concerts and movies, our neighborhood is residential and quiet, and the park next door is a charming, tree-filled bonus.
Mina föräldrar bodde hos Kate i samband med examinering av min bror från Stanford. Kate var en mycket omtänksam och välkomnande värd. Stället var mysigt och mina föräldrar var mycket nöjda. De skulle gärna bo där igen.
Sandra
2016-06-14T00:00:00Z
Kate's place was definitely a great fit for us. It's a cute little cottage with lots of charm and character. I enjoyed that she had the place ready for us when we arrived even though we booked that same day. Fresh flowers, complimentary breakfast items and toiletries made us feel welcome right away. This home is located right across the street from a small park; definitely a plus for anyone with kids. It's close to many restaurants and the drive to SF isn't a long one. Had a great time at this place!
Angie
2016-09-26T00:00:00Z
Very welcoming. Good description. Nice park across the street and easy access location. Cute and cozy place.
Holly
2015-07-01T00:00:00Z
Kate made us feel right at home, contacting us about food preferences and stocking the fridge before we arrived. She checked with us during our visit to be sure we had what we needed, and provided clear guidance on the cottage. The property itself may lack "curb appeal," but the cottage is comfortable and quirky, which we enjoyed. It accommodated three of us as well as visitors for a casual dinner.
Cedric
2015-12-07T00:00:00Z
Kate welcomed us even before we arrived by inquiring about what kind of food we'd like for breakfast. She met me when I checked in and made sure I felt comfortable with our accommodations. She had placed fresh flowers in vases in each room; a most welcoming touch! The cottage was thoughtfully decorated and immaculate. We were particularly pleased with her focus on energy saving and environmentally conscious practices. We had several delightful conversations with her and she seemed genuinely interested in getting to know us. Kate is the ultimate host and I will not only return whenever possible, I would go out of my way to do so.
Susan
2015-09-27T00:00:00Z
Kate is very nice.The house is over equipped with everything you want. Warm and comfortable.We feel like home and really love it.Very thankful!
jun
2016-02-04T00:00:00Z
Kate was prompt in her responses, accommodating with our requests and schedule and gracious with her help and pointers. The cottage was very neat, quiet, comfortable and entirely like the pictures. The cottage rules you'll see on check-in are comprehensive and cover everything we could think of and many others that hadn't occurred to us.
hetu
2015-08-08T00:00:00Z
Kate was a fantastic host. The cottage was lovely, clean and stocked with the basics one will need (eg coffee, milk, etc). Very comfortable bed. Loved it!!! You will too!!
Ted
2015-07-05T00:00:00Z
Typ av rum
Eget hus/egen lgh
---
Typ av boende
Hus
---
Plats för
3
---
Sovrum
Redwood City, Kalifornien, USA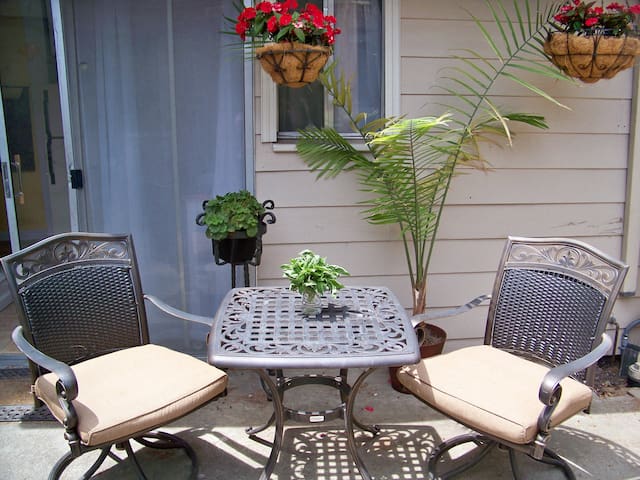 This apartment is great for people on a business trip. It super close to the intersection of Woodside Road and El Camino Real. 10 minutes from Stanford and Palo Alto downtown, and only 5 minutes from Redwood City Downtown and Caltrain.
This apartment is unique in that here you'll get the necessary privacy, and tranquility. The space is optimized for being able to focus in your work, but being comfortable as well. I offer an entire 1 Bedroom unit with backyard, TV, a working station with WI-FI, washer and dryer, and fully equipped kitchen.
Family neighborhood with lots of food choices nearby (Target 5 minutes walking from the house). I recommend trying out the Mexican food in the area, as it is one of the best in the US; or any of the options in downtown Redwood City, Menlo Park, Palo Alto, San Mateo, Mountain View (such as Michelin guide restaurants). The transportation to the house is extremely easy. Only 5 minutes away from the US-101 and the US-280, which are the main highways in the entire Bay Area. Very close to Stanford.
Mateo was incredibly helpful! We had a great stat at Mateo's place. Full home appliance along with convenient location. The pictures shown are accurate and the place was very clean, quiet & comfortable. highly recommend staying here!
Alpha
2017-04-08T00:00:00Z
Brand new remodel and well decorated. Great communications with the host and very accommodating. I would definitely stay here again if in the area.
Caitlin J.
2017-04-11T00:00:00Z
I had a wonderful time at Mateo's place in Redwood City. It was extremely clean, spacious and close to wonderful restaurants and other amenities. Mateo is a fantastic host--flexible and responsive
Oscar
2017-04-12T00:00:00Z
Awesome value! The check-in was very easy and pleasant. The communication by the host was extremely quick responses, clear, and pleasant. The place was a real treat being newly remodeled and a lot of attention to detail (thanks for the motion detector in the bathroom!). After living in the area previously, I think this might be the only house in RWC that you don't hear, let alone feel, the train. A great retreat while traveling for work and cheaper than all of the hotels in the area. Will definitely return here again.
Jon
2017-04-06T00:00:00Z
Typ av rum
Eget hus/egen lgh
---
Typ av boende
Hus
---
Plats för
3
---
Sovrum
Redwood City, Kalifornien, USA

Cozy studio with private entrance behind home in redwood city right off 101 and Marsh Rd. Studio has a full size bed that sleeps 2, full bathroom with shower, kitchenette, fridge, mini stove and cozy couch! Room is detached conveniently from the home
House Address: 3711 Hoover St. Redwood City
Maria's studio is compact but comfy (including the mattress). She definitely makes efficient use of space. It was spotless and perfect for my brief business trip. Aspiring chefs--note that there is only a light kitchenette. Finding the entrance can be a challenge. Nearly every other house on the block also has the white picket fence she instructed me to go through. I couldn't find the exact address number from the street, so be sure to ask exactly which home it is BEHIND. Given that it is a residential neighborhood with families, you don't want to stalk around in the dark searching for the door.
Jessica
2016-02-23T00:00:00Z
I had a very good 4-day stay with Maria. The room is separated from the main house and has it's own entrance, so it has high-privacy. During my 4 day stay there, I don't think I've ever seen anyone else there. Although it's separated from the main house, it has a mini-kitchen with sink, stove, refrigerator, and microwave, though I didn't use the kitchen at all. The neighborhood is quiet and great for relaxing. Parking is on the street so if you come home late, you may have to park further. Two things that travelers should be aware: 1. The shower is kind of small. (Think of showers on cruise ships if you've been to one.) If you are a bigger person, taking a shower could be a hassle. 2. There wasn't a hair dryer available even though it was listed on airbnb. It wasn't really a big issue for me as I am a guy with short hair, but if you are relying on certain items being provided, definitely check with the host to make sure she has them. All in all, this place is great for the attractive price and I'd recommend it.
Jack
2016-06-10T00:00:00Z
Maria's place was just what I needed. I was traveling for work so it was close to all the places I needed to be. It was very clean and well organized. It was also tucked away so I felt safe!
Raquel
2016-09-21T00:00:00Z
Can't say enough about Maria's place. Clean, comfortable, and cozy! So grateful that she was flexible with my arrival and departure time. It made a huge difference in my stay. Maria was quick to reply to my request and easy to communicate with. Upon arrival, she met me in the front garden of her place. Clean, immaculate and well kept. She walked me to the back where the studio was and showed me in. The pictures of the unit are accurate. The one thing I will add to the review that hasn't been noted is that Maria really takes note of what has been said in previous reviews and makes adjustments to suit the needs of travelers. For example, one previous guest noted that there was no hair dryer. I saw one clearly on a stand near the sink. BAM! Overall I enjoyed my short stay at Maria's and will definitely plan ahead should a stay be required in her area.
Ron
2017-03-26T00:00:00Z
Quiet, residential area. Bathroom bedroom and kitchenette. I always enjoy my stay. You may have to walk a block to get room if you park in the evening. Enjoy.
Linda Marie
2017-02-26T00:00:00Z
Very clean, and comfy room, perfectly fits one person, I spend few days while working in Redwood city. It was private and convenient. Parking was a bit hard to find. Staying there again in few weeks .
Ayala
2016-03-10T00:00:00Z
I had a hard time finding parking. If you come in past 10pm you will find it hard to find parking. The number of the house is not visible from the street level, you have to go to the back of the main house to find the studio. So it's extremely confusing. It's a clean studio with a small kitchen in the there.
Gadi
2016-03-11T00:00:00Z
Nice, clean and easy. It was perfect.
rick
2016-02-08T00:00:00Z
Typ av rum
Eget rum
---
Typ av boende
Hus
---
Plats för
1
---
Sovrum
Redwood City, Kalifornien, USA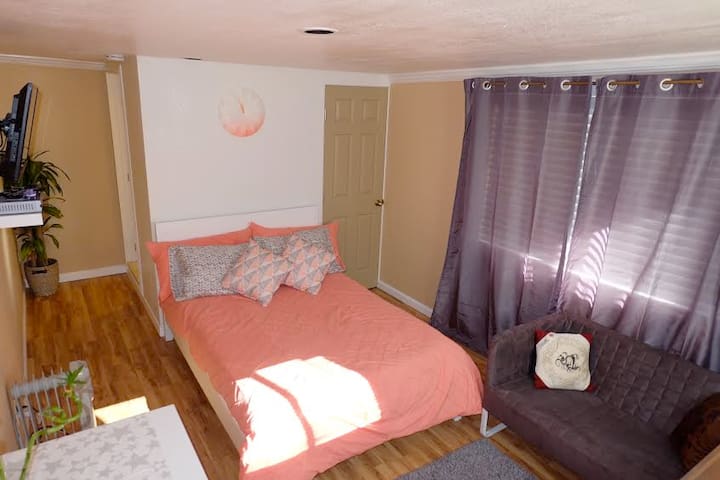 My house is close to Stanford University, Silicon Valley, San Francisco Bay, and local recreation opportunities. Brand new bed, wifi, chef's kitchen, quiet suburb, delightful patio and yard with fountain. Feel free to use common areas, indoors and out. You may share the bathroom if I have a housemate. This place is good for couples, solo adventurers, and business travelers. If you have an older child, we can discuss putting them on the living room futon (or a camping mat on the floor).
Bernadette is the best! She is incredibly welcoming, explained everything clearly and goes above and beyond to make you feel at home. The house is beautiful, the mattress is like sleeping on pillows and the shower was the cherry on the cake!! We thoroughly enjoyed Bernadette's company and conversation and the house is close to everything so with a car Bay area is just a day trip away. The neighborhood was nice and quiet and perfect for coming back after a long day out and about. We will definitely be back! Thanks Bernadette!!!
Kate
2016-12-23T00:00:00Z
从斯坦福开车10分钟,在一个宁静的小镇里,路边就可以停车。房间干净整齐,床很舒服,后院很美。我们到的比较晚,Bernadette留了钥匙给我们,一切都很顺利。非常推荐。
安
2017-01-29T00:00:00Z
One word: Amazing! Bernadette's home is a visual treasure. So relaxing and she was so kind. Super comfortable bed! I would stay here again in a heartbeat.
Howard
2017-01-22T00:00:00Z
Bernadette was an excellent host. We would occasionally eat dinner together (sometimes I cooked; sometime she cooked). We even went out to visit a local winery together! Bernadette has a very nice home; the walls are decorated with cool and interesting paintings. The home has heated flooring. The backyard is really nice. I had a bicycle and she provided me with a bike stand, and a garage door opener to allow me to take my bicycle in and out of the garage with ease. A coffee machine, coffee grinder, and real coffee beans was provided. She also provided some oatmeal/snacks/cereal/tea for breakfast. Bernadette gave me plenty of privacy, but also was willing to engage in some interesting conversations during the evening. ***Post Accuracy*** The description of the place is accurate. The place is as pictured. It is good sized and I had plenty of room to work and relax. As stated in the posting, the location does not have good public transportation; you will need a car or have to Uber to get places. ***Amenities*** Nice desk in room. Washer and dryer are top of the line. Full kitchen access was provided. The amenities included a rice cooker, microwave, convection/toaster oven, and gas stove. The main oven in the kitchen is broken, but the convection/toaster oven was more than adequate. She assigned me a couple of shelves and a veggie drawer to use in the refrigerator (unfortunately no room was available in the freezer), and a shelf in the garage for my dry goods. I was able to whip up some pretty fancy home made meals. Nice big screen TV with stereo "surround-sound" in the living room. The only issue I had during the stay was that the WiFi was spotty. ***Cleanliness*** Bernadette is very meticulous and keeps the house very clean. ***Location*** House is in a very safe neighborhood. Off-street parking was provided. ***Value*** This is an excellent value for the location. It is difficult to find a place in Redwood City at this price and location. Overall, I would definitely be willing to book this place again and highly recommend this place to all AirBNBers.
Allen
2017-03-08T00:00:00Z
Nice and clean place in a safe location. Will stay again if time permits.
Sagar
2017-01-14T00:00:00Z
Bernadette was a wonderful host. We felt very at home in her house and enjoyed chatting with her. The room was very comfortable and everything was easy and pleasant. Beautiful backyard with a nice place to sit and enjoy the outside. Quite neighborhood.
Kashka
2017-02-05T00:00:00Z
Bernadette was very accomodating as a host. I was provided with everything that I could ask for from a bnb. The room and house are also very clean and comfortable. I was very happy with the find
Mike
2017-01-17T00:00:00Z
Although we never met during my short stay, Bernadette arranged for an easy check in and easy stay. Thanks!
Frank
2017-02-03T00:00:00Z
Typ av rum
Eget rum
---
Typ av boende
Hus
---
Plats för
2
---
Sovrum
Redwood City, Kalifornien, USA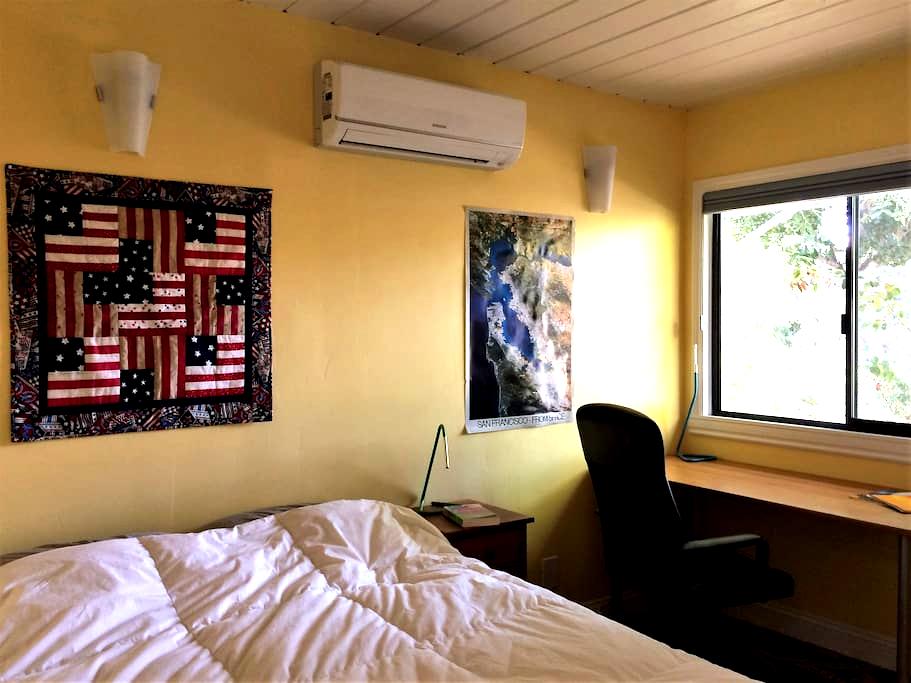 - Beautiful 1-year old Town-House in Redwood City - 3 Bedrooms with 3 Bathrooms - Central & peaceful neighborhood - Parking Available - High-Speed Internet & HD Cable - Located right off Hwy (PHONE NUMBER HIDDEN) mins from San Fran and 25 min from San Jose
I love that the neighborhood I s super clean and peaceful but yet incredibly close to the main California highway of 101. Just an earshot a away from downtown Redwood City as well and 30-40 mins from San Francisco and even less time to San Jose!
AMAZING PLACE! Chuka's home is beautifully kept; very modern and clean. Room comfortably fits 4 adults. Located in a quiet neighborhood, which was great! Communication was excellent and he promptly answered all of our questions. We booked very last minute and did not meet Chuka personally but I would highly recommend his place. Wish we could have stayed for more than 1 night.
Monica & Diego
2016-11-12T00:00:00Z
Clean and confortable room with bathroom. 30mins. from San Francisco, right next highway. Very Friendly roomate, who has a lot tips of SF. I felt like at my home. Even that i didn't meet Chuka, it was great! Once again, thank you!
Petr
2016-09-15T00:00:00Z
Chuka's place was exactly what we were looking for during our extended weekend stay. Check-in and check-out process was really simple and even though Chuka was traveling he was always available to assist with questions over text. All in all a very comfortable stay and recommended for anyone looking for a place to stay in the bay area.
Mohammed
2015-10-27T00:00:00Z
Very Nice and comfortable housing. Chuka is a great host accommodating and really suympathic ! Booking with eyes closed.
Kevin
2016-07-18T00:00:00Z
Great host and great place! Immediately accepted the reservation, fast and easy check-in, onsite parking. Chuka was very welcoming, invited us to dinner, provided with all we needed and really made us feel at home! Definitely recommended!!!
Lina
2016-04-18T00:00:00Z
Very comfortable and enjoyable stay. Beautiful house and nice neighborhood.
Dani
2015-12-19T00:00:00Z
The place was accurate to the details listed. Chuka was easy to work with. Great location with nearby walking trail. Nice large master bedroom with your own private bathroom.
Jake
2016-01-05T00:00:00Z
Chuka's place was amazing! It was super clean, comfy, and we basically had the whole place to ourselves. Thanks Chuka!
Guianeya (Yeni)
2016-08-19T00:00:00Z
Typ av rum
Eget rum
---
Typ av boende
Hus
---
Plats för
3
---
Sovrum
Redwood City, Kalifornien, USA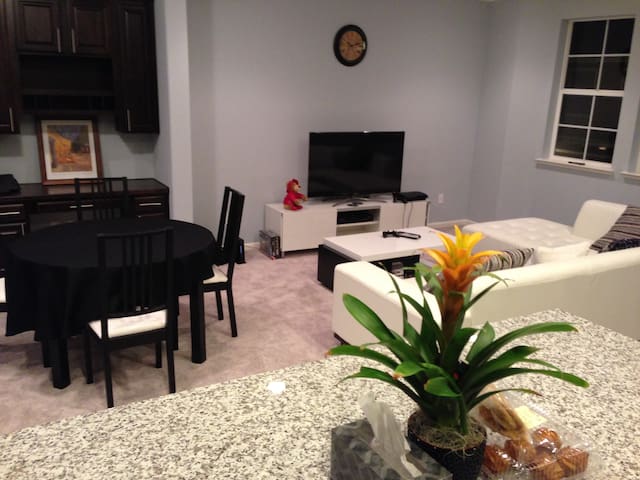 Less than 5 miles from Stanford, this peaceful home with off street parking, welcomes you. Located in the heart of Silicon Valley, the private bedroom has sliding glass doors that open to patio and garden. Within walking distance to shopping, restaurants, coffee, and, a short drive to beautiful downtown Redwood City.
Great neighborhood for walking or bike riding. Within walking distance to shopping, (Target, Safeway) restaurants (2 Thai restaurants, as well as fast food places) and coffee (Starbucks), on Woodside Rd. and El Camino Real.
Ellyn was very friendly and the location was great.
Jaehoon
2017-03-04T00:00:00Z
Ellyn is a wonderful host. The place was very much as described. Ellyn greeted me warmly with hot Apple cider even though I arrived late and in the morning she had coffee and cookies for me. The house is centrally located and as described close to Palo Alto and with access to both 280 and 101 freeways. I did not get a chance to enjoy the backyard as it was raining Ellyn has a very nice vegetable and herb garden. I will likely stay with Ellyn again next time I'm in the area.
Nick
2017-01-18T00:00:00Z
Ellyn was a great host, nice and friendly. The place was great and in a convenient location. I felt comfortable there and would be happy to stay there again. She offers her driveway to park in, which is very convenient if you have your own car (although I didn't, so I didn't use this).
Bragi
2017-04-03T00:00:00Z
Ellyn is a wonderful host. Her home is warm and welcoming. It had everything I needed for my 5-night stay, and is conveniently located within walking distance to a few shops and restaurants.
Mary Stella
2017-01-30T00:00:00Z
Ellyn's home is very cozy and she is a wonderful host. This was a great place to stay for my quick visit to Silicon Valley.
Kim
2017-01-11T00:00:00Z
Convenient location to the work place
ingrid
2017-03-20T00:00:00Z
Excellent host
Anita
2017-03-11T00:00:00Z
Very comfortable and hospitable stay. Ellyn was friendly and fun to talk to.
Joel
2017-02-23T00:00:00Z
Typ av rum
Eget rum
---
Typ av boende
Hus
---
Plats för
2
---
Sovrum
Redwood City, Kalifornien, USA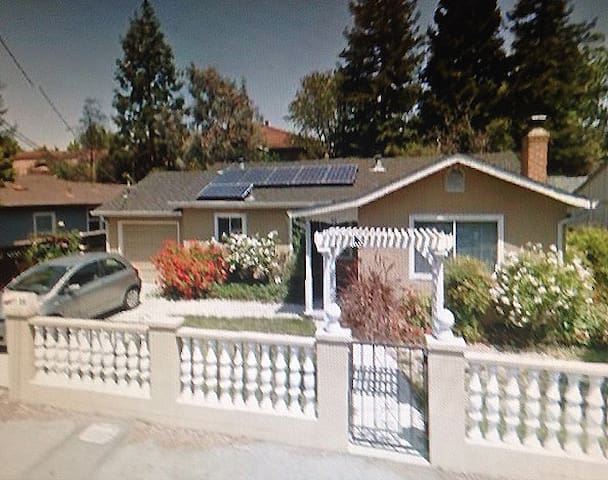 Quiet and sunny studio with private entrance and yard located in the Mt Carmel neighborhood of Redwood City. Walking distance to Whole Foods, restaurants, and CalTrain. Private studio includes queen size bed, kitchenette, private bathroom, and an enormous yard with an herb garden.
Typ av rum
Eget hus/egen lgh
---
Typ av boende
Gästhus
---
Plats för
2
---
Sovrum
Redwood City, Kalifornien, USA
201 Marshall offers boutique-style, modern apartments in the heart of Redwood City. It comes fully equipped with designer finishes and contemporary style. Discover luxury living with free wifi, washer dryer, & gym access. The apartment is across the street from the Caltrain station and zip car. Free access court yard with outdoor BBQ, and gorgeous roof top with inn and out door lounge (+beautiful views). Sleep comfortably on memory foam queen mattress, or watch a movie on cozy pull out couch!
Located in the heart of downtown Redwood City, our beautiful studio is the perfect getaway for a single person on business travel or couple. The room comes equipped with large screen and projector for you to enjoy your favorite shows and movies. We have a washer and dryer in the unit. Our kitchen is fully equipped with all the tools and gadgets needed to cook as well! Just a 5 minute walk from the Box campus.
The studio is located in downtown Redwood City. Just steps away from great restaurants, Peacebank yoga studio, and the movie theater. It's very easy to get around and we're happy to provide recommendations during your stay. Across the street from Cal Train 15 mins from Palo Alto 30 mins from San Francisco 20 mins from SF International
Staying here was a pleasure. The apartment was as described. Everything was neat, clean and comfortable. The location is excellent. Two minute walk from restaurants, coffee shops and the train. Parking on the street was never a problem. Hope to be back!
Carol
2016-10-10T00:00:00Z
Hani was a great host – easy communications and logistics, and very helpful in lots of ways. The place was just as described – very comfortable and clean.
Benjamin
2016-02-25T00:00:00Z
Great place and (URL HIDDEN) were very responsive...
Gene
2016-07-15T00:00:00Z
Great place, clean, easy check in/out, good communication, great location. The bed & pillows were way too firm for me and my husband, but this is just personal preference. Overall, I would recommend staying here.
Jada
2016-11-25T00:00:00Z
If you are staying in Redwood City the apt is ideally located. If you are in the Bay Area for work, I would recommend it, specially if you work around the Menlo Park or Palo Alto areas. The apartment has most of what you need, specially if you are planning a short stay. Might not be ideal for people who love cooking as the kitchen, although new and fully functional, isnt equipped with lots of pots and stuff. It has the basics though. Otherwise, the house is great!
Xabi
2016-12-14T00:00:00Z
The studio was just as described. Very clean and in a great location.
Frederick
2016-10-04T00:00:00Z
Easy check-in and check-out. Comfortable memory foam mattress. And even though I didn't plan to use the projector, we ended up watching some netflix and the picture quality was great. Close to the event we were attending and across the street from Whole Foods. Just what we needed for a quick trip.
Eric
2016-02-19T00:00:00Z
Great home to let me to transition to moving to the Bay Area. Very quiet and very great guests.
Michael
2016-07-03T00:00:00Z
Typ av rum
Eget hus/egen lgh
---
Typ av boende
Lägenhet
---
Plats för
2
---
Sovrum
Redwood City, Kalifornien, USA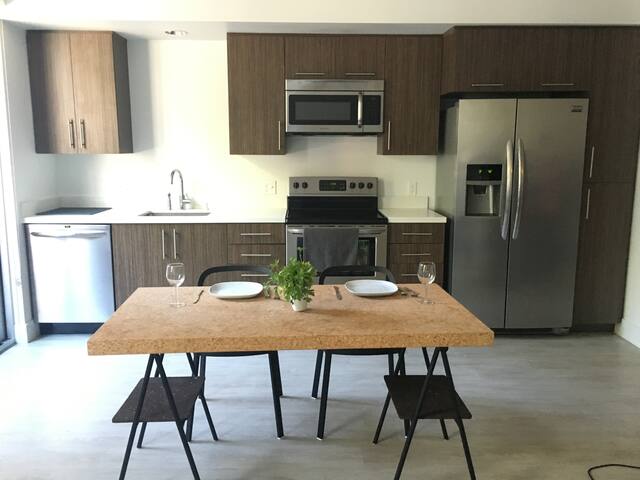 Two rooms plus a full bath w/ private entrance. Furnished bedroom w/ new comfy bedding. Strong WiFi, new large bath, organic breakfast bites, plus coffee, tea & Izzies. Art-laden privacy tri-fold screen for the few steps between bedroom and bathroom. Centered in Silicon Valley, near Stanford, walking distance to restaurants & groceries.
This space is half the first floor of our 2-story home. We live on the second floor. The other downstairs half is an art studio. Artsy Suite is large enough for more than 2, with a your own kitchenette / sitting room stocked w/ yummy, healthy snacks and drinks. The sitting room has a beautiful custom-made couch, antique coffee table, a pine kitchen table, and a cabinet fully stocked with table settings, (choice of washable or disposable) and kitchenware for food prep. You'll also have house slippers to hit that extra comfy level. - The bedroom is in the corner of the house underneath the porch and front hall closet and entrance hallway. Your large bathroom is on one side of the room & your kitchenette/couch area/entrance on the other. That 4th wall has a giant armoire (with the TV & shelving) in front of 2 double-thick canvas sheets rather than 2 drywall sheets. Very artsy, don't you think? - This ground level floor is very recently rebuilt with strong WIFI & built-in USB ports. You have your own thermostat for toasty warm gas heating in the winter. In the summer, it is nice and cool on this floor. - Between the art space and the apartment is a *shared use space*: a second couch, coffee tables, and chairs. From there, you can directly walk out thru the patio doors to the yard with raised gardens, and fruit trees - The laundry room is also on this floor between the art studio & the guest suite. Our front yard is pleasant to stroll or sit in, so you'll probably see us out there, or just generally about. We're often tending to several raised beds of vegetables or flowers, or simply enjoying the plants plus the squirrels, and birds that hang out in the yard - in spite of our sleepy cats.
The Neighborhood We are in a low traffic, family neighborhood just 2 blocks off El Camino. Within walking distance of our house there are a variety of stores: art supplies, hair salon, car rental, Target (with a Starbucks & Pizza Hut inside), GNC, GameStop, and a couple of Mexican restaurants. Downtown Redwood City is a mile north of us and it has some great downtown spots. Insider's trick: park at Wells Fargo at the corner of Broadway and Main Street because either street has great food or bars. Downtown Palo Alto is 4 miles south down el Camino. It is dense with lots of activity too. We've lived in both cities for years and enjoy both of them for just strolling around and choosing a place to eat, or even catch a show.
Very hospitable hosts! The room and bathroom were very and clean, and the cooking/eating area was thoughtfully stocked.
Anna
2016-10-04T00:00:00Z
Susan was a very welcoming host and provided me with suggestions for places to eat in the area. The rooms were exactly as presented, plenty of room!
Christine
2017-02-14T00:00:00Z
Communications with Susan & Carl has been awesome! They are fast responding to my queries. The place is lovely, clean and quiet too. Private entrance to the place and could relax at the small living/ dining area. They even prepared some snacks and drinks for the guests! The art works that done by Susan is worth browsing through and very interesting. The area is always used as a studio by her. I would recommend the place to anyone visiting.
Zoe
2017-03-08T00:00:00Z
Off street parking and a private entrance begin a wonderful experience. Such a unique space with positive energy. Susan and Carl made me feel very welcome and comfortable. Susan was so helpful with information about local food and history and is a great conversationalist. Nice clean modern bathroom, and a well decorated room with a comfortable bed. The space, art and hosts make for a top notch experience. Highly recommend and look forward to future visits
Dave
2017-02-11T00:00:00Z
Susan & Carl took really care of my confort! This is really cozy place, near to most of the shops and have easy access to everything! Highly recommend!
Jonathan
2017-03-26T00:00:00Z
We rented the apartment mostly for convenience since it is close to the surgery center where I had hip surgery. We stayed the day before and the day after my surgery. Susan was a great help in making arrangements and pointing us toward yummy food. Her art is amazing and she even showed us a demo of encaustic art. I rested nicely after surgery and took advantage of the DVD collection. The bed was very comfortable. The place is like an apartment - there is shared space with Susan's art studio, but it is mostly private. It was very clean. Susan provided yummy snacks daily. We will definitely stay here again.
Sheri
2017-02-08T00:00:00Z
Nice host
Maha
2017-03-30T00:00:00Z
Susan ist eine tolle Gastgeberin. Carl haben wir nicht kennengelernt. Das Bad ist wahnsinnig schön und war sehr sauber. Es gab kuschelige Handtücher und sogar der Kühlschrank war immer gefüllt mit Kleinigkeiten wie Sodas oder Kuchen. Das Bad ist direkt neben dem Schlafzimmer in derselben Wohnung wie das Atelier und Wohnzimmer von Susan. Die Wände des Schlafzimmers sind auf einer Seite aus Stoff, was die Privatsphäre wenn jemand im Atelier ist etwas einschränkt. Alles in allem haben wir uns sehr wohl gefühlt und bedanken uns für die Gastfreunschaft!
Sarah
2017-01-01T00:00:00Z
Typ av rum
Eget hus/egen lgh
---
Typ av boende
Hus
---
Plats för
2
---
Sovrum
Redwood City, Kalifornien, USA
Clean home in great neighborhood. What you get is your own private entrance, room and bathroom, new furniture, bedding TEMPUR-Cloud Supreme Mattresses, and pillows, for a good nights sleep. A great neighborhood, close to downtown Redwood City, San Carlos. Easy access to public transportation and highway's 101 and 280.
The room is very private has it own entrance inside your will find a the following: Queen bed with Tempur-pedic mattress 100% cotton linens coffee/tea maker iron, ironing board Private bathroom High Speed Internet TV with Apple TV Netflix and cable Free parking in front of home or in the driveway Keurig coffee maker and a variety of coffee and teas provided. (Also there is a Starbucks within walking distance!)
We are In the heart of Edgewood Park, on one of the most desirable streets in Redwood City. Walking distance to downtown redwood city, shopping and summer Music in the Park!
Great room in a very nice, clean, and modern house. Bed is super-comfy.
Phil
2016-06-25T00:00:00Z
Place is immaculate, bright, and quite private. Bathroom is spacious and modern. Gracie is super responsive and quick to address and resolve any issues there may be. Nice residential neighborhood of Redwood City but a short walk to the commercial area.
Mike
2017-01-25T00:00:00Z
This is a beautiful new home in an older neighborhood that is being updated. Gracie was gracious and welcoming. The room is comfortable, quiet, modern and very pleasant. It is immaculately clean. The photo does not show that she has added curtains and a drawer chest below the window. I travel often for business, and though the whole peninsula is expensive, this was a welcome retreat.
Sarah
2016-07-14T00:00:00Z
Gracie was an awesome host! The room was clean, the bed was comfy and the location was perfect! The private entrance was great as well! I would recommend Gracie to anyone!
Brittany
2016-08-03T00:00:00Z
Very nice home with well appointed room in a great area. Gracie was a wonderful host and everything was as advertised. Definitely on my list of places to return to.
Eric
2016-10-07T00:00:00Z
Great host. Great people. Great place to stay. Just as great as you see in the pictures.
William
2017-02-10T00:00:00Z
Gracie is a wonderful host and made me feel welcome. The listing description was accurate. The neighborhood was very nice.
Kossell
2016-10-27T00:00:00Z
I had a great experience staying at Gracie's house. The room is clean and cozy with a high quality bed. There's a an private entry to the room so visited my friends and family on my personal schedule without having to worry about waking everyone in the house. I made a mistake when I made the reservation so I had to ask Airbnb for a refund Gracie was super patient in sorting everything out with me. She messaged Airbnb for me and got me my money back. Great host, great service. I couldn't recommend staying with Gracie highly enough.
Jennifer
2016-10-04T00:00:00Z
Typ av rum
Eget hus/egen lgh
---
Typ av boende
Hus
---
Plats för
1
---
Sovrum
Redwood City, Kalifornien, USA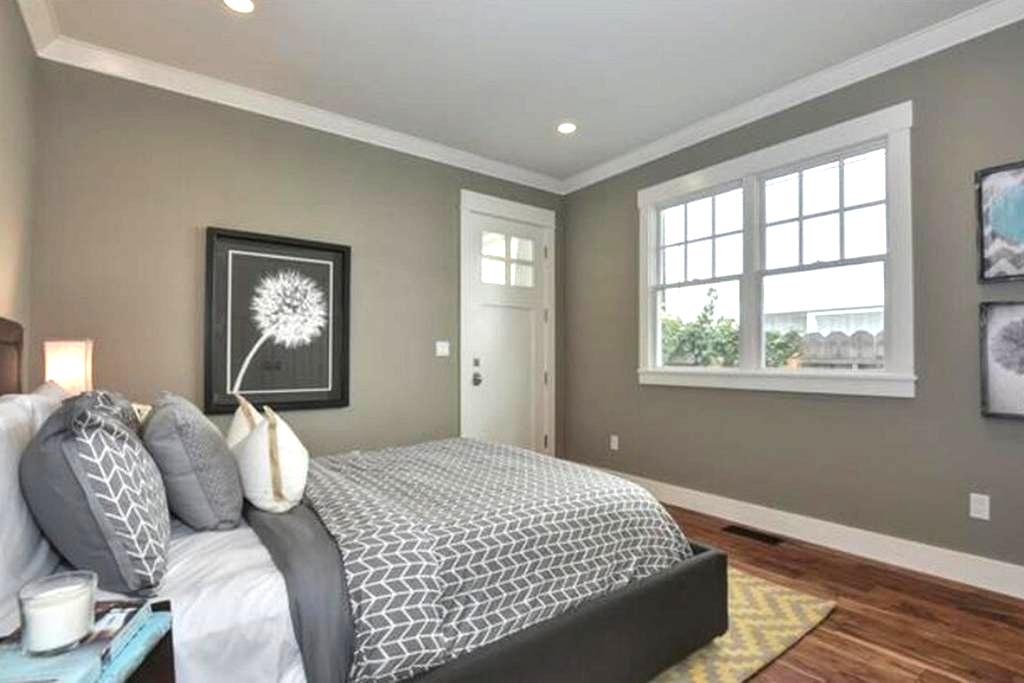 Airy, stand-alone loft with its own entry, offering comfort and privacy, where your travel needs will be met with beautifully appointed care. Walking distance to Caltrain (.6 mile), bustling downtown Redwood City (.5 mi), boutiques, coffee, restaurants, parks, movies (.8 mi) & 5 miles to Palo Alto. Treat yourself to beauty, light, comfort, luxury & spaciousness. A special place for couples, solo adventurers, & business travelers. Easy access to San Francisco, San Jose and the Silicon Valley.
This is a newly renovated, airy space with a living area, electric fireplace, kitchenette, eating area, outdoor patio and spacious sleeping loft that overlooks the area below. There is a queen-sized pull-out couch in the living room, in addition to the queen bed in the loft, which is upstairs and includes a dressing area. New furnishings throughout.
Mt. Carmel neighborhood is a lovely, peaceful setting in the flatlands of Redwood City, with tree-lined streets, flowers and friendly neighbors. Perfect for walking, running, biking and relaxing. Centrally located 20 miles from San Francisco, 11 miles from the beach and oceanside town Half Moon Bay and 5 miles from Oracle and other Silicon Valley companies.
Unser Aufenthalt in Lindas Cottage war wunderbar. Ein wunderschön eingerichtetes, gemütliches, komplett neues und super sauberes Apartement in einer herrlichen Gegend. Linda war die hilfsbereiteste und gastfreundlichste Gastgeberin, die wir bisher erlebt haben. Fünf Sterne plus! Wir würden jederzeit wieder kommen und hatten einen perfekten Aufenthalt in Redwood City. Danke Linda, für alles!
Susanne
2016-10-23T00:00:00Z
Linda is always welcoming
Thomas
2016-08-18T00:00:00Z
Linda's place is very clean and comfortable with a great proximity to downtown Redwood City. One of the best values I've found on Airbnb yet!
Chris
2017-03-03T00:00:00Z
What a great location and a great host. Highly recommended.
Erin
2017-03-17T00:00:00Z
The cottage was exceptional! Beautiful space w/attention to every detail. Clean, comfortable and perfect. The neighborhood is lovely and an easy walk to the train and lots of restaurants. Communication with Linda was easy and clear. She's great!! Would definitely stay here again.
Laura
2017-03-13T00:00:00Z
This was my second stay here. By far the most relaxing, comfortable, and beautiful places I've stayed. Linda is a dream as a host. She responds quickly to messages and makes sure everything is to your liking, but otherwise gives you your privacy. If you're looking for a great place to stay in the Redwood City area, this location is the best. You will be within walking distance to food options (including Whole Foods). I would definitely stay here again. And again!
brian
2017-02-03T00:00:00Z
This is such a nice place (just renovated a few months ago), and Linda is great!
Patrick
2016-09-27T00:00:00Z
Great place. Very well presented and convenient location. Will definitely use again.
Huw
2016-07-21T00:00:00Z
Typ av rum
Eget hus/egen lgh
---
Typ av boende
Bungalow
---
Plats för
4
---
Sovrum
Redwood City, Kalifornien, USA
This cozy, private room is only a ten minute walk from the amazing downtown Redwood City. Traveling to San Francisco or San Jose by Caltrain is a painless walk and then a 30-50 minute train ride. Enjoy nearby Starbucks, Whole Foods, and great shopping and eateries in downtown. Share our home with us and be our guest! Our space is best for the working person during a short visit, or the traveler who is busy seeing the sights.
Our space is unique because of our very convenient location and proximity to beautiful downtown Redwood City and the Caltrain station! It's also nice to stay in a home instead of an apartment sometimes!
Our home is in a very walkable and and family friendly neighborhood. It's also just beautiful to walk around and get lost- you'll quickly find yourself in a nearby park!
Savannah was the sweetest hostess. She was gracious and anxious to make me feel welcome. The picture was exactly what I had in the room. And their home is in a most convenient location. Literally in walking distance to "town". The area was very quiet in the evening which made for good sleeping. When I return to the area I hope to use Savannah's Airbnb again. It is very reasonable and I felt "at home".
Ingrid
2016-08-07T00:00:00Z
Savannah and Will are very welcoming hosts and genuinely care about the guest experience. The location is convenient for both travel and the local stores / restaurants in Redwood City. Would highly recommend to anyone.
Tytus
2016-11-18T00:00:00Z
Savannah and her husband were amazing hosts. I was visiting for a couple days while on business and they were very accommodating. Their house is just a couple blocks away from the CalTrain station and was very easy to get to on foot even when it's relatively hot outside. The room I stayed in was perfect, the bed was comfy and the bathroom was clean. Savannah provided me with towels, soap, and toothpaste as well as fresh coffee in the morning! They provided great feedback on where to go in town and what there is to do even though they are relatively new to the area. They made my work trip extremely pleasant.
Dan
2016-07-28T00:00:00Z
We came back a 2nd time because the hosts were so nice and hospitable. We felt very welcome.
Monique
2016-10-04T00:00:00Z
The best of southern hospitality!
Marc
2016-10-27T00:00:00Z
The hosts are very friendly. I felt comfortable and at home with them right away. I had my son and grandson stop by and again the hosts were gracious and inviting. The is room is nice - the bed quite comfortable. The response to my inquiries was immediate and inviting. In fact I am returning there in a few days.
Ingrid
2016-07-30T00:00:00Z
Savannah and Will were great hosts! There were very friendly, accommodating and helpful. The house is clean, comfortable and located near public transportation (Caltrain, buses), grocery stores and restaurants. The room was exactly as advertised. I had a great time staying there.
Kamil
2016-10-18T00:00:00Z
I had another great stay at Savannah's place. The location couldnt' be better, blocks from downtown Redwood City and public transit. Although we didn't see each other because I was in and out for business, Savannah was the consummate host, leaving me a welcome and goodbye note and even leaving me a selection of breakfast bars and coffee. Thank you Savannah!!
Nicole
2017-02-02T00:00:00Z
Typ av rum
Eget rum
---
Typ av boende
Hus
---
Plats för
2
---
Sovrum
Redwood City, Kalifornien, USA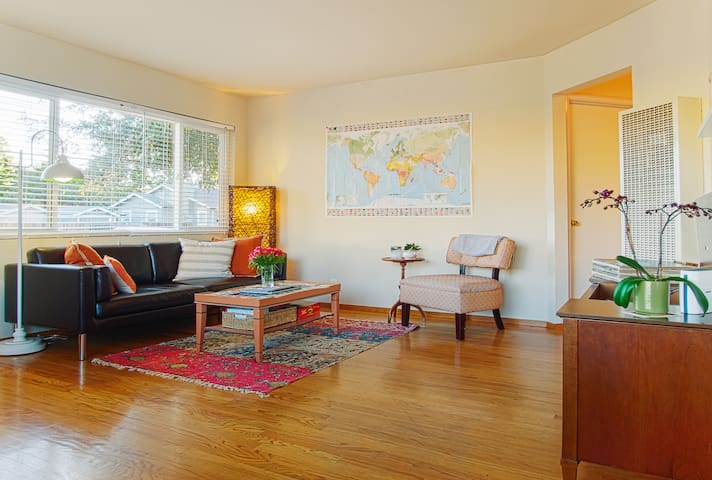 This apartment is very nicely furnished and clean with kitchen supplies. Gated, safe property with one parking space. Across the street from Safeway, close to Downtown Redwood City and Stanford/Palo Alto. Stays 1-15 days may book 30 days prior.
Queen bed in bedroom and sleeper couch in living room that folds out into double bed. Bathroom enters from hallway, so both beds have access without disrupting the others.
We stayed there for 2 months. Nice 1-bedroom apartment, recently renovated, nice neighborhood. Red Morton Community Park is in a walking distance with free tennis courts, Safeway across the street. Stanford is a 20-minute drive, quick and easy access to I-280. Apartment had everything necessary for a nice stay - even more than mentioned in listing - TV, cable,fast internet etc. Kevin was easy to communicate, checking in/out was very smooth.
Innar
2015-06-05T00:00:00Z
This is a reat spot to stay in Redwood City, especially for work. The location is great and convenient to both 101 and 280 as well as the Safeway across the street. Nicely decorated and appointed. I forgot to request access instructions but got an immediate response when messaging to ask how to get the code to get inside. I would highly recommend this spot to others and stay here again!
Brett
2016-04-15T00:00:00Z
I stayed at the Millennium Flats for 3 days and 2 nights. It was a great experience. Access to the private parking area was easy and so was getting in and out of the property. The inside was clean and had all of the essentials. The neighborhood was nice as well. There is a Safeway conveniently located right across the street and also a really great restaurant down the street named Vivi's Cafe.
Brian
2016-04-25T00:00:00Z
The apartment was great and in great location. Host was helpful and very nice.
Sagi
2015-11-28T00:00:00Z
Great place, exactly as pictured! We had a super time there. It was very clean, enough place and I really appreciated the coffee machine in the morning :)
Peter
2016-08-08T00:00:00Z
We had a good experience. The apartment was clean, well appointed as the title says and in a good location in Redwood city. The Safeway opposite the building came in handy.
Jason
2015-12-28T00:00:00Z
We had a really pleasant stay at Kevin's apartment - It was clean, comfortable and closely located to Palo Alto/Stanford. Having the Safeway right opposite was also really convenient. Kevin was super responsive with any queries we had about the apt.
Roshan
2015-06-17T00:00:00Z
The description is accurate. The neighbor is good. Very close (1 min) to a food grocery store. Definitely recommend to other people.
Zhuoxiong
2015-07-18T00:00:00Z
Typ av rum
Eget hus/egen lgh
---
Typ av boende
Lägenhet
---
Plats för
4
---
Sovrum
Redwood City, Kalifornien, USA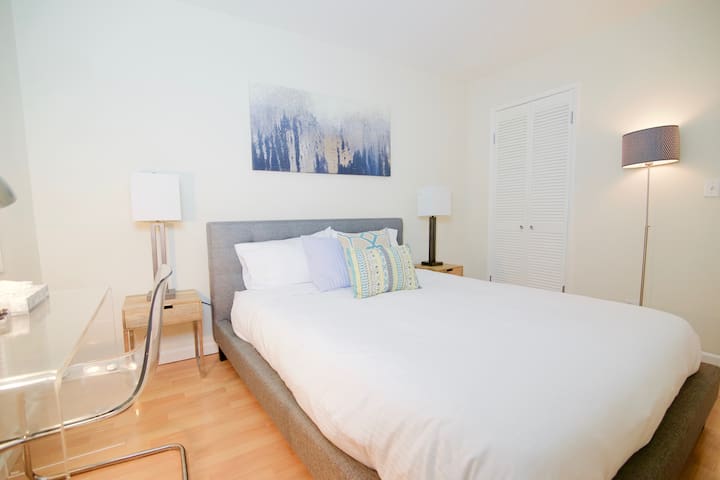 Charming, comfortably eclectic & spacious cottage sleeps up to four guests. 24-hour access. Continental breakfast included. Downtown & Caltrain just blocks away. Close to major tech companies & Stanford. Hiking and nature nearby.
Our cottage oasis is perfect for tech worker or traveler. The flexible space works for a couple, a small family, two business colleagues, or someone on their own. Details- •Separate bedroom features a comfortable queen-size bed with 100% cotton sheets and blankets •Trundle sofa converts to 2 twin beds in the living lounge area •Techies will love the fast WiFi with ample outlets and power strips •Living room features large chairs for reading and relaxing with access to our library of books, and a desk for working guests •Daily continental breakfast provided (Breakfast bread, yogurt, oatmeal, fresh fruit, hot chocolate, coffee and tea) •Kitchenette (no stove!) has a roomy fridge, microwave, toaster, coffeemaker, compostable/microwaveable dishes, bowls, cutlery and glassware for preparing and storing snacks and beverages •Dining table & chairs for eating breakfast or take-out meals •Small window air conditioner in the bedroom (during the warm season) •Clothes storage options include an armoire, closet, dresser or luggage racks •Cable television and desktop speakers for listening to music •Quality bath towels plus shampoo, body wash, hand-soap and hair dryer provided •Iron, ironing board, fan, and space heater in bedroom closet •Private deck with antique wicker furniture for enjoying your breakfast in the sunshine, or a glass of wine while bird-watching in the evening
One of the reasons we love living here (in addition to the beautiful trees, flowers, birds and awesome neighbors!) is the close proximity to restaurants, transportation, entertainment and culture. •2-minute walk to 24 hour convenience store •3-minute walk to Starbucks •15-minute walk to downtown for Thai, Chinese, Vietnamese, Mexican, Japanese, grill fare, pizza etc. •20-minute walk to multiplex movie theater and several nice bars
Awesome awesome place. I'm easily at 30+ stays on here and this was one of the best.
Tristan
2017-02-16T00:00:00Z
We had a wonderful two weeks stay. It is truly a cottage: sheltered, cozy, private, warm and beautiful. The cottage is beautifully docorated with nice furniture and a eclectic range of books. Pam was a very generous and caring host with attention to detail for the entire stay. It was a most enjoyable stay and will definitely back for next visit.
Subhrendu
2016-02-07T00:00:00Z
Calm, quiet, comfortable and seemingly isolated from close neighbors, with trees filled with black squirrels and birds, to whom Pam caters according to their varied tastes. Front porch provides a relaxing place to start day with morning coffee and continental breakfast. Pam is proactively accommodating, going so far as offering and driving us to a local attraction when our daughter was ill and couldn't take us. A very enjoyable stay which we hope to repeat in the future.
George
2015-09-13T00:00:00Z
Pam is a gracious, experienced host. The cottage is very centrally located for any trips to the Peninsula, and feels like a second home!
Jill
2017-01-19T00:00:00Z
非常好的一晚 非常干净 房子很安静 晚上坐在沙发上看书十分惬意 主人安排和介绍使用资料很详细 一次不错的选择
DianJun
2015-12-09T00:00:00Z
The listing was exactly as it was described (and more) and everything I could need was provided in the cottage. It was quiet and peaceful and clean and airy and just exactly what I was looking for. I really loved all the extra little things that made staying there feel so nice. The attention to detail really makes a difference.
Laura
2016-04-06T00:00:00Z
Comfortable and inviting cottage in a cute and quiet neighborhood. We all slept like babies, even the baby. Definitely experienced host who's thought of everything. Great location, close to downtown making it convenient to go to eat and walk around. This is a great place for a single person, couple, or family to stay.
Katrina
2016-01-10T00:00:00Z
Great stay!!
Jill
2016-10-14T00:00:00Z
Typ av rum
Eget hus/egen lgh
---
Typ av boende
Hus
---
Plats för
4
---
Sovrum
Redwood City, Kalifornien, USA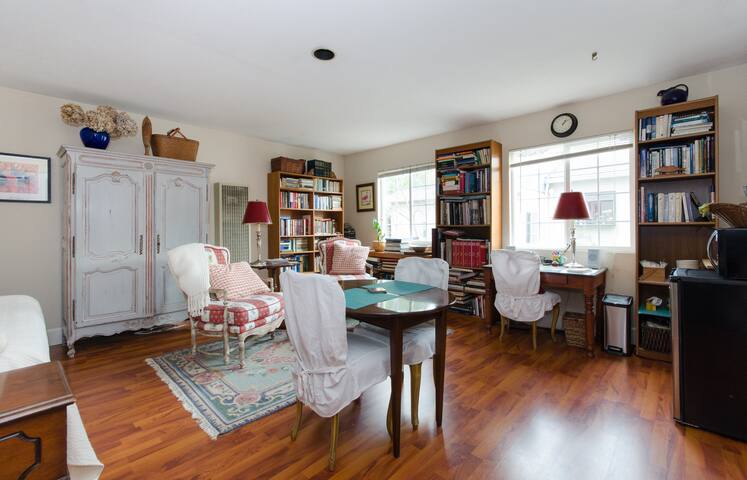 Perfect location in RWC for all your traveling needs. Walking distance to Downtown Redwood City and Caltrain station that will connect you to San Francisco, San Jose and any Bay Area destination. We are located very close to grocery stores, restaurants, cinemas, coffee shops & shopping. The room is clean and newly furnished w/ a comfortable queen size bed. It includes a fully equipped breakfast station.
Huéspedes que han estado aquí la califican como un lugar tranquilo, increíblemente limpio y super bien ubicado.
This was the first time my wife and I have used Airbnb. Our hosts were very welcoming, even helping us bring in our luggage. The room, which has a private entrance and does not have access to the main house, was typical bedroom size. It was well-furnished. There was fresh fruit on the table. The fridge was stocked with bagels, butter, jam, yogurt, water, and other items. There was a toaster and disposable plates and utensils. The bathroom was also well-supplied with just about anything a person might need. The bed and pillows were very comfortable (this was the most important factor for me). Two negatives: there is no TV in the room (I like to wake up to the morning news on TV), and there is a notice posted in the bathroom not to flush toilet paper down the toilet, but to place it in a receptacle next to the toilet. I have seen this in South America, but never expected to see it in the USA, especially not on the San Francisco peninsula. The hosts claim their plumbing is "temperamental," but seemed to work fine.
Paul
2016-10-23T00:00:00Z
I stayed at Tere's AirBnB for a business trip, and was very happy with my stay. Everything was as described -- the bed was comfortable, the bathroom was spacious and had all the necessities, and the breakfast bar was way better than anything you'd (EMAIL HIDDEN)munication with Tere was very easy and check-in/out easy as well. Overall, great!
Amanda
2017-03-28T00:00:00Z
Great room with everything I needed for a comfortable stay
Jared
2017-02-13T00:00:00Z
Tere made it very easy for us to access the room upon our arrival and was excellent in communicating with me. We were able to park right in the driveway. I met Tere and Jorge and they were very responsive to any needs we had. Such a cute couple.
Lara
2016-10-19T00:00:00Z
Wonderful place, good bed, private bathroom, off street parking, I have stayed here four times. Good for business stays.
David
2016-11-18T00:00:00Z
Tere has been really warm and welcoming! The room is beautifully decorated, fully equiped and the bed is super comfy! The bathroom had a wonderful scent and was very clean! Overall, we greatly enjoyed our stay and we definitely recommend Tere's and Jorge's place! We hope to be back soon!
Evita
2016-11-27T00:00:00Z
I had a great stay. Tere's house is about one block from the Caltrain, which is very convenient. Communication was great, too. This is an excellent place to stay for business travel!
Matt
2017-03-17T00:00:00Z
Convenient walk to restaurants, etc.
Gary
2017-04-07T00:00:00Z
Typ av rum
Eget rum
---
Typ av boende
Hus
---
Plats för
2
---
Sovrum
Redwood City, Kalifornien, USA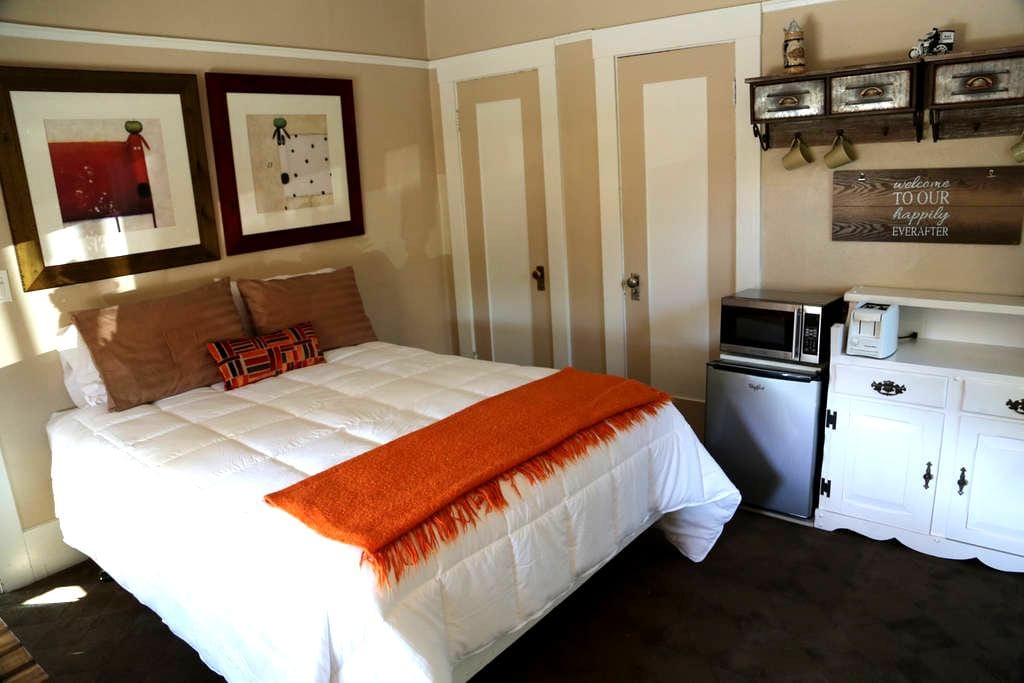 Garden cabin in Redwood City, 5 min to Caltrain and Safeway, nice quiet neighborhood. Light and bright, Scandinavian decor, small fridge and coffee/tea making possibility. 25 minutes to downtown San Francisco.
Another enjoyable stay with the Danes.
Craig
2016-09-15T00:00:00Z
Staying with Kirsten was great! As other reviewers have mentioned, her dogs are super cute, the garden cabin was perfect for what I needed, I felt incredibly safe, and Kirsten and her husband were incredibly welcoming. I will definitely stay here again.
Trevor
2016-05-07T00:00:00Z
Cute and cozy place - perfect for a business traveler. Was surprised by the king size bed - I rarely ever see one in any of the places that I have stayed at previously. Location is blocks away from downtown Redwood City but far enough from the hustle. Plenty of street parking and a very quiet neighborhood - all great things when you are a workaholic.
Lisa
2017-03-17T00:00:00Z
Kirsten was super friendly and very helpful. Super nice place - quiet and cozy!
Tony
2016-09-30T00:00:00Z
good location, walkable distance to shops and restaurants. quiet, private.
darlis
2016-11-29T00:00:00Z
Wonderful accommodation, matched by the warmth and friendliness of the welcome. The cabin is snug, peaceful, and well-appointed: decor and furnishings are modern and in excellent condition. Literally no complaints. Great location (less than 5 mins drive from freeway), and great value.
David
2016-02-26T00:00:00Z
Another pleasant, relaxing stay.
Michelle
2016-04-29T00:00:00Z
Relaxing as usual, now with a Keurig.
Craig
2016-03-11T00:00:00Z
Typ av rum
Eget hus/egen lgh
---
Typ av boende
Stuga
---
Plats för
2
---
Sovrum
Redwood City, Kalifornien, USA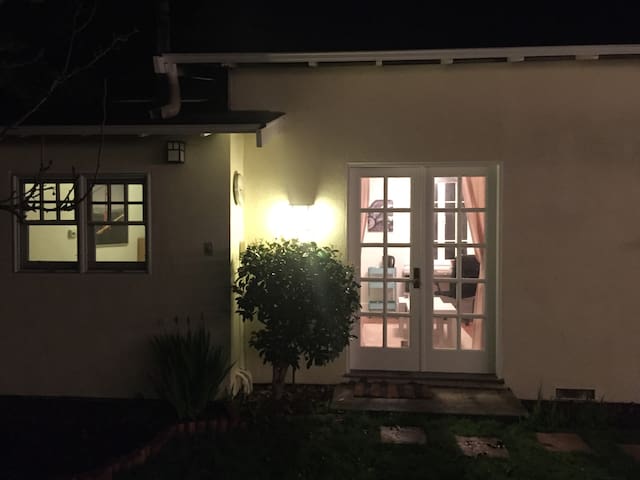 Private 1 BDR apt, w/ priv deck w/view. Short walk to downtwn & all activity in Redwood City1 , shopping & Caltrain. Updated kitchen and bath 5 min walk to Caltrain. Across the street from Whole Foods Markt. Many other stores near by.
Nicely furnished, bedroom with good desk / workspace. Near all the dwntwn RWC and Silicon Valley development.
Great location, next to Whole Foods. Easy walk to Caltrain, easy parking. Joe was friendly and accommodating.
Elizabeth
2017-02-20T00:00:00Z
Joe was a pleasure to communicate with and fast to respond. The house was clean and comfortable, very conveniently located just a few minute walk from Caltrain and shopping. Recommended.
Mark
2015-12-08T00:00:00Z
My family stayed with Joe more then 3 weeks. During that period we had a great experience and fully enjoyed our holidays. I highly reccomend his place because it has reasonable price, great downtown location.
Roman
2016-10-14T00:00:00Z
A very comfortable accommodation and is very well equipped, the area is quite quiet and is very close to supermarkets and bus and train stations.
Gabriela
2017-01-05T00:00:00Z
The home is beautiful and centrally located in Redwood City. It's next to Whole Foods, downtown, and the Caltrain station. Super convenient. Safe neighborhood as well. The hosts had done a great job cleaning as well. The place was very clean and they even left some goodies for us- which was incredibly nice. The only thing is that we didn't know how to get in the apartment at first (we weren't sure where the key was). We also didn't know where to leave the key when we left. The place is a 5 star the communication at checkin and checkout (on what we were supposed to do) was a 4. All in all it was a great spot!
Bruna
2016-01-02T00:00:00Z
Joe was wonderfully welcoming and has a beautiful and comfortable space. I will very likely book again.
Kyle
2015-11-07T00:00:00Z
Really appreciate that someone met me live at ~10p. Believe there are plans to fix the shower. It isn't normally as cold as it was when I visited, so heat probably isn't normally an issue.
Emily
2017-01-20T00:00:00Z
Nice, spacious for 1-2 people. Joe was awesome. Quiet neighborhood, but watch out for parking after 8 pm-ish everyday. Plenty of food and shopping choices around. I would rent again.
Amber
2017-01-10T00:00:00Z
Typ av rum
Eget hus/egen lgh
---
Typ av boende
Lägenhet
---
Plats för
3
---
Sovrum
Redwood City, Kalifornien, USA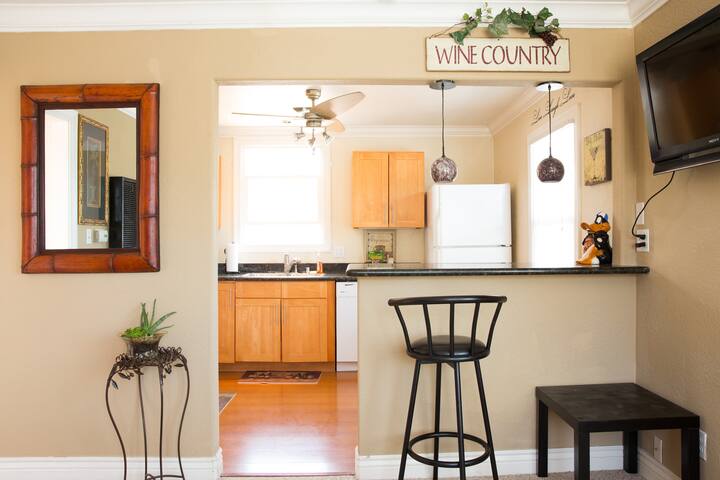 Nestled in a quaint and desirable neighborhood in Redwood City, this comfortable and quiet loft is located just 15 minutes from Stanford, 5 minutes from the 101 and 280, and easy walking distance to very fun downtown Redwood City and the train station.
- Queen bed with high end memory foam mattress - Feather Duvet with 100% cotton linens - upon request a trundle bed to sleep third guest ** - compact fridge, microwave, coffee/tea maker - iron, full size ironing board - work space - bathroom with shower - hairdryer - dining table - Free fitness passes to a nearby gym available upon request - TV with Apple TV and Netflix (no cable) - Free street parking Please note that there are a few (6) steep steps leading up to the Loft. We, and most of our guests, aren't bothered this. However, if you think this might be an issue for you, the Loft may not be the right fit.
We love our charming residential neighborhood! Most of these homes were built in the 1930's. Quiet and treelined--a short walking distance to coffee and restaurants. Our downtown (within walking distance) is a vibrant scene! Exciting new companies, interesting local businesses, beautiful/modern apartments, lively restaurants--it's a great time to be here! Please ask us for any eating spots--we have almost all the local menus in the Loft. Peets, Philz, Starbucks and other coffee shops are within a 10 minute walking distance. Try Bliss for coffee--beautiful and tasty pour over!
Excellent stay all around. Perfect private space and super comfortable. The loft was well stocked with anything a professional traveler might need. Anne and family were great hosts.
Brandan
2016-03-24T00:00:00Z
Anne is a fantastic hostess- accommodating and flexible. We were in the area for a wedding and her loft was a perfect place to stay. Everything was as described, if not better! I would recommend a stay at the loft to all my friends!
Ashley
2016-09-25T00:00:00Z
Beautiful neighborhood. Walking distance to town. The loft was very cozy and comfortable just like the pictures show. Anne responded promptly to all my queries and was very concerned when we found out some of our texts weren't going through. We took a wonderful hike out of Edgewood park that she recommended and it was beautiful. Lots of deer and pretty views.
Bonnie
2016-10-23T00:00:00Z
Anne is a very friendly and nice host! We felt very welcome and her house and the backyard looked very beautiful. The loft / apartment is located in the backyard and you have really a lot of privacy. The living-/ sleepingroom is comfortable and the shower perfect. The distance to downtown Redwood City is about 15 min by foot.
Micheline
2016-11-24T00:00:00Z
Great place. Very comfortable at this airbnb. Thanks Anne!
Jeff
2016-09-16T00:00:00Z
Anne was a delightful host and did everything she could to facilitate an enjoyable stay for us even before we arrived. She provided special non down comforters to accommodate our allergies and the charming loft was well appointed with a super comfy queen bed. We will definitely return as I see a specialist in the area and highly recommend this clean and renovated detached loft. As a woman, I would feel very safe staying here alone, the neighborhood is very quiet and safe. We loved that it was walking distance to coffee spots and the train so we cancelled our rental car and ended up walking everywhere!
kelli
2016-04-15T00:00:00Z
Such amazing stay! Would highly recommend. Anne is lovely.
Madeline
2016-02-26T00:00:00Z
Anne's place was nice. Private loft behind their house. Didn't really interact with Anne but the space was nice.
Jeremy
2016-12-10T00:00:00Z
Typ av rum
Eget hus/egen lgh
---
Typ av boende
Vindsvåning
---
Plats för
3
---
Sovrum
Redwood City, Kalifornien, USA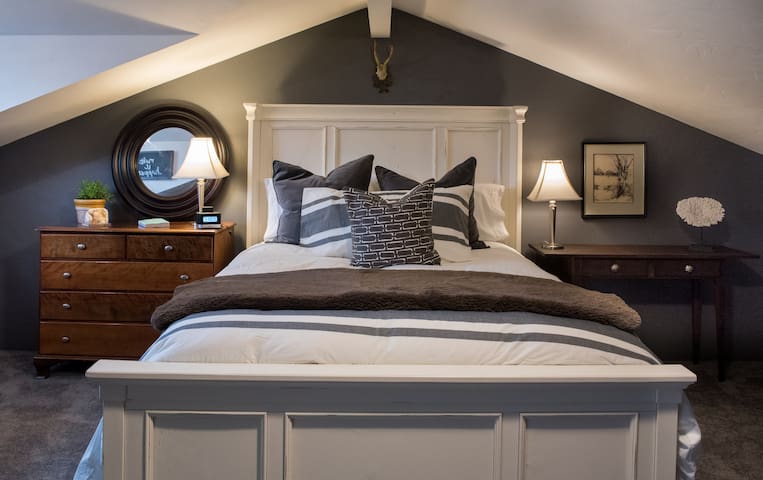 1

–

18

av

300+ Boenden att hyra
Ange datum för att se full prissättning. Ytterligare avgifter tillkommer. Skatter kan tillkomma.