In Rijsenhout, pal aan het water (de Westeinder), ligt onze mooie camping De Westeinder. Hier staat deze prachtige Stacaravan, nieuw gemeubileerd, met alles erop en eraan, Magnetron, Senseo e.a Ook Wifi. Roken is alleen buiten en netheid geboden. Er is een gezellige kantine en snack bar Aan de dijk langs het water is ook veel vertier, lekker eten en borrelen bij: Cafe Ruimzicht, of De Parel. Ligging: 15 min v.a A'da(URL HIDDEN)15 min v.a Schiphol(URL HIDDEN)25 min naar keukenhof
De stacaravan is compleet nieuw van binnen en is heerlijk verblijven
Typ av rum
Eget hus/egen lgh
---
Typ av boende
Alpstuga
---
Plats för
2
---
Sovrum
Rijsenhout, Noord-Holland, Nederländerna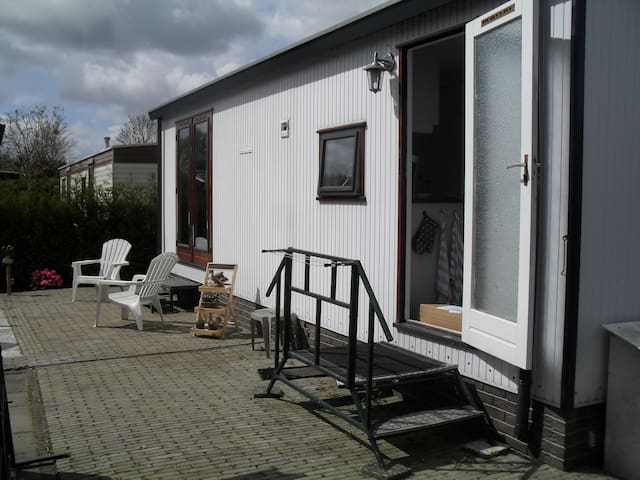 Dit huis ligt in een rustige natuurrijke omgeving dichtbij de Westeinderplassen. Prachtige fietsroutes zijn kenmerkend voor de omgeving. Genieten van een rustig verblijf maar ook dichtbij de drukte van de Randstad? Dan is dit de ideale plek!
klklk
Il posto è bellissimo e corrisponde alla descrizione; è una zona molto tranquilla, ideale per rilassarsi. L'accoglienza è stata calorosa e i proprietari simpatici e disponibili. Dovessi ritornare in Olanda sceglierei di nuovo questo posto.
Massimo
2015-05-20T00:00:00Z
Nette Gastgeber, Gästehaus ist ausgestattet mit allen Annehmlichkeiten die man für einen Aufenthalt benötigt.
Kimberley
2015-08-29T00:00:00Z
Petite maison bien équipée et dans un environnement calme. Proche canal et Aalsmer pour faire des ballades à pieds et des courses. Aéroport à 5 min en voiture. Propriétaires sympathiques et disponibles si besoin.
Céline
2016-03-27T00:00:00Z
Quite a nice house in a beautiful place! Nearly 5 euro needed to travel to AMS center (bus + sprinter). Good wifi (rarely not working). And very friendly host! Floor was a bit cold for us but generally everything was fine. And yes, we suggest this place to others :)
Roman
2015-09-16T00:00:00Z
I stayed in this lovely, little holiday house for 6 weeks while searching for housing in Amsterdam. It's a very nice place which has all you need and more for a convenient stay. The surrounding neighborhood is quiet but very lovely with a canal just down the street. There is a Coop within 500m and a big Albert Heijn within 5min by car. Schiphol can be reached within 10 min by car. Overall, I would recommend this place for a stay in the Netherlands. Good, central location, parking possible in the driveway, and two ponies in front of the house!!
Matthias
2016-10-02T00:00:00Z
Hayley and Hans were very welcoming and very responsive if I needed anything. Kept to themselves when I wanted it but were fully available if I needed them. The place is self contained but very close to the main house so if you want complete privacy then sometimes a little difficult without closing all the curtains and you do get the family noise from the garden but generally it is pretty quiet and certainly the owners respect that you are there. I found the place to be very cold, even when outside it was very warm, which is good during the summer but not sure about the winter. Overall, I was comfortable but felt the space needed some TLC and a really thorough clean across all surfaces. Just a little jaded as a space. That sounds a little negative but with a bit of a paint and a clean of all the places that are not the main area e.g. radiators and walls where some damp has come through, this place would be great and the hosts were lovely.
Nicola
2016-06-30T00:00:00Z
Unterkunft war wie beschrieben. Sehr freundliche Gastgeber mit welchen man keine Probleme hatte. Das WLAN war sehr unstabil, welches jedoch am Ende meines Aufenthaltes gelöst wurde. In kalten Jahreszeiten wird zusätzlich noch ein Heizlüfter zum heizen benötigt, da die Zentralheizung nicht genug Wärme abstrahlt. Neben dem Haus ist ein kleiner Garten, in welchen man auch Grillen kann. 10min zu Fuß ist ein Supermarkt.
Phillip
2016-05-26T00:00:00Z
Das Apartment ist schlecht Isoliert und die Heizungen funktionieren nur etwa 3 Stunden am Tag (ich vermute zum Energiesparen). Die andere Zeit nutzt man einen Heizlüfter, der dann zwar warm macht, aber die Luft extrem trocken... Der letzte Bus zurück von der nächsten "Stadt" in der man z.B. etwas trinken kann oder essen gehen kann fährt um ca. 21 Uhr. Dafür liegt es super nahe an einem schönen großen See, und es gibt sogar 2 Ponys. Hans&Haley waren im Großen und Ganzen nett, bis auf 2 kleine Meinungsverschiedenheiten verlief alles super. Für junge Leute nicht zu empfehlen.
Marcel
2017-01-08T00:00:00Z
Typ av rum
Eget hus/egen lgh
---
Typ av boende
Hus
---
Plats för
4
---
Sovrum
Rijsenhout, Noord-Holland, Nederländerna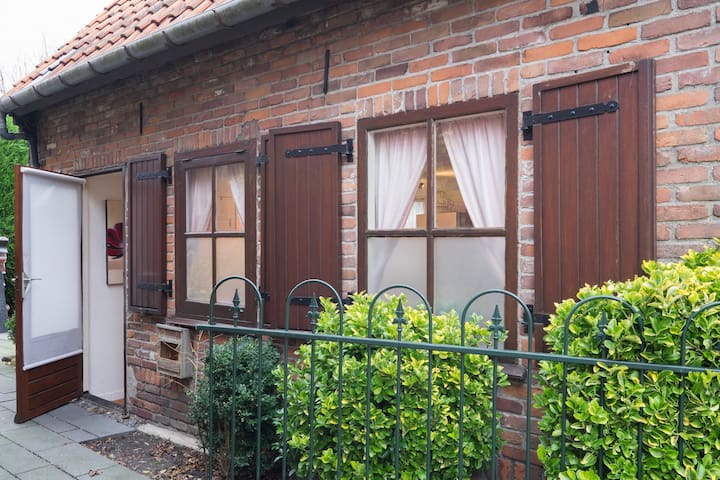 My place is good for couples, solo adventurers, and business travelers.
close to public transportation and supermarkets. close to Amsterdam Schiphol Airport ( reach directly by bus 199) close to Amsterdam Central Station ( reach directly by metro 51)
The house is situated in a very good location, easy to find. Place is very clean and cozy I can only recommend. Host is very friendly and helpful :)
Phuc
2017-03-19T00:00:00Z
I strongly recommend you to choose here. Conviennent transport, Nice host, beautiful places... just choose it without hesitation.
雯
2017-03-27T00:00:00Z
Typ av rum
Eget rum
---
Typ av boende
Hus
---
Plats för
2
---
Sovrum
Amstelveen, Noord-Holland, Nederländerna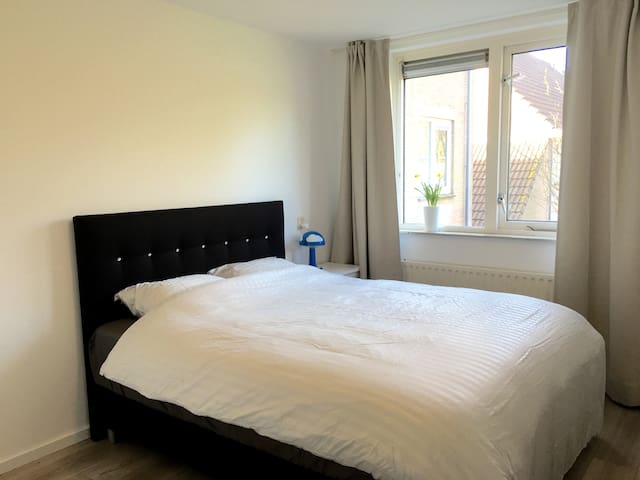 Min plats är bra för par, solo äventyrare, affärsresenärer och familjer.
close to public transportation and supermarkets. close to Amsterdam Schiphol Airport ( reach directly by bus 199) close to Amsterdam Central Station ( reach directly by metro 51)
Wendy is a very nice person and host. Also the accommodation has everything you need.
Selina
2017-03-29T00:00:00Z
The host canceled this reservation the day before arrival. This is an automated posting.
Geoff & Tania
2017-03-08T00:00:00Z
The place is very clean , quiet and beautiful. and the host is so nice.
Zou
2017-03-19T00:00:00Z
Very nice host!
Amy
2017-04-01T00:00:00Z
The landlord is sooooo nice!
Momo
2017-03-05T00:00:00Z
Wendy is very kind host. Her place is good, the living room is large and so is the kitchen and bathrooms. She is flexible and cooperative. The palce is very clean and airy. At walkable distance from Metro station.
Neel
2017-04-03T00:00:00Z
the host is very nice , the room is quiet clean and also cooking dinner for us , homelike ,good experence
渊丰
2017-03-18T00:00:00Z
Wendy is very welcoming, the house is clean and very close to bus and subway stop. She is very available to find the best solution for check in and out. I recommend this place!
Nicole
2017-04-05T00:00:00Z
Typ av rum
Eget rum
---
Typ av boende
Hus
---
Plats för
2
---
Sovrum
Amstelveen, Noord-Holland, Nederländerna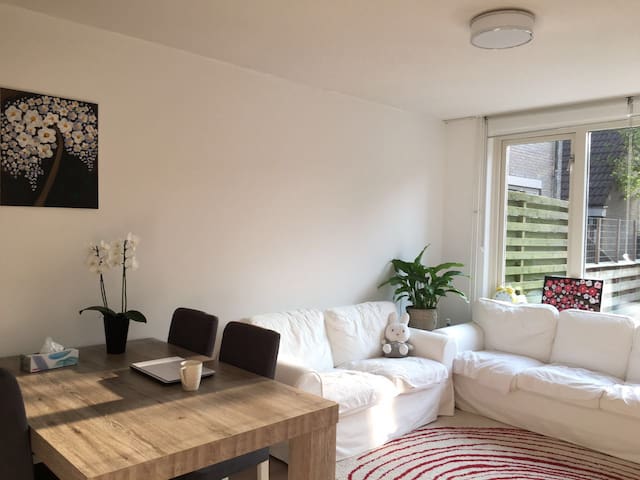 Jag hade så mycket kul att skapa detta. Naturligtvis jag vilja säga något om att sängen! Det är mycket stabiliseras så ingen blir sjösjuk. Och det är lite uppvärmd, även så trevligt under sommaren även när det är varmt! Framför parken och butiker, 10 minuters promenad. Metro och bussar 2 minuters promenad och rakt in i staden. Flygplatsen 15 minuter. Också ziggodome, RAI, HMH, Amsterdam skogen finns i närheten. Så för varje resenär, affärer eller på annat sätt, en lätt plats som utgångspunkt. Fri parkering, alltid en plats tillgänglig.
Så du kan se på bilderna det inte är en tråkig rum. Älskade att strö lite magi i det. Och för dusch ... Jag har alltid problem att komma ut! Som en sommarregn. Det finns en tv med möjlighet att titta på film .... lite konstigt naturligtvis med den söta lilla Amsterdam nära! Det finns en Amsterdam kartan i rummet med tips från mina syskonbarn där hotspots är i stan. Även den senaste turist grejer. I stället för frukost finns ett litet kylskåp utanför (URL HIDDEN) du gillar jag lägga något i din mini kylskåp som yoghurt och juice. Låt mig veta vad du vill.
Huset är i en avslappnad stadsdel. Jag har fantastiska grannar, som vänner. Barnen kan leka här på gatorna och göra det.
My cousin and I had an amazing stay at Ciska's! She was a spectacular host: cordial, hospitable, thoughtful and considerate. We were greeted amiously at the door and when it came to our room - the waterroom - there was a little table with fruits waiting for us. The room also has a little corner with a water cooker, different types of teas and coffee and of course things like milk, sugar and little biscuits. However, the ultimate highlight was without a doubt the waterbed with heating that kept us warm throughout the night. Obviously, the room was made with a lot of love that you can see in the little details on the wall; we felt like we were in a fairytale under the sea. Actually, once you enter the house you're greeted with a beautiful mosaic floor that she creatively made herself. The bathroom was modern, clean and thankfully right next to our room, and we even had our own towels provided. On the last night, she even brought us Oliebollen so we could try eating something that's typically Dutch (they were very nice, and it reminded us of our German Quarkbällchen). When it came to New Year's Eve, she put a small Champagne bottle and two glasses inside our mini fridge - which you absolutely don't have to do, but she did and we appreciate this small but big gesture. Whenever we had questions, she was there to help which made for a very uncomplicated, easy-going trip. We felt very looked after and that we were in good hands. Ciska is a host that cares greatly about her guests. Immer wieder gerne! [Translat. Anytime again!]
Elisabeth
2017-01-01T00:00:00Z
Ciska is extremely kind and wonderful host. We had a great time staying in Amstelveen. Room is cozy, warm and in a great place, near park and public transport. Ciska offered us two bikes, fruits, small kitchen for tea/coffee and many other additional surprises without additional costs! We highly recommend this place and we hope to go back in the near future. Thank you Ciska.
Tornike
2017-03-01T00:00:00Z
Het was een heel aangenaam verblijf bij Ciska! De kamer is heel mooi en het waterbed is zalig om in te slapen. Ciska is heel lief en doet alles om het verblijf zo aangenaam mogelijk te maken. Wel 40 min met tram naar het centrum van Amsterdam. Verder alles top.
Hanne
2017-02-14T00:00:00Z
Typ av rum
Eget rum
---
Typ av boende
Bed & Breakfast
---
Plats för
2
---
Sovrum
Amstelveen, Noord-Holland, Nederländerna
An EXCELENT LOFT next to the tranquil Amsterdam. Forest and lake are within walking distance (3 minutes) 10 min drive from AirPort -Schiphol Laptop- friendly- workplace Perfect bed and private bathroom with toilet shower and sink Free coffee and tea Cozy sitting area
Apartment /studio is SITUATED in the ATTIC of our hous it's an isolated space LOFT,modern and cozy with characteristic elements in the typical 30 style the LOFT is 37m2 included private separate bathroom with shower toilet sink and mirror , hairdryer and iron etc. Fridge ,coffee machine and kettle. WIFI Complete upper floor Mail/ telefoon It's a guiet area near Amsterdam-Schiphol AirPort, 10 minutes drive . Amsterdam-Forrest with lake walking distance 5 minutes. Beautifull bike path to Amsterdam (abouth 25min with bike to the vondelpark) A lot of restaurants in sevarel price ranges (including 2 top restaurants )as well ,museum van der Togt.(modern art) Are located around the corner. Two bikes to use, Central bus station Amstelveen 15 minutes walk distance from our place. *Available baby bed.
It's a guiet area near Amsterdam-Schiphol AirPort, 10 minutes drive . Amsterdam-Forrest with lake walking distance 5 minutes. Beautifull bike path to Amsterdam (abouth 25 min. with bike to the vondelpark). A lot of restaurants in sevarel price ranges (including 2 top restaurants )as well a museum van der Togt.(modern art) Are located around the corner.
Olivia and Wiebe were incredible hosts. We hadn't realized it was a bed and breakfast until we saw a few of the reviews that we read right before we arrived. They were incredibly sweet, offering us slippers, bus cards, a bottle of wine and daily breakfast at whatever time we requested. They were there if we needed them but never nosy. The breakfast was delicious and more than enough. Plus the coffee and tea! Thank you so much for such a wonderful experience! We hope to see you again!
Ainsley
2016-10-29T00:00:00Z
Our hosts Olivia and Wiebi were amazing. Gracious, generous and genuine. We felt welcomed even before we arrives, as they sent us directions and a warm hello ahead of our arrival. I was concerned, when I saw that we would have a shared entry with the rest of the house, but that was not a problem at all. We had our own private space in the fully remodeled loft and they were below on the other side of the house. We only ever saw them when breakfast was delivered or if we had a question. Speaking of breakfast, it was delicious! Generally, I turn down yoghurt, but theirs was delicious. There was more than we could eat at one meal, which left us with a great snack later in the day. It was like being in the home of really nice relatives. The loft was nicely decorated and spacious. Their little BandB seems to be a true labor of love. If you are looking for an extremely clean, comfortable experience, You should book with Olivia and Wiebe. You will not be disappointed.
Tamica
2016-06-19T00:00:00Z
Wiebe and Olivia were such kind and thoughtful hosts. We enjoyed staying at their house as it was such a nice retreat from the hustle and bustle of Amsterdam's city centre each day. They also went above and beyond in preparing a delicious breakfast for us each morning. We'd definitely return!
Heather
2016-04-17T00:00:00Z
Weibe and Olivia have a lovely loft that they offer, spotlessly clean and tastefully decorated. Highly recommended
Jacinta
2015-11-05T00:00:00Z
A most excellent place, richly comfortable loft and the perfect place after a long day and I can only repeat what many others have already written. Olivia and Weibe are a blessing to have as hosts. My five day business trip in Amsterdam went more smoothly because I stayed here.
Ian
2017-01-13T00:00:00Z
Es war ein wunderbarer Aufenthalt bei Olivia und Wiebe!!! Ich bin mit einer Freundin verreist und wir haben uns von Anfang an herzlich willkommen gefühlt. Das Apartment ist sehr komfortabel und sauber. Das Frühstück war sehr lecker und wurde uns extra ins Apartment gebracht. Es gab sogar frischgepressten O-Saft! Olivia und Wiebe waren für jede Frage offen. Fahrräder wurden uns zur Verfügung gestellt sowie ermäßigte Busfahrkarten durch welche wir richtig sparen konnten! Alles in allem gab es nichts zu meckern!!! Vielen Dank Olivia und Wiebe für Eure Gastfreundschaft!!! Es war super schön bei Euch!
Lisa
2016-04-29T00:00:00Z
This place was better than we expected. It was great to have breakfast every morning before we started out great adventure through the beautiful city of Amsterdam and Amstelveen. We weren't expecting to have bicycles to use when we got there, it made it much easier to travel through the city. They answered all our questions perfectly and new great places to go to have a wonderful experience in Amsterdam. Highly recommended! Definitely will be visiting Amsterdam again in the near future.
Andres
2016-06-17T00:00:00Z
What a fabulous experience to stay with Wiebe and Olivia. They are generous, thoughtful, and attentive hosts. The room is beautiful and quiet, a perfect sanctuary after a long day. They think of small pleasant details...a lovely bouquet of flowers, a carafe of water with lemon and mint, and an aperitivo. They provide a plentiful breakfast, something that most Airbnb places do not do. They are in the heart of the village, so dining is easy to manage, and they are moments from the edge of the forest, a lake, and the path to Amsterdam. I hope to return!
MK
2016-05-29T00:00:00Z
Typ av rum
Eget hus/egen lgh
---
Typ av boende
Vindsvåning
---
Plats för
2
---
Sovrum
Amstelveen, Noord-Holland, Nederländerna
We have a lovely house in a beautiful green suburb of Amsterdam. The 1-person room is fully furnished (bathroom shared) within 5 min walking to direct bus or metro to Amsterdam (30 min museum quartier), University (VU), airport, congres center RAI and free parking. The house is also very close to the International School.
They were extremely accommodating due to my quick booking and met me at the train station so I did not have to walk to their home alone.
Whitney
2016-10-23T00:00:00Z
short stay but enjoyed it very much.clean room,hot tea,great dessert,delicious breakfast and the most important is I met the warmest host which makes me feel like in my own home.
Ying
2016-11-12T00:00:00Z
Philippe and Simone are wonderful hosts with a lovely home. Welcoming and ready to go above-and-beyond for their guests, they provided me with everything I needed to have a pleasant, easy and short stay: they gave me the best directions to use from the Airport to their house, gave me a lift to me meeting point and even let me stay beyond the check out time so I could sleep-in before my flight (as there was no one else booked in for the following day). I only stayed for one night but easily recommend their welcoming and warm home to anyone and everyone.
Melissa
2017-01-06T00:00:00Z
A lovely warm welcome. Simone was very helpful both before and during my stay, providing advice on getting to and from their home. I was lucky enough to get a lift from the house to my meeting for which I am incredibly grateful! The room was clean and quiet and the house is located in a peaceful residential area and well served by public transport - took only 35 minutes by bus/metro from Schiphol. many thanks for my stay!
Namesh
2016-11-03T00:00:00Z
Located in the quiet outskirts of Amsterdam, Meent is well connected via M51 to the main city. Philipe and Simone are wonderful hosts. They always helped me with my visit to Amsterdam with invaluable suggestions. Also the warmth is hard to find that I felt in their home. I never felt like I am out of my home city. Thanks a lot guys!!
Debanjan
2016-10-02T00:00:00Z
Phelipe, Simone and Söns are perfect hostesses. The room is very clean and comfortable. For me, it was a very good experience to stay with them. The house is very near the Metro, with easy access to the city.
Guto
2016-10-31T00:00:00Z
Boven verwachting! Erg vriendelijk, na opgehaald te worden van de metro ontvangen met thee & gebak. Heerlijk rustig gelegen en goed geslapen.
Iris
2017-03-26T00:00:00Z
Quite lucky to choose Philippe & Simone's flat as my first time airbnb stay.they are amazing .they told me its Family and they made me feel it .not only their room was perfectly comfortable and clean ,but also they are very willing to help .Simone prepared delicous breakfast and Philippe took me a ride to where i was heading to .im just grateful for those Things.if you wanna a stay in amsterveen,i stronngly recommand the Family rubens
Albert
2016-06-13T00:00:00Z
Typ av rum
Eget rum
---
Typ av boende
Hus
---
Plats för
1
---
Sovrum
Amstelveen, Noord-Holland, Nederländerna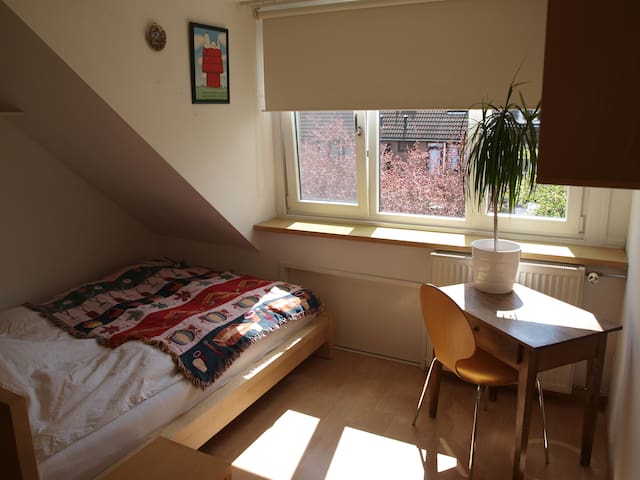 Good looking apartment just 15 minutes from Amsterdam. Nice interior, kitchen, bathroom and a bedroom with a double bed. Relaxed area with perfect connection to the city center!
Bel appartement à la recherche à seulement 15 minutes d'Amsterdam. Belle intérieur, cuisine, salle de bains et une chambre avec un lit double. zone détendue avec connexion parfaite au centre-ville! L'appartement et le balcon. INCHECKPROCEDURE • À l'arrivée à l'appartement de mon mari Bram et je te donnerai les clefs par nous-mêmes. • S'il vous plaît appelez-nous 1 heure avant l'arrivée, afin que nous puissions être à l'heure pour vous. • Ou vous pouvez nous donner votre horaire de vol. Si vous avez des questions, s'il vous plaît laissez-nous savoir. Nous sommes heureux de vous avoir comme invité (s)! Il est à 10 minutes à pied du métro 51 (Sportlaan, Amstelveen). Le métro vous emmène en 30 minutes à la gare centrale d'Amsterdam. Un billet coûte environ € 3 oneway, - Amstelveen Sportlaan à la gare centrale (Amsterdam) - toutes les 7 minutes de 05.53 jusqu'à 00.21 Gare Centrale à Amstelveen Sportlaan (Amsterdam) - toutes les 10 minutes de 05.31 jusqu'à 00.55 frais d'enregistrement anticipé: Si vous arrivez plus tôt que 14.00 heures, votre libre de se demander si c'est une possibilité. Cela dépend de notre programme de location. Nous demanderons un supplément de 25 euros. frais d'enregistrement tardif: De 18.00 à 21.00 o'clock = 25 euros supplémentaires De 21.00 à 00.00 o'clock = 50 euros supplémentaires A régler en espèces à nous quand vous arrivez.
The host canceled this reservation 13 days before arrival. This is an automated posting.
Enrique
2017-04-02T00:00:00Z
Typ av rum
Eget hus/egen lgh
---
Typ av boende
Lägenhet
---
Plats för
2
---
Sovrum
Amstelveen, Noord-Holland, Nederländerna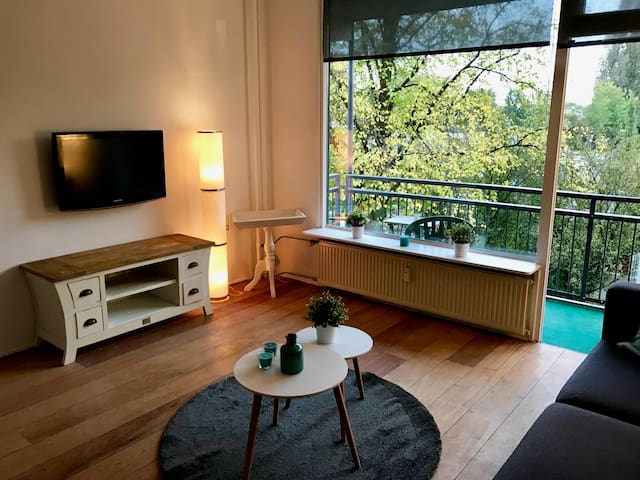 Bedroom 2 with double bed on 1st floor. Large attic (loft) 4 people.
Quiet neighborhood near Amsterdamse Bos in Amstelveen.
Close to the Amstel and Schiphol.
Typ av rum
Eget rum
---
Typ av boende
Hus
---
Plats för
2
---
Sovrum
Amstelveen, Noord-Holland, Nederländerna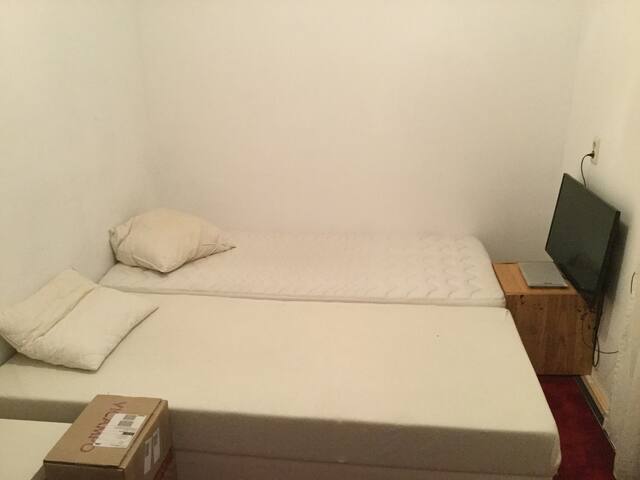 In deze prachtige villa Parklaan Amstelveen dicht bij busstation en winkelcentrum hebben wij voor u een zeer netjes en schone kamer met gratis wifi, en koffie en thee voorzieningen. Elke dag schone handdoeken. Badkamer en wc zijn gedeeld.
In deze prachtige villa aan de rand van het Broerse park dicht bij Amstelveen busstation en Winkelcentrum hebben wij voor u een zeer nette en schone kamer met Gratis wifi,, en koffie en thee voorzieningen. Elke dag schone handdoeken. Badkamer en wc is gedeeld. Ontbijt bevindt zich in de eetkamer maar is niet bij de prijs inbegrepen
Prachtige rustige buurt aan de rand van het Broerse park bevindt zich deze moderne vrijstaande villa. Met een groot winkelcentrum het Stadshart van Amstelveen op loop afstand ( 10min) waar u echt alles kan vinden. Naast het winkel centrum bevindt zich tevens het busstation van AmstelveenDe Alber-Hein supermarkt is op minder dan 5 min loop afstand. Amsterdam met de bus bereikbaar binnen 30 min Schiphol met de bus bereikbaar binnen 25 min
Good place.. Run impersonally like a hotel
Sam
2015-07-08T00:00:00Z
The house was clean and simple. Our host was super nice and straight forward and helpful. The neighborhood is quite affluent near a nice park and a 5 minute walk. From the bus station. A short ride into amsterdam.
Erica
2015-07-10T00:00:00Z
Accommodation was very nice as described. Alex was very friendly. Though the area is a bit far from the city center (30-40 min) but price wise it's very economical and clean/tidy place to live. The surrounding area is also beautiful and gives you a piece of mind.
Anuj
2016-04-26T00:00:00Z
The house was very clean and well decorated! Beautiful typical house, in a calm street. We were at 15min from the center by car. The only negative side is the price of the breakfast, too expensive for a "bed and breakfast" :) Thank again to the family!
Lucas
2015-03-08T00:00:00Z
Easy, professional check in. Run as a small B&B with many rooms rather than a true air bnb experience. Everything is new and in good shape. All you need for a safe clean place to stay with a couple nice touches like tea and coffee service.
Edward and Amelie
2016-01-22T00:00:00Z
Ania & Richard's house is amazing. It was super clean, tidy, and located in a beautiful neighborhood. we had amazing breakfast, prepared by ania's sister. We really felt like at home. Thanks for everything.
Sanjaya
2014-11-29T00:00:00Z
Alles prima geregeld. Kamer schoon en spiksplinternieuw. Service vriendelijk.
Veronique
2014-11-15T00:00:00Z
Room was clean and WiFi worked fine. The owners were friendly and helpful in all I needed. Nice and peaceful atmosphere, thank you so much! I'll be back certainly!
Marcio
2014-10-06T00:00:00Z
Typ av rum
Eget rum
---
Typ av boende
Villa
---
Plats för
2
---
Sovrum
Amstelveen, Noord-Holland, Nederländerna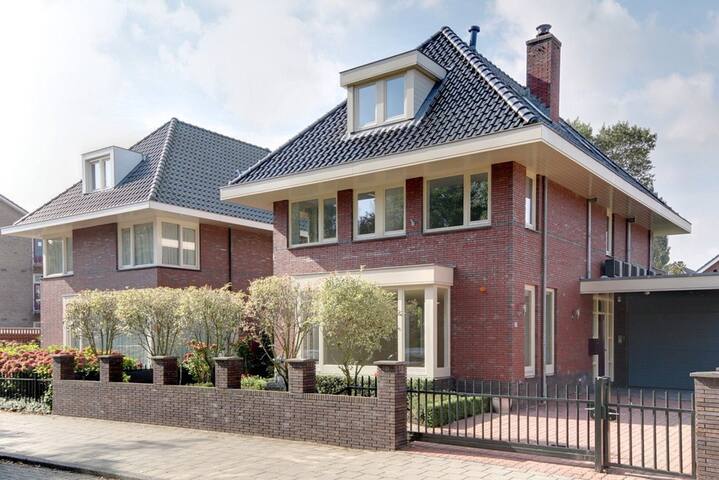 Welkom in ons ruime hoekhuis met tuin rondom, vlak bij het centrum van Amstelveen. Perfect geschikt voor een weekendje weg in Amsterdam, een familiebezoek, of een zakelijke project. Het Amsterdamse Bos is te bereiken in 10 minuten op de fiets. Rond ons huis is er vrij parkeren.
We verhuren alleen het hele huis (zolder is prive opslag). U kunt gebruik maken van de tuin, en onze fietsen (op eigen risico). U kunt ons altijd telefonisch of via de Airbnb app bereiken. En we zijn altijd bereid om ter plaatse te helpen als dat nodig is. Amstelveen ligt direkt zuidelijk tegen Amsterdam aan en het is ook vlak bij Schiphol. Ons huis ligt op loopaftand van het oude centrum met veel restaurants, maar ook 5 min van het prestigieuse shoppingcenter "het Stadshart van Amstelveen"
Amstelveen befindet sich im Süden von Amsterdam. Es ist auch in der Nähe von Amsterdam Schiphol Airport. Viele Restaurants und dem Cobra Museum sowie Museum van der Togt sind um die Ecke.
Leuk huis, makkelijk op met openbaar vervoer in amsterdam te komen. Genoeg ruimte voor 5 personen. Wij waren erg tevreden
Hester
2016-08-28T00:00:00Z
We had a wonderful stay- just too short! The place is spacious and clean and I loved all the windows and outdoor space. Very quiet and an easy walk to bus and to some nice restaurants. Definitely would recommend. There was an issue with the dryer at the time, but they were responsive to our emails and helped to take care of the situation quickly.
Jodi
2016-08-08T00:00:00Z
Alt i huset virkede som det skulle, masser af plads til 5 mennesker. Transport til og fra Amsterdam centrum er forholdsvis nemt. Man skal regne med 45 min - det kan anbefales at gå ca 15 til nærmeste sporvogn. Herfra er der linie direkte ind til centrum.
Steen
2016-10-09T00:00:00Z
Wir sind sehr freundlich empfangen worden. Das Haus ist angenehm, geräumig, hell und geschmackvoll eingerichtet. Die Treppe vom Erdgeschoss zu den im Obergeschoss liegenden Schlafzimmern ist ziemlich steil und schmal. Das zu wissen ist gut, denn für manchen könnte das ein Problem sein. Die Wohngegend mit überwiegend zweigeschossigen Reihenhäusern, alle sehr hübsch von kleinen Gärten umgeben, ist ruhig, sobald man von der Hauptachse in eine der vielen kleinen Straßen einbiegt . Diese eine größere Straße verläuft auf der Eingangsseite des Hauses und mündet, nicht weit entfernt, auf eine befahrene Kreuzung. Wer wie wir empfindlich auf nächtlichen Verkehrslärm reagiert, sollte die Fenster schließen oder Oropax verwenden, dann ist es kein Problem. Der Vorteil dieser Lage: Mit öffentlichen Verkehrsmitteln kommt man in null komma nix überall hin. Der Weg ins Zentrum von Amstelveen mit allen möglichen Geschäften und zum Teil ausgezeichneten Restaurants ist, auch bepackt mit Einkäufen, gut zu Fuß zu bewältigen. Für Ausflüge stehen im Schuppen hinterm Haus sogar Fahrräder der Gastgeberin zur Verfügung. Insgesamt haben wir uns sehr wohl gefühlt, nur leider viel zu wenig Zeit gehabt.
Brigitte
2016-08-24T00:00:00Z
Fantastic host and great house! We really loved the location, there are pleasant biking paths around Amstelveen but also the Amsterdam city center is only a quick bus ride away. There are great restaurants within a 10 minute walk and the house comfortably slept all five of us. The hosts were very quick to respond. We would definitely stay here again.
Samuel
2016-07-23T00:00:00Z
Für jeden der Amsterdam besuchen und erkunden will ideal. Das Haus wird perfekt verwaltet und ist mit vielen liebevollen Details ausgestattet. Es geht an nichts man ist innerhalb von 5 Minuten an der Messe und 15 Minuten in der historischen Altstadt. Alles sehr unkompliziert und seriös.
Birger
2017-02-10T00:00:00Z
La casa di Florine è molto bella e ben curata. Il nostro soggiorno nella è stato estremamente piacevole. La casa ha davvero tutti i comfort necessari, molto pulita, ben attrezzata, in una zona residenziale tranquilla. Possibilità di parcheggio gratuito nella stradina vicino alla casa. WIFI veloce. Bici disponibili. Cucina dotata di tutto quanto necessario. Bagno ampio con vasca e doccia.
Rossella
2016-07-28T00:00:00Z
Our stay in Amstelveen was wonderful. The neighborhood is quiet and stunning, but the house is only a few minutes walk from a large mall and weekend market, as well as a train station with a GVB line right into Amsterdam proper. The air bnb rental was managed by a small Amsterdam-based company who did a wonderful job. We were in contact with Casper, who was very sweet, responsive and proactive, and gave us some great tips for seeing the city as well. The house had 5 twin beds, each with their own blankets (read: no stealing covers!) in three bedrooms (one single, two bedrooms with the beds placed next to each other like a queen. We had no problems with the arrangement, even as a group of 5.)
Page
2016-07-02T00:00:00Z
Typ av rum
Eget hus/egen lgh
---
Typ av boende
Hus
---
Plats för
5
---
Sovrum
Amstelveen, Noord-Holland, Nederländerna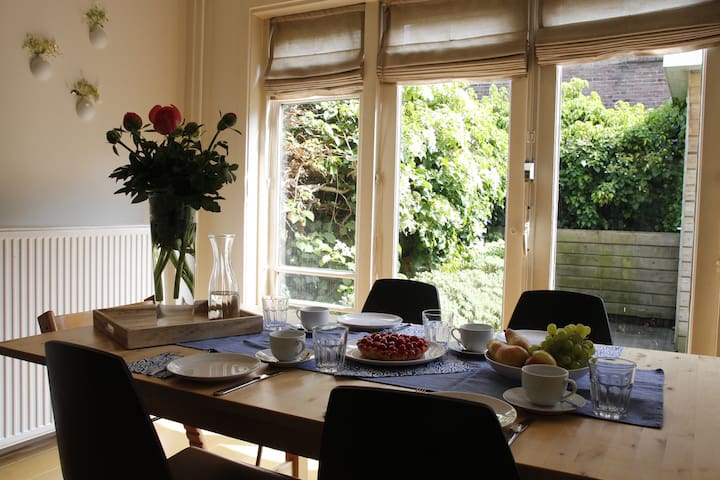 Welcome in our peaceful privat gardenhouse situated in the rustique polders near the Amstel on 40 minutes by bus from the centre of Amsterdam. You will find here a warm welcome, a big garden, your private entrance and free parking. Busstop is on a minute walk, metrostop on a 10 minute walk or 5 minutes by bike (for free). Sport (tennis, bowling, swimming), shops, restaurants and a typical Dutch farm are nearby. A babybed is available. You'll sleep with the sounds of te birds within the threes.
In 5 minutes, tennis, bowling, swimming, the authentic polder of Nes aan de Amstel as well as a typical Dutch farm Clara Maria. Restaurants available within 5 minutes.
It was a pleasure to be at the host of Wanda. We was 1 couple and two friends. So perfect for that opportunity, due to there is a double bed and two single beds. The beds was very comfortable. The wooden house is pretty lovely arranged. Small details makes us feel relaxed, comfortable and "at home" (e.g. the nice decoration). Both hosts (Wanda and her husband) was really lovely. One of us gets the cold and spontaneously they helped in organizing an open drugstore on Sunday morning. As well they helped to find the best way to go into the city Amsterdam. The place where the house is, is a very nice, green and quiet place. Without any doubts, we recommend to enjoy this opportunity and we are pretty sure, the next trip to Amsterdam, will be there as well. Again, thank you very, very, very much for the wonderful time.
Pedro
2016-10-03T00:00:00Z
Wanda et son compagnon Bas sont vraiment charmants et pleins d'attentions. Le logement est bien décoré, et Wanda avait veillé à ce que le logement soit chauffé avant notre arrivée. Cafetière et dosettes, petits biscuits ; rien ne manquait. La maison fait face à un joli jardin, isolé de la route, et donc au calme. Un excellent point de chute pour partir visiter Amsterdam, et un lieu (et des hôtes) à recommander.
Michel
2016-11-14T00:00:00Z
Très bon accueil. Beaucoup de renseignements et de précisions donnés avant le séjour, et pendant. Ils ont eu la gentillesse de nous proposer des services en plus gratuitement. Hotes Très sympa. Quartier calme et charmant. Bus à proximité. Possibilité de faire Amsterdam en vélo (40mn). Je recommande !
Caro
2016-11-01T00:00:00Z
Wanda and Bas were reeeeally nice and welcoming hosts. Everything was as expected at the apartments, clean and cosy and warm (adjustable heating available). Definitely recommended, we'll come back next time for sure.
Vladimir
2016-10-17T00:00:00Z
Hemos pasado dos días maravillosos en Amsterdam gracias a Wanda, una anfitriona genial, amable, simpática y muy atenta. La comunicación fue perfecta. Trata de ayudar en todo lo que puede. La casa es muy bonita, apartada del centro de Amsterdam pero con muy buena comunicación (en 40 minutos en autobús estás en el centro de esta preciosa ciudad). Un sitio muy limpio y agradable, sobre todo si vas en coche. Totalmente recomendable.
DARIO
2017-03-19T00:00:00Z
Lovely quiet place with a family feel. Very comfortable bed. Crisp clean bedding and towels. Tea and coffee facilities but not place to make basic breakfast. One comfortable chair and outside bench overlooking the garden.
Juanita
2017-04-04T00:00:00Z
AMAZING! Sort of far from Amsterdam but the bus ride truly isn't too bad!! Bikes on premises and we found this amazing trail very close to their home. The bus stop into Amsterdam city is super close. Cutest house ever!! Such a friendly host!!! Amazing backyard and Amestelveen is an amazing city! Nice farmers market too. HIGHLY recommend!!! My friend forgot his toothbrush and she ran to the bus stop to find us and give it to us!!! How amazing ahh!!
Jess
2017-04-02T00:00:00Z
Typ av rum
Eget hus/egen lgh
---
Typ av boende
Bed & Breakfast
---
Plats för
4
---
Sovrum
Amstelveen, Noord-Holland, Nederländerna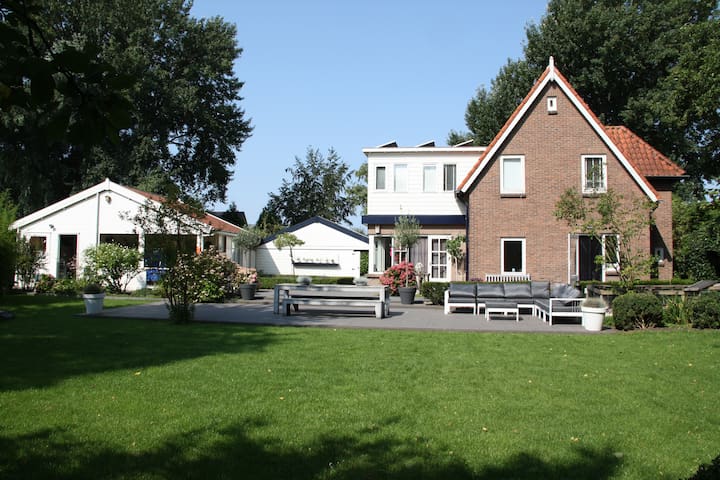 Vårt hus ligger i en speciell miljö, med massor av gröna, vackra blommor, hoppa vackra lamm, baby duvor och även två ugglor, men också endast 40 trafikminuter allmänheten borta från Amsterdam-Centre. Med Amsterdam skogen bara 10 minuter bort, är den holländska Beach och deras vackra Beach restauranger på 30 minuter detta den perfekta vistelsen om du bara behöver tystnaden på landet och verksamhet i stora städer.
Vårt utrymme är en vacker plats, där människor känner sig hemma direkt. Huset ligger i ett lugnt område, omgiven av en hughe privat trädgård med flera platser i sol eller skugga, många blommor, fjärilar och fåglar. Speciellt på natten finns det total tystnad.
Eftersom huset ligger på landet, är grannskapet vacker med vackra hus, trädgårdar. Joggare och cyklister känner sig trygga i Noorddammerweg och området. Bara 1,5 km bort, det är trevligt köpcentrum med affärer du behöver, som ett fint bageri med holländska specialiteter, flera super marknader, slaktare, frisör och skönhetssalong och mycket mer. På bara 15 minuters avstånd med bil hittar du Amsterdam Forest, med massor av dörren verksamhet, som kanoes, vatten cyklar, ridning och naturligtvis utomhus löpspår. I 5 bil minuter finns det flera stora sätt att de stora städerna, som Haag, Utrecht, Rotterdam och naturligtvis Amsterdam. I Westwijk område du hittar stopp för allmän trafik (sneltram 51) till Amsterdam centrum.
Karina is very friendly.She pick us up at the Metro station.anf tell us where to shop.The house is not at Amsterdam,but easy to reach the central of Amsterdam with Metro,about 40min.Thanx Karina!
Kaya
2017-04-03T00:00:00Z
In Karina's house and her husband, we felt in our home! Everything was perfect, clean air, clean, amazing place! Karina is perfect in everything she does! Besides being an amazing person! I can not complain about anything at all ... Our stay in the Netherlands was even better thanks to Karina and her family! Will be back! Karina is a lovely human being! Wonderful house, facilities and perfect location! Wonderful city! We felt welcomed and protected, Karina did everything to feel comfortable!
Deborah
2016-10-31T00:00:00Z
I stayed for two days with Karina and her husband Arie and found them so generous and kind hearted. they shared alot of info about Amsterdam and the various happening places in and around the same. she is very caring and helpful. I would recommend one should definitely go and stay at that place. the place is nice, clean, peaceful place to stay. thanks Karina for all the things you have done for me.
Rajat
2016-08-21T00:00:00Z
Karina pick us at the bus stop near her home. She explain a lots about how to see, how to do in Ams. I also had an opportunity to join dinner by her cooking that was delicious for me. Everything is perfect, feel stay at home. Lovely and warm family. If you love dog, there are 2 dogs that is friendly for guest. Thanks a lot for everything Karina do for us! Nilawan
Nilawan
2016-09-24T00:00:00Z
Wonderful hosts! I was rescued after losing my way at midnight and they patiently drew maps, allowed me to use the computer to book trips, made suggestions of where to visit, made delicious breakfast and great coffee. The property was clean and stylish, in a good location to get onto the major highways and just outside Amsterdam Bos which was lovely. They were great company and left feeling as though we hadn't stayed long enough, and wishing to return. Can't recommend highly enough truly lovely people! Karina's sculptures were beautiful and displayed all around the property.
Suzanne
2016-07-10T00:00:00Z
I was fully satisfied with this stay. Karina and her family members are very friendly and willing people. They are very helpfull in case you need something. Big plus from my point of view is free parking behing the gate in the house yard. This offer completely met my expectations.
Jan
2016-10-02T00:00:00Z
Simply the BEST AirBnB I've ever done!! The house: Lovely house, lovely neighborhood and environment, If you're an Art and Interior Design aficionado, this is the place for you. The location: a vehicle may become very handy for you, especially if you want to get to central Amsterdam. You can even organize a trip to the beach (30-40 min away) The room: Sunny, big enough for two, Bed super comfy, very clean (or should I say very neat?), Towels provided, coffee/Tea machine in the bedroom, plenty of storage spaces. The bathroom neat and very functional. The Host: the kindest person I've ever met, really. Karina will definitely make you want to come back. I know I will, for sure. Trust me, you're in good hand with her (especially if need ideas of places to visit or restaurants to eat at). Barely saw her husband but he was very nice to us the few time we bumped into each-other. Till we meet again!!!
Emdy
2016-07-17T00:00:00Z
Verwelkomt door de vrouw des huizes. Een ongelooflijk vriendelijke dame. We voelde ons meteen welkom. Even een glaasje in de zon en een kennismakingsgesprek. Ze heeft ons ontzettend goed geholpen met al onze vragen zodat we fietsend de omgeving en de stad konden verkennen. Een zalig bed met een eigen douche en wc die toevallig dat weekend enkel door ons gebruikt werd. Prachtige tuin in een rustige omgeving. Auto is aangewezen, maar een fiets is beter! :) Dank je Karina voor de goede zorgen en om ons weekendtripje nog fijner te maken. Dikke kus Shana en jasper
Jasper
2016-08-08T00:00:00Z
Typ av rum
Eget rum
---
Typ av boende
Villa
---
Plats för
2
---
Sovrum
Amstelveen, Noord-Holland, Nederländerna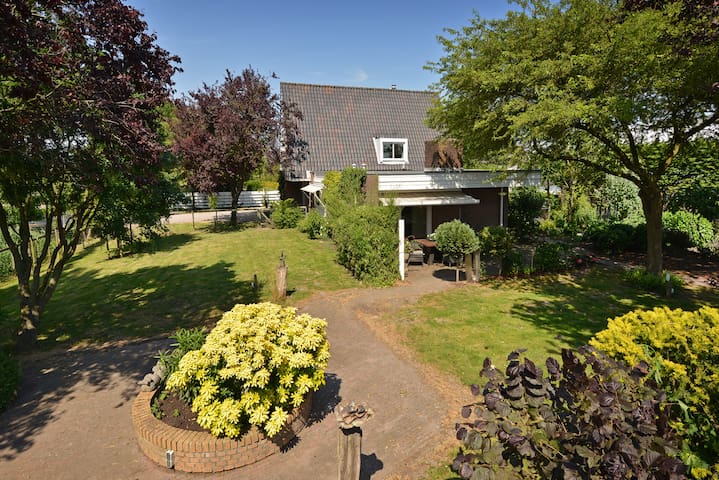 Aan Amsterdamse bos geschikt voor wandelaars, fietsers en stedentrippers. Als je geen zin hebt in hotel en je toch thuis wilt voelen om te lezen en muziek te luisteren met het comfort van een goed bed, lekkere douche enzovoorts. Stad en rust.
Het huisje is geschikt voor een stel met eventueel een baby
Hans is a fantastic host. Although we never had the pleasure too meet in person, Louise, Hans wife was at the house to greet us and show us around.The guesthouse we've stayed is exactly as in the (URL HIDDEN) nice,cosy and convenient for a couple.We were allowed by the host to check in early after our arrival to Schipol,which is just 20 minutes away with Bus No186. Although the flat is abit far from Amsterdam city centre, the place, the amenities and the great hospitality of Hans & Louise will make up for this inconvenience. They provided us complimentary bikes, we were allowed to use the jacuzzi and the location of the house is just like in a fairy tale, next to a canal and to Amsterdam Bos, a beautiful green park. We were very happy with my partner to stay in this place and can highly recommend it to anyone who is really looking to relax but enjoy Amsterdam in the same time.We are panning our visit back ,hopefully Hans & Louise will be able to host us in the future too.
Zoltan
2016-05-29T00:00:00Z
We were very pleased with this accommodation. Very nice Blockhouse, and nice whirlpool to use.
Gregor
2016-07-25T00:00:00Z
Best airbnb experience ever! It made us feel like we were living in the Netherlands! We 'commuted' with bikes every day from gorgeous and energetic Amsterdam's center to Hans' perfect paradise. The place is very cozzy, Han's and the neighbors are very kind and a pleassure to talk to. We highly recommend the place for a very enjoyable experience in Amsterdam.
Marta
2016-09-19T00:00:00Z
very cozy cabin-esque feel in a neighbourhood with wonderful scenery not too far off from the city
Vanessa
2017-03-26T00:00:00Z
Hans place is located in a nice neighborhood very close to Amsterdam center (20 mins by bike) which was perfect for my business trip (free parking in front of the house is cool when you know the parking price in Amsterdam). Hans is a friendly host and his place is clean and very pleasant! Thanks again for the stay!
Nicolas
2016-11-13T00:00:00Z
Excellent communication with the host! The location was beautiful and quiet which was great for resting travelers. Bus is a little over a km away and its 5 euros into the city. Was fairly easy and a nice walk.
Jessica
2016-04-11T00:00:00Z
This place is just awesome and Hans is one of the nicest hosts Ive met on Airbnb. We got exactly what was promised, Hans even gave us bikes free of charge for use during our stay. I believe nothing is problem with Hans as long as you let him know.
Tomáš
2016-07-18T00:00:00Z
A cosy little guesthouse was very relaxing to come back to after walking around in Amsterdam all day. Big enough for the two of us, the place was clean and tidy and more than sufficient. We could have made use of the hottub, but didn't have the time to. Isaac and I had a great time cycling into the center and we even walked it once although i do not recommend it! Cycling is clearly the way to go all the time and Hans lent us 2 for our use. Hans is great. Helpful, friendly, and left us to it which is exactly the kind of experience we were looking for. Thanks so much and we look forward to visiting Amsterdam again!
Edward
2016-05-09T00:00:00Z
Typ av rum
Eget hus/egen lgh
---
Typ av boende
Stuga
---
Plats för
2
---
Sovrum
Amstelveen, Noord-Holland, Nederländerna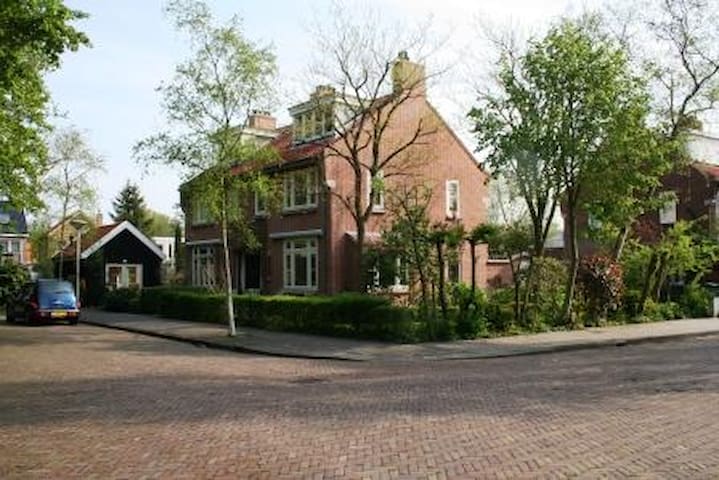 1 bedroom appartment. With the metro or bus in 20 - 25 minutes in Amsterdam.
Begin your day with some tea inside or on the balcony with nice few. If it is a sunny day you have almost the whole day sun on the balcony. The kitchen, bedroom and living room are simpel but nice.
You can be in Amsterdam in 20-25 minutes with bus or metro. Nearby my place is a really nice park not so far away. There you can visit the goats and eat some pancakes or take a look in the blossom tree park. Supermarket nearby. With 10-13 minutes you can be in the Amstelveen center with nice shops and on fridays a market.
Typ av rum
Eget hus/egen lgh
---
Typ av boende
Lägenhet
---
Plats för
4
---
Sovrum
Amstelveen, Noord-Holland, Nederländerna
A great apartment located downstairs in the authentic basement with everything you need including a sauna! The spacious room and the sauna are privately for you. Free parking. With the bus stop right in front of the door the Amsterdam city center is only 30 minutes away with a direct connection.
The apartment has an authentic location in the mansion in the authentic basement. The sauna is located in your room in the basement and is privately for you. To relax in the sauna after a busy day will cost you only € 10. The room is very spacious and very cozy and has two comfortable single beds with television. The sauna is modern and there are retreat oils available. Take a moment of total relaxation. The room is fully equipped with coffee- and tea machine, microwave and fridge with free snacks and drinks. Upon request the host can make you a delicious breakfast (additional local charge). There are some very good restaurants in the street to go out for dinner. The apartment is also suited for business guests. Available are clothes hangers, hairdryer, iron (upon request) shampoo and soap. Also there is fast WIFI internet and a computer friendly workspace.
The apartment is located in a quiet and nice neighborhood. One street away from the largest home interior boulevard of The Netherlands. A big supermarket, a bakery and a gas station are also just around the corner. There is enough free parking space.
Typ av rum
Eget rum
---
Typ av boende
Lyxvåning
---
Plats för
2
---
Sovrum
Amstelveen, Noord-Holland, Nederländerna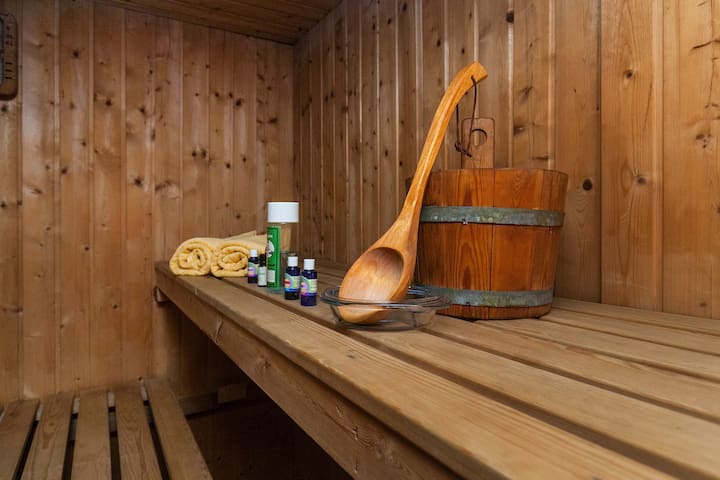 My home with 3 bedrooms and a nice garden for 6 people, Has all the necessary amenities in the garden, just 8 km from Amsterdam city center with direct bus. Free parking.
Beautiful garden, quiet neighborhood
Beautiful walk in the area. Supermarket and shopping within walking distance.
Были рады знакомству с Марией. Прекрасно говорит по русски, что для нас было немаловажно. Дом удобный, все как написано в предложении, при возможности остались бы дольше, но апартаменты были заняты. Мария подсказала удобную парковку в Амстердаме. Спасибо, до новх встреч.
Aleksey
2014-07-22T00:00:00Z
La casa era molto carina e spaziosa, anche il giardino molto carino, peccato per il meteo, la proprietaria è stata molto disponibile e gentile. Però abbiamo riscontrato diversi difetti: 1. La casa era sporca, anche le lenzuola e le pentole. 2. La casa era molto lontana dal centro, il viaggio per raggiungere il centro durava almeno 45 min e la casa è collegata solo da una linea estremamente costosa (5€ a viaggio, abbonamento giornaliero 14€), a meno che non vogliate farvi 20 min a piedi per raggiungere lo stazionamento del tram 5.
Isabella
2014-07-30T00:00:00Z
Une petite maison simple et sympa dans une banlieue agréable, avec des transport faciles d'accès vers le Centre. Un petit séjour très agréable. Merci à Maria!
Vincent
2015-07-17T00:00:00Z
Maria is good person She waited me until evening and appreciate her for that
ali
2015-07-28T00:00:00Z
La maison est suffisamment grande pour 6 personnes, le jardin est agréable lorsqu'il fait beau, le quartier est calme (selon le vent, il peut y avoir des passages d'avions, l'aéroport n'est pas loin !), le bus est effectivement cher car on ne peut pas utiliser la carte "I Amsterdam card" sur cette ligne, Joseph nous a très bien accueilli. Petit bémol : pas mal de poussière, draps pas à la taille des lits. Une fois ces détails réglés, cette location est à recommander.
thierry
2014-08-12T00:00:00Z
I did not get to meet Maria but her son, Josef was very friendly. He was able to answer all our questions and assisted us with a ride to the grocery store and in getting a taxi to the airport. The plane was exactly as described and public transportation is very close to the house. It was a great stay and would recommend it to anyone.
Vena
2015-08-28T00:00:00Z
We had a really nice stay, home was clean and we sleep well... I know where i will sleep when i will come back to amsterdam!
Nicolas
2014-07-07T00:00:00Z
If you want to stay in a beautiful location away from busy streets and noisy neighbours this is a perfect place to stay. Maria and her family are truly great hosts! Thank you for a great stay!
Costa
2014-07-12T00:00:00Z
Typ av rum
Eget hus/egen lgh
---
Typ av boende
Hus
---
Plats för
6
---
Sovrum
Amstelveen, Noord-Holland, Nederländerna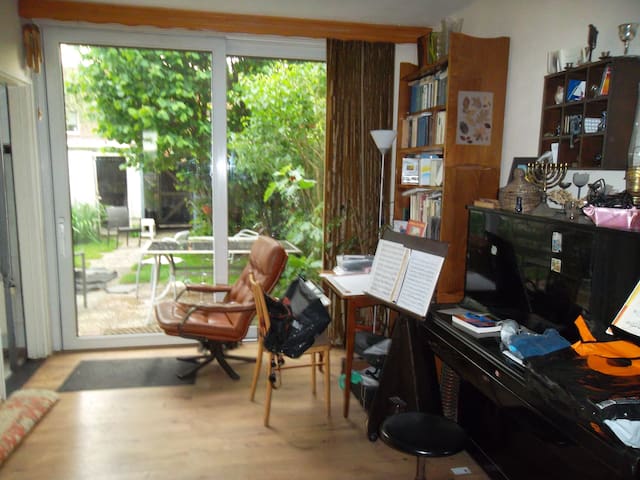 Spacious apartment with stunning views of Amsterdam. 2 bedrooms and a large living room with kitchen. Amazing views of the Amsterdam! Near the metro station Binderij
整個公寓是你的,包括1個陽台(FI吸食外)。不與他人分享。 舒適,經濟實惠,安全和清潔
步行15分鐘,以在阿姆斯特丹Bos 週五市場在椎體廣場。 免費停車場
Jurij has super apartment with a good view. He was very helpful and so kind. We definitely recommend it! Thank you
Damian
2016-09-05T00:00:00Z
Yurij's place is awesome! It has great views, very spacious and fully furnished. His friend Alex met us and he was very friendly. The place is 40 minutes away from the city but I will stay again at Yurij if I visit Amsterdam again!
Mikan
2016-01-01T00:00:00Z
The stay at Yurijs home was great, we slept three nights there. He and his wife are very kind, they picked us up when we didn´t find the way to the apartment. The view is great and the apartment is clean. The kitchen´s got everything you need. We can really recommend this apartment to everyone.
Julia
2015-10-27T00:00:00Z
Our stay with Yurij was fantastic. The apartment is located about 40 minutes from Amsterdam Centraal by metro or bus and 20 minutes from the airport. Its not very convenient for late night outings as most transportation seems to stop around midnight, but it is a perfect haven from a busy day in the city center. The apartment is in a very quiet neighborhood and there is a grocery store a metro stop away. The apartment was nicely furnished and is very spacious. The kitchen had plenty of utensils for cooking at home. We had a problem free stay and highly recommend the apartment. Although we did not meet Yurij, he was very available by text.
Leo
2016-09-14T00:00:00Z
Definetely reccommended. Great apartment, great host!
Barkın
2016-09-23T00:00:00Z
Great place for a family, very quiet place, spacious apartment and well equiped. Perfect to visit Amsterdam.
Julio
2016-09-03T00:00:00Z
We simply arrived and everything was fine, Yurij's friend welcomed us and found us looking for our way to the right flat, then shew us the flat and everything was alright. The metro station is really close and easy to find. Also the dishwasher was very welcomed. We enjoyed a fully furnished flat.
Valentin
2016-08-13T00:00:00Z
This is a good apartment. There is all you can need near the apartment : supermarket, Metro, bus .. The city is very calm.
Elodie
2016-07-31T00:00:00Z
Typ av rum
Eget hus/egen lgh
---
Typ av boende
Lägenhet
---
Plats för
3
---
Sovrum
Amstelveen, Noord-Holland, Nederländerna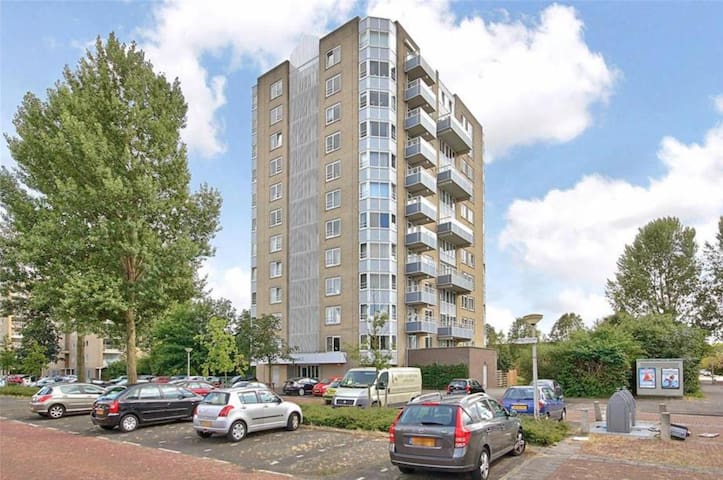 1

–

18

av

300+ Boenden att hyra
Ange datum för att se full prissättning. Ytterligare avgifter tillkommer. Skatter kan tillkomma.