33 Uthyrningar av lägenheter
Quinta da Lontra - A newly refurbished one bedroom apartment in a beautiful riverside home, just metres from the river Mondego. If you're looking for peace, beauty & tranquility then this is the place. The apartment has its own bathroom and kitchen, & is light, modern and private. The upper 2 bedroom apartment is also available to rent separately. The Quinta is situated 1km down an unpaved track & is accessible by car but very low slung vehicles may struggle. Breakfast is provided on request.
One double bedroom, a private kitchen and bathroom, we can provide a small sofa bed for a child.
If you´re looking for peace and tranquility with lovely walks and river swimming, then this apartment is ideal. The beauty of the nature surrounding us makes this location really special. The nearest village of Póvoa de Midões is approx 1.5km by unpaved track from us and has a small supermarket and 3 bars. The nearest towns of Carregal do Sal and Tábua are both approx 8km in distance and have supermarkets, weekend markets selling local produce, pharmacies and all other amenities.
This is a special place and a must stay if you are in there area! It's in a fantastic, secluded location right on the river. We loved staying in the apartment that cleverly incorporates stones from an older building to make up the bedroom area. Each morning we enjoyed opening up the sliding doors that make up the entire side of the living room/ kitchen and looking across the bank at the impressive giant rock formations on the hillside opposite. Toby and Nina are super hosts, really friendly and knowledgeable about the area. It's clear they have put an extraordinary amount into creating this Quinta and the surrounds. Highly recommended.
Helen
2016-11-03T00:00:00Z
Nous sommes arrivés en train. Toby est venu nous chercher à la gare. Elle se situe à 10 min du bnb. Très souriant et avenant, il nous a fait découvrir le lieu, perdu dans la forêt. Le logement est top, bien équipé (frigo, four, gazinière...), propre, décoré avec gout. Nous avons pu cuisiner. Par contre, le supermarché est à 10 min en voiture. Donc si vous arrivez par le train, faites vos courses avant. Une fois sur le lieu, vous n'avez pas envie d'en sortir. Il y a aussi une cuisine de jardin avec des canapés des poufs. On peut y écouter un peu de musique y retrouver d'autres "voyageur" y manger... L'endroit est magnifique. Nous sommes baignés dans la rivière à 20 mètres de notre logement, fait du canoé, jouer au ping pong... Si vous souhaitez vous couper d'internet et de votre portable, c'est le lieu idéal. Merci beaucoup à Toby et Nina :))
Frédéric
2016-07-22T00:00:00Z
Toby and Nina's place is a lovely sanctuary in rural Portugal. We had a fantastic couple of days there, the space is great and is well set up. The river is beautiful, we got to spend a bit of time kayaking there which we loved! Definitely recommend.
Boe
2016-07-19T00:00:00Z
We had a lovely stay at Nina & Toby's nice house near the river. They are really welcoming, helpful and make delicious breakfast :-) Can't wait to go back ...
Reinout
2016-07-30T00:00:00Z
My stay with Nina and Toby was great. I went there to relax and that is exactly what I did. What a great place! Apartment on the river, away from everything, no internet or phone, great hosts and great surroundings. If you want to take a break from castles and palaces, this is the place. Didn't move for two days. Nina, our host, even cooked 3 awesome dinners for me. This is a great option if you don't want to go out as you are out of the way a little bit and the price is well OK! The place is very well equipped and I found nothing that was missing for my comfort. Take your groceries for breakfast and lunch and your good to go! Again Nina and Toby are great hosts and they are both working very hard to ensure your stay is good! Will definitely go back next time I'm in Portugal! François
Francois
2016-09-25T00:00:00Z
We loved our stay in Toby and Nina's spot. The house was really cozy and had everything we needed. The river view and the hosts were particular highlights. Toby prepared a delicious breakfast, it's a must try! If you are looking for inner peace and a full restart with a dash of adventure and romanticism, this is the perfect place. We can ensure it's a full "yes, go for it", 'cause despite all the other options, we are going to choose Toby and Nina's spot again, soon!
Sara
2016-09-05T00:00:00Z
Toby and Nina were simply fantastic. Great accommodation, at a fantastic place. It is one of the best bnb I've been so far. For one that loves the nature and wants to be disconnected from the daily routine for a while, this is definitely the place to be. Absolutely incredible.
Luis
2016-08-24T00:00:00Z
Séjour incroyable chez Toby et Nina. Certainement le plus bel air BnB que nous ayons fait. Parfait pour se reposer, se balader a pied ou en canoe et profiter de la nature. Thank you very much. Everything was perfect.
Léa
2016-09-17T00:00:00Z
Typ av rum
Eget hus/egen lgh
---
Typ av boende
Lägenhet
---
Plats för
2
---
Sovrum
Póvoa de Midões, Coimbra, Portugal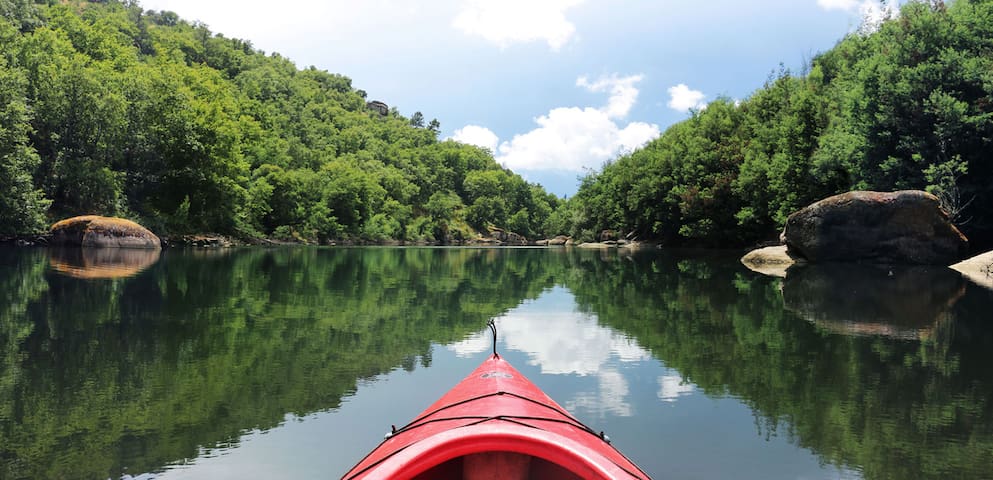 The spacious apartment is part of a granitstone house, renovated with modern and traditional eco-friendly materials.The guest house is located above the Mondego River valley, with views to the Caramulo mountains. Relax and enjoy this peaceful place.
The apartment includes an open plan kitchenette and living-room with 1 double bed (and 1 single bed). A Bathroom with shower and WC, and another separated WC. The Wood burning stove brings cozy warmth in the colder months. Fantastic view from the Wintergarden / sunterrace. Wireless LAN is available. Use of washing machine possible.
We are located in the Center of Portugal by Póvoa de Midões, near Tábua and Carregal do Sal (8km) between Lisbon and Porto about 60 km from Coimbra.
Martina gave us plenty of info & came pick us up in town, which was very helpful. The house is lovely and very cosy. Amazing view, too. As a big bonus; fresh veggies from the garden. We also enjoyed a nice yoga class with Martina with a nice view. Highly recommended!
Karen
2016-08-26T00:00:00Z
We arrived very late in the evening to the Quinta, tired, exhausted & hungry from a long journey. Upon arrival, we met Bernd who greeted us with a warm smile, a lit fire, clean towels & some food to help with our hunger. The accomodations were clean, warm, tranquil & breathtaking. The quinta is located in a private setting within proximity of roads leading to other towns such as Tabua, Arganil, Pidiao, Coja, Benfeita, etc. Easy access to amenities such as supermarkets including Lidl, bistros, restaurants, bank and petrol station. The quinta itself is pastoral, quiet, idyllic with breathtaking views, gardens and peaceful zones for yoga and meditation. We had no trouble sleeping at night as it was quiet, the double bed was comfortable and the woodburner kept us warm & cozy. We were able to cook our meals in the full kitchen & a warm shower every night. Wifi was available for internet access. Bernd and Martina are the most wonderful hosts, down to earth & friendly; both practice and teach yoga. Our stay at Quinta Bamboo will never be forgotten; it exceeded all of our needs & expectations. We would gladly come back here to stay and highly recommend it to anyone who comes to Portugal for holiday. Thank you so much Bernd and Martina.
S
2016-11-30T00:00:00Z
Pour les amoureux de nature un vrai petit coin de paradis! Martina et Bernd nous ont très bien accueillis. Leur maison si bien restaurée est chaleureuse et spacieuse. On a envie de profiter des extérieurs très calmes où, quelque soit le moment de la journée, on trouve un endroit à l'ombre: une terrasse, une chaise longue, un hamac. Sans oublier les pêches du jardin qui nous attendaient chaque jour. Merci encore pour cet agréable séjour. Nous reviendrons!
Emmanuelle
2015-08-07T00:00:00Z
Very cool place. Very nice people. You can close your eyes and go.
Victor
2016-10-11T00:00:00Z
Excelente espacio para relajarse y disfrutar de la naturaleza. Completamente recomendable tanto por la casa, como por el entorno como por los anfitriones.
Sito
2016-01-06T00:00:00Z
we had a great time at quinta bamboo. the house is great located in the countryside and bernd and martina gave us a warm welcome. we would totally love to return
Elin
2015-09-17T00:00:00Z
Martina and Bernt are great hosts and lovely people. We enjoyed our stay a lot, very relaxing. We made lots of plans but choose the easy way. A full chill out in a lovely place. Loved the Archery too.
Guido
2016-08-07T00:00:00Z
Estadia mais em paz e acolhedora seria difícil! A localização, a vista e o espaço tornam a Quinta num lugar de sonho! Ficamos a sentir que estamos num retiro num lugar que se divide entre o sensação dum lugar serrano misturado com um feeling mais exótico! A casa era fantástica, ainda que um possa ser um pouco fria, nesta altura do ano. No entanto, não deixou de me encantar! A Martina e o Bernd são super acessíveis e simpáticos e estiveram lá para nos ajudar no que precisámos! Um bónus maravilhoso foi a óptima aula de Yoga! Uma das várias actividades que este lugar e estas pessoas fantásticas, nos colocam à disposição por um preço justo! Um lugar para voltar a visitar!
Francisco
2017-01-02T00:00:00Z
Typ av rum
Eget hus/egen lgh
---
Typ av boende
Lägenhet
---
Plats för
3
---
Sovrum
Póvoa de Midões, Portugal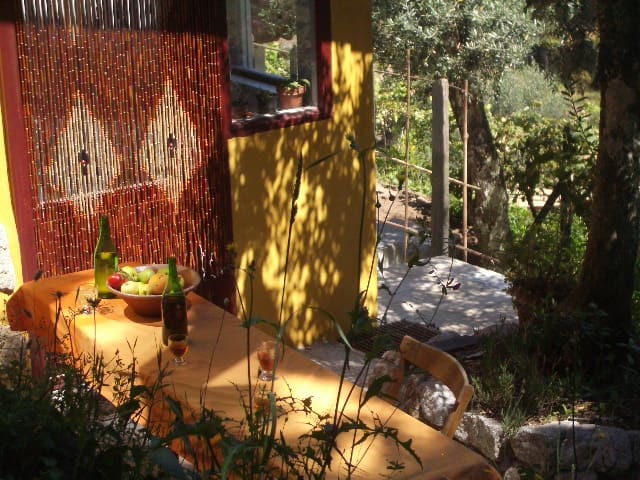 We have created a place that is our little paradise on earth! The peace and serenity is much like spending time at a retreat. Every guest we have hosted, so far, has fallen in love with our `House of Stars`. Come and spend a few days with us. Everything to make your stay a perfect one, is provided for you in the apartment. Each guest is special to us. We are passionate about our Airbnb business and we look forward to hosting YOU!
The name: `House of Stars` was inspired by the mountain range in our area namely the `Serra da Estrela` which means the `mountains of the stars` in Portuguese. We warmly welcome you to our haven of peace and tranquility(URL HIDDEN)Our 'HOUSE of STARS' offers you a SELF-CATERING, ONE BEDROOM, en-suite apartment, accommodating STRICTLY, 2 GUESTS ONLY! The apartment is completely PRIVATE and AWAY from the main house. Providing you with a large comfortable, new KING-SIZE bed, with an orthopedic mattress and a`memory foam` topper for a super night`s rest. Good quality pillows and bedding. All bed-linen and towels are supplied as well as swimming towels. A new hair dryer and styling hot brush is available for your use. A comfortable lounge with a wood-burner, a fully equipped kitchenette, with table and four chairs. The PRIVATE outdoor PATIO area has a griller and is perfect for having your own barbecue, morning breakfast, sun bathing, sun-downers, relaxation and star gazing. SEE PHOTO GALLERY(URL HIDDEN)Set in the confluence of three valleys in a traditional, small Portuguese schist village, which also has a historical chapel. 'House of Stars' provides a haven for walkers and nature lovers, the perfect refuge for a relaxing outdoor holiday with all the luxuries of a well equipped base. This peaceful village lies between two large towns, ARGANIL and TABUA, which provide and supply everything one needs in the line of supermarkets, bakeries, coffee shops, banks, post office`s and all other amenities. Arganil lies 15 minutes away and Tabua, 20 minutes respectively. Local restaurants serve good Portuguese home cooking and presently charge about €7-50 for a full course lunch. Evening dinners and Sunday lunches might cost a bit more. Coffee shops are plentiful. The coffee and pastries are superb! Forget about your waistline when visiting Portugal. The surrounds are especially beautiful.The magical view over the serenity of the valley, is sure to enchant the beholder. If you are looking for total peace then this is the place for you! Here you can lose yourself within the tranquility of our valley, while listening to the songs of myriads of birds, or having the opportunity to observe one of the rarest birds in the Iberian, namely the Spanish Imperial eagle. There are ample opportunities to take walks in the surrounding forests, by simply stepping out of the door, into the valleys or the forests surrounding the apartment. May brings splashes of purple lavender and yellow and white daisies, which cover the fields.The climate is especially good for the masses of gorgeous roses which adorn virtually every Portuguese garden in this region of central Portugal during the summer months. At the start of summer you will hear the call of the cuckoo in the valley. The night-time summer skies are star-studded, while the silence is interspersed by crickets chirping, and the song of the frogs in the stream below. Watch the moon rise over the hills, when it's full moon. Guests love the crystal clear nights (telescope provided on request) and the beautiful call of the owls in the valley. Listen to nightingales and even wild boar as they go about their business. In the distance you'll hear the deep, peaceful sound of church bells ringing. Come and watch the 'shooting stars' in the clear night skies in August and make your wish! 'House of Stars' also lies in the center of a region of particular cultural interest, with some of the most beautiful palaces and castles, religious sites and Roman ruins. The city of Coimbra, the second oldest university city in the Europe, is located within a 45 minute drive from our 'House of Stars' and has many interesting attractions. Condeixa lies just south of Coimbra and has fantastic, impressive Conimbriga Roman ruins, professionally restored mosaic floors and a Roman museum. Viseu lies north of us and is one of the Beiras' most appealing cities for sheer charm and vitality. Cobbled streets, meandering alleys, fine churches, museums, leafy public gardens graced with flowers and fountains and good restaurants. Viseu dates back to Visigoth times. Famous for it's red Dao wines. The high mountains of the Serra de Açor have become famous for their schist villages. Piodão, located within an hours drive and is a UNESCO WORLD HERITAGE site and sits nestled on a steep slope. A definite 'must see'! The town of Coja offers a wonderful opportunity to relax and enjoy one of the nicest places to have a leisurely swim in the pure gushing mountain water at the alluvial beach, or just to sit and enjoy a drink by the waters edge at the old water mill.The environs of Coja are within an easy 20 minute drive. About 10 minutes from Coja along a very picturesque drive lies the pretty village of Beinfeita, well known for it's water-fall, called Fraga da Pena. The Town of Arganil, has a really good tourist info. center, and any further information relating to things to do and see in the general vicinity, can be found there. In the Gois area, you will be able to see a series of well restored traditional, ancient Schist villages high up in the spectacular mountain scenery.The villages are 30 minutes drive from the 'House of Stars'. Along the Serra da Atalhada are 25 restored windmills, this area is 35 minutes drive to the west from us. The 360 deg view is amazing! The Serra da Lousã mountain range, has gained fame for it's fine scenery.This is also the location of the magnificent Manuelian Palace of Buçaco, nestled in the Buçaco forest with its magical formal gardens and one of the largest arboretums in Portugal, with over 300 hectares of forest.The forest park has well-marked walks, which guide the visitor to the Stations of the Cross and other look-out points which offer spectacular views over the country-side. Luso is only 10 minutes drive from Buçaco, and is a well known Victorian Spa town with therapeutic facilities. Open to the public but not for free! Pristine water is still bottled at the source of it's fountains. Luso has a very good cafe and restaurant right on the main square, at the parking area. Buçaco is approximately within a 45 minute drive and a 'MUST SEE'! Should you require any additional information regarding interesting sites to see, or things to do,we will assist you. Further information on good restaurants, Coffee Shops and Supermarkets, can be obtained from us as well. Your hosts, Ingo and Gillian, speak English, German and Afrikaans fluently as well as some Dutch and Portuguese. We pride ourselves in providing excellence and personal service to make your stay special. We are passionate about our 'House of Stars' and our region and look forward to meeting and hosting you! ..................
The area is beautiful and serene, total peace and tranquillity abound here. There are many interesting places to visit, within the region.
Gillian is just an amazing host. Really kind and makes you feel right at home. The location is just too amazing to discribe. It is a such a lovely breathtaking house! The view is spectaculair. The little cottage is lovely, so tidy and clean. Gillian, we really enjoyed our stay at Your "house off stars" We wish you all the best! Frans and marissa
Frans
2016-08-14T00:00:00Z
I have been using airbnb for around 5 years now. I can say that Gillian and Ingo's House of Stars has been another wonderful find! The moment we stepped onto the terrace we felt that we were in an oasis of calm...The house has been beautifully restored and we enjoyed hearing from Ingo and Gillian about the long, but so worthwhile process! The end result is a testament to their belief in the project...What we loved was waking up to bees and birds outside our bedroom window...Here is a list of some of the wildlife seen and heard at House of Stars..Imperial Eagle. Black Kite. Redstart. Yellowhammer. Green and Great Spotted Woodpecker. Goldfinches eating the sunflowers! Nightjars and Little Owls calling at dusk! Swifts,Swallows and House Martins swooping low over the terrace..We will really miss this wonderful place...Gillian and Ingo were so helpful and its obvious that they love to have people stay. They are warm and wonderfully friendly and very helpful with local information..We will be back. Simon and Anna:) xx
Simon
2015-07-05T00:00:00Z
All kinds of wonderful! Immaculately clean apartment with the most comfortable bed on the planet. The hosts with the most will go above & beyond the call of duty to make your stay a perfect one. A brilliant place to chill out & let the world pass you by. Crazy if you don't book a week or even better two.
Gussy
2014-05-25T00:00:00Z
We had a great time in the House of Stars! We only stayed for 2 nights, which was actually too short!! We recommend staying longer if you can!! The views from the house are amazing! The house itself is very nicely decorated and clean! Gillian and Ingo are great hosts it was great meeting them! Communication with Gillian and Ingo was quick and easy.
Lisette
2014-06-24T00:00:00Z
We've had a great stay at the House of Stars. The location in the middle of nature is terrific; there is a great view from the private terrace/garden and the surroundings are very quiet and peaceful. The AirBnB is fully equiped, we didn't miss a thing. The bed with a memory foam top guarantees a good night sleep. Gillian is a very friendly and committed host. Every day she came for a small talk, to give us tips (places to visit in the area) and to check we had everything we needed. On arrival, the kitchen was already filled with supplies for the first day (milk, orange juice, cheese, cereal, coffee, confiture, fresh bread, butter). Besides, the basic necessities are also available (olive oil, vinegar, salt, pepper and other seasonings). Even shampoo, douche foam and hand soap are in stock!
Joyce
2015-09-05T00:00:00Z
It was a wonderful place. We hope that we could find such a great place after retire."世外桃源",it's the most propre word in Chinese that I can use to describe your place,but it exist only in the Chinese folk tale.Thanks soooo much for your kindness to share all these wonderful things to us.Hope see you soon.
雨晨
2015-04-19T00:00:00Z
Die — leider nur 2 Nächte — im House of Stars gehörten zu den schönsten auf unserer Reise durch Portugal. Der Weg zu Gillian und Ingo verlief absolut ohne Probleme. Wir nutzten Apple Maps und kombinierten die Route mit Gillian's Wegweisungen — war sehr einfach zu finden. Die Ankunft war dann sehr, sehr nett und herzlich. Gillian gab uns noch einige gute Tips für die Umgebung, die man später auch noch genauer in einer liebevoll vorbereiteten Mappe nachlesen konnte. Die Unterkunft ist ein Traum, bietet alles was man braucht + ein bisschen mehr (der Kühlschrank versorgte uns zB für zwei Frühstücks und wir bekamen frisches Brot). Wir würden beim nächsten Mal auf jeden Fall für mind. eine Woche bleiben, 2 Nächte waren definitiv zu kurz. Vielen Dank Gillian und Ingo, dass ihr diesen euren schönen (mit harter persönlicher Arbeit entstandenen) Ort für 2 Tage mit uns geteilt habt.
Nicola + Thomas
2016-10-02T00:00:00Z
We had an amazing time in d house of stars. Ingo and gillian are wonderful host. I really recommend this place to anyone who wants to have a lovely time in d countryside of portugal. Tks for everything guys Fred and agnese
Frederic
2012-08-12T00:00:00Z
Typ av rum
Eget hus/egen lgh
---
Typ av boende
Lägenhet
---
Plats för
2
---
Sovrum
Tábua Municipality, Coimbra, Portugal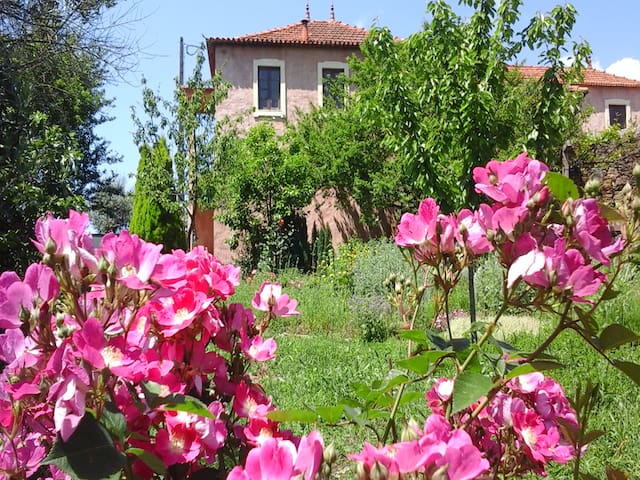 Experience breathtakingly beautiful forest valley views from the doorstep of a delightful modern studio. Surrounded by waterfalls and walks, enjoy the Portuguese culture in either two local traditional villages with cafe's, shop and craft boutique.
There is full mosquito protection to all windows and doors with the exception of the main house front door.
Our valley is full of environmentally conscious families. We grow our own vegetables, keep hens and ducks, try to limit damage to our beautiful valley by using safe products and practising permaculture. We are often called, The Happy Valley! There are many musicians among us and artists. We are quiet and very friendly!
O Studio é exatamente como mostrado nas fotos. Bastante confortável e acolhedor. Muito bem localizado. Zona extremamente sossegada. A Heather foi sempre muito prestável e atenciosa. Para nós foi um excelente ponto de partida para os inúmeros passeios que fizemos. Recomendamos.
Carlos
2017-03-01T00:00:00Z
A lovely place to stay in a beautiful location. Heather was very accommodating, and made us feel very welcome.
Alana
2016-12-26T00:00:00Z
We thoroughly enjoyed our stay in the Studio. It was warm, clean and welcoming. It was well equipped especially for our baby girl who had a lovely cot bed, complete with toys. The overall feel was modern and comfortable. The setting is an amazing rural location . Very peaceful. Heather was an amazing host. Utterly helpful without being intrusive. We found her an inspiring lady. We definitely intended to return. Pedro, Eleanor and Poppy.
Pedro
2016-12-23T00:00:00Z
It was a really nice time in the studio. The valley is beautiful and very quiet, with lots of places to swim in the middle of nature. The studio was very clean and comfortable and looks exactly like the pictures. We were always out, so we barely saw Heather, but she was very kind and attentive and give us a to do list with lots of good recommendations. I recommend Heather's house :)
Ana Filipa
2016-09-02T00:00:00Z
We had a lovely time at the Ideal studio set in national park. The studio is really well equipped and decorated. The photos don't truly reveal how beautiful it is. The host's are really nice too. We recommend it to anyone who likes nature.
Luis
2015-12-21T00:00:00Z
We had an amazing time at Heather's apartment, it's lovely there, the surroundings are beautiful. I would always come back to Pardieiros if I was in Portugal again! The studio was very clean and tastefully furnished!
Marie
2016-09-08T00:00:00Z
Casa muito confortável e limpa. lugar lindo e calmo, muito perto da fraga da pena. Apesar do pouco contacto com a Heather ela estava sempre disponível para tirar qualquer dúvida com muita simpatia. Recomendo
Luís
2016-06-10T00:00:00Z
Wonderful time at this beautiful studio set in an idyllic location! Stunning views, cosy home, one really can't fault it. Super nice host too. Highly recommended and looking forward to come back in the summer!
A Junior
2015-12-06T00:00:00Z
Typ av rum
Eget hus/egen lgh
---
Typ av boende
Lägenhet
---
Plats för
4
---
Sovrum
Pardieiros, Coimbra, Portugal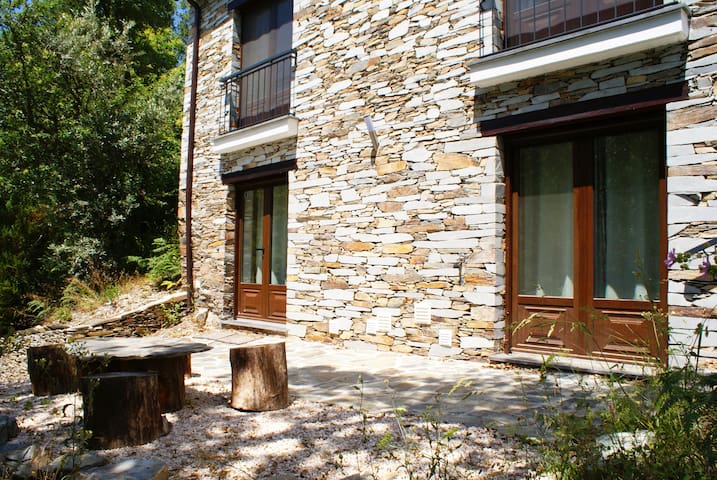 In the heart of the National Park, 200m from the breathtaking waterfalls of Fraga Da Pena, Casa Diana is a beautiful apartment full of character and charm. With spectacular views it offers a light, spacious and comfortable off-grid experience.
Casa Diana is a beautiful, rustic and spacious one bedroom apartment in a great location. It has very easy access and off- road parking. Over- looking a meandering green valley of terraces and olive groves and minutes walk from one of the areas most beautiful attractions; Fraga Da Pena waterfalls, it is the perfect setting to relax and unwind in tranquil natural surroundings. The apartment is simply furnished with stunning, hand-crafted pieces. It has one double bedroom with breakfast veranda, a comfortable, sunny lounge with 2 large sofas and wood burning stove, a simple kitchen with gas hobs, counter space and fridge and a dining room with feature curved table and central wood burning stove. The adjoining bathhouse has a bath with shower, compost toilet and a washing machine which can be used by guests. The property is surrounded with beautiful schist patios where you can relax and enjoy the views or experiment with cooking on the solar cooker! Casa Diana has it's own electricity and hot water supply. It offers a comfortable and educational experience of off-grid living allowing for a environmentally conscious holiday with a difference.
Casa Diana is 200m from the famous Fraga da Pena waterfalls which are spectacular all year round. Climb the steep steps and discover hidden pools or take a picnic and a plunge on the lower levels. Due to the popularity of this location, Fraga da Pena waterfalls receive visitors at the weekends in the summer months and in August. Between these times you can expect to have the place to yourselves. Casa Diana is located within walking distance of two picturesque villages. 20 Minutes walk or a few minutes drive. Pardierios has a small hotel with free wifi, bar and restaurant and spectacular forest views. There is lots to discover in it's meandering narrow streets and is only a few minutes walk to the pretty cobbled road which snakes through the Mata da Margaraca's protected chestnut forest with it's bubbling natural springs and education centre. Between May and September Benfeita dams it's river to make a stunning natural swimming pool. It is a hive of activity with outdoor kiosk selling food and drink, tennis courts, a post office, wifi connection, and a community arts shop selling local, handmade arts, crafts and produce. Benfeita has recently become a 'Transition Town' and is central to a wide international community of artists, musicians and alternative thinkers and farmers. There is a local magazine called the 'Benfeita Bubble' which allows you to access a calendar of events from life drawing, community choir, wild food walks, 5 rhthyms dancing, alternative education days, sporting activities and concerts that you may like to get involved with during your stay. If you like walking there are stunning trails through ancient terraces and rare deciduous forests. Follow the signs of the xisto trails or wander through the valleys of old goat houses, farmland and crystal clear mountain rivers. Coja is our nearest town with all the shops and cafes you may need. It has beautiful river beeches where you can go kayaking up river or splash about on a peddlo. We are driving distance from some spectacular days out- The ancient village of Piodao, the restaurant by the waterfalls in Vide or skiing at the top of the Estrela; Portugals largest mountain. Learn about natural horsemanship at the stables or go for a trek through the sloping valleys. Closer to home is Monte Frio Alpacas. Visit the farm and gift shop, see the process of spinning fleece into yarn to be transformed into garments and toys or arrange a mountain trek with these quirky and friendly animals. Organise a house concert to come to your lounge or book a massage/ treatment with a local therapist. Whatever you want to do, be it adventures and activities or simply have a quiet retreat into nature, Casa Diana will be the perfect home for you. Notes for those traveling without a car... The house is fairly rural so is a bit complicated to get to with public transport. We can arrange for you to be collected from the nearest bus stop (catraiya do moronho) for a 15 euro charge or train station (Santa comba dao) for 20 euros. Bus website is (URL HIDDEN) and train website is (URL HIDDEN) Notes on food....There is a small, quirky general stores in Benfeita 20 minutes walk away and a bread, cheese, fish and fruit and vegetable van that comes to the nearest village of pardieiros on a weekly basis. A local bus runs daily from pardieiros to Arganil leaving early and coming back late. Arganil is our closest large town with a weekly market and 2 big supermarkets. Coja is 8km away and has all that you should need in terms of supplies. We have our own organic, free range hens and can sell you fresh eggs when we have surplus.
We had a wonderful time in this house next to the beautiful fraga da pena waterfalls. The house is very spacious en has everything you need. The arrival en departure went very smoothly. Thank you for you hospitality.
Judith
2016-09-08T00:00:00Z
We spent a peaceful and delightful time at Kin & Beth's ecohouse! The light and the atmosphere in the house are marvelous, the nature surrounding is untouched. Many opportunities to chill or to be active in the area. Thanks Kin & Beth!
Cédric
2016-07-28T00:00:00Z
We werden goed ontvangen en kregen alle nodige info over het huis en de omgeving.
Marijke
2016-07-12T00:00:00Z
Kin and Beth nous ont très bien accueilli. Ils étaient autant discrets que soucieux de notre bien être. Ils nous permis d'avoir un séjour très intime tout en étant en lien avec eux quand nous en avions besoin. Le logement est magnifique, chaleureux, confortable, calme et pratique. La vallée est de toute beauté. La dynamique locale est très intéressante en matière de vie communautaire et modes de vies alternatifs. Logement idéal pour vacances au calme proche de la nature.
Thomas
2016-04-17T00:00:00Z
Everything about Casa Diana was perfect! It's much roomier and cozier than it looks in the pictures. We wanted a secluded, beautiful getaway for a vacation, and this was the perfect spot. When it rained, we were perfectly content to stay at home by the fire all day; and even though the area is very secluded we had a car and took day trips to the Serra de Estrela & nearby schist villages. We really enjoyed stopping by Coja, a very small town about 20 minutes away, to go to the cafe or the bar/bakery in the center of town (they also had a really good restaurant for dinner). Overall, a perfect place if you want to just relax and enjoy the scenery for a few days, or use it as a jumping off point to explore rural Central Portugal (would definitely recommend having a car).
Maggie
2016-11-22T00:00:00Z
The house is amazing. The view is beautiful and the area is wonderfull. The house is very clean and have everything you need. Kin and Beth is very helpfull and kind. We loved our stay at the place.
Thomas
2016-08-19T00:00:00Z
Beth and Kin's schist cottage is truly magical. It is in a wonderfully beautiful setting close to waterfalls, hikes, rivers but also close to two small towns, where there are restaurants, wifi and a thriving community. If you are looking for the ultimate relaxing retreat, this is the place for you! Both Beth and Kin were incredibly welcoming and all of the thoughtful touches you would expect from a hotel were in place. Although the photo's on airbandb show off this home well, they don't do it justice. Do not hesitate to book here....you will leave feeling as though you found a little piece of heaven! Cannot recommend it enough....thank you both so much for all your kind hospitality. I will be back!!
Cressida
2016-08-05T00:00:00Z
Beth nous a bien accueilli et s'est montrée disponible quant à l heure de notre arrivée. La maison est superbe très bien décorée et agréable à vivre. Il est très agréable d'aller se baigner aux cascades juste à côté. Nous avons passé un très bon séjour. Lucie et Thomas
Thomas
2016-08-28T00:00:00Z
Typ av rum
Eget hus/egen lgh
---
Typ av boende
Lägenhet
---
Plats för
2
---
Sovrum
Benfeita, Coimbra, Portugal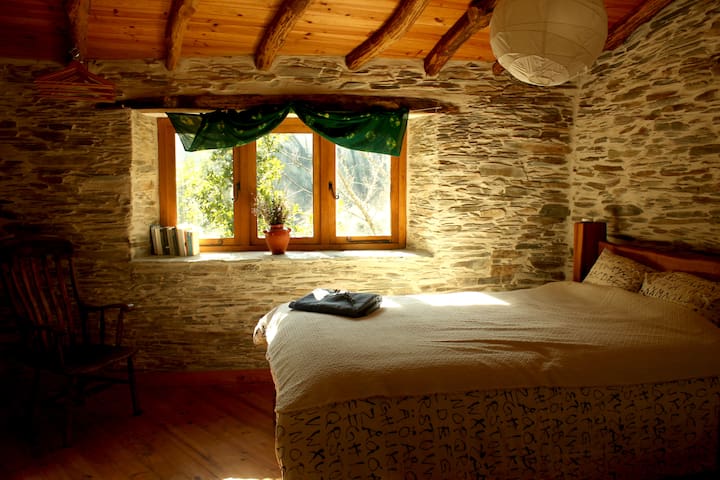 This tranquil haven is in our newly renovated granite house on the edge of a warm and welcoming village. It is a place to unwind. Access is excellent on paved roads right up to the house. Your apartment has a fully equipped kitchen, a bathroom with a shower, and a bedroom with a view of the mountains, as well as a communal living room and courtyard. The apartment has two private entrances.
The house sits on the edge of a warm and welcoming village, Fiais da Beira, in the heart of Portugal, the Beiras. In the village, there are two historic sites: a dolmen, or prehistoric burial site, and the Palheiras, or dozens of stone shelters on a granite mastiff, which some say is the old village and others the granary. There is also a café and an active village organization, which sponsors the annual festas. However, the village is quiet in its beauty. The apartment has a view of the Caramulo Mountains and is an excellent base for exploring central Portugal for which a car is essential. It is 40 minutes from the highest point on mainland Portugal on the Serra da Estrelas; one hour from Viseu, and 90 minutes from Coimbra. I like to discover the area, so I keep my ears to the ground about carnivals, medieval festivals and other activities. Portugal has much to offer, but Portugal is personal. Information is passed word of mouth. One of the joys of the area is discovering hidden gems such as secluded bathing spots on the Mondego River and the nearby off-the-road Roman bridge. There are no buses or trains stopping in Fiais da Beira. Three kilometres away, Ervedal da Beira has a few cafes and eating places.
Palheiras, dolmen, forest, and peace... The nearest supermarkets are 30 minutes away in the towns of Oliveira do Hospital (Intermarche, Lidl, Pingo Doce and Continente) and Tabua (Intermarche, Lidl).
It was great to stay there. Cynthia was very helpful and friendly. I highly recommend to stay in this place, great for relaxing, very quiet and no tourists.
Andrey
2016-09-17T00:00:00Z
A lovely person at a lovely location. Thanks for everything
Amy
2017-03-03T00:00:00Z
Cynthia was a great host. We arrived at her wonderful large blue house on the top of the hill to the view and hills around us which are even better than you see in the photo! The space we had was great, a large bedroom with brilliant views, our own kitchen and en suite bathroom. Cynthia also left us some home-made wine, marmalade and olive oil for us to eat, all were fantastic. She has a lot of land which you can explore and roam around and the village is also very pretty with lots to see. The Roman Dolmen (ancient burial) site is a must!
Martha
2016-09-13T00:00:00Z
Warm place to stay
Leon
2017-01-20T00:00:00Z
Great spot, beautiful house, gorgeous surroundings and a lovely welcoming host!
Lise
2017-03-30T00:00:00Z
We had a fantastic period in the house of Cynthia. The view is fantastic! The garden and the cats also! Very funny! We loved it to take breakfast in the garden. The environment is great! We visited Serra da Estrela, Coimbra and we did canyoning with Rock and River. Lovely place to stay and try for sure the local restaurant in Villafranca!
Ilse
2016-08-22T00:00:00Z
Because we loved it so much in Portugal and at Cynthia's place, we stayed one day more!
Ilse
2016-08-23T00:00:00Z
Typ av rum
Eget hus/egen lgh
---
Typ av boende
Lägenhet
---
Plats för
2
---
Sovrum
Fiais da Beira, Coimbra, Portugal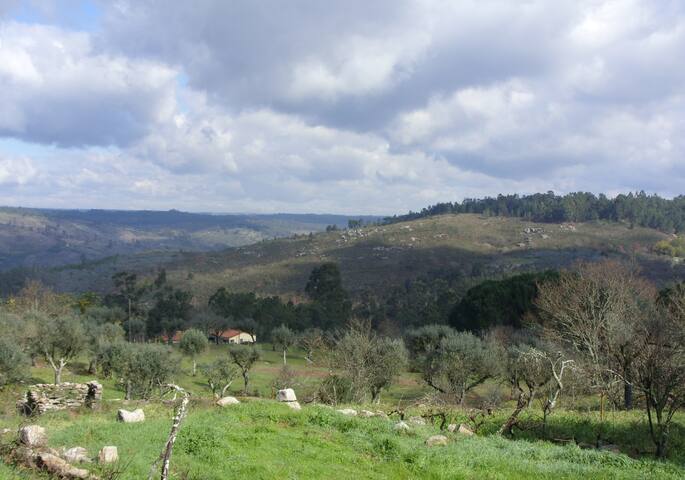 Het vakantiehuisje "Alegria", is gelegen in de vallei van "Quinta da Alegria", een unieke plek op het platteland van Centraal Portugal, omgeven door prachtige natuur.Onze vakantiehuizen zijn origineel, sober & romantisch en hebben elk hun eigen privé tuin. Je kan genieten van een ontspannende massage, yoga of Reiki er is ook gratis draadloos internet indien gewenst.
Het is een heel warme knusse ruimte waar je je direct thuis voelt, het is 1 leefruimte met een mezzanine voor 2, een gezellige woonruimte met houtkachel voor de winter, een open keukentje met alle benodigt heden om te koken indien je wilt, er is zelfs koffie en thee aanwezig. De badkamer is heel origineel met een oude wastafel en stenen douche. Er is een overdekt terras aan de oostkant met fantastisch uitzicht in de vallei en een terras aan de west kant waar je in de avond zon kan zitten.
Het vakantiehuisje ligt in een vallei op 800m van het dorpje Midões, rust en natuur rondom maar toch op loop afstand om lekker te ontbijten bij de bakker in het dorp of typische gerechten te proeven van de regio bij Victor in Midobar.Onze originele vakantie accommodaties zijn een ideale uitvalsbasis om uitstappen te maken naar Coimbra,Viseu, Porto, de kustplaatsen Figueira da Foz , Aveiro, enz... Ook voor prachtige wandelingen en heuse wandeltochten te maken in de omgeving of in de bergen van de "Serra da Estrela", "Serra do Açor" of "Serra do Caramulo" waar de natuur met z´n Flora en Fauna je omringt & bekoort. Op onze vakantieboerderij kan je paardrijden, mountainbikes huren en je dag sportief doorbrengen of sportieve activiteiten in de buurt ondernemen als kajakken, klimmen, jeep safari´s, GEOCACHING of wandelen met een gids OF ONLINE ROUTES beschikbaar . Er zijn 10 paarden die niet alleen voor een mooi tafereel zorgen in de vallei maar je ook kunnen voeren door de oase van rust die het landelijke Portugal je te bieden heeft. Ook voor beginners!
Thanks for all! The very cosy and very well-appointed special house with the beautiful balkony and the view, the massage and...of course the horse riding! It was more than beautiful and we feel really well receive with the perfect balance between privacy and helping. we will hopefully come back sometime, lena & pia
lena
2014-09-03T00:00:00Z
We enjoyed the wonderful place every second. The apartment is well equipped and there is everything you need. The sourrounding nature is very beautiful and perfect for different outdoor activities. We appreciated the provided maps for different walking-tours in the valleys around the farm. Liesje is very friendly, open-minded and hospitable. We had a really great time and looking forward to visit her place again.
Marc
2016-04-23T00:00:00Z
A great place to stay in the Portuguese mountains. A very lovely unique house, nice hosts, great countryside and many things to do. The house is in good shape and invitin to stay and hang around. Everything as shown on he pictures or even nicer. Liesje and Joao are very friendly and help with everything you might need or want to know. Perfect stay!
Matthias
2014-10-01T00:00:00Z
Formidable maison dans un petit village des montagnes portugaises! La maison fait partie d'un ranch avec beaucoup d'animaux mais elle est assez bien isolée et on peut soit profiter des animaux soit se reposer au calme si on a envie ! L'intérieur est très mignon, décoré avec le coeur dans un registre assez "écolo". On accède à la chambre à coucher en montant à l'echelle ce qui a un côté très romantique. Les hôtes João et Liesje sont très sympas et répondront à toutes vos questions.... La terrasse offre une vue unique sur la colline et la forêt environnante. expérience très reposante ! à recommander
Tristan
2015-06-04T00:00:00Z
This house and it's balconies are absolutely beautiful with sitting areas one side for evening light, and the other for morning. A lot of thought has been put into the detail - practically and for comfort. It's funky and a wonderful place to just be and rest. Liesje and Joao made us feel very welcome with such a lightness of touch - we were utterly private despite being close to the main house, but they were on hand if we needed to ask anything. It is very well equipped - wood for the stove, ingredients in the kitchen, day beds to read on, a pool to dip in, and resident dogs and cats to slump with. We had a wonderful stay and felt very well looked after.
anna
2015-06-22T00:00:00Z
Heaven is a place on earth - at Quinta da Alegrìa!!! At some places a three-day stay seems like a week. The Quinta da Alegrìa is one of them. Before our arrival Liesje informed us about a building site next to the apartment we booked and offered us an upgrade. Thank you so much for this. That was perfect!!! The Quinta itself is really beautiful, well-groomed and situated in a great natural surrounding. Our apartment was perfectly equipped and cosy so we felt like home from the first moment. Liesje and João are the most lovely hosts we ever met. You can really feel that they are living their dream there. You are gorgeous :)
Annika
2016-07-04T00:00:00Z
Many thanks to João and Liesje for their hospitality! It is a real peaceful place and we would have wished to have more time. But we are sure, we will be back!
Sarah
2015-07-10T00:00:00Z
Staying in Liesje and Joao's place was a formidable experience! We enjoyed our stay very much. The house is just lovely, decorated with beautiful blue and orange tones. The bed, sofa, couches are all very comfortable with big pillows. The horses and nature was magic, we took riding classes as well. They are a lovely couple and they created a paradise there! I am so looking forward to be back! Thank you for everything Liesje and Joao!
Su
2016-05-30T00:00:00Z
Typ av rum
Eget hus/egen lgh
---
Typ av boende
Lägenhet
---
Plats för
2
---
Sovrum
Midões, Coimbra District, Portugal
Single room in flat located right in the centre, 1 minute away from all amenities. Guests have access to a fully equipped kitchen and living room and shared bathroom. The village is located 2km from Rio Mondego, 15km from Rio Alva and less than one hour from the beach.
lovely hosts, comfortable - well looked after
Ian
2017-04-05T00:00:00Z
Typ av rum
Eget rum
---
Typ av boende
Lägenhet
---
Plats för
1
---
Sovrum
Tábua, Coimbra, Portugal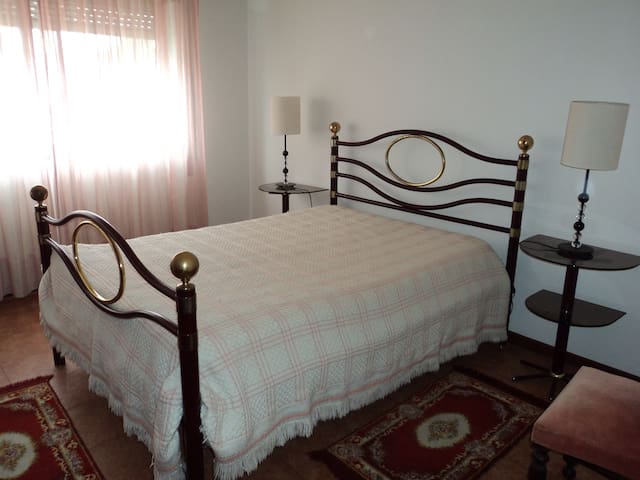 O alojamento fica na praça do tribunal, no centro da vila, junto de cafés, restaurantes, esplanadas, centro cultural, espaço-internet. Apresenta quartos confortáveis e limpos com uma decoração acolhedora. Os quartos têm (website hidden) ecrã plano.
The host canceled this reservation 14 days before arrival. This is an automated posting.
Blanca
2016-10-06T00:00:00Z
Tudo correu de acordo com as expectativas, o quarto estava bem preparado e as indicações claras. O quarto era confortável. A localização é excelente, pois o alojamento fica perto de serviços como café e correios.
Sofia
2016-02-20T00:00:00Z
Typ av rum
Eget rum
---
Typ av boende
Lägenhet
---
Plats för
2
---
Sovrum
Tábua, Coimbra, Portugal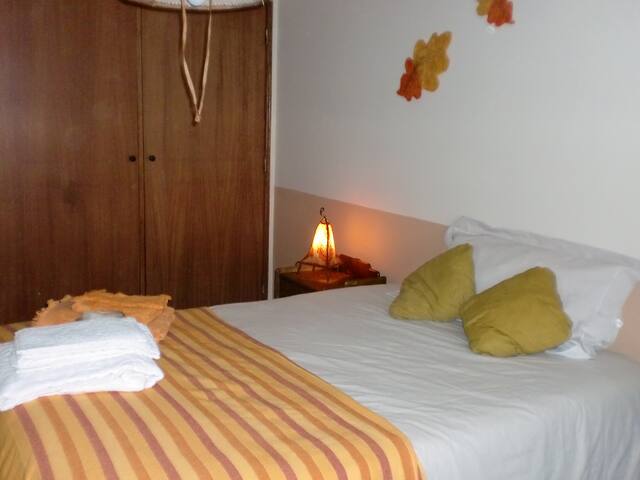 Downtown Tondela, our apartment is close to all amenities. Two restaurants (including one awesome Churrasqueira) are around the corner, and supermarkets, pastelarias, banks and all other shops are within a 200m radius. Come and enjoy a warm and welcoming bedroom with a beautiful view on the Serra do Caramulo. Ideal for business or holiday travelers, as a couple or solo.
A large three bedroom apartment, very well furnished and equipped. We occupy one room, one is the office and the last is for airbnb travelers when friends or family are not around. This guest room has an ensuite bathroom, with toilet, sink and shower. That ensures guest privacy as much as possible.
It doesn't get more central than this in Tondela ! Everything is in a 200m radius : pastelarias, restaurants, supermarkets, banks, post office and all other types of retail shops. However, the area is really quiet at night and moreover, you have a stunning view on the Caramulo mountain !
Nadège et Martin sont des hôtes et personnes au top. Le Logement était très bien et l'endroit tranquille. Merci encore pour l'accueil !!
Laura
2016-10-09T00:00:00Z
It's one of the best experiences I could have had. Staying with Nadege and Martin was awesome. The room is very nice but they were the best part. They really know things around. I was usually always late for what I wanted to do because I loved chatting with them. Thank you very much for everything Nadege and Martin!
Daniel
2016-09-03T00:00:00Z
Typ av rum
Eget rum
---
Typ av boende
Lägenhet
---
Plats för
2
---
Sovrum
Tondela, Viseu, Portugal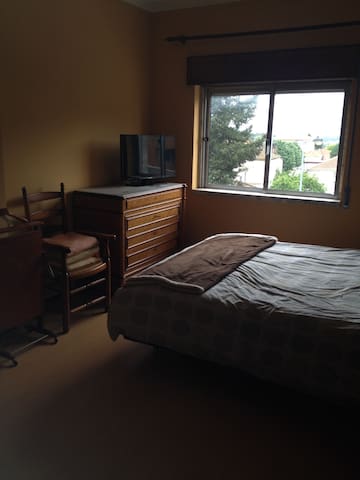 Dit 2 persoonsappartement in centraal Portugal heeft een prachtig uitzicht en bevind zich in een rustige omgeving, waar veel te doen is. Een extra 1 persoonbed kan ook geplaatst worden in de kamer voor een derde persoon. Eigen keuken en badkamer.
De natuur is hier prachtig met bergen en rivieren en de mensen in de omgeving zijn ook heel vriendelijk. Er zijn verschillende restaurants en cafees in de buurt. Het is vooral een mooie plek om tot de rust te komen.
Typ av rum
Eget rum
---
Typ av boende
Lägenhet
---
Plats för
3
---
Sovrum
Vila do Mato, Coimbra, Portugal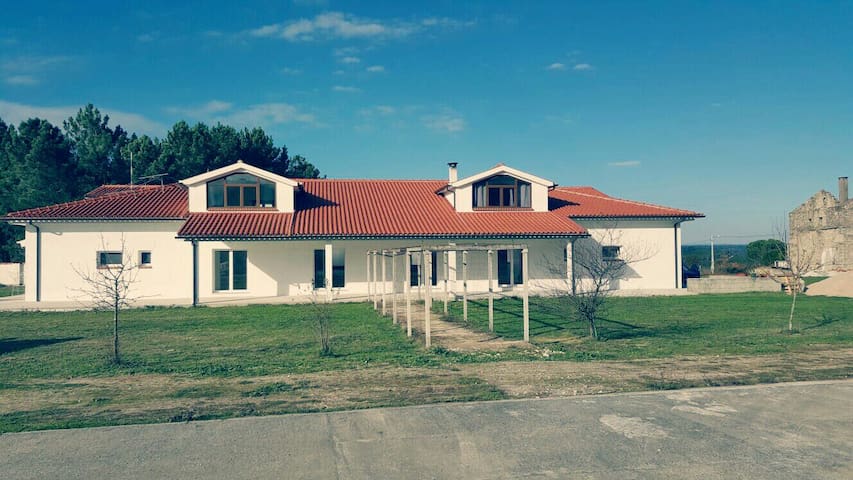 Just opened! First floor bedroom with private bathroom & television, shared kitchen. Terrace offering views of the forests & mountains. Lugar do Pego is adjacent to the ecopista. The river Dinha with waterfalls at 300 m. Viseu is 21 km from Lugar do Pego, and can also be reached by bike cycling the ecopista. Coimbra is 45 km. Free WiFi is provided throughout the property. Towels and bed linen are available. Free private parking is available on site. Weekly discount & sunny june discounts!
Adjacent to the Ecopista - a cycle path without motorized traffic - is Lugar do Pégo. To little 300 meters from the Dinha river with its waterfalls can be heard. View of the mountains and forests. Completely detached on 1 ha of land. Adjacent to the Ecopista - a cycle path without motorized traffic - is Lugar do Pégo. A short 300 meters from the River Dinha, audible with its waterfalls. Further along the Dinha are river beaches where it is lovely to swim. Lugar do Pégo is located right in the wine region of the Dão, with vineyards and wineries ´around the corner´. With views of the Serra da Estrela and Serra da Açor, surrounded by trees and tranquility, and 20 kilometers away from Viseu, the property offers all the possibilities to be active but also to unwind. Shops and restaurants are within 5 km away. The Serra de Estrela is located an hour's drive away, as are several fantastic beaches. Lugar do Pégo is also gastronomically interesting: a few kilometers away is a famous reputed authentic Portuguese restaurant (Très Pipos), a mere 15 kilometers away is the Quinta de Cabriz also famous for its wines, and is a mere 20 kilometers away the beautiful Quinta (Mesa) de Lemos. The historic and attractive city of Viseu can be reached by bike and the road along the Ecopista there are several food and beverage outlets.
Almost 49 kilometers long quiet cycling / hiking or jogging track on a hardened former railway line. Largely along the river Dão which not only provides wonderful views but also plenty of opportunity to swim move. Prohibited motorized traffic is the former railway line between the cities of Santa Comba Dão and Viseu, the'Linha do Dão' almost a hundred years served (25 Novemb(PHONE NUMBER HIDDEN) September 1988), now one of the longest ecopistas. Along the way, it is also a good place to several old railway stations that serve after reconstruction as restaurants and cafes. The Ecopista is a perfect place to train for cycling, running, rollerblading or just a walk or bike and swim in a river beach. Lugar do Pégo is ideally located for those activities, closer to the Ecopista is impossible!
Typ av rum
Eget rum
---
Typ av boende
Lägenhet
---
Plats för
2
---
Sovrum
Tondela, Viseu, Portugal
Casa Branca is een typisch Portugees landhuis, meer dan 400 jaar oud, gelegen midden in het pittoreske dorpje Covas. In de uitlopers van de Serra da Estrela. Omringd door bossen en rivieren. Het groene hart van Portugal. Genieten van natuur en rust
Recentelijk is onze casa, met behoud van haar karakteristieke elementen, gerenoveerd en van alle gemakken voorzien. Het huis is verdeeld in 3 verschillende appartementen: Oliveira; Camelia en Tileira. Alle appartementen hebben een eigen ingang en zijn comfortabel en sfeervol ingericht. Alleen Oliveira en Camelia worden verhuurd. Bij de appartementen is een tuin van 4000 m2 met terrassen, een eigen bron, fruit- en olijfbomen, wijnstokken en verschillende zitjes en schaduwplaatsen. Het zwembad biedt een welkome verkoeling op hete dagen. Vanuit de tuin is er een prachtig uitzicht over het dal en u kunt er ongestoord luieren.
Covas, een klein dorpje in het groene hart van Portugal, is met de auto en openbaar vervoer goed bereikbaar. Ideaal voor een wandel- en/of fietsvakantie in een prachtige ongerepte omgeving. In de Zomer is er elk weekend wel een festa (dorpsfeest) in een van de omliggende dorpjes, met muziek, dansen (waar Portugezen dol op zijn), eten en natuurlijk het proeven van de lokale wijnen. Ook de schilderachtige plaatselijke markten zijn een bezoek meer dan waard.
A casa branca é uma casa tradicional, mas totalmente renovada e muito moderna. Está decorada por fora e por dentro com muito gosto. O espaço exterior é fantástico com muito espaço para as crianças brincarem e os adultos estarem à vontade. A piscina é maravilhosa! Os anfitriões foram muito acolhedores. Adoramos imenso a estadia nesta casa, recomendamos vivamente e voltaríamos sem dúvida se ficarmos novamente por aqueles lados. Parabéns pelo vosso trabalho na renovação.
André
2015-09-24T00:00:00Z
Typ av rum
Eget hus/egen lgh
---
Typ av boende
Lägenhet
---
Plats för
6
---
Sovrum
Covas, Coimbra District, Portugal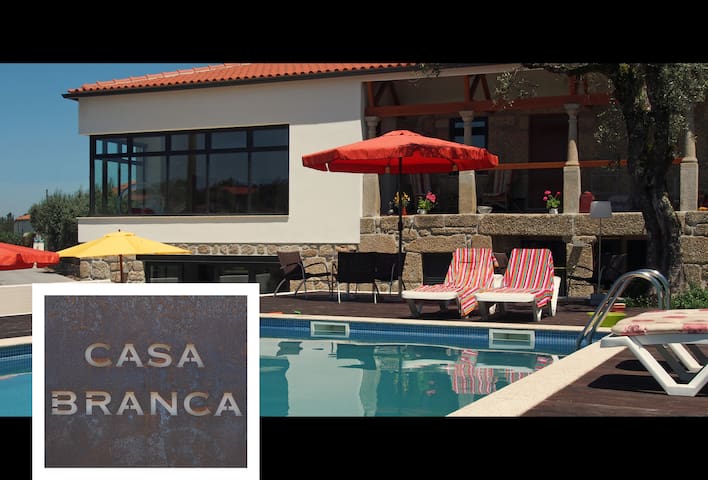 A 2 min walk to River Beach, Family Friendly house in the heart of traditional xisto village, surrounded by stunning landscapes and places of outstanding natural beauty. Close to walking trails,tennis court and esplanada Cafe, with WiFi, local shop.
Simple, family friendly accommodation in the centre of Benfeita, a vibrant community settled in the mountains and valleys of the Serra do Açor. We are able to sleep 6 with no extra charges. The house has a king sized bed, 2 childrens beds in an attached annex, and a sofa bed in the kitchen/lounge. There is a new shower as ensuite in bedroom, and a separate toilet and wash basin in main area of the house. There is a washing machine situated downstairs available for guest use. The Red House is set at the start of one of several Caminhos do Xistos in the vicinity, the area is breathtakingly beautiful and there are many local happenings and places of natural beauty to visit. .
Whether you want to walk on the trails of the Caminho do Xisto, hang out at the river beach or esplanada cafe in Benfeita, swim in surrounding rivers or visit the waterfalls, Benfeita is a great place to be. The area is family friendly and there are often events like local markets to visit, or perhaps music or local crafts on display at the Artefacto.
Nice choice all who like peace and quite. The landscape is fantastic. We enjoied our staing in Claire Red House. Thanks.
Paula
2017-04-02T00:00:00Z
a very nice, warm house in a beautiful village
Olga
2016-12-30T00:00:00Z
A casa vermelha é um alojamento muito simples, num local lindo. O descanso é absoluto.
José
2016-08-28T00:00:00Z
Es una casa de pueblo con bastantes años situada en el corazon del pueblo sin lujos pero con lo necesario para la estancia para relajarse y olvidarse de la ciudad.claire estaba embarazadisima y a pesar de eso subio conmigo hasta la casa situada en cuesta (no llega el coche alli)y informandonos de algunos eventos de los pueblos.
Mavi
2016-08-07T00:00:00Z
Un super séjour dans le logement de Claire ! Je recommande vivement !
Alex
2016-08-10T00:00:00Z
Typ av rum
Eget hus/egen lgh
---
Typ av boende
Lägenhet
---
Plats för
6
---
Sovrum
Benfeita, Arganil, Portugal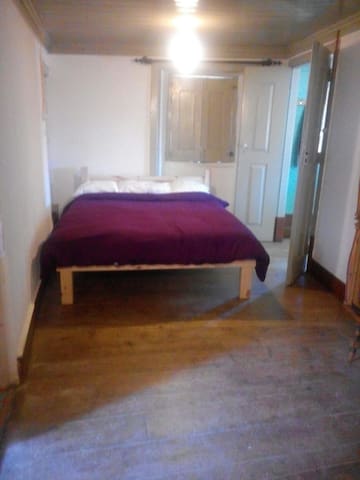 Twin room in flat located right in the centre, 1 minute away from all amenities. Guests have access to a fully equipped kitchen and living room. The village is located 2km from Rio Mondego, 15km from Rio Alva and less than one hour from the beach.
Chegámos um pouco depois do esperado mas fomos muito bem recebidas por uma muito simpática e atenciosa senhora. A casa estava em condições, limpa e de acordo com as imagens.
Dina
2016-10-23T00:00:00Z
Typ av rum
Eget rum
---
Typ av boende
Lägenhet
---
Plats för
2
---
Sovrum
Tábua, Coimbra, Portugal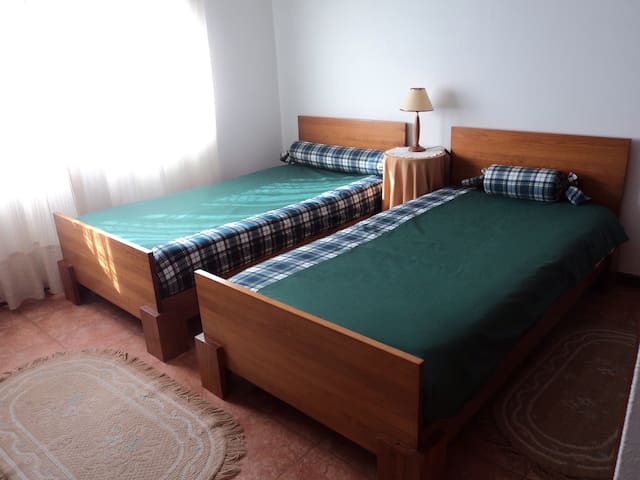 The apartment is like an old Sheppard´s cottage with big granite blocks everywhere,you sleep in a little cave like room,the living room has a wood burner like an open fire. The kitchen has a stunning view in the valley where the horses run around.
Typ av rum
Eget hus/egen lgh
---
Typ av boende
Lägenhet
---
Plats för
2
---
Sovrum
Midões, Coimbra, Portugal
Bij een heerlijk glaasje wijn genieten van het zonnetje op één van onze terrasjes terwijl uw kinderen spelen in onze ruime tuin met trampoline , zwembad en schommel. Verken deze prachtige streek en kom kijken wat voor moois deze te bieden heeft!!
Typ av rum
Eget hus/egen lgh
---
Typ av boende
Lägenhet
---
Plats för
5
---
Sovrum
Pinheiro de Coja, Coimbra, Portugal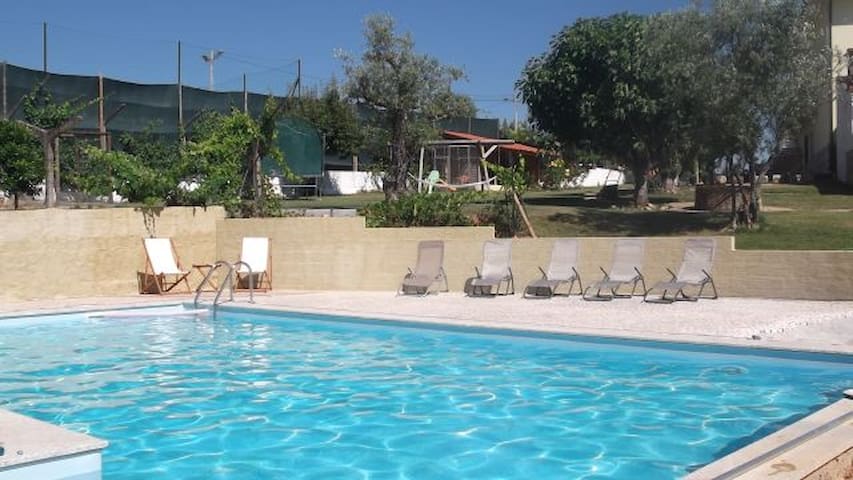 In vila Pouca da Beira, het dorp dat Gerrit Komrij op de kaart zette, ligt het luxe appartement in het groene hart van Portugal. Een rustige locatie, met wijds uitzicht, voorzien van zwembad en dagelijks een prachtige zonsondergang.
Studio 'Amarilis' is geïntegreerd in het woonhuis en bevindt zich op de 1e verdieping. De studio bestaat uit een woon-eet-slaapgedeelte (45 m2) en een ruime badkamer en separaat toilet. De studio is geschikt voor 2 personen. De studio heeft over de gehele lengte een balkon van 22 m2, gesitueerd op het westen. U heeft een prachtig uitzicht over de vallei en kunt 's avonds lang genieten van de zonsondergang. Beschikbare voorzieningen: woongedeelte bestaat uit keuken met eethoek, zithoek en slaapgedeelte (2-eenpersoons bedden die bij elkaar geschoven staan, maar ook afzonderlijk gebruikt kunnen worden.) luxe keuken met gasfornuis, koelkast, oven, vaatwasser, koffie-machine en veel kastruimte ruime badkamer met douche en wastafel toilet draadloze internetverbinding, satelliet-televisie met Nederlandse receiver. voor gebruik in de winter is er een pelletkachel en c.v. balkon op het westen met adembenemend uitzicht op de vallei. Zomer's een extra buitenbed met klamboe om onder de sterren te slapen.
De kernwoorden in onze streek zijn: authenticiteit, rust, mooie omgeving, lekker eten en drinken en vriendelijke mensen. Quinta Campo Bravo is ongeveer 1 hectare groot, ligt aan de rand van het dorp, is goed bereikbaar en heeft twee studio's beschikbaar voor gasten. Er is een grote tuin om het huis met diverse zitjes in de schaduw en in de zon, een vijver en een klein zwembad (4 bij 4 meter) met een ruim terras. De altijd groene omgeving biedt alle gelegenheid om volop te genieten van de immense rust, de schoonheid van de natuur, de bergen en valleien, de riviertjes, het terrassenlandschap, de cafeetjes en terrasjes, de nog steeds zeer goed betaalbare restaurants met de Portugese keuken, het authentieke dorpsleven met zijn akkers, kleine straatjes en steegjes, typische huisjes, en natuurlijk de vriendelijke dorpelingen, en de vele dorpsfeesten de hele zomer door, zwemmen in een van de vele riviertjes, wandelingen maken, maar ook kanoën en abseilen, het klimaat met zijn mild-warme voor- en najaar, en warme soms hete zomer, vele interessante plekken te bezoeken zonder ver te moeten rijden ( zoals o.a. de historische steden Coimbra en Porto, de gebergten Serra da Estrela, Serra da Acor, Serra de Caramulo, het leistenen dorp Piodão, de stranden van de Atlantische kust).
Geweldig appartement, grote aanrader. We hebben een heerlijk verblijf gehad in Vila Pouca da Beira. Gastvrij ontvangen door de eigenaar, in de keurige en frisse "amarello" studio. Ruim bemeten met een zeer compleet ingerichte keuken en enorm balkon met fantastisch uitzicht. Het was een rustige omgeving, geen lawaai. Prima locatie voor uitstapjes in de omgeving of lekker luieren bij het zwembad. We komen zeker nog een keer terug.
Anne
2014-06-09T00:00:00Z
Typ av rum
Eget hus/egen lgh
---
Typ av boende
Lägenhet
---
Plats för
2
---
Sovrum
Vila Pouca da Beira, Oliveira do Hospital, Portugal
1

–

18

av

33 Uthyrningar av lägenheter
Ange datum för att se full prissättning. Ytterligare avgifter tillkommer. Skatter kan tillkomma.