Beautiful 2 master bedrooms and loft with 2 1/2 bathroom, full kitchen, great living room with 65" smart TV with Netflix and Hulu avail via your smartphone. Great outdoor with sparkling swimming pool (no children under 12) with patio furniture and barbaque area. Central cooling and heating. Quite neighborhood. Hablamos espanol!
Great place for relaxation.
Quite neighborhood close to restaurants, grocery store, gas station and banks.
The host canceled this reservation 9 days before arrival. This is an automated posting.
Chauntae
2017-04-11T00:00:00Z
Typ av rum
Eget hus/egen lgh
---
Typ av boende
Hus
---
Plats för
5
---
Sovrum
Las Vegas, Nevada, USA
Single level house cul-de-sac finished by professional interior designer. With open floor plan, neutral colors minimal modern decor. Front gated courtyard, side gated dog yard, back yard with an amazing pool made for entertainment, with large jacuzzi, gas grill and fireplace.
No HOA, non gated community with nearby parks, grocery stores, banks, gas stations, pharmacy and its close to the strip.
Typ av rum
Eget hus/egen lgh
---
Typ av boende
Hus
---
Plats för
12
---
Sovrum
Las Vegas, Nevada, USA
Private room with Mini fridge, Smart TV, WIFI and full access to the living room, laundry and Gym area. It's located directly behind the MGM casino, (a block a way from the Strip and 7 minutes from the airport. Full size bed cotton sheets or 100% silk bedding.
This is the best place I've ever booked in Airbnb. The host, location, room, facility, everything is perfect to me!!! This room is very close to everywhere like strip street, airport, and downtown so it's very convenient. The house has gorgeous living room, comfortable bedroom, and clean kitchen and bathroom. I seriously recommend to stay in this house if you want to explore both strip street and downtown Las Vegas. I have stayed in Excalibur hotel but actually this house is better than the hotel because the host is super nice. She gave us a ride to get to the airport too. I've never ever met such a nice host before. Thank you!!
Nana
2017-03-08T00:00:00Z
Kary의 숙소에서 가장 인상적인 부분은 호스트인 Kary입니다. Kary는 본인이 AirBnB를 통해서 경험한 여행자의 불편사항을 모두 해결해 놓았습니다. 방안에는 개인적으로 사용할 수 있는 커다란 물통이 있으며 작은 냉장고, 커피머신, 스낵이 준비되어 있었습니다. 헤어드라이어, 스팀 다리미, 냉장고 안의 시원한 맥주까지 꼼꼼하게 준비되어 있습니다. 방에는 행거가 있어서 옷을 충분히 걸 수가 있고 좋은 향기가 납니다. 샤워실, 화장실도 집처럼 편하게 이용할 수 있고 부엌에 있는 조리도구와 식기도 이용할 수 있습니다. 한국인이 여행하는 경우 호텔에서는 음식을 데우거나 조리하기가 어려운 부분을 Kary의 숙소에서는 모두 해결할 수 있습니다. 세탁기와 건조기가 있어서 여행중에 더러워지거나 세탁이 필요한 옷가지를 너무나 쉽게 세탁해서 깨끗하게 입을 수 있었습니다. Kary가 제공하는 숙소의 위치 정보는 구글맵에서 제공하는 것보다 정확하고 찾기 쉽게 커다란 글자까지 손수 써 놓았습니다. 무엇보다도 Kary를 만나서 이야기를 한다면 그녀가 얼마나 대단한 호스트인지를 알게 될 것입니다. 마지막으로 문에 있는 키 코드를 사전에 꼭 확인하시고 Kary가 없더라도 기다리지 않고 집안과 예약한 방으로 들어가면 됩니다.
H.j.
2017-03-20T00:00:00Z
Kary does everything possible to make the trip exceptional
Robert
2017-03-07T00:00:00Z
Excellent host and location! Kary was very responsive and really went above and beyond to make sure we had a great room and were able to find her place amongst the chaotic city. Very nice woman!
Shannon
2017-04-06T00:00:00Z
이숙소 정말 좋았어요! 생각보다 mgm호텔이랑도 엄청 가깝고요...! 스트립까지 걸어갈 수 있다는 점이 진짜 큰 장점인거 같아요! 호텔정도로 비싸진 않지만 진짜 괜찮은 집이라는게 느껴질 정도로 주인이 좋았어요! 간식도(과자나 커피) 챙겨주고, 물도 먹고 싶은 만큼 먹을 수 있었어요...! 위치가 진짜 좋았습니다. 또 방문한다면 또 묵고 싶어요...!
지아
2017-03-21T00:00:00Z
This was a delightful stay. Kary was friendly and helpful. She also helped us make an itenary to explore Vegas and dropped us off at places if needed.
Priyanka
2017-03-11T00:00:00Z
Can be loud at times, paper thin walls. Location is good, right off the strip
Ambra
2017-03-12T00:00:00Z
We were Kary's first guests! Perfect location behind the MGM Grand, off street parking for car. She was very gracious with our dog, we were lucky to find her because the pet friendly hotels in Vegas want a crazy amount of money for dogs. Friendly, accommodating, fresh fruit, lots of hangers and closet space, comfy bed. It was all good.
Stacey
2017-03-05T00:00:00Z
Typ av rum
Eget rum
---
Typ av boende
Hus
---
Plats för
2
---
Sovrum
Las Vegas, Nevada, USA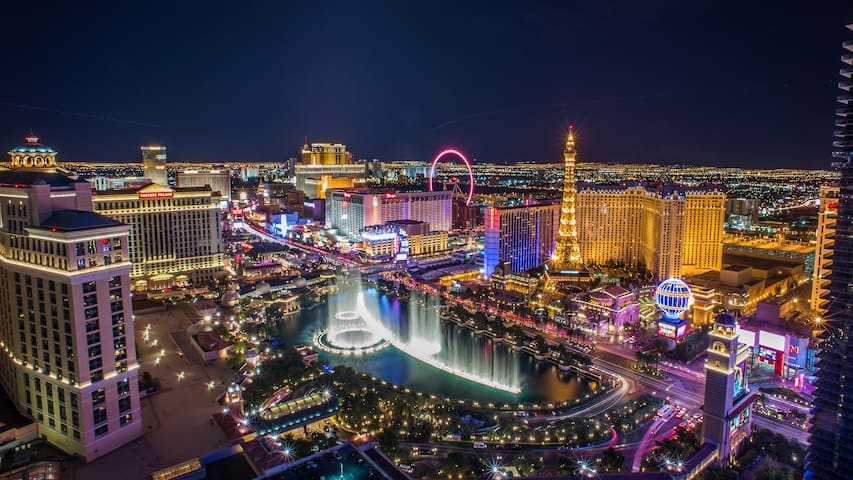 Cool, comfortable and quiet 2 story Las Vegas home in quiet community. Only 15 minutes from Mccarran international airport and beautiful exciting Las Vegas strip. Within walking distance of 24 Hour Fitness, shopping center with grocery store nearby. Many Asian themed restaurants within walking distance such as Teriyaki madness, Korean BBQ, Filipino BBQ. Fast food eateries also in walking distance. Such as Cici's Pizza, Panda Express, McDonalds.
The place is convenient. The room is comfy and nice. Good stay.
Jingwen
2017-04-02T00:00:00Z
Very clean and great value. Highly recommended!
Jonathan
2017-04-10T00:00:00Z
Typ av rum
Eget hus/egen lgh
---
Typ av boende
Hus
---
Plats för
4
---
Sovrum
Las Vegas, Nevada, USA
hi, my name is gabriel, I'm from france, and with, Carlos my husband we decorated this home like if it was for us. we hope you will enjoy the mid century feeling. The house has 4 bedroom 1 master suite king bed and 3 queen bedrooms the house is located in downtown 5 min from fremont street and 5 min on the opposite direction to go to the strip. The pool is not heated but the summer time is easy to enjoy it specially here when its 120 degree outside...
We are trying to give a mid century modern atmosphere. the house is very welcoming and you should find everything you need inside.
Typ av rum
Eget hus/egen lgh
---
Typ av boende
Hus
---
Plats för
8
---
Sovrum
Las Vegas, Nevada, USA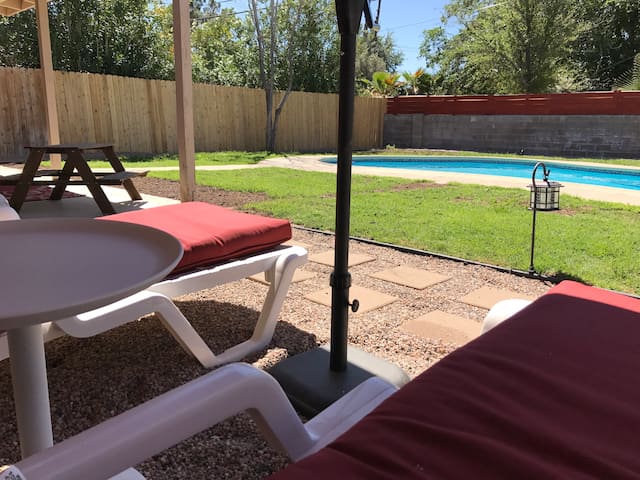 Stay in guard-gated community, 350 sf of pvt space w/ access to 1500 sf of house, direct access to pvt pool yard & patio. The hotel-like room offers a queen memory foam bed (addt'l twin air mattress also available), marble bath w/soaking tub, double vanity & glass shower. Continental breakfast, cotton sheets & use of kitchen, living room, dining room & den. Smart TV, mini fridge, iron in room. <2 miles from Strip & downtown, 15 mins to airport. Tennis courts avail. See house rules.
Hotel-like room. 350 sq ft of prvt space with marble floors w/access to 1500+ addt'l sq ft of shared rooms + walk out to poolside patio w/lounge chairs & dining table. New queen memory foam mattress. Private attached marble bath w/soaking tub, 2-sink vanities & glass shower. In-room smart TV, hair dryer, iron/board, mini fridge, plus access to two other TVs (living room & den). WiFi access. Pool towels available. Bedding changed after five days.
It's one of the best and safest central neighborhoods. The private guard patrolled community has tennis courts and the mature landscaping, quiet tree-lined streets and resort feel make it truly unique. Within a few minutes, you can get to the Strip or downtown, or easily access one of several freeways to get to Hoover Dam, Red Rock or Mount Charleston. We can offer suggestions and a local perspective.
Typ av rum
Eget rum
---
Typ av boende
Hus
---
Plats för
3
---
Sovrum
Las Vegas, Nevada, USA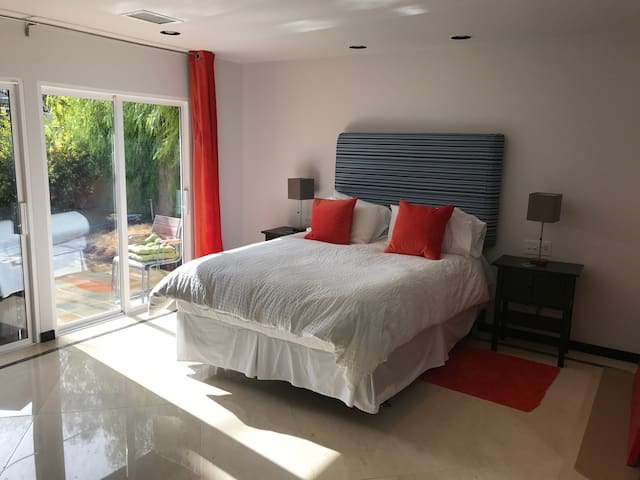 2 bedrooms 1 bath private rooms close to downtown beautiful pool & courtyard .
Space comfortably accomodates up to 4 adults. With a breakfast basket, coffee, and tea provided.
Debra was super nice and helpful She gave us so many things water snacks coffee tea. The rooms where wonderful We had an awesome stay And we would stay there again
Nadia
2017-04-12T00:00:00Z
Debra was an amazing host! She went out of her way to make us feel comfortable! We will definitely come back and stay here! Thanks Debra!
Ankit
2017-01-01T00:00:00Z
Deb's Airbnb was such a delight to stay in! We were greeted with a warm welcome card in the rooms along with complimentary snacks and water. The rooms were super clean and well maintained, and Deb made sure there were more than enough towels provided for her guests. Deb couldn't be a more pleasant and hospitable host to her guests, she even took the time to reccomend places to go see and eat at, which was very sweet of her. if you plan on staying in vegas, i definetly recommend debs place!!
Tishana
2017-03-26T00:00:00Z
Comfortable and accommodating space. Very clean, fresh, and well-stocked. Nice decoration, spacey, and a beautiful pool/pool deck.
Emily
2017-03-17T00:00:00Z
Deb is the best host ever. Friendly, caring, and giving person. Spacious, super sparkling clean, beyond comfortable, and best bed we've ever slept in. Pet friendly and smoker friendly. Wish we would have had time to soak in the sun and pool. Safe and quiet neighborhood. Highly recommended this place.
Wendy
2016-10-16T00:00:00Z
Melhor lugar que eu poderia ter reservado! Debra é a melhor host que eu poderia ter tido. Quartos limpos, organizados, banheiro em perfeito estado, perto da strip em Vegas, tudo de bom! Super recomendo e estou voltando em breve, sem duvidas!
Bruna Cristina
2017-04-01T00:00:00Z
The rooms are super clean and Deb made our stay comfortable. Can't wait to come back
Delia
2016-10-23T00:00:00Z
Beautiful, well equipped, quiet, scenic place for any kind of stay may it be business, family or a road trip with your friends!. Debra is such a lovely host, didn't give us a chance to complain. Another plus, she is very flexible with check-in/check-out times. I highly recommend this place!. Hope to stay there in the future too. Thank you!.
Anirudha
2017-01-15T00:00:00Z
Typ av rum
Eget rum
---
Typ av boende
Hus
---
Plats för
4
---
Sovrum
Las Vegas, Nevada, USA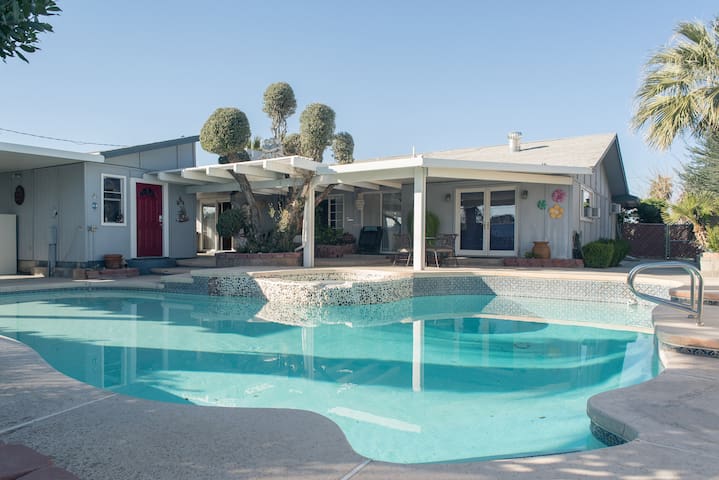 Enjoy both the loud, bright fun of the breathtaking Las Vegas Strip and a cool, relaxing oasis with a private pool, on your trip to Sin City! The house comfortably sleeps 12 people in four bedrooms. An open layout of the common area is perfect for entertaining and relaxing after a busy day of sightseeing and entertainment.
Features include: — Four bedrooms and three bathrooms — Off street parking for 1-4 vehicles — Washer & Dryer — Air Conditioning — Private pool — Fully stocked gourmet kitchen with a large fridge — 50" LED TV with Apple TV / Roku/Netflix — Fast WIFI
Typ av rum
Eget hus/egen lgh
---
Typ av boende
Hus
---
Plats för
12
---
Sovrum
Las Vegas, Nevada, USA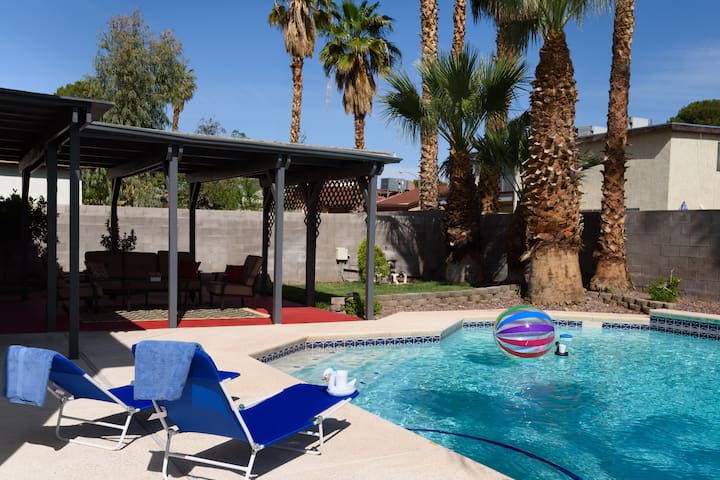 Looking for a beautiful paradise vacation home near the Strip? Come stay at this lovely 4 bedroom home that easily and comfortably accommodates large groups. Located 10 mins from Chinatown and the strip area, it provides a relaxing paradise getaway with fast and easy access to the Strip!
Family friendly neighborhood...please respect the home and the neighbors...and please NO SMOKING!.. There is no daily housekeeping service. While linens and bath towels are included in the unit, daily maid service is not included in the rental rate. We are grateful if you put your dirty dishes in the dishwasher! If you need a late checkout, we will try to accommodate. Please let us know at least 24 hours in advance if late check out is needed, please note there is a $50 fee. Enjoy your stay in Fabulous Las Vegas! The property is privately owned; the owners are not responsible for any accidents, injuries or illness that occurs while on the premises or its facilities. The Homeowners are not responsible for the loss of personal belongings or valuables of the guest. By accepting this reservation, it is agreed that all guests are expressly assuming the risk of any harm arising from their use of the premises or others whom they invite to use the premises.
Lots of dining options nearby, shopping, grocery stores nearby.
Typ av rum
Eget hus/egen lgh
---
Typ av boende
Hus
---
Plats för
12
---
Sovrum
Las Vegas, Nevada, USA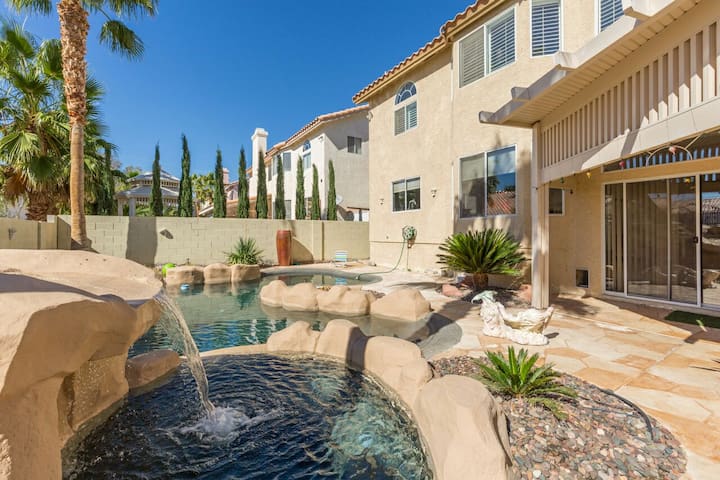 Our cool and comfortable three rooms, upstairs, very private with your own private balcony. The comment we get from our guests is that they wish they had booked a longer stay. You will love the pool/spa. One other thing you should know, this is VEGAS, you can come and go from the house 24/7 just like a Hotel. We also have two 12 speed bikes for your use, free of charge. Kitchen is not available except for the microwave oven and toaster. NOTE if you are looking for a cheap place, not for you
Second floor has three rooms all to yourselves with private Balcony. One bedroom / gueen size bed, and another bedroom / two twin beds, a Jack and Jill bathroom, shower/tub. Also a large living room with a queen sofá bed and TV. Back patio very private /swimming pool and spa. Please be advised that you are not renting the whole house, only the second floor, although you still have access to the downstairs dinning room and sitting room. Fresh brewed coffee and Croisants in the mornings. We are only 10 minutes from the Airport, Public transportation is a short 15 minute walk. We are just a 10 minute drive to the Famous Las Vegas Strip. Nice and safe area. Welcome to Vegas and enjoy. Please be advised that this is not a Party House. Please note that you can come and go from the house 24/7, you will have your own key. KITCHEN is not available for cooking. You will have your own private refrigerator upstairs and a mini fridge outside in the patio. NOTE my wife and I live in the house too,( downstairs ). *Se Habla Espanol
Very safe residential area.
We really enjoyed our stay at this lovely home. Our hosts Jack and his wife Maria were very accomodating and hospitable. They gave us a lot of privacy.The place was very clean,big and very nice.We loved the Jacuzzi! We really liked the neighborhood,very safe,quiet and close to the airport,restaurants and the strip.Thank you so much Jack and Maria...we would love to come back and stay at your lovely home again.
Jay
2016-04-26T00:00:00Z
Jack and his lovely wife made us feel right at home in their beautiful house. Even though the listing is for the upstairs bedrooms only, we often hung out in the main areas of the house and pool as well. The space is very beautifully decorated, clean, and well maintained. Our hosts went the extra mile to make us feel at home, making coffee for us and giving us croissants and fruit, picking us up from the airport and dropping us off, and even offering us to join their BBQ party. Overall, it was so nice to come home to Jack's spacious house and warm hospitality after a day of partying on the strip. Did I mention they were only 10min drive from the airport and the strip? :D
Happy
2016-06-01T00:00:00Z
Jack and Maria were definitely great hosts, very helpful and so accommodating! Their villa is absolutely beautiful and we enjoyed their great pool a lot. It was definitely a five-star experience and at the end we lamented to have only a 2-nights stay at this amazing place. If we once come back to Las Vegas, this Villa is definitely our first choice! Many thanks to Jack and Maria once more.
Andreas
2016-09-12T00:00:00Z
在Jack家住了三个晚上,房子非常不错,很干净,舒适性高,很适合一家人度假。据市区开车也就十几分钟时间,所以即使晚上想去赌场挣点钱也没问题。
Jianhua
2016-12-29T00:00:00Z
Accueil chaleureux , endroit reposant, proche du Strip en voiture, avec une piscine agréable.Jack et Maria sont serviables et attentionnés.Petit déjeuner simple mais copieux, boissons fraiches a volonté.Maison très propre, spacieuse et confortable.Nous recommandons cette adresse.
jean blaise
2015-07-06T00:00:00Z
Very warm and inviting. They allowed lots of privacy and the neighborhood was quiet and safe. The house was big and beautiful too!
Alex
2016-04-21T00:00:00Z
Very good!!
Xiaobiao
2017-03-30T00:00:00Z
You can't find a better place in Las Vegas, quiet neighbourhood, beautiful pool and on top of that a very luxurious interior. We had the entire upper floor to ourselves. Jack and Maria were the friendliest hosts we have yet encountered. It was a pure delight staying with them. If you have a chance, don't miss out staying with them. Det går helt enkelt inte att hitta ett bättre ställe att bo på i Las Vegas, lugnt grannskap, vacker pool and ovanpå det en otroligt lyxig (URL HIDDEN) hade hela övervåningen för oss själva. Jack och Maria är det vänligaste och trevligaste värdparet vi har stött på så här långt. Det var ett rent nöje att bo hos dem. Om ni ska till Las Vegas och har chansen att bo här, missa den inte!
Måns
2016-06-28T00:00:00Z
Typ av rum
Eget rum
---
Typ av boende
Hus
---
Plats för
6
---
Sovrum
Las Vegas, Nevada, USA
A beautiful house with pool , having 3 bedrooms with double-bed, perfect up to 6 people ,fully upgraded and equipped ! The backyard is luxurious, with 2 cover patios, and a huge free solar heated pool,available from march to end of october, depending of course of the weather,with a waterslide, waterfalls and spa.
In a luxurious garden, in the middle of palm trees and laurels, stand a marvelous pool with waterfalls, waterslide and spa with a brand new solar heating which is the icing on the cake ! The solar heating is completly free and available from the February 15th trough October 31th .Of course depending entirely from the weather ! Outside this period and all over the year , the gaz heating for the pool and spa (they are combined) is available. A part Summer it could be pretty cold in the nights and also the days ,due to the desert climate, and necessary to warm by gas the pool /spa (they are combined) if you want to swimm. Please Ask for the prices minimum a month before arriving , at best at reservation. We are French and we love Las vegas, we bought this home for our vacation and we rent it sometimes. In a calm and safe district, the vacation home has a justified name : PARADISE IN LAS VEGAS ! The house, fully upgraded, fully equiped and decorated has a Wifi connexion with high speed internet in every house's room and in the patios and backyard. With 2 floors, the house is composed of : On the first floor : A big lounge with eating room for 6, a game table. A TV room with two sofas, a big screen TV (Led 55") with DVD player and cable (Sports and movie pack channels). An american kitchen in marble, fully equipped with an american fridge double door, ice-maker, ice-crusher, big freezer, double toaster, cofee machine, oven, microwave-oven, dishwasher and kettle. An access to the two car garage with automatic and radio controlled door (the remote is given). An half bathroom (toilets and wash-stand). A laundry with washer and dryer. On the second floor : A master-bedroom with king-size bed, big screen TV (Led 48") with cable (Sports and movie pack channels). A georgous bathroom in marble double wash-stand, separated shower, big bathtub, separated toilets and huge dressing. Two bedrooms with a queen size bed each, closet and furnitures. A bathroom with separet shower and toilets, storage space and wash stand. Outside : A huge cover-patio sheltering an eating table and chairs for 6 and a garden lounge brightend up with sofas and chairs. A second cover-patio at the edge of the pool with many chairs. A pool (heading South) surrounded by many waterfalls, a waterslide and a spa allowing you to enjoy Las Vegas's sun. Of course, many transats are at your willing as an invitation to the farniente ! The backyard having many palm trees, multicolors laurels, rosebush, and colibri's plants (you will see colibris often) will make you enjoy Las Vegas's pleasant climat ! Pool and spa policy : The solar heating is completly free and available from the February 15th trough October 31th. Outside this period, the gaz heating for the pool is available, please ask for the price. Please note that this house is NOT a party house , it's a cool, peaceful and silent vacation home . if you rent it you have to use it as if it's your own house and respect the rules. The neighborhood is very quiet and with family atmosphere . Thanks for your comprehension This is the Paradise in Las Vegas !
The house is at 20 minutes from the Strip (the town center), also, there is a few minutes between the house and the georgous Resort : Red Rock Casino famous for it's concerts halls and restaurants. You ll also appreciate there the brand new open air commercial center :Downtown Summerlin with very nice restaurants and stores . Paradise in Las Vegas is ideally located in the center of the residential district of Summerlin. At less then 5 minutes stand a Wallmart supermarket and a few minutes further there is an other supermarket : Target. Many restaurants around the house shall allow you to satisfy all of your culinary tastes. You can contact us : Our knowledge of Las Vegas is huge (shopping, restaurants, casinos, shows...). The house is at 20 minutes from the Mc Carren internationnal airport and easily accessible by the highway. Neverless our home is very protected from sound pollution. (No cars or planes noises)
Dominique was a great host. The property is even more beautiful in person (the pictures don't fully describe how nice it actually is). Very well furnished. Great neighborhood - two parks were close by and within walking distance. Very safe and friendly neighborhood. Grocery and restaurants are within walking distance. Short drive to the Strip and Downtown. It truly is paradise.
jeffrey
2015-06-20T00:00:00Z
We had a great stay at Paradise in Las Vegas. Our family of 5 was in Las Vegas for a Youth Lacrosse Tournament. This was the perfect place for us to stay. Thank you Dominique. Merci Beaucoup. We also found an amazing restaurant close by called Marche Baccus. Highly recommend both.
Jim
2014-11-11T00:00:00Z
We came to Las Vegas to get married. We brought our kids (1 each from prior marriages) to be part of the wedding and didn't want to stay on the strip with them. We found Dominique's house and decided to rent. Staying there was wonderful. We enjoyed the kids having thier own rooms to prevent squabbling and loved the pool! We would stay there again!
Shelley
2016-06-04T00:00:00Z
Our family of 4 plus 2 friends stayed at Dominique's place for 3 nights in October. The place was basically brand new and very clean. The pool and outside area was exactly as the pictures show...amazing. It was just what we were looking for. It is a solid 15 minutes from the strip so if that's all your in vegas for it could be a little out of the way. Upon booking this I was worried that the pool would not be kept to the level of cleanliness that the pictures showed but it was. Dominique seems very proud to keep this place to the highest of standards which translates into a comfortable clean house for her guests.
Eric
2014-10-20T00:00:00Z
tidy, spacious, and the pool and jacuzzi was perfect! Listing was a perfect location, not too far from the strip. I would highly recommend this listing to a friend. The neighborhood was quiet, calm, and was exactly how it looked in the pictures...
Kevin
2015-09-02T00:00:00Z
We stayed in this beautiful home for a week in October and cannot recommend it highly enough. As frequent travellers, we regularly rent holiday homes and this property is without doubt the most well-appointed home we have stayed in. The overall facilities were excellent, absolutely everything you could possibly need was provided. The house was spotlessly clean and well maintained; the furnishings particularly are of a much higher quality than those generally found in a holiday rental. The outdoor area was gorgeous with a well-appointed and completely private pool. The complementary refreshments left for our arrival were particularly appreciated. Set in a lovely quiet location, yet only a 10 minute drive to The Strip, it is a perfect retreat. When we next visit Vegas, this will be our first choice of accommodation.
Lynda
2015-10-12T00:00:00Z
I Love This House & Enjoyed My Stay. I Never Wanted To Leave & Will Definitely Be Booking This Home Again.
Kyi
2016-11-06T00:00:00Z
Very nice neighborhood quiet good communication with host. Great time.
Juan
2015-11-03T00:00:00Z
Typ av rum
Eget hus/egen lgh
---
Typ av boende
Hus
---
Plats för
6
---
Sovrum
Las Vegas, Nevada, USA
Located in a high-end gated community, my home is a palatial sanctuary particularly well suited to large groups, families, business retreats, and Gatsby-esque pool parties. With the Strip, Red Rocks National Park, McCarran Airport, bucolic parks, and the city center all within 15 minutes, my home offers access to everything you need for an incredible Vegas experience!
The listing is located in a very exclusive gated community. To maintain harmonious relations with our neighbors, and to preserve the home's beauty (we have recently done significant renovating and redecorating, as shown in the listing pictures) for both own enjoyment and that of our guests, we are selective about the type of reservations we host. For all reservations booked after this message's posting, we do not allow parties of any sort (birthday parties, bachelor parties, bachelorette parties, etc.). Ensuring the neighborhood remains a serene and relaxing environment for all residing there, the community's security team patrols 4 times per hour. They are particularly watchful for noise disturbances, parking violations, garage/house doors left open, and other signs of large parties, immediately calling the homeowner if something is amiss. We ask that you please respect our having designated the listing as "Not suitable for events or parties". The listing is perfect for groups looking to have a low-key family gathering (this is the closest thing to a party that we allow), house a corporate team during a conference, or have a friends' Vegas weekend where the partying is confined to outside of the neighborhood. Please also note that, in keeping with the "no parties" rule, we do not allow guests to have DJs, entertainers, etc.
Beautiful Property, Great Location, private and secure
Nora
2017-01-21T00:00:00Z
Our stay here was great! We had 13 people in total stay in the house and it's so spacious that we hardly even saw each other. John and Weina answered all my questions quickly, great communication overall. It's pretty close to the strip only a $15-$20 uber ride. The only suggestion I have would be to take as little cars as possible, we were able to fit 4 cars on the driveway and had to have one car on the street but since it's a gated community some of the neighbors were bothered by it. Also try to avoid getting there late we arrived at 2:30am because of the storm and one of the securities at the gate was pretty rude since the beginning. She was the only thing that made the trip a bit unpleasant. All the other securities were really nice , overall had an amazing time here, thank you for allowing us to stay at your beautiful home!
Michelle
2017-02-19T00:00:00Z
The host canceled this reservation 4 days before arrival. This is an automated posting.
Alvin
2017-04-10T00:00:00Z
This Home has been destroyed by party animals. The water was shut off on day 2. We had to pack up and move out. Carpets are stained, drawers full of garbage, Beds broken and or uncomfortable. Beautiful Home destroyed by partyers and not kept up by owners. Seeking full refund at this time.
Flindt
2017-03-13T00:00:00Z
Typ av rum
Eget hus/egen lgh
---
Typ av boende
Hus
---
Plats för
15
---
Sovrum
Las Vegas, Nevada, USA
Spacious home beautifully furnished in SW Las Vegas. 15-20 min from the Strip. Great for solo travelers, small groups, or families.
Very nice quiet new neighborhood in Southwest Las Vegas. Driveway parking is available, garage parking available for guests who stay longer (please ask host). About a 6 minute drive from the I-215 which will take you right to the strip if you go East then North (total of about 17 min).
Typ av rum
Eget hus/egen lgh
---
Typ av boende
Hus
---
Plats för
4
---
Sovrum
Las Vegas, Nevada, USA
2,500 sq ft Private Home, 4 Bedroom and 2 bath with Pool, 2 miles to Strip/ Convention. Enjoy the allure of the City lights by the Strip and come home to a tranquil retreat in your own cozy room or take a splash in your pool to beat the heat.
This house is adorable. Free WIFI and parking on site. This is a quiet and better alternative when you are vacationing with a big group or family and friends and would all want to hang out together before calling it a night. It is equipped with a full kitchen with all your utensils and essential pantry items. This is not a community pool that you enjoy with the price. It is right in your backyard. No need to walk in the smoky casino hallways to get to your car. Enjoy tranquility after a long walk in the Strip or after a strenuous hike at Red Rock Canyon. There is real Direct TV programming with NFL channels for your viewing pleasure. Room configurations: Master Bedroom (coffee room)- 1 queen size bed and 1 full size pull out sofa bed. sleeps 4 total. This room has its own bathroom. Guest Bedroom 1- 1 queen size bed, sleeps 2 Guest Bedroom 2- 1 queen size bed, sleeps 2 Guest Bedroom 3- 2 full size bed with 2 twin pull out beds. sleeps 6.- well suited for children and mid size adults who want to sleep together. Linens, blankets, toiletries & hairdryer provided even free high speed internet and wifi. Try this place and keep coming back for more. This is new listing price set to invite the Airbnb community. There is a NO SMOKING policy inside the house. However if you need to, the outside patio is available. NO PETS in the property either due to owner's severe allergies. This house is not available for parties or large group events. Please ask owner.
The vacation house is in a vintage and quiet area close to the famous Las Vegas Strip or the Convention Center. This space is ideal for convention attendees, families, groups attending events or tournaments, business team building, etc. Please respect the neighborhood. It is only 2 miles from the Strip and in close proximity to major highways and freeways (I-95 & 215) so getting around is a breeze.
House was as descripted! Loved the master bedroom it was beautiful and plenty of space everywhere. Pool had nice shade and lots of space! Would stay again.
Johnny
2016-11-07T00:00:00Z
Great house for large groups. Ricky was very friendly and super responsive to any queries we had. Very hospitable, provided all the necessities and more.
Jeanne
2017-02-07T00:00:00Z
My family enjoyed the home setting instead of hotel rooms. There were enough separate areas so that several activities and conversations could go on at the same time. We all had cars and used GPS to get around. Everything seemed to be within 15 minutes. Separate bedrooms allowed family coming in and getting up at different times undisturbing to others. Having the kitchen relieved the normal chaos of getting 7 people out the door at the same time for a meal. A pleasant location for my son's 21st for all 3 generations.
Charlie
2017-01-13T00:00:00Z
Everything was perfect. Very equipped for a large group.
Beth
2017-02-27T00:00:00Z
It's a spacious, clean and comfortable house. Ricky is sweet to prepare toast, fruit and water for us. We really enjoy the staying.
SHELBY
2017-03-30T00:00:00Z
Très belle maison, très comfortable, très propre, spacieuse, fonctionnel, tout est parfait. Ricky, nous as donner toutes les informations nécessaire avant notre arriver et pendant le séjour. Pas loin du Strip. la piscine super. on as tous apprécier notre séjours dans cette maison, on avait du mal a partir tellement que l'on ce sentait comme chez nous. Quartier très calme. Bébé a apprécier son séjour aussi , avec son lit et plein de place pour faire du 4 pates. Encore Merci a Ricky.
Audrey
2016-10-15T00:00:00Z
Everything went very well regarding our weekend. Ricky was very responsive, his home was perfect for our weekend, and Ricky went beyond providing fruit, coffee, and bread for our enjoyment. He has a very nice home in a comfortable area just outside the Vegas strip.
Barry
2016-05-02T00:00:00Z
This was a large house, perfect for our Vegas getaway. The house was beyond comfortable and had everything we needed. Ricky stopped by on our first day to make sure we knew where extra lines were and answer any questions and was never more than a text message away if anything further popped up. My mother in-law loved the spacious suite away from the rest of the house especially when the kids woke up early and everyone enjoyed the pool in the afternoons. Thanks for a wonderful trip!
Shelby
2016-03-22T00:00:00Z
Typ av rum
Eget hus/egen lgh
---
Typ av boende
Hus
---
Plats för
12
---
Sovrum
Las Vegas, Nevada, USA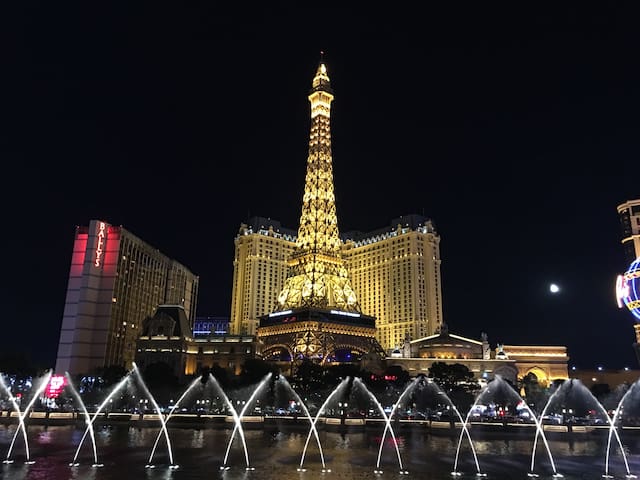 5 Bedrooms, SPA & Pool, Golf Putting area, Gated and Secluded This is a 5-bedroom house with 3-full baths on a large parcel of beautifully landscaped land. The house is fully gated for your extra privacy. Gourmet kitchen, formal dining room, large putting green for the golfers in the group. The house is only 15 minutes from the strip. 20 minutes from the world famous Red Rock Canyon and 10 minutes from the Spring Preserve.
Great house. Communication with owner was perfect. Thank you!
Ana
2017-03-05T00:00:00Z
Nice large house with tins of little perks. unfortunately we weren't able to use the pool during the day because of the weather in mid February however it was still well worth. Harout is very accomodating so if you ever have questions or concerns he's always quick to answer and guide you in the right direction. Thanks Again.
Kareem
2017-02-26T00:00:00Z
This is a great place and it's just a quick Uber right to the strip. The house can entertain with the pool/spa, putting green, etc. Great overall experience.
Matt
2017-02-06T00:00:00Z
Beautiful home and in a very quiet neighborhood. The house has everything you need for a comfortable stay. The strip is a bit away from the house but its not much of a problem. The house is very clean. I didn't get a chance to use the pool due to the rain but the spa was on point. I wouldn't think twice about booking the house again for my next trip to Vegas. The instructions that Harout left were easy to follow. He's also quick to reply back if you have any questions or concerns. Don't hesitate to book this house.
Santiago
2017-02-19T00:00:00Z
This house was excellent! We stayed for 3 nights at the beginning of April for my wedding and would gladly stay again. The house is right off of Sahara Blvd which is a straight shot to the strip so that was convenient. Our average cost for Uber or Lyft was about $14 one way and it took approximately 10-15 minutes to arrive. The exterior and backyard of the house is very nice. The gated driveways added an extra bit of security since we weren't familiar with the neighborhood. We didn't get to enjoy the pool since the weather wasn't quite warm enough but it looked great. The interior of the house was comfortable. All 5 bedrooms are located on the second level with one of the bathrooms downstairs, and another upstairs. The master bedroom was very spacious and the master bath was extremely large with separate vanities, a jacuzzi tub, and a walk in shower. The kitchen was large enough to accommodate multiple people cooking at once and the large dining room table was a nice touch for serving. All in all even with 9 people it was a spacious enough house that if you wanted privacy you could find it. I would recommend this house for large groups that want to be able to get away from the madness of the strip but still be within easy travel distance. Also the host was extremely accommodating and had excellent response time to questions once we arrived.
Chase
2017-04-02T00:00:00Z
The host canceled this reservation 181 days before arrival. This is an automated posting.
Pasha
2016-12-16T00:00:00Z
Typ av rum
Eget hus/egen lgh
---
Typ av boende
Hus
---
Plats för
12
---
Sovrum
Las Vegas, Nevada, USA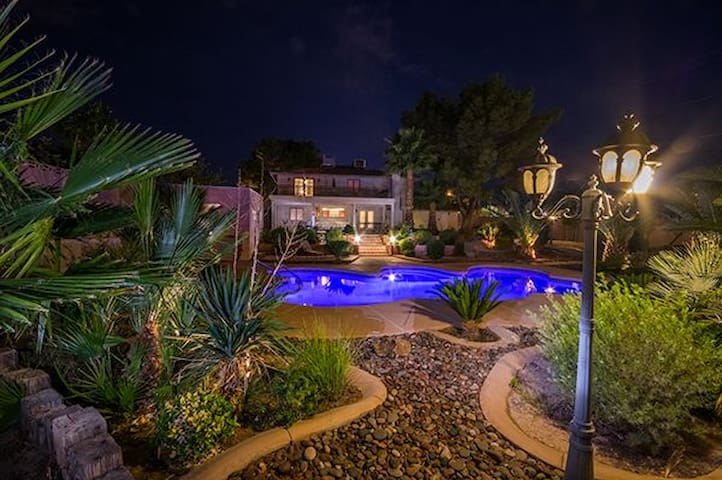 Stunning NEW Summerlin home with every upgrade and designer finishes! Quick ride to the Strip! This luxury home is perfect for families and large groups that are looking to be close to it all in a private and relaxing retreat complete with a gorgeous pool and hot tub.
Located in Summerlin near tons of restaurants and bars... and just a short ride to the Las Vegas Strip and its unparalleled world class entertainment, dining options, and activities!
Located in a safe new construction neighborhood with many dining options nearby. Also located near the expressway, so the Strip is just a quick Uber or taxi ride away!
Typ av rum
Eget hus/egen lgh
---
Typ av boende
Hus
---
Plats för
14
---
Sovrum
Las Vegas, Nevada, USA
This charming and welcoming home is close to everything you need in Vegas! A 5 minute drive to Freemont Street, Las Vegas Blvd, Arts District, World Market Center Las Vegas and the Premium Outlets and less than 10 minutes to The Convention Center. You'll love this place because of the private and cozy back yard with pool, bbq and covered patio. Perfect for couples, solo adventurers, business travelers, families (with kids), and big groups.
This 3 bedroom/ 2 bathroom house has a fully stocked kitchen with a toaster, electric kettle and coffee maker. Breakfast is not included, but there is coffee, tea, and some cooking essentials there for your use. The pool, spa, and bbq are fully available to you, but please use at your own risk. *****Please note, the pool and spa are NOT heated.***** We have wireless internet and there is a 32 in TV in the living room that has Netflix and Hulu. (No cable) A washer and dryer is available for use upon request and host's discretion by guests who are staying a minimum of one week or longer. We have covered parking in the driveway and street parking is available.
We are located in a quiet residential neighborhood away from the main road. 5 minute drive to Freemont Street, the Container Park, the Arts District, World Market Center Las Vegas, Smith Center, the Premium Outlets, and the Springs Preserve 10 minutes to the Convention Center and Strip 20 minutes to the airport 25 minutes to Red Rock Canyon
This was an amazing place to rest and relax on our down time Tina and Cam were amazing host!
James
2017-04-02T00:00:00Z
Great location for anyone who wants to be close to the strip but not too close. All comfort, great value, perfect communication. 5 stars!
guy
2017-01-26T00:00:00Z
This house was great for our family's Thanksgiving vacation. Six of us shared and it was really spacious. Comfy living room and large kitchen. The backyard and patio were nice. It was too cold to swim, but the pool was well-maintained. The maintenance man even came to clean it while we were there. Tina was always quick to respond to any requests and was very helpful. Before our trip, I asked about the kitchen set-up (we cooked our Thanksgiving dinner there) and she sent pictures back so I knew exactly what they had. Very reasonable Uber/Lyft rides over to Fremont Street.
Carissa
2016-11-27T00:00:00Z
Such a cute place! Very charming and well-equipped for our weekend stay. The backyard is beautiful and perfect for morning relaxation. Reasonable price for such a great place to stay.
Carissa
2017-02-12T00:00:00Z
First thing Tina and Cam were very easy to rent from. This was my family's first vacation home rental experience so we were very nervous going into the experience. Tina was very responsive to my questions leading up to arrival. Tina and Cam were there to meet us upon arrival and gave a tour of the home, it's amenities, instructions, etc. They both were very warm and friendly and left us with multiple contact numbers in the event we had any questions. Second thing the home was as advertised, the pictures of the property were current and that was a great thing because we had heard horror stories about owners posting older pictures. The house was large enough to accommodate 8, we were 4 adults and 4 children (2 teens and 2 elementary school age). Hard wood floors makes watching tv a lil difficult for the entire clan however the outdoor area provided that extra space for us to not be in each other's way while we relaxed. We actually brought an extra tv with us and connected it outside and we were just fine. Third we loved the extras, the gas grill, large refrigerator, towels, the pool, tv with Amazon fire stick, covered parking, climate control, it was like being in a hotel with all of the toiletries, they really did a great job of making us feel welcome and comfortable. The pool was nice, not large but large enough to keep 4 kids entertained. Great fencing around the yard. If there was anything that I would have liked that we didn't have was access to the washer and dryer and a heated spa, but with a longer stay I believe both of those options are available. Also Pool lightning for night swimming would have been great. I'll end with this, it is only 1 mile to shopping and and outlets and only 4 miles from the strip, I would definitely call Tina and Cam the next time we are going to Las Vegas.
Charlene
2016-07-05T00:00:00Z
The house is comfortable and filled with sweet details everywhere. Tina and Cam are super nice and reply quickly to our needs. When the heater doesn't work, they call the repairman immediately and brought space heaters and blankets to the house. I will recommend this house to all my friends who plan to come to Vegas!
Di
2016-12-16T00:00:00Z
Is very beautiful House ,we like very much !
Cho Fan
2017-02-22T00:00:00Z
Perfect place to stay in Vegas if you're not interested in staying on the strip. Still very close to everything, but nice and quiet. Great for families! We very much enjoyed our stay and would highly recommend Tina and Cam's place!
Mariah
2016-12-31T00:00:00Z
Typ av rum
Eget hus/egen lgh
---
Typ av boende
Hus
---
Plats för
8
---
Sovrum
Las Vegas, Nevada, USA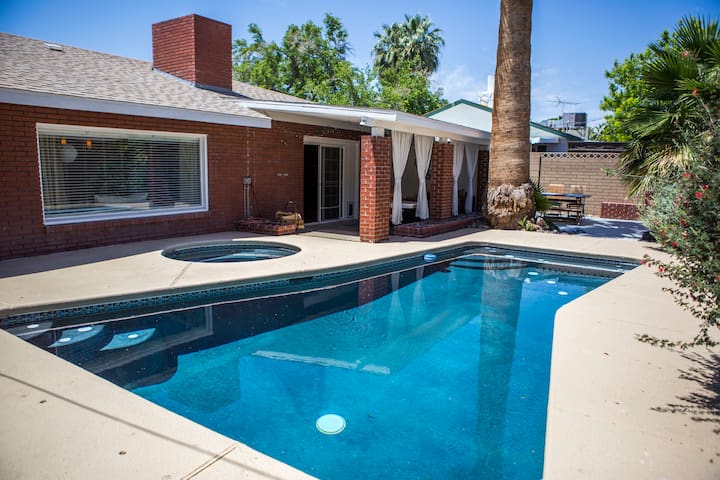 3 Bedroom/2 Full Baths Wifi, Transportation, & Breakfast Food Very close to Downtown Las Vegas & The Strip *World Market Center - .9 miles *Premium Outlets - .9 miles *Fremont Street Experience - 1.7 miles *Encore - 3.6 miles *Las Vegas Convention Center - 3.5 miles *Sands Expo - 4.3 miles *MGM - 5.7 miles *McCarran - 6 miles
While staying at my home (depending on your reservation), you will have access to up to 3 bedrooms, the kitchen, the living area, and the driveway. (2 queen beds, 1 daybed, 1 trundle under the daybed, 2 roll away guest beds, and 2 air mattresses - one raised full and one floor twin)
Stayed the night with very low expectations as the price was so good for a location this close to the strip! The house was being refurnished as we were staying there but the host made sure to accommodate us in any way possible to make up for the minor inconvenience. Would recommend a stay here to anyone who wants a comfortable home close to all attractions but tucked away in a quiet neighborhood.
Adi
2017-04-01T00:00:00Z
Great experience!!!
Lds
2017-04-08T00:00:00Z
Everything was very comfortable. Very clean , and the process was smooth. Laurence was communicative and easy approachable . Real cool guy :) made the visit effortless
Justine
2017-03-25T00:00:00Z
Typ av rum
Eget hus/egen lgh
---
Typ av boende
Hus
---
Plats för
8
---
Sovrum
Las Vegas, Nevada, USA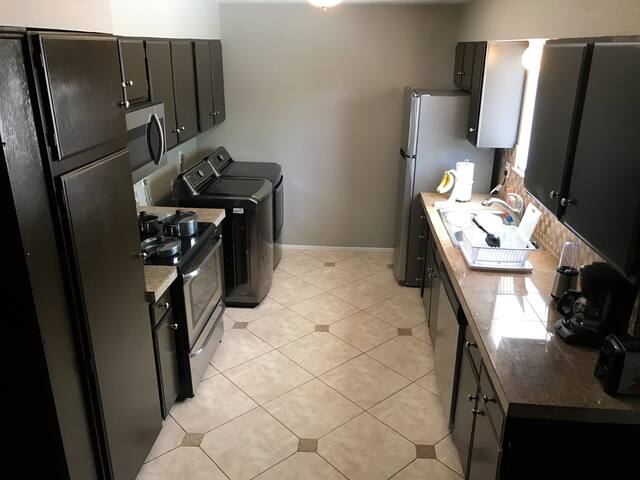 1

–

18

av

300+ Hem att hyra
Ange datum för att se full prissättning. Ytterligare avgifter tillkommer. Skatter kan tillkomma.