19 Uthyrningar av lägenheter
My place is close to family-friendly activities. You'll love my place because of the outdoors space. My place is good for couples, solo adventurers, and business travelers.
Josephine's apartment is lovely, spacious divided studio and kitchen. The unit feels quaint and private with views of the woods and yard. It is furnished with little gems and lovely plants along with simple but well apportioned furnishings. She helped us feel comfortable and welcomed with quick and pleasant communication. Would stay here again in a heartbeat.
Taka and Arthur
2017-03-26T00:00:00Z
Great place!
Andrew
2017-01-01T00:00:00Z
My wife and I had a wonderful stay in this cozy place! The hot tub was incredible and the host was perfect! We couldn't have asked for more!!!
Caryn
2017-01-15T00:00:00Z
Josephine's home is tucked away in the forest and you will find a good deal of privacy. The house is located on a track of land that has a small River running through it. She has a number of shrubs the wild birds enjoy, so you can enjoy bird watching from the hot tub and if the jets are off you can also hear the small stream flowing. The apartment has a propane heater, which keeps it nice and warm. In all a lovely little spot to land and retreat from the world!
Stephanie
2017-04-01T00:00:00Z
We had a wonderful time at Josephine's lovely house. It was the perfect place for a little R&R away from the city-life in Boston. Her house was conveniently located near some great local restaurants including the Elm City Brewing company. Overall, an excellent choice for a quick weekend getaway trip. Josephine was a wonderful, welcoming host and was very flexible with our arrival and departure, which added to the easygoing and relaxing atmosphere.
Joshua
2017-03-19T00:00:00Z
Josephine's place was wonderful! Clean, cute decor, and a hot tub- what more do you need? Just be aware that because of its remote location you will most likely not have cell service, so wifi would have been a plus, but when you're going on a woodsy getaway you don't really miss cell service. We recommend staying here!
Taylor
2017-01-28T00:00:00Z
Typ av rum
Eget hus/egen lgh
---
Typ av boende
Lägenhet
---
Plats för
2
---
Sovrum
Surry, New Hampshire, USA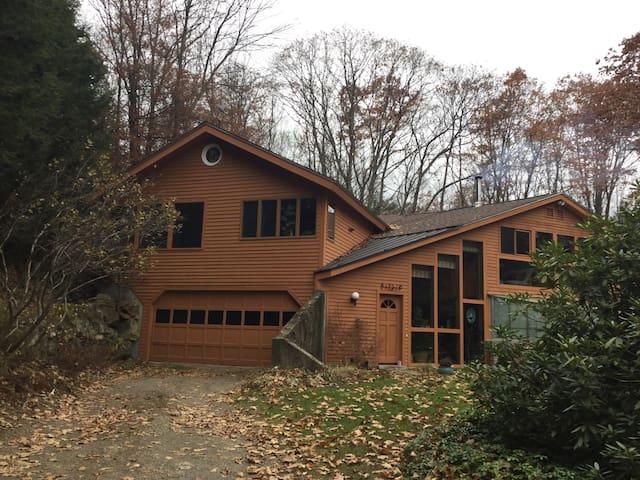 Yes the ENTIRE 3 ROOM PRIVATE APARTMENT sunny bedroom, living/kitchenette, private bath, private entry.Our airbnb features well-appointed rooms with a full bed, nightstand, dresser, and chair, mini-fridge, coffee maker, toaster, microwave, table, desk, and chairs. Dishes, towels, kitchen sundries, and all toiletries provided; two closets offer ample storage space.We are centrally located in town near parks, restaurants, shopping, art and culture. We also provide water, fruit, pastry, coffee/tea.
All 2017 dates desired and extended stay holiday bookings - PLEASE INQUIRE! KSC Graduation weekends is two nights required - price range 99-120. We always reply promptly, we welcome extended stays and we will open 2017 dates as requested.
Our neighborhood is extremely safe and very private.
We had a great time and the location was perfect! It was so nice to come back to a clean cozy home after exploring the town and seeing a show! The extra touches like snacks, breakfast, and wine were very much appreciated. If we're ever back in the area, we'd definitely love to stay again!
shannon
2017-03-19T00:00:00Z
Great location. Only a short 5 minute walk to town. A beautiful street with estate like homes. Very charming accommodations. Glad to recommend friends and family travelling in small packs to stay there.
Aaron
2016-12-04T00:00:00Z
Klauzine's place was convenient and effortless. The addition of a stocked fridge and snacks, as well as the morning breakfast tray 2 out of 4 of our mornings, was way more than expected. The location would normally be perfect and an easy walk to everything downtown - it was unexpectedly EXTREMELY cold and snowy for mid-March so we opted to drive most places, which wasn't a problem either. Hope to come back when the weather is warmer and bring the bikes - there is a rail trail close by.
Kelley
2017-03-13T00:00:00Z
This place was wonderful! Klauzine and Vincenzo are extremely thoughtful hosts and all of the small intricacies (breakfast/toothpaste/treats) made the stay very special! Thank you for creating a lovely safe place to share! I would stay again in a heartbeat
Mollie
2017-01-15T00:00:00Z
We had a great weekend! Thanks for your hospitality!
Brooke
2017-02-19T00:00:00Z
Klauzine is a wonderful host and her apartment is so cozy! She is very respectful of our privacy and so accommodating. It was private, warm and so close to the downtown area!
Morgan
2017-01-01T00:00:00Z
This was the perfect Airbnb experience! The apartment was private, attractive, clean, and cozy, located in a beautiful neighborhood an easy walk from downtown. Welcoming touches -- breakfast fruit and pastries, a bottle of wine, toiletries, etc. -- added to what would already have been a wonderful stay. I can't recommend highly enough and, if I'm ever back in Keene, I'll have my fingers crossed that Kauzine's apartment is once again available!
Jesse
2016-10-23T00:00:00Z
Klauzine was an incredible hostess! We arrived to thoughtful touches like snacks, sparkling water and hard cider. The apartment was clean and cozy. We loved the morning pastries and fruit. I would highly recommend Klauzine's apartment if you are looking for a place in Keene!
Sarah
2016-10-17T00:00:00Z
Typ av rum
Eget hus/egen lgh
---
Typ av boende
Lägenhet
---
Plats för
3
---
Sovrum
Keene, New Hampshire, USA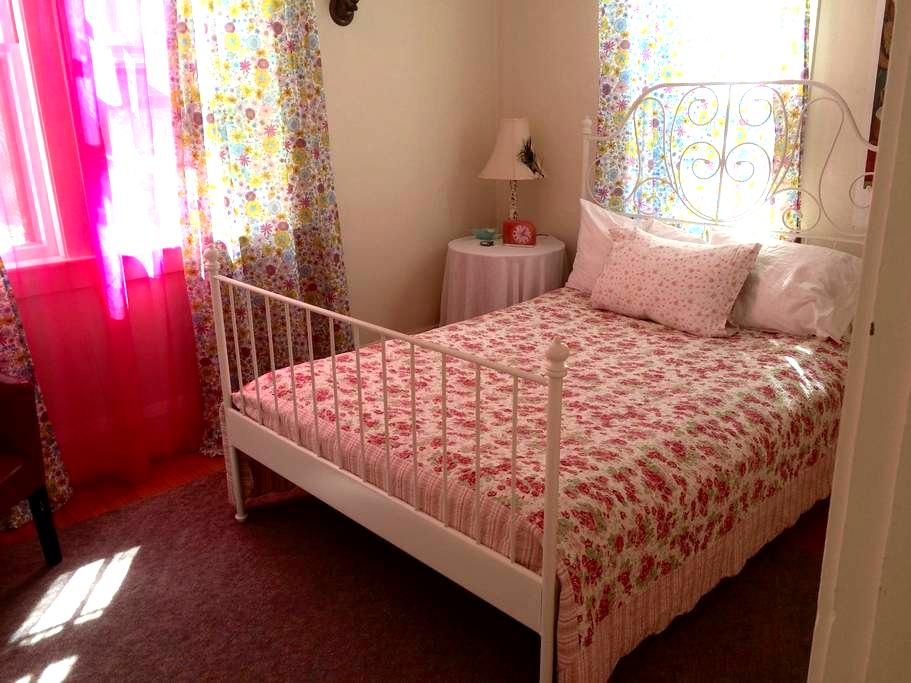 Our beautiful apartment is located in the heart of beautiful downtown Keene, New Hampshire. The contemporary condominium features one bedroom with a queen bed, two bathrooms, living room and kitchen. There is a dedicated covered parking space nearby and the Monadnock Food Co-op is right next to our building. On the first floor of our building is Nicola's Trattoria Restaurant, offering fine Italian dining. The unit is on the the top (4th) floor and is reached by an elevator. We prefer to rent for a two night minimum. The location is wonderful and offers many fine restaurants and shops, all within walking distance. Keene is a wonderful city!
This apartment is gorgeous, peaceful, and very comfortable—even better than it looks in the pictures. It's also right in the center of town, within easy walking distance of all the shops and restaurants. And Roger is a wonderful host who thought of everything we might need. If you are looking for the perfect place to stay in town, trust me, this is it!
Karen
2014-09-04T00:00:00Z
Myself, my husband, and our toddler stayed in Roger's apartment for a weekend in September. The apartment is ideally located in the center of Keene and has two parking spaces nearby. It is spacious, well laid out, in a quiet building, and comfortable with nice amenities like laundry, wifi, and large TV. Roger was a great host and ensured that our stay was trouble free. I highly recommend Roger's place if you are travelling to Keene.
Sheri
2014-09-29T00:00:00Z
This condo is great! Lots of space, very clean, high-end features, right downtown in adorable Keene...not sure what else you could want! There's even 2 full bathrooms, which was great for us in that we could put our toddler down for a nap in the bedroom and still get ready for the wedding we were in town for. Roger was very easy to work with and quick to respond through AirBnB as well as by phone. I'd recommend this place to anyone visiting this cute NH town.
Jennifer
2014-08-11T00:00:00Z
Roger's place is in a great location downtown and close to all the bars and restaurants. It was a beautiful apt and was perfect for our weekend away!
Christine
2014-10-06T00:00:00Z
Once again, Roger was superb as a host, making sure we got the keys on time and being very responsive by email. The modern apartment is still in excellent condition, and very clean. The gourmet, granite and stainless kitchen was even better equipped than during our first stay, the linens were of the highest quality, and the towels were plush and very absorbent. It was very comfortable. We would highly recommend Roger's apartment if you are visiting Keene. We hope to stay again next year.
Michael
2014-08-28T00:00:00Z
It was a wonderful 5 night stay there.... everything was great... super location... nice meeting you in person Roger! Hope to be back sometime next fall:-)
Carmen
2014-09-23T00:00:00Z
Roger was superb as a host, meeting us as appointed to give us the keys, being very responsive by mobile phone, and telling us all the necessary facts about the apartment. It was very contemporary with all modern fittings. The gourmet, granite and stainless kitchen was well appointed, the linens were of the highest quality, and the towels were plush and very absorbent. It was extremely clean and neat, and the furnishings were very comfortable. He even left the pantry and refrigerator well stocked with cold drinks and some dry goods. We look forward to another visit to Keene, and we have already booked again with him in August for an even longer stay. The apartment is extremely convenient to the downtown, the Monadnock Coop for food shopping, and the local stores and cafes. We would highly recommend Roger's apartment if you are visiting Keene.
Michael
2014-06-18T00:00:00Z
Typ av rum
Eget hus/egen lgh
---
Typ av boende
Lägenhet
---
Plats för
2
---
Sovrum
Keene, New Hampshire, USA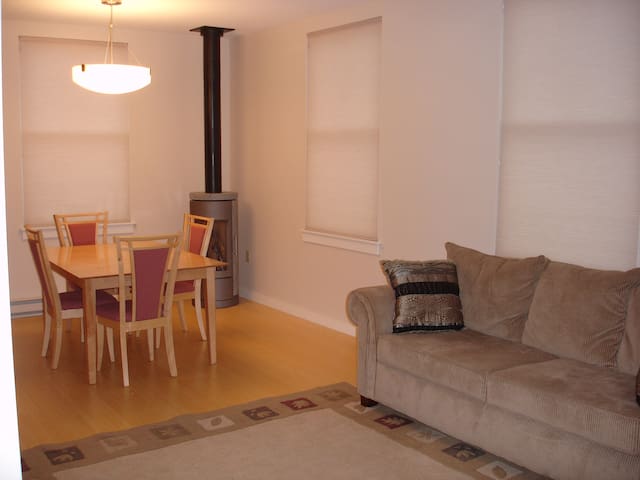 Beautiful tranquil retreat overlooking lush New England landscape of rolling hills and small trout pond. Gorgeous brand new studio adjacent to historic farmhouse. You will enjoy a private entrance via one flight of stairs and a partially enclosed wood patio. Relax outside watching the trout or enter your private space. Fully equipped kitchen & bathroom. Complete privacy. One queen size bed and ample seating.
Private entrance to a brand new studio apartment (build in August 2015) with complete kitchen, including brand new appliances and kitchenware. Your own private bathroom with heated floors and skylight, plus washer dryer. Gorgeous hardwood floors and wood paneling surround your own private getaway. Dish TV on a 20" wall mounted television and complementary WiFi throughout the apartment.
The apartment is adjacent to a restored 18th century farmhouse and down the road from a working dairy farm. This is a peaceful atmosphere on a quiet country road. 5 minute drive from quaint downtown, 15 minutes to Bellows Falls VT and interstate 91 to head north or south. Close to all attractions and beautiful unspoiled scenery, lovely and cool in summer, view of amazing foliage in fall, cozy and warm in winter.
Judith was wonderful and full of info for us...very private and cozy...beautiful area...we couldn't have asked for a nicer place and a wonderful host!!!
Sheri
2016-09-30T00:00:00Z
Anna and Judith were exceptionally responsive to our needs. When we arrived, we found wine, cheese, crackers, fresh eggs, butter, and coffee. The space is excellently appointed for the comforts of two. Tranquil Retreat is just outside of Walpole in a lovely rural setting and we enjoyed a nice walk on the country roads.
Jerome
2016-08-04T00:00:00Z
My boyfriend and I were looking to get away from the city/suburb life for Labor day weekend, and we wanted a quiet, peaceful place to stay in the country. We chose to rent the Tranquil Retreat, and it was amazing! It was peaceful, quiet and so relaxing. Anna was a huge help in booking the reservation, and answered many questions I had regarding the rental and near by locations. Janet (Anna's mother) lives at the farm house that the rental is attached to, and she made us feel right at home. We arrived late at night, and she left the lights on for us, and welcomed up with a nice array of yummy treats and a bottle of wine. The rental has been completely redone inside and has a modern, yet country chic feel to it. At night, there's complete silence outside. No sounds of cars, sirens, nothing! All you hear are the sounds of crickets. If you are definitely looking to getaway and just unplug from reality & every day life, the Tranquil Retreat is the place to go. Plus, less than 10 mins down, there's a little town that has a fabulous chocolate store that sells hand crafted chocolates, a wonderful restaurant next door, and a small grocery store where you can buy local cheese's, wines, craft beers, fruits and veggies and hand cut portions on beef and chicken. Also less than 10 mins from the rental is a fabulous winery where you can go and sample wines that are made on sight, while snacking on yummy cheeses and meats. The center of Keene & Keene State is also about a 30 min drive from the rental. Hands down, we would stay at the Tranquil Retreat again, and we want to thank both Anna and Janet for being such spectacular hosts!
Morriah
2015-09-07T00:00:00Z
Anna's host was extremely warm, kind and considerate. Fresh cut flowers were left out,. It was everything I thought it was going to be and much more.
John
2015-10-12T00:00:00Z
Just finished our "tranquil retreat" at this understated tranquil retreat. Sorry we missed the infamous Judith, but the property, set-up and privacy were all beyond words. Also can't express the perfect sensory experience, from the smell of cedar to the crackle of a fire from the wood stove. Highly recommended for anyone looking to have a romantic retreat.
Michael
2016-10-31T00:00:00Z
Perfect. We arrived late on Friday to a welcome note and a stocked fireplace, a clean, romantic setting, and wine and cheese in the fridge. Judith kept the lights on for us on the attached home and turned them off as soon as we got our luggage inside. The intoxicating aroma of cherrywood, walnut, and other wood filled the air with rustic pleasure. The mattress was extremely comfortable and everything was perfectly in place. A truly wonderful experience. Thanks!
Tyler
2016-04-05T00:00:00Z
We were so happy with our stay. This beautifully designed spacious studio was the ideal intersection of high quality artistic meets elegant-Eco. The bathroom is very modern and tasteful with heated floor tiles. Adorable and functional kitchen. The space is as lovely as the photos. Set against a picturesque backdrop of Vermont at it's best we fell in love with the space. We'll be back if it's available next time we visit our son at his nearby college. Hosts were lovely, responsive and really went the extra mile to make our stay great. Enjoy!
Elizabeth
2015-09-27T00:00:00Z
I arrived in the evening to a lovely, welcoming studio that looked exactly as described. Judith had left me the key with a note that she had laid the fire for me, and I happily snuggled up in front of it with the frogs chirping in the background. The wine and cheese in the fridge were such a nice, tasty touch. It was a short drive to Mount Monadnock the next day. After the hike, I enjoyed the skylit shower (glorious), sunning on the bench in the backyard (while admiring William the horse), and cooking stir fry in the kitchen (small, but perfectly adequate -- helped to open the ceiling skylight for ventilation). I don't know what kind of mattress the bed has but it is HEAVEN. Thank you Anna and Judith for a delightful stay! "Tranquil retreat" couldn't be more accurate.
Rebecca
2016-04-22T00:00:00Z
Typ av rum
Eget hus/egen lgh
---
Typ av boende
Lägenhet
---
Plats för
2
---
Sovrum
Walpole, New Hampshire, USA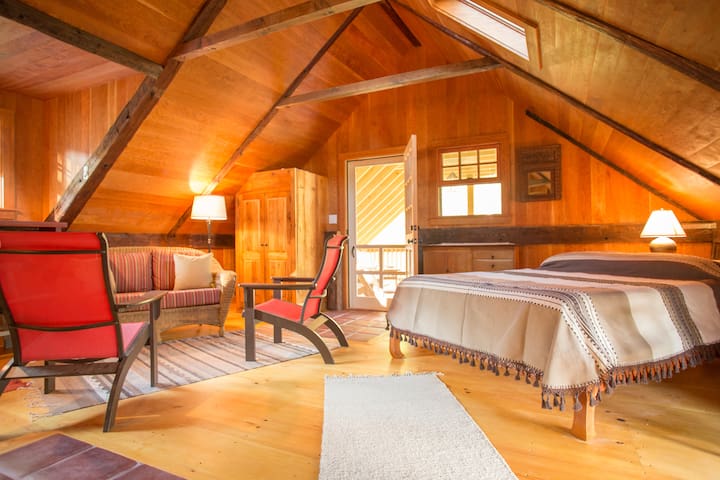 The apartment is nestled on 9 acres overlooking a beautiful forested mountain & trails to explore along a brook. A peaceful getaway retreat equip with a living room, a bedroom with a queen bed, full kitchen, & full bathroom. 1 hour from ski resorts. *NO SMOKING ANYWHERE ON THE PROPERTY
*The apartment is attached to our home that we live in. The apartment is located on one level of the home & has it's own private entrance & is blocked off from our living area. Eco-Friendly Home: - LEED standards - Solar panels for electricity - Solar thermal for water - Radiant floor heating - Compost System - Organic Garden
Quiet neighborhood along a peaceful dirt road. Putney Attractions: - Green Mountain Orchard - Hidden Springs Maple - Basketville - Putney Mountain Winery - Next Stage - Sandglass Theater - The Yellow Barn Concert Series in the Summer - Miles of cross country ski trails at the Putney School - West Hill Bike Shop *information about local rides - Edel Byrne Stained Glass - Swirl a Vintage Store - Green Mountain Spinnery - Miles of hiking trail *guides provided Putney Eateries: - Putney Co-Op - The Gleanery - Putney General Store & Pharmacy - J.D. McCliment's Pub - Putney Farmers Market - Putney Diner - Curtis' Barbecue - Katy's Nearby Attractions: - Brattleboro = 15 minutes - Jamaica State Park = 10 minutes - Downhill skiing = 45 minutes - Stratton = 1 hour - Mt. Snow = 50 minutes - Okemo = 55 minutes - Manchester = 1 hour 15 minutes *Appalachian & Long Trail Access - Marlboro Music Festival = 1/2 hour - Bradley International Airport = 1.5 hours Grocery Stores A-Putney Co-op - 8 Carol Brown Way, Putney, VT 05346 B- Brattleboro Co-op - 2 Main St, Brattleboro, VT 05301 C-Hannafords - 896 Putney Rd, Unit 5, Brattleboro, VT 05301 D. North End Butchers - 972 Putney Rd #2, Brattleboro, VT 05301 Restaurant Recommendations A.The Gleanery - 133 Main St, Putney, VT 05346 B.Duo - 136 Main St, Brattleboro, VT 05301 C.Whetstone Station Restaurant and Brewery -36 Bridge St, Guilford, VT 05301 D.Burdick's - 47 Main St, Walpole, NH 03608
It was a very peaceful, quiet stay... There are some nice winding dirt roads next to a small stream worth checking out. Thanks for hosting!
Kelly
2015-12-17T00:00:00Z
The stay was a breath of fresh air. The whole house was super clean and Andrea was an awesome host! I can tell she put a lot of love in this rental and I can't wait to come back next year. 5 stars all the way!
Sandy and Niva
2015-10-10T00:00:00Z
It is a special place out in the country. Very quite. And the home was very clean and well equiped.
Elisabet
2017-01-25T00:00:00Z
This was a lovely place that exceeded our expectations. It was cozy and comfortable. The kitchen had everything we could need and more. Plus, it was close to town but felt far from town. Great place!
Lora
2017-03-27T00:00:00Z
I really needed some time away from the city and this was a perfect location for me to introvert and recharge. Andrea let me know where there was good hiking in the area, the co-op for groceries, as well as their brook (there's a rock that makes a great perch for reading). I left feeling more like myself.
Annette
2016-11-14T00:00:00Z
We loved our stay here! The space is charming, there are lots of flowers, Milo softened my dog averse friend's heart, and the brook down the path is very calming. A great peaceful place to start off our vacation =D. Andrea's recommendation of dining at the Gleanery led us to the most savory and delicious food. This is definitely a place we would recommend to anyone stopping by!
Eugenia
2016-07-16T00:00:00Z
Andrea and Jon's apartment was perfect! Clean, crisp, and very comfortable. Vermont warmth with all the conveniences you need! I would highly recommend their place and look forward to future visits.
Beth
2015-10-01T00:00:00Z
I really enjoyed the time I spent at Andrea's home in the mountains of Vermont. The space was lovely and just as it looks in the pictures - clean, comfortable, and with a great view! Andrea and her family were friendly and welcoming, but also respected my privacy. She was easy to communicate with and gave me great recommendations for things to do during my stay. Their dog Milo was a great playmate for my puppy. I would definitely recommend staying here and would come back anytime myself.
Katie
2016-10-11T00:00:00Z
Typ av rum
Eget hus/egen lgh
---
Typ av boende
Lägenhet
---
Plats för
4
---
Sovrum
Putney, Vermont, USA
This quintessential Vermont farmhouse originally built in 1809 is the perfect retreat from everyday life. The Farmhouse Apartment is its own 2-story attached addition, and it is completely private.
Enjoy a Vermont getaway at our private, two story, newly-renovated Farmhouse Apartment. With hardwood floors, exposed beams, and amazing skylights with views of our 10 acres of rolling green hills, you'll relax in comfort. This unique space is the perfect place for a winter hideaway, summer vacation, romantic getaway, girls' weekend, honeymoon, writer's retreat, family trip, you name it! Whether you want to explore the small towns and winding trails of Vermont or truly get away from it all, the Farmhouse Apartment is a spacious and beautiful home-base. Upstairs, there is a luxurious king-sized bed in the huge master bedroom with a memory foam topper, so you'll get a great night's sleep! The bathroom is newly renovated with mosaic tiles. Downstairs there is a fully-equipped kitchen, dining area, and living room with cozy, wood-burning stove and comfortable sofa. A private deck on the back and a separate front porch (with porch swing) complete the downstairs. If interested, we can add a roll-away twin bed downstairs for an extra guest. We also have a portable Baby Bjorn crib, high chair, and a toddler bucket swing out back -- babies welcome!
Our picturesque farmhouse is just outside the artsy village of Putney, VT on an easily-accessed country road. Hike, bike, walk, cross-country ski, or run on the nearby trails and peaks, some of which start right from our driveway. Visit a neighboring sheep farm and sample their award-winning cheeses, or head into the nearby villages of Putney, Walpole, or Chester for a stroll in town or a bite to eat at locavore favorites The Gleanery or Burdick's Restaurant. Spend an afternoon at Green Mountain Orchard, picking blueberries, raspberries, apples, or pumpkins (depending on the season), and finish off with a cool dip at a local swimming hole. In the evenings, relax by the fire, curl up with a good book, and unwind! We are also close to downhill skiing, (Okemo, Bromley, Stratton), the Putney School, Landmark College, the Greenwood School, and The School for International Training (SIT)/ World Learning. In Putney, you have the Putney General Store, the Putney Food Coop, the terrific West Hill Bike Shop, spinning and yoga studios, massage, the delicious Curtis' BBQ, (seasonal) Swirl second-hand shop, antique stores, Hidden Springs Maple, and more! We're also close to hip Brattleboro, Vermont with it's wonderful art festivals, farmers markets, movie theatre, music venues, food coop, Grafton Cheese Company, art galleries, bookstores, cafes, restaurants and shops galore. And we're close to lovely Keene, NH with Antioch College and Keene State College, great coffee shops and a lively Main Street, The Colonial Theater and more. The Farmhouse Apartment is a great place to visit year-round and experience Southern Vermont in all seasons: In SPRING, stop in at a maple sugar house while they're boiling, and enjoy a pancake breakfast before visiting local farms to see the new lambs being born. In SUMMER, wander the deep green woods on foot or by bike and then cool yourself in a clear local swimming hole. In AUTUMN, hike along streams, up to mountain view points that will blind you in leaf season with amazing Fall color, and enjoy a stop at a farmer's market. In WINTER, snowshoe or Nordic ski on nearby groomed trails and return to a cozy fire to enjoy some hot cider before heading off to the pub for dinner. Or, check out Stratton, Okemo, or Bromley Mountains for downhill fun (about 50 minutes away).
Alex and Michael have a wonderful space that is exactly as described. They made us feel very welcome, with lilacs on the kitchen counter for when we arrived, and a nice detailed list of things to do and see in and around Putney. The best part about staying here was the incredible loft bedroom upstairs, complete with three huge skylights and low-to-the-ground king-sized bed... it was very dreamy! This was the perfect escape from the busy city life, as it really is out in the middle of nowhere among rolling hills, winding roads, and adorable farms. Couldn't ask for anything better.
Laura
2015-07-03T00:00:00Z
Wonderful time. Great accomodation. Very quite and peaceful. Great host!
Feodor
2015-08-24T00:00:00Z
We had a wonderful four-night stay at Alex and Michael's beautiful apartment - the house is a great country getaway from the city and Alex and Michael are terrific hosts: responsive, helpful, and accommodating. The nearby towns of Putney, Brattleboro, and Walpole are lovely small towns with great restaurants and shops, but we spent most of our trip staying cozy by the woodstove and walking on the dirt roads around the property. Our dog loved the apartment and farm too! We'd love to come back again in the winter or summer.
Daniel
2016-01-14T00:00:00Z
We had a great stay at Alex and Michael's wonderful home on several acres in Vermont. It is perfectly situated that it is close enough to town but far enough into the country that it feels you are completely off the grid (there is no cell service, which helps). They are gracious hosts, and the apartment has amazing views of their property. It is also a short distance to the town of Putney and other villages. We loved our stay and hope to return soon.
Matthew
2016-04-24T00:00:00Z
The place was perfect for us. The apt was beautiful and spacious and the surroundings were relaxing. Alex was very communicative and made it all easy. Highly recommended!
Nate
2016-08-28T00:00:00Z
Our stay was wonderful. The apartment is very cozy and comfortable. The property is beautiful and the town is quaint. Alex was wonderful and responded quickly. The apartment was perfect. We really enjoyed our stay!
Cristina
2015-10-18T00:00:00Z
Loved staying at Alex's loft. She was very nice and flexible to what our need was. Spacious and the windows facing the sky in the bedroom were incredible!
Erika
2016-07-26T00:00:00Z
Such great recommendations! Great hikes! Great directions! Great restaurants! We felt at home in this very special air Bnb.
Jon
2016-10-01T00:00:00Z
Typ av rum
Eget hus/egen lgh
---
Typ av boende
Lägenhet
---
Plats för
3
---
Sovrum
Putney, Vermont, USA
Relax and recharge in our recently renovated Vermont cottage. Enjoy hardwood floors, wifi, a fully equipped kitchen, gorgeous natural light, views of surrounding hills and pond, gardens, and your own private back deck.
Our recently renovated Vermont cottage is a perfect weekend getaway. Upstairs in the sleeping loft, you'll find a quiet retreat with queen sized bed surrounded by bookshelves, and the nook with an extra long twin bed. On the main level, there is a fully-equipped kitchen, dishwasher, countertop bar with stools, table, and bathroom with funky copper tub and shower. Four steps down brings you to the sitting room where we recommend the comfy sofa as a great reading or lounging spot with full southern exposure. The south facing bay window and cushion seat doubles an additional single bed. Bay window has views out to the pond and woodlands.
We live in a gorgeous, rural setting yet very close to the rich outdoor and arts scenes that Putney, Westminster West, and Brattleboro offer. We are on a paved road (no problems in winter or mud season!). The cottage is located just 5 miles to downtown Putney where you'll find the Putney Food Co-op, The General Store, the West Hill Bike Shop (mountain bike and x-country ski/snowshoe rentals). Check out our local orchard, Green Mountain Orchards, where you can pick-your-own blueberries, raspberries, plums, pears, peaches, and apples. They also sell delicious homemade pies and cider donuts. For outdoor enthusiasts, we are close to ski mountains- under an hour to Mt. Snow, Stratton, Magic Mountain, Bromley, and Okemo. Wake up early and be the first on the slopes! We live on a paved road (no dirt or mud to navigate!). We are 9 miles to the quintessential village of Saxton's River, 10 miles to Walpole, New Hampshire, 15 miles to Brattleboro, and 13 miles to Grafton. Under 10 minutes to The Putney School, Greenwood School, Landmark College, and Vermont Academy.
A lovely place to stay with 2 adults, and 2 kids. The kitchen was great, the walking trails were lovely, and the beds cozy with cotton linens and down pillows and comforters. We were very happy here!
Sparrow
2016-11-22T00:00:00Z
My girlfriend and I had a perfect weekend at Lauren and Drew's cottage! Lauren was extremely responsive prior to our arrival and provided helpful suggestions for local activities and restaurants. There is a lot to do and see around Putney, in all seasons. The cottage is extremely cozy and is very well equipped, including a full kitchen, extra linens, books, board games, and wifi. It has a very intimate feel with lots of natural Vermont character. The property is beautiful and has a lovely pond and some walking trails along a river. The cottage is relatively close to the main house, but is situated in a way which feels very private. My girlfriend and I walked over to meet Lauren and Drew who were incredibly friendly, and went out of their way to make us feel welcomed. We also had fun talking to their two energetic kids and meeting their friendly black lab. We couldn't have asked for better hosts and would definitely recommend this cottage to anyone looking to stay in the area!
Gregory
2016-11-13T00:00:00Z
My friend and I had a wonderful weekend in the cozy cottage loft! The cottage is adorable and the surroundings couldn't be more beautiful. Drew and Lauren made us feel very welcome and their suggestions of things to do in the area were spot on. We ate like queens with fresh veggies and cheeses from local farms and got a lovely taste of life in rural Vermont. The cottage had everything we needed--nice dishes, comfy beds, even a few board games. We did not have any cell reception, but the internet was fast. (We were even able to stream a movie one night.) We were able to get cell service in the nearest town. Overall, it was a great experience. I hope I can make it back to see the leaves one year. I can't even imagine how gorgeous that would be.
Emily
2015-11-08T00:00:00Z
"Cozy cottage loft" was just perfect. This is an extremely charming place, and also quite functional. I'm a very sensitive sleeper, and I slept better here than I have in a long time. The loft bed was super comfortable and cozy. The kitchen was well equipped, plus Lauren and Drew had generously stocked it with coffee, tea, breakfast foods, etc.. Communication was excellent. Although I never met Lauren and Drew in person, they made it clear that they were available if I needed them (just a short walk to the main house). I appreciated the space and privacy that they gave me. I was happily surprised to discover that the cottage is a completely detached from the main house, making it feel like your very own vacation home.
Hans
2016-10-03T00:00:00Z
We had a lovely stay at Lauren's cottage! Lauren made sure that we had everything that we needed and left a book for suggested things to do in the area. We loved driving around and discovering nearby farms and trails to hike. The cottage was very cozy, relaxing and clean! This was our first Airbnb stay and I'm sure we will be back again.
Trisha
2016-09-16T00:00:00Z
Lauren and Drew's cottage is perfect Vermont. I had my two kids with me. They had an awesome time exploring. It was a real free range couple of days for them. Cottage is on a busy road. But not busy all the time. The cottage abutts a lot of open acreage and wooded area that's nice to walk through.Lauren and Drew are great hosts. They're there as much as you need them or will give you total privacy. The cottage is really well stocked and has a full fridge, gas stove and dishwasher. Book selection and even the magazines were great. Because of the loft stairs I wouldn't recommend this to anyone who has difficulty with climbing stairs or for kids under 5 years old. In closing... Quote from my 9&11 year olds: "Mom, this is so perfect! Thanks for picking it!" Go.; enjoy a nice taste of Vermont and it's finest folks !!
Deirdre
2016-10-12T00:00:00Z
We stayed 2 nights at the cozy cottage loft. It is a lovely and comfortable with a new kitchen and bathroom. The views from all sides are beautiful. It was peaceful and very relaxing. Lauren, her husband Drew, their 2 sons and the dog were all very friendly and welcoming.
Joel
2016-07-19T00:00:00Z
Lauren is an incredible host. The cottage beautiful, cozy, and completely stocked with everything we could imagine needing. On top of that, Lauren lives right next door, is incredibly friendly and professional, and she is willing to address any questions or requests we had right away. The internet is fast, the bed is a dream, and whole place is full of light and high-quality accoutrements, from linens to dishes to views. The yard outside is spacious, sunny, and surrounded by gorgeous high trees. There's even a small pond and a forest trail behind the house for hiking and running. Overall the surrounding area provides excellent running / hiking / biking trails and a peaceful place to wander and wonder, spreading out into other gorgeous spreads of land, farms, forests, barns, and meadows. It's an easy, quick drive to the Putney town center too, where you'll find the Co-op grocery store, the General Store, cafes, shops, yoga, and more. A great place for a writing retreat or a fresh mountain air getaway! The place is very new and very cozy - fantastic on comfort, aesthetic, and location, all three. We can't wait to come back!
Jen
2015-09-22T00:00:00Z
Typ av rum
Eget hus/egen lgh
---
Typ av boende
Lägenhet
---
Plats för
4
---
Sovrum
Putney, Vermont, USA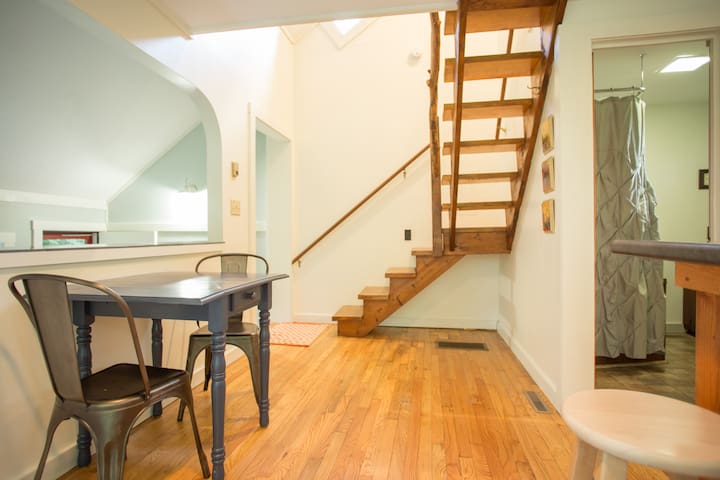 Our lovely, art-filled, tidy Victorian flat is close to restaurants and dining, Amtrak, hiking, skiing, antiquing & family-friendly activities. You'll love our place because of the location ( a beautiful short walk to town & just a few miles from 91 )and the ambiance. Our place is good for couples, solo adventurers, business travelers, families older kids, and well behaved furry friends. Bellows Falls is an enthralling historic village with incredible architecture & history.
Our guests stay in the first floor of our award winning art and book filled 1900 Victorian home in historic Bellows Falls, VT. This flat is in walking distance form the Amtrak station and and minutes from the vibrant downtown.
Bellows Falls is a beautiful, historic village boasting the first canal in the united states, a vibrant downtown and from the front porch - a view of Hetty Green's grave. We are a few steps from the Stone Arts Church - a venue for classical music.
Had a great time staying at Kristen's apt. Lovely quiet little town and the surrounding area is gorgeous. The place is much larger then I had expected and very comfortable. Would love to head back up there again.
gerald
2016-12-29T00:00:00Z
Kristen was the best host, her house was beautiful, and her personal touches made our trip so much more special. The town of Bellows Falls is picture perfect and we wouldn't have changed a thing.
Pippa
2017-01-16T00:00:00Z
An incredibly comfortable, lovely home.
Rachelle
2016-12-26T00:00:00Z
Kristen is super welcoming ! When we arrived she left us hot chocolate and wine to enjoy as well as a welcome note. My gf and I were very comfortable in her home, it fulfilled our needs. Okemo Mt is a 35 min drive away . Only thing I would rescommend is to bring a laptop to watch movies since the home has no tv .
Stephen
2017-01-02T00:00:00Z
Typ av rum
Eget hus/egen lgh
---
Typ av boende
Lägenhet
---
Plats för
3
---
Sovrum
Town of Rockingham, Vermont, USA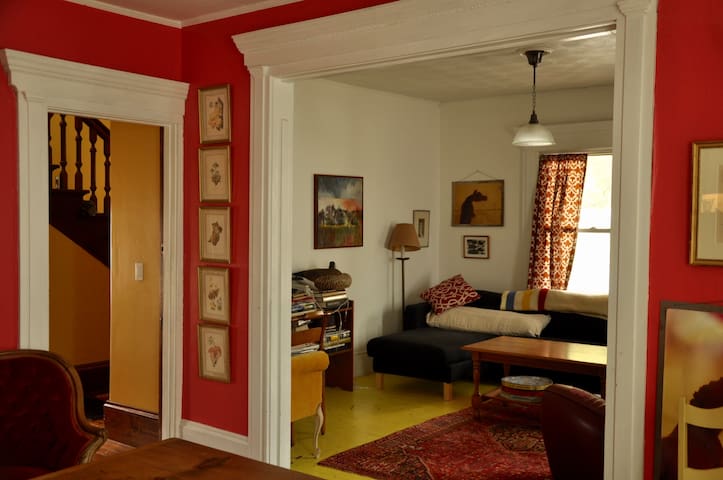 Peaceful setting with a rustic, small and cozy apartment surrounded by woods and fields. Private entrance, with your own bathroom and kitchen. Within walking distance to swimming, x country skiing, hiking and many country attractions. Beautiful walks and bike rides. A NH rooms tax of 9% is included in your fee. The apartment is simple with a comfortable bed. The cooking is simple too. An electric stove, dishes, pots, utensils, sink and of course a waffle iron. Games are in the closet. Have fun.
Bedroom has a queen size bed. Available year-round by the night, the week or the month. Wonderful place for someone transferring to this area or house hunting. 300 square feet. If you have an extra guest there is an adjoining large room with a queen sized bed for an additional $30. Well behaved dogs may stay with prior approval. They may not be left alone in the apartment. There is an additional $20 cleaning fee to return the space to its dog free status.
My favorite places are all close by. In Nelson there are many maintained trails, including waterfalls and views. I have maps for you to use. The library is a friendly place with an on going book sale and interesting programs. Swimming and cross country skiing are a 10 minute walk. Harrisville ( a five mile drive) a historic mill town, with many buildings on the National Register, has a self guided tour map, a top rated general store with excellent lunch and breakfast options and the Harrisville Yarns Store specializing in knitting and weaving favorites. Within 20 minutes, Keene and Peterborough are resplendent with restaurants, movie theatres, farmer's markets and much more. Mount Monadnock and the Monadnock Sunapee Trail are close by. Many smaller mountain hikes are within 20 minutes too. I never tire of all the exciting events in the area. The Nelson Webpage, (URL HIDDEN) has a calendar and links to area events and activities.
The Blue Heron is a dream of a place. We arrived past 6, and were delighted to walk into a room heated with a wood stove! The room is very nice, clean, and well furnished with all you need. Kris answers all your questions within the minute, and even though there is no cellphone service, the wi fi works fantastic. Kris also offers bags of kale, lettuce and arugula from her garden at $1. We took a bunch of them home with us, and they were incredible ❤ Staying at the Blue Heron is an experience, and we'd looove to go back.
Camila
2016-10-22T00:00:00Z
We very much enjoyed our stay at the Blue Heron Suite. The space is cozy and quite lovely. It's perfect for peaceful, quiet relaxation.
Antonio
2017-01-20T00:00:00Z
Kristine was great and this place is adorable. Highly recommended.
Tanya
2017-01-02T00:00:00Z
Kristine is a wonderful host- helpful and responsive, yet respects your privacy. The place has everything you need, and not much extra, which is perfect if you're looking for a retreat to relax and rejuvenate, connect to nature and get away from clutter. She makes delicious breakfasts. The whole experience was wonderful and we'll continue to come back!
Christine
2017-02-05T00:00:00Z
Blue Huron is perfect for a rustic weekend getaway. We were cosy on a late winter weekend with the wood stove in the evenings. Kristine has a booklet of great walks and hikes in the area. Mt. Monadnack is within easy driving distance and smaller hikes are nearby. For knitters, Harrisville Designs, the yarn mill and retail store, is also nearby and worth a stop. Kristine was a great host and gave us both privacy and information when we needed it. I look forward to returning and seeing Kristine's garden in more seasons.
Maureen
2017-02-27T00:00:00Z
The Blue Heron Suite is a great get-away. It's a very relaxing location with everything you'd want and more. As described in the description, it's a bit remote (which is a plus in my book) so bring the food that you want, but everything else is already there. (And if it's gardening season, supplemental veggies are available due to the generosity of the host.) I highly recommend it.
Jeff
2016-11-14T00:00:00Z
Like Thoreau, I went to the woods so that I could live deliberately--well, at least for 24 hours or so, escaping Cambridge for a couple rainy November days. Everything was great. I loved the cute little storybook-barnyard semi-submerged studio apartment with the chickens clucking at the door and a view from big windows of the vegetable garden just beyond; the big luxurious bed in the semi-submerged bedroom/bathroom wing of the apt; the little kitchen table good for working on some poems on my laptop and looking over the local history materials and maps with that view. Oh--and the breakfast offerings awaiting me in the fridge were fabulous: spectacular homemade granola; homemade applesauce; coffee and milk and the rest, including bags of newly harvested carrots for the guests. I think Kristine's got a good thing going there--and I highly recommend her Blue Heron Studio for a solo getaway or a romantic woodland escapade in the rustic but cultured Mt. Monadnock region. I hope to bring my wife Rebecca along next time and ditch the deliberate life of the Transcendentalist hermit for a night.
Scott
2015-11-12T00:00:00Z
Kristine was a great host. She responded timely, allowed us to book on short notice and left the light on for us since we were not arriving until 1am. The room was quaint and as advertised. Thanks again for everything!
Christopher
2016-09-16T00:00:00Z
Typ av rum
Eget hus/egen lgh
---
Typ av boende
Lägenhet
---
Plats för
2
---
Sovrum
Nelson, New Hampshire, USA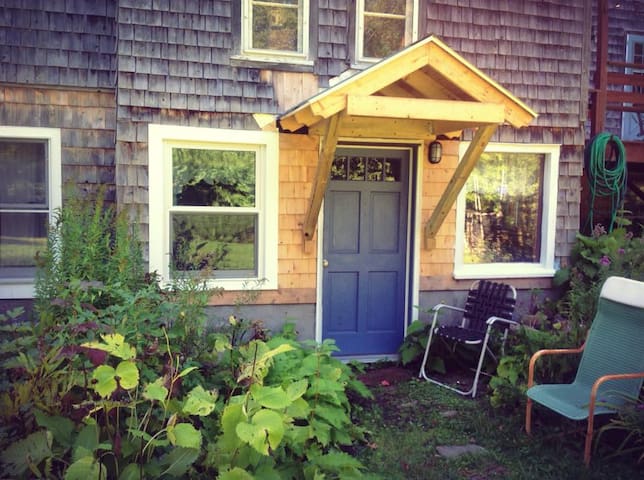 Now is your chance to vacation on a farm! This newly-renovated apartment is above the farmhouse at Great Brook Farm where the Graves family has farmed for over 250 years. Private access. Pond. Brook. Rolling fields. Until April, 2017 this was a working dairy farm. Although we no longer milk cows, there are still animals here: 4 pairs of oxen, heifers (young cows), 2 horses, a slew of barn cats, "Breezy," our big, friendly Bernese Mountain Dog .... and often in the summer and fall, pigs.
The apartment has been recently renovated and it is absolutely beautiful. It gets lovely afternoon light in the living and dining rooms through westerly-facing windows ... a perfect spot to relax. These rooms have hardwood floors, oriental rugs and gorgeous antiques. The futon opens out into a full-sized bed. It is brand new and super comfortable. There is a flat screen tv (with satellite) mounted on the wall in the living room. WiFi is available throughout the apartment. The bedroom has a lovely queen-sized sleigh bed and a window with views overlooking the cows and dairy barn. Guests are welcome to enjoy our covered porch. The perfect spot to relax with a book or enjoy a meal or glass of coffee. Or wine! There is a kitchen with mini-fridge, microwave oven, toaster oven, single burner hot plate and coffee pot. It is stocked with plates, bowls, glasses, silverware and other essentials. The entrance to the apartment is private -- through the garage and up a set of stairs.
Walpole is an absolutely beautiful New England village. It's streets are lined with gorgeous homes and public buidlings. For a small town, we have unbelievable diversity and most importantly ... community. The locals are proud of their New England heritage and the newcomers (like me) bring a respect for that heritage and a little bit of something different to the mix. This town has it all. And what I most appreciate ... it has a town center; a central location where we interact with one another. A post office. A couple of coffee shops. A gas station. A town green. A town recreation area. Restaurants. Taverns. A golf course. This is a town that is built on community. L.A. Burdicks and it's grocery store provide world-renowned chocolate, strong coffee, french pastries, lunch and dinners and high-quality (and often locally-sourced) groceries. The Bellows Walpole Inn is another local favorite; both its pub and its gourmet restaurant. The Walpole Tavern is a local gathering spot, offering resonably-priced pub fare in a kid-friendly environment. There are often concerts on the green on Sunday afternoons. The golf-course and town recreational area with swimming pool, tennis and basketball courts are open to the public. The Walpole Mountain View Winery and Alyson's Apple Orchard are great excursions ... each 5-minutes from the farm. Walpole has an ice cream scoop shop with antique car cruise nights on Sunday evenings during warm weather as well as a weekend flea market. We are happy to provide other suggestions for nearby towns as well. Skiiers ... Stratton, Mt. Snow, Okemo and Mt. Sunnape are all within an hours drive away and Killington and Pico are certainly not too far! There is a public ice rink in Keene, and tubing at Granite Gorge, also in Keene. The farm is located on a snow-mobile trail .... direct access to miles of both snowmobiling as well as cross-country skiing. Hip, artsy, Brattleboro, Vermont and lovely Keene, NH are both just 20 - 30 minutes away. Skiing at Okemo and Stratton are close. Bromley's alpine slide and adventure park, various zip-line parks, West Lebanon, NH (Dartmouth) and Manchester, VT (outlets) are just an hour away.
Amazing experience @ this working dairy farm! Karin, Pete and their family are warm, welcoming hosts. The apartment is super-clean and Karin has thought of EVERYTHING - even providing bagels, juice & more for our first breakfast. . . wonderful thick towels. . . all bedding. . .did I mention everything?! Loved milking the cows, hanging with the calves/goats, and especially spending time with Breezy the resident Bernese Mountain Dog - love her! What a rich experience as we dropped one of our kids to start his freshman year at a local college. We would HIGHLY recommend this apartment for anyone wanting a glimpse of a small family farm, a chance to get back to the source of our food and a chance to show your kids the same thing. Thanks so much Karin, Pete & family!
Linda
2016-08-28T00:00:00Z
The farm was the most unique place my wife and I have ever stayed. The apartment itself was wonderfully decorated, and comfortably furnished. Karin was very open and helpful with everything that we needed. We were given a full tour of the farm and its history, which was very cool and unique for us city dwellers (nyc). I particularly enjoyed the whole relaxed feel of the place, which made it a perfect place to stay after a long day of skiing. I highly recommend this place.
Eli
2017-01-17T00:00:00Z
We had a blast staying on this working farm. My kids saw cow milking in progress and rode Farmer Pete's tractor. Plenty of barn cats and cows, plus a farm store and a really friendly dog. Advice: bring a separate outfit and pair of shoes for exploring the farm, and change into something fresh before you explore the area. You want a legitimate farm experience? You'll get it, and you'll have fun in the process.
Jacqueline
2017-03-19T00:00:00Z
Wow - what a find. Karin was both friendly and attentive to detail throughout our whole booking process and stay. The place was super clean, which is very important to me. When we got to the farm she drove us to her massage office and gave us both AMAZING massages.. Like the BEST I've ever had. She also made us dinner reservations and had awesome reccomendations for what to do and where to eat. I wish this place was closer. The farm was absolutely beautiful and seeing the animals was a real treat. We loved all of Karin's little special touches that made our stay that much more memorable. We cannot wait to go back. Cannot reccomend enough!!!
Katrina
2016-10-23T00:00:00Z
My wife, 2 daughters (4 and 7) and I stayed for a night recently. It honestly couldn't have gone any better. When we left I told my wife that everything about the stay could have been an advertisement for Air B n B. Karin and Pete were both fantastic and were more than accommodating. They opened their home and entire farm up to us to see and explore. They really went above and beyond. Thanks.
Kristian
2017-01-12T00:00:00Z
A wonderful place to visit. The accommodations are great. Karin and Pete are very welcoming and have thought of everything that you may need during a visit. We were greeted by the happiest and friendliest dog when we arrived, which appropriately set the tone for the rest of our stay. We highly recommend a visit.
George
2017-03-05T00:00:00Z
What a wonderful unique experience! Maybe not for everyone but being on a working dairy farm was very cool for us and Karin was super-helpful making sure we had everything we needed. And Pete was very gracious in sharing his cows and knowledge with us. Thank you!
Mark
2017-01-26T00:00:00Z
We couldn't possibly have been more pleased with our stay on Karin and Pete's farm. Karin was warm, friendly and helpful from the moment we arrived, and the apartment was wonderful! We felt like we had escaped from reality when we woke up to see the (very quiet) cows out of the bedroom window. Karin also recommended Burdick's for pastries and coffee- she was absolutely right, and please consider this my recommendation to you- don't just stay at Karin and Pete's place, but check out Burdick's in town, too!
Aimee
2017-01-29T00:00:00Z
Typ av rum
Eget hus/egen lgh
---
Typ av boende
Lägenhet
---
Plats för
4
---
Sovrum
Walpole, New Hampshire, USA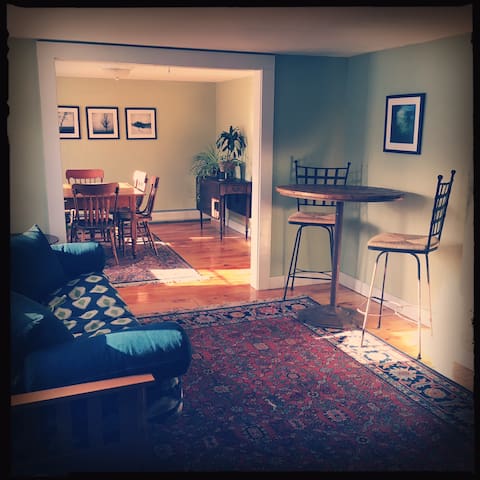 The entire west wing of our very secluded home at the top of a hill offers long views across the river valley into New Hampshire, comfort, quiet, privacy, and on a clear night, breath-taking views of the night sky.
Outside, we're currently transitioning from the season that must have inspired charcoal and pen-and-ink art: a world of silhouettes and shadows, layers upon layers of blues and grays, bare branches like fingers against the sky, to the season of peepers and fiddlehead ferns and "spring gold," the early greens of unfurling buds. The views are, all at the same time, stunning, calming, and renewing. Inside the private entrance, guests will find comfort abounds. On the first floor, there's a cozy living room with a wood stove and an always-filled woodbox should there be a chill; common-use room with work/dining/board-or-card-playing table, a microwave, toaster oven, and small refrigerator; a dressing room; and a large full bath with shower. ( A roll-away bed is available on this floor for an extra guest at no extra charge.) Upstairs, enjoy the large bedroom area with a queen-size bed and a reading area with the guest's choice of a book from the shelves. A small outside deck and stairway on this floor provide a second exit.
This place is called The Top of the Milky Way for several reasons, but the privacy of a hilltop setting beneath your feet and the spread of the starry sky above your head are chief among them. (If it's the Milky Way Candy Bar that first pops into the mind, rest assured those are available to guests, as well...just to keep with the theme. We might even throw in some Snickers bars, too ; - ))
The Top of the Milky Way is the perfect spot for an escape-getaway from daily crazy life. The space and the area is so quiet, secluded and just gorgeous. There is a great book collection for whoever who is interested in history, religion and economics. And have I mentioned yet that Barbara is an amazing host? She goes above and beyond. How come she is not a super host, yet?!
JEROEN
2016-10-03T00:00:00Z
Top of the milky way is definitely a little slice of heaven & Barb the cookie - bearing Angel. The space is beautiful, private, & exactly as listed. Barb was helpful and discrete. Bring food and a good book, you won't want to leave :)
Adrie
2015-12-02T00:00:00Z
Barbara and Mark were wonderful hosts. Their home and property is absolutely beautiful, and they gave us everything (and more) we needed to feel comfortable throughout our stay. We arrived with a fire warming the cabin and fresh cookies on the table. After a short and informative tour, Barbara and Mark gave us the privacy we were looking for throughout our weekend. However, they made sure that if we needed anything at all, they were available to contact. The location was perfect. It was just about 30 minutes away from Brattleboro, which is a wonderful town. We would definitely stay here again and recommend to anyone looking for a wonderful getaway.
Deena
2015-10-04T00:00:00Z
Barbara was a wonderful, friendly and accommodating host! The apartment was well-appointed, clean, spacious, and beautiful, and the setting could not be more idyllic. We especially appreciated the many provided snacks and games and the cozy wood stove. We're already planning when we'll stay here again!
Rebecca
2016-10-17T00:00:00Z
I honestly can not say a negative thing about this wonderful home. I just wish we were able to spend more time here. From our names on the door, to snacks galore, this place was became home in the short visit we had. The Top of the Milky Way is the perfect name for this place just by looking out and up to the stars. Barbara was a phenomenal host and I cannot wait to return to their humble home.
Samantha
2016-08-08T00:00:00Z
We had an incredible weekend getaway in the Fall at this charming home - and we are hoping to return in the winter! The views were incredibly scenic and the library had a great selection of books. It really was everything I could've asked for in a mini-vacation. All the reviews hold true - Barbara is wonderful, the place is so home-y, and yes, delicious snacks. Every detail of this place was well thought out to make a guest feel comfortable and relaxed.
Phyu-Sin
2016-10-09T00:00:00Z
This was the nicest, most perfect Airbnb I've ever encountered. The host was very communicative and quick to respond to my messages. The area was gorgeous, the house was pristinely rustic and homey, and the host was gracious and friendly. Before we arrived, she asked about food restrictions and upon our arrival, we found delicious, GF vegetarian snacks in abundance. We arrived during a snow/ice storm and Barbara made sure to keep us informed about the state of her road and driveway, leaving us headlamps to walk through her field in case our car couldn't traverse her driveway. The two sections of the house were only connected by a sunporch and one abutting wall, offering us extensive privacy; Barbara was readily available to us but also gave us complete space and privacy. The house was immaculately clean; Barbara doesn't use any chemical cleaners or fabric softeners and she provides Dr Bronner's soap to visitors. The kitchen area had a large, high-quality toaster oven; a microwave; a large mini-fridge; and a Keurig coffee maker. There were lots of coffees, hot cocoa, and teas to choose from. The location was extremely quiet and peaceful with beautiful views of the surrounding mountains. The house's primary source of heat was a wood stove in the living room; all the supplies to tend the stove were there and it made a wonderful centerpiece (there were alternate forms of heating available). The second floor had a queen-sized bed (the first floor had a trundle bed available); the bed was a bit firm for my tastes but the amazing view out the window and the heat of the wood stove offset my stiffness upon waking. Many types of pillows and blankets available to choose from. There were electric fans in the house available for guests who wanted a breeze. In my opinion, this Airbnb highlights the best aspects of staying in a bnb-like setting. The house and setting were amazing but all of Barbara's thoughtful touches made our stay magical. I look forward to traveling up to Westminster and staying at the Top of the Milky Way many times in the future!
Aubri
2015-12-31T00:00:00Z
Barbara was extremely generous and attentive to us during our stay. Driving up to the Top of the Milky Way through us off at first because the GPS stops before reaching the house. However, just keep driving up and you will reach the house. We were welcomed with a nice warm fire, snacks that Barbara generously provided, and a nice welcome note. Everything was extremely clean and it was very spacious. I must specifically point out how comfortable the pillows were! Barbara was attentive to our needs when helping with the fire the next night and giving us multiple places to go eat. Overall, it was a enjoyable and relaxing time staying at the Top of the Milky Way. I will be sure to stay there on my next visit to VT. Thank you Barbara for everything!!!! =)
Krystle
2016-02-28T00:00:00Z
Typ av rum
Eget hus/egen lgh
---
Typ av boende
Lägenhet
---
Plats för
2
---
Sovrum
Westminster, Vermont, USA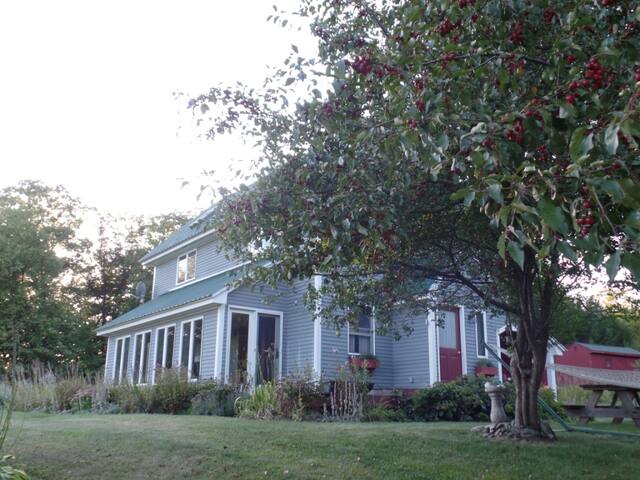 Clean apartment with space for up to four guests. TV, wifi, clean sheets, towels
Typ av rum
Delat rum
---
Typ av boende
Lägenhet
---
Plats för
4
---
Sovrum
Swanzey, New Hampshire, USA
Newly renovated bedroom and living room apartment with a full bath and personal parking space. We have added a refrigeratior, a microwave and coffee-making implements to the guest quarters. The kitchen is shared - meals can be arranged.
Welcoming, warm and private space with a bedroom for two and a fold-out couch in the living room.
We are surrounded by hiking trails and lakes, near mount Monadnock and any number of quaint New England villages with their greens, churches and general stores. Historic Harrisville is home to the last family owned woolen mill and weaving loom factory. Boston is about two hours by car, New York about four. The White Mountains can be reached in about two and a half hours.
The pictures do not do this cozy little apartment justice. I was enthralled with the artful and welcoming atmosphere of the space, which is a true reflection of Hans and Marcy. From the first moment I arrived I was at ease with the sincere and sustaining welcome which was offered. I had my privacy and equal measure of company in a way which was effortless and balanced. The surrounding area is a pleasure to walk, with lakes and trees galore and Mount Monadnock gracing it all.
Jean
2016-04-19T00:00:00Z
We absolutely fell in love with Hans & Marcy. They are available if you need them, accommodating, warm, genuine and incredibly kind. For privacy, the suite has a separate entrance/exit and a cool barn door separating you from the rest of the house. If you want to be a part of their awesome "world" you can be - a large kitchen, a warm library, a living room with a stone fireplace to sit and read. Both artists in their own right, the home is filled with personal touches and collections from world travels. Marcy helped us with toddler appropriate hiking from Vermont to Maine. She loaned us hats and mittens when an unsuspecting cold snap came We felt like family and isn't that the point of all this?
Kathy
2016-05-18T00:00:00Z
I booked this listing because I was attending a wedding at Cobb Hill Estate. Marcy met us with a warm smile upon pulling up into the driveway. She introduced us to Hans, and he gave us a tour of their beautiful and comfortable home. Marcy and Hans are both artists, and I absolutely LOVED their home -- so much character, art, and love in that house. The listing was accurate; if anything, I felt that the listing didn't do the space justice. Our bedroom, living room area, and bathroom were completely PRIVATE, as well as exceptionally clean and well-furnished. Sometimes it takes time for me to truly relax in another person's home, but this was not the case -- I immediately settled in and took a nap upon arrival! After the wedding, Hans was so kind as to recommend activities and nearby areas to explore. The listing was even closer to Cobb Hill Estate than I expected, and I would HIGHLY recommend staying here if you want to be close to Cobb Hill Estate (10 min), Silver Lake (10 min), or Mount Monadnock (30 min). If I ever find myself back in New Hampshire, I will be booking with Hans and Marcy again! Truly the perfect weekend getaway with the sweetest hosts.
Jennifer
2016-06-27T00:00:00Z
Hans was gracious and welcoming! A great little property during our stay visiting the Walden School this summer!
Betsy
2016-08-05T00:00:00Z
Hans and Marcy made me feel incredibly welcome and the listing was surprisingly accurate. I did not expect it to be quite so large a space or so wonderful but it was both. The neighborhood is quiet and picturesque.
Jonathan
2015-12-01T00:00:00Z
Hans and Marcy had a beautiful home and made my partner and I feel very welcome there. The space was large enough for two people and very clean. Beautiful artwork in both the apartment and on their land was lovely and inspiring. It was only a short walk to the lake nearby and Hans was nice enough to let us borrow their canoe for the afternoon. It was such a peaceful little part of the world and a great retreat from city living. I'd highly recommend staying here if visiting the Monadnock region.
Alexis
2016-07-19T00:00:00Z
Hans was a great host and his place was beautiful, comfortable, scenic and private. totally recommended. thank you!!
Jeff
2016-06-13T00:00:00Z
This was a great experience, my first time using Air BNB. Hans and his wife were very nice and provided a great space for me and my wife. I can only say nice things about Hans and Marjory. Thank you. I hope to stay there again.
Michael
2016-07-11T00:00:00Z
Typ av rum
Eget rum
---
Typ av boende
Lägenhet
---
Plats för
3
---
Sovrum
Harrisville, New Hampshire, USA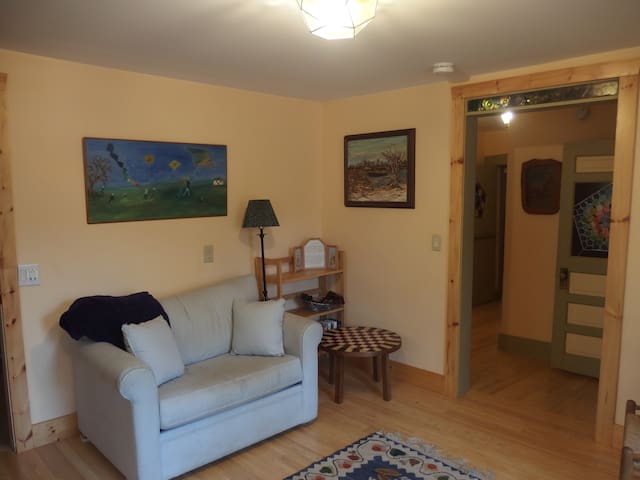 All creative people - writers, artists, musicians, outdoor enthusiasts and people needing to get away from the buzz of everyday life will enjoy the peace and wonder of our working horse farm and surrounding fields, hills and forest. We have more than 50 miles of trails which are good for hiking, bird watching, horse riding, cross-country skiing. We are close to all attractions and beautiful unspoiled scenery in all seasons.
We are located in the countryside, far away from a quiet unpaved country road, 8 miles away from the historic villages of Walpole, NH which have a great chocolate shop and fabulous restaurants, vineyard and winery, artist co-op, summertime flea market, a creamery with the best homemade ice cream. Ski areas are a 45 minute drive. Boston is a 2 hour drive and NYC is a 4 hour drive.
Typ av rum
Eget hus/egen lgh
---
Typ av boende
Lägenhet
---
Plats för
2
---
Sovrum
Alstead, New Hampshire, USA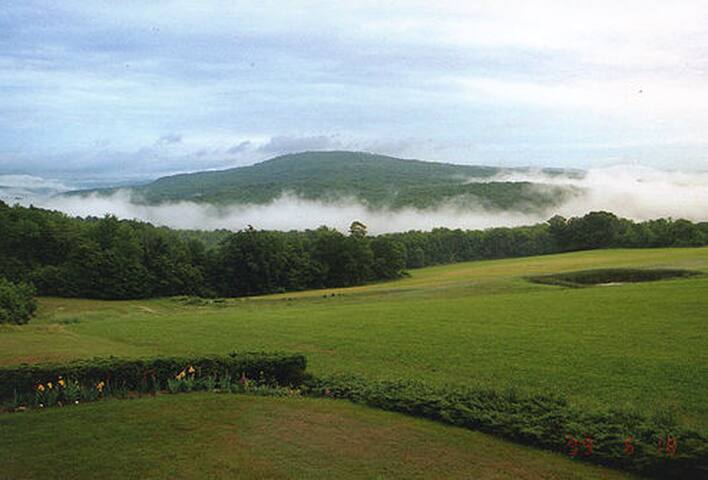 We've created a suite for you in our historic 1863 home in Southern Vermont. This is a retreat for those who love a peaceful riverfront setting with songbirds in the morning, wildflower fields and swimming below our waterfall 500 feet from your door.
Beautifully restored 3-room suite with separate entrance. Southeast facing and filled with morning light overlooking flower gardens and open fields. Private bath, kitchenette area with coffee maker, microwave and refrigerator. Bedroom has a brand new queen size hypo-allergenic pillow-top mattress (firm). It opens to a separate reading area with couch and easy chair. This is the perfect country home to unwind, relax and refresh yourself.
The home is in a country setting with many great restaurants within 10 minutes from our home. A movie theater and a few music venues are less than two miles away. Brattleboro, VT & Keene, NH (with many more food , shopping and nightlife options) are only 25 minutes from this private country home.
We loved our stay at the Gage House! Bob and Karen made sure we had everything we needed and were eager to help make the best of our visit. The property is gorgeous with a fascinating history and their pup Nero is just the sweetest! It's a peaceful and private retreat yet a short and easy drive into town to the Stone Church where my event was being held. Highly recommend.
Dami
2016-06-13T00:00:00Z
Bob and Karen were warm and gracious hosts. The suite is private yet connected, and perfectly sized for a couple. Beautiful outdoor spaces surround the house, with lawns, mountains, and a river; yet you are less than five minutes from Bellows Falls. Highly recommended place to stay.
Will
2016-06-08T00:00:00Z
We had an amazing stay. Bob and Karen are wonderful. They were so helpful and accommodating. Love the amazing town and location is perfect for all outdoor activity. Only suggestion is we thought their was a kitchen there was a fridge and microwave but no sink or stove and we love to cook but it made us enjoy the local fare. Would go back again.
Renea
2017-01-01T00:00:00Z
Bob and Karen were excellent hosts - warm and inviting. Their suite was eclectic with a great deal of character. It was clean and welcoming. Their property is stunning and a true getaway from the hustle and bustle. If you are looking to relax and enjoy some time outdoors, this is a great place to do so.
Kurt
2016-07-20T00:00:00Z
Bob and Karen were wonderful hosts, we enjoyed a too short stay enjoying the last of the foliage. Bob and Karen's home is convenient to local hiking trails, and stores and restaurants. Bob and Karen's suite is spotlessly clean and tastefully decorated, I wish we had more time to enjoy their beautiful grounds.
Diane
2016-10-16T00:00:00Z
Bob and Karen have created a lovely, nicely renovated suite in their most interesting 19th century home. The property is a beautiful place to relax, with gardens, a fabulous waterfall and a swimming hole to enjoy. They were warm, welcoming and flexible. It is nice to have your own separate space and yet be able to interact with the family. The bed was quite comfortable and the bathroom is well outfitted. I'd go back anytime!
Nancy
2016-10-10T00:00:00Z
A task oriented weekend became so much more when it was necessary to find lodging that would accept a dog. The setting is at least as described and more depending on your interests and what catches your eye (ex.- one of us loves fungi (there were some whoopers) and history; the other of us loves textiles and was beyond delighted!) Bogart, our dog, was super happy to have 30 acres to romp and enjoyed some play time with his canine host- Nero. The trails on the property are wonderful. The room - with a small eating nook (refrigerator, microwave and a table for two) and a large private bath - was very clean, comfortable and packed with interesting books and art. As to the hosts- well, you won't feel more welcomed anywhere. Very comfortable folks who make sure you're comfortable. Conversation was wide ranging and interesting. Bob's buckwheat pancakes for breakfast on our last day were delicious. They were generous with their home, time and knowledge. If you're lucky enough to run into some of their friends, you may find yourself quickly falling into an interesting, enjoyable conversation with them as well. Bob, your recommendation to stop at Windham's resulted in a piece of PA slate with fossilized ferns being returned to its home state. Karen, lunch at Harlow's was an excellent idea and gave Bogie another opportunity to make new friends. If this review sounds a bit "gushy" (or some such word), it's not. You must stay here. It's that terrific.
Cheri
2016-09-06T00:00:00Z
Bob and Karen, apparently over 40+ years have created a welcoming new age mecca. They are gracious hosts. I am amazed that these two highly accomplished individuals maintain such a low key, chilled out environment. The suite is attractive & comfortable. We will certainly return.
Terry
2016-05-23T00:00:00Z
Typ av rum
Eget hus/egen lgh
---
Typ av boende
Lägenhet
---
Plats för
2
---
Sovrum
North Westminster, Vermont, USA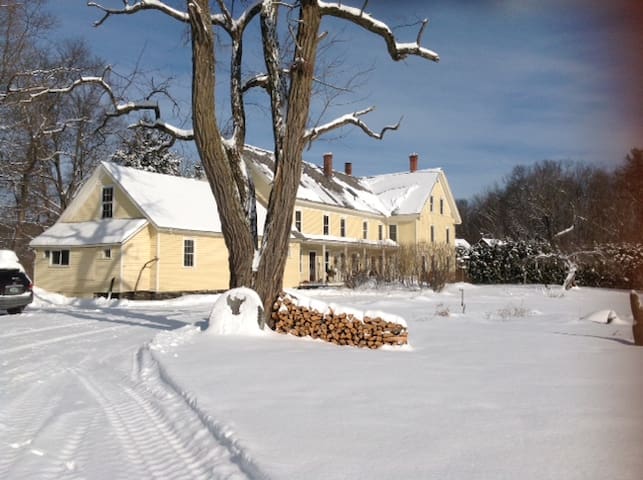 A simple rustic space in a beautiful country setting. Come here for peace and quiet, hiking, and outdoor activities. 10 pm quiet time. Two bedrooms, with a utility room in between. Private driveway with a walk over grass to a downstairs apartment.
There is a wood stove that is lit before you arrive. Extra wood is available. The space is simple. All sheets and towels are washed in a natural scent free soap and air dried. There are games in the closet, books galore and a set of encyclopedias. What more can life offer? Outside there are woods, fields, ponds, lakes, mountains, wind, stars, wildlife and sky. To get to the bathroom you have to pass through a bedroom. Well behaved dogs are welcome with prior approval. They may not be left alone in the apartment. A $20 extra cleaning fee will return the space to dog free cleanliness.
The neighborhood is wild. Trees, fields, lakes, birds, beasts and fresh air. There is a guide book on this site and in the apartment. At night it is quiet and dark. Please respect the 10 pm quiet time.
Blue Heron was lovely
Phil
2017-02-20T00:00:00Z
Typ av rum
Eget hus/egen lgh
---
Typ av boende
Lägenhet
---
Plats för
4
---
Sovrum
Nelson, New Hampshire, USA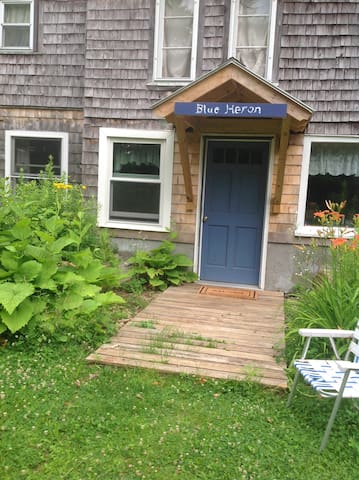 This small space is located directly on the Cold River in Walpole NH. Less than 10 minutes from downtown. The living room boasts a beautiful view of the river in the spring. The space also includes a jet powered tub, propane fireplace and outdoor firepit.
The space available is the mother-in-law quarters located on the back of the original home.
There are a number of cabins located in the area, all neighbors are friendly.
I was pleasantly surprised by how lovely this turned out to be! The Cold River is the backyard and there are a couple swimming holes upstream. We came to hike and ended up spending most of our time on the river! The place itself was quaint and cozy and full of awesome artwork. I never wanted to leave. How lucky to live in a place like this!
Allison
2016-08-09T00:00:00Z
Typ av rum
Eget hus/egen lgh
---
Typ av boende
Lägenhet
---
Plats för
3
---
Sovrum
Walpole, New Hampshire, USA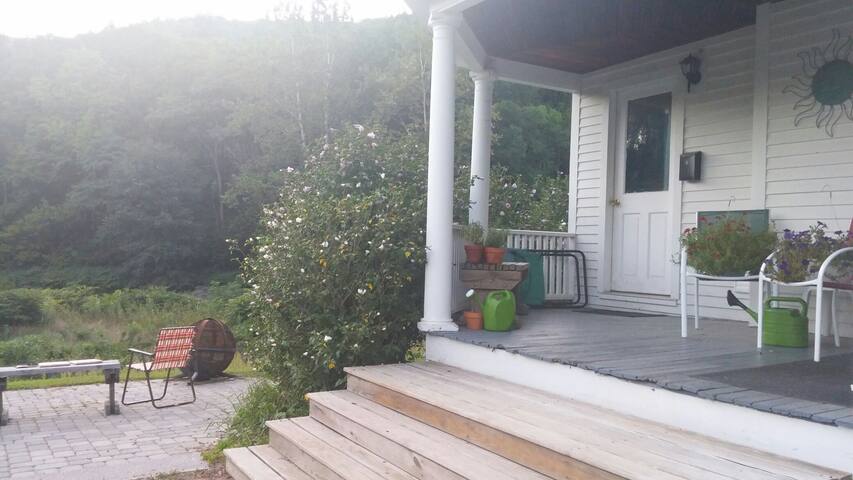 My very comfortable apartment is located only 10 minutes from Brattleboro. this area is rich in arts and crafts, and the famous entertainment theaters, the yellow barn, sand glass theatre and next stage. there are also biking and hiking trails.
My apartment is in a rural area, so you have peace and quiet if you want it. Brattleboro is only 10 minutes away, so you have access to movies theaters, restaurants, bookstores, etc.
This area is known for its arts and crafts. Most of the artists have open studios that you can visit. There are wonderful walking trails and swimming holes, all within a ten minute drive.
The host canceled this reservation 29 days before arrival. This is an automated posting.
Mariana
2016-09-08T00:00:00Z
Josh's place was cozy and quiet - in a beautiful spot! He was a great host - coffee and waffles, fruit and fresh-squeezed orange juice - and I had an easy and restful stay.
caryn
2015-09-27T00:00:00Z
Great experience staying at Joshua's! He was very welcoming, helped us find the local markets, swimming holes and made us feel right at home. We enjoyed the bonfire and used the grill to cook a delicious, local meal. Great escape from NYC for the weekend, thanks Josh!
Roman
2015-07-12T00:00:00Z
Joshua is a fantastic host! The place was terrific, and he is a pleasure to chat with. I would certainly recommend Josh's home to anyone traveling near Putney. Great experience and incredible pottery!
Dan
2015-08-09T00:00:00Z
Josh was a wonderful host you created a very satisfying Airnnb experience--for, in an unexpected twist, my ex-husband (its own story entirely)! I'm grateful for Josh's flexibility and graciousness and look forward to being hosted by Josh directly--hopefully the next time I'm up at Putney.
Jenny
2015-10-11T00:00:00Z
Josh was very friendly and easy to communicate with. He checked in before our arrival and met us on the property to orient us. The property is beautiful and the apartment was great. It had everything we needed for our weekend stay. It's worth noting that both Josh and a neighbor live on the property in close proximity to the apartment. They were very friendly and unobtrusive. If you are looking for a country home with space all to yourself, this isn't a great fit. If you are looking for a beautiful property and comfortable stay with some friendly neighbors, this is for you.
Laura
2015-08-23T00:00:00Z
We chose the apartment for a last minute booking as the price was right. The apartment was part of several structures on a large tract of land. Josh, the owner, was onsite and was helpful and generous (let us cook from a fully stocked kitchen). The apartment had everything we needed and was uniquely directed with Josh's ceramic works. We also received great tips on local activities and where to eat and buy groceries.
Michael
2015-06-22T00:00:00Z
Josh was a great host. He quickly answered our texts and easily arranged a time for us to meet him at the home/apartment. Every room, including the kitchen and bathroom, were very clean. He provided new pots for cooking and everything we needed to fix meals for ourselves. He even threw in two bottles of San Pellegrino! Wi-Fi was reliable, and we used his cable to watch TV. The home/apartment is a separate unit on acres of land, very beautiful setting and lovely space. We look forward to returning. A highlight was a tour of his pottery studio.
William
2015-11-05T00:00:00Z
Typ av rum
Eget hus/egen lgh
---
Typ av boende
Lägenhet
---
Plats för
2
---
Sovrum
Putney, Vermont, USA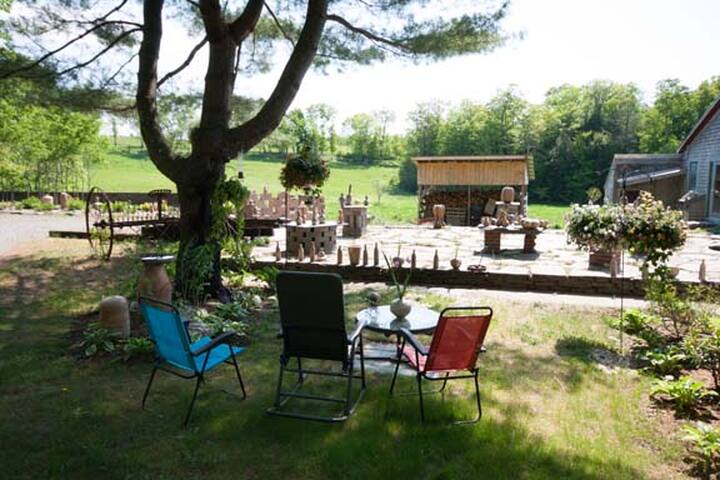 1

–

18

av

19 Uthyrningar av lägenheter
Ange datum för att se full prissättning. Ytterligare avgifter tillkommer. Skatter kan tillkomma.