5 Uthyrningar av lägenheter
The Window Tree Walk-up is a second floor guest cottage mini suite with private entrance located in downtown Talkeetna. Clean, light and airy w/queen and twin beds in the bedroom, small living area with kitchenette, lovely full bath.
The Window Tree Walk-up is the second floor suite in the Talkeetna Dragonfly Guest Cottage. It is private from the Dragonfly's ground floor, the Susitna Summer Suite.
The Window Tree Walk-up is located in the heart of Talkeetna and borders the village's treasured historic district. One street off Main Street offers a minute's walk to the restaurants and shops, or stroll a little farther to the two glacier fed rivers, the Talkeetna and the mighty Susitna, and see the view of the Alaska Range if the weather permits.
Great and cozy place to stay just a quick walk from downtown Talkeetna. My mom and I stayed here for a night and the host was wonderful. Would stay again!
Catherine
2017-03-05T00:00:00Z
Great location and easy check in/check out. Good communication with Sarah. One minute walk to food, drink, stores, and river.
Eric
2017-02-12T00:00:00Z
Lovely space to spend the night. Really enjoy having the living room space. Clean and modern bathroom. Thank you for your place Sarah.
Jenny
2016-06-25T00:00:00Z
Great!
Brooke
2016-08-31T00:00:00Z
This place was perfect for our vacation! We were in Talkeetna for a wedding and it was so convenient being right in town, 1 block from the restaurants and bars! You could walk to the river too, about 1 block. The place was super cute, and had everything that we needed. Definitely a great place to stay if you are a couple.
Lindsay
2016-09-04T00:00:00Z
We loved this space and this little town. Great place to stay for 2 or more people. Clean, cute, and unique. Nice stop on the way to Denali or for a visit to Talkeetna! Sarah was great. She accommodated us quickly (we booked somewhat on the fly). She had great tips!
Aimee
2016-07-01T00:00:00Z
Overall it was a good experience to stay there, the entire floor is larger than I expected and we used the kitchen a little bit, it looks clean and well organized. There's also a bonus bedroom but we didn't use it at all. One bedroom's door is very old, open or close it makes a bit noise. The host is very nice, she is a writer and gave us a book she wrote for free.
Han
2016-07-04T00:00:00Z
Sarah was great; easy to communicate with and fast replies. Rental's location is amazing, one block from the shops and restaurants in Talkeetna.
Fritz
2017-02-10T00:00:00Z
Typ av rum
Eget hus/egen lgh
---
Typ av boende
Lägenhet
---
Plats för
3
---
Sovrum
Talkeetna, Alaska, USA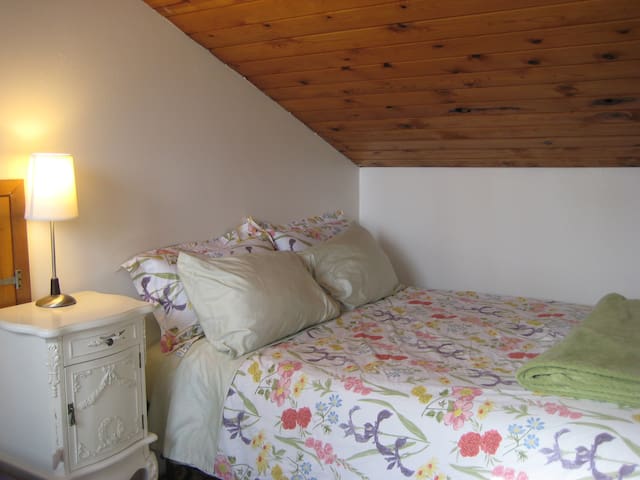 The Susitna Summer Suite is the ground floor suite in the Dragonfly Guest Cottage, located in downtown Talkeetna, which features two bedrooms, a full kitchen and bath. Homey and right next to Talkeetna's main street, rivers, and historic district.
A lovely cottage! I loved the fresh flowers on the kitchen table-a thoughtful touch. We arrived in early on the train and Sarah let us leave our bags in the home which was very kind and extremely helpful! The house had all the amenities. We loved having a washer and dryer! Close and convenient to everything in town. The house rules were easy to follow.
Genevieve
2016-07-08T00:00:00Z
Fabulous one-night stay in Talkeetna! The place was clean, cozy, and plenty big. Perfect location + Sarah was very responsive and helpful with directions, etc. Highly recommended!
Charmayne
2016-06-13T00:00:00Z
Beautiful Neigbourhood, Walking distance to downtown. Lovely home
Rima
2016-07-01T00:00:00Z
What a great house! There were only two of us so we were kind of rattling around in all the space - big living room, great kitchen, two nicely sized bedrooms (comfortable mattress!), sparkling clean bathroom with a high shower head (I'm 6'4 so that's a real plus for me), and a washer and dryer! All that, just one block off main street in Talkeetna. What could be better? Be sure to walk the couple of blocks to the river for impressive views of Denali and the entire range. We met Sarah as we were leaving and she's as gracious in person as she was helping us arrange our stay. Thanks, Sarah!
Laron
2016-06-19T00:00:00Z
House is very nice. It was very quiet the night we stayed. Everything in town is very close. Only thing that might have been nice would have been darker shades on the bedroom.
Steven
2016-07-20T00:00:00Z
Cute little house perfect for our stay while visiting family nearby. Sarah was easily reached when needed. We would stay again for our next visit.
Melanie
2016-07-11T00:00:00Z
Sarah was incredibly kind and friendly. She was helpful when we wanted to extend our stay and remained in easy communication with us throughout our time in Talkeetna. The location couldn't be better, a stone's throw from the main street. Rustic cabin in Alaska, steps from downtown, was exactly what we were after. The kitchen was great for our extended stay.
Colin and Jenna
2016-05-26T00:00:00Z
The house is right in the center of the nice little town. Bakery shop and reindeer sausage parka was just across the street. Best breakfast for our trip! :)
Jasmine
2016-08-28T00:00:00Z
Typ av rum
Eget hus/egen lgh
---
Typ av boende
Lägenhet
---
Plats för
6
---
Sovrum
Talkeetna, Alaska, USA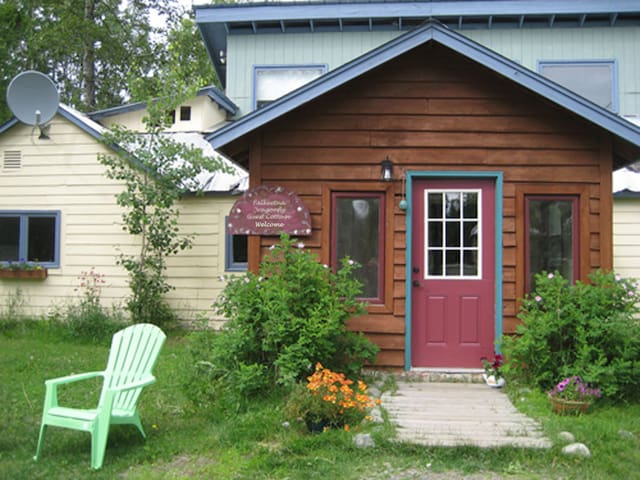 (winter/$125) The Nook is a sunlit unit nestled in a quiet wooded neighborhood. It has a cozy sleeping nook - 1Q, that provides extra space for large groups. The upstairs loft has 1Q and 1F. The downstairs has a kitchen/living room and bathroom.
The Nook is a cozy, comfortable get away. It has a beautiful sleeping nook downstairs,off the kitchen/living room area. The downstairs also has a bathroom with shower. The upstairs has two full beds and a roll away.This quaint little unit has lots of natural day light and extra touches to make it the perfect place to relax after a busy day in the Talkeetna area. Pricing Summer Season: May-September $155.00 for 1 or 2 persons $20.00 for each additional person Max capacity 7 people Winter Season: Oct-April $125.00 for 1 or 2 persons $15.00 for each additional person Max capacity 7 people Talkeetna East Side Cabins LLC is a family owned business that offers nightly lodging in Talkeetna. We are located in the residential area of East Talkeetna, 4 blocks from downtown Talkeetna's Main street where there are many restaurants, pubs, art galleries and gift shops. There is a town transit that runs from down town talkeetna to the end of the Spur road every hour, for a couple of bucks one way. Refer to Transit schedule in the binder or (SENSITIVE CONTENTS HIDDEN) Sunshine Transit for a schedule or call (PHONE NUMBER HIDDEN). We offer three unique private accommodation options. All rentals and prices include, coffee pot, refrigerator, private shower and bathroom, internet and internet television (provided by Roku Boxes). All the units have kitchen facilities. The Yurt's kitchen facilities is in The Bathhouse. In the summer months you can relax in our spacious backyard, or on our unique octagon deck. In the winter we are 2 block away from miles of cross country ski trails, and our barrel sauna is available by request for guest use year round. Please contact us with questions either about Talkeetna or about Alaska in general. We would be happy to assist with itinerary planning, Some people do not understand the geography of Alaska and it's road systems so it is good to have a local who is familiar with the area.
The H Street neighborhood is a very quiet, pristine setting. We have integrated natural fauna and flower planters, added picnic tables and a beautiful octagon sunning deck.
Cool little place, quiet but close to the action on Main Street. Convenient and easy, and the host was responsive and accommodating.
Joe
2017-02-18T00:00:00Z
Great place to stay in Talkeetna! It is the perfect home base for any adventure. Thanks so much for a great place.
Kara
2015-03-15T00:00:00Z
We enjoyed your wonderful wooded area and the Nook was perfect for us and our teen-aged grandson. Quiet location but perfect walking distance from town - a little hike but not too far. Beautiful property and cozy apartment!
Danny
2015-08-21T00:00:00Z
Marne and Mary were extremely helpful. They bent over backwards when we had to change our reservation. Look forward to getting out there this spring.
Jody
2016-12-31T00:00:00Z
We enjoyed our stay. We especially liked the sleeping nook and the old fashioned sauna. This unit sleeps six so it would be ideal for a large group. We were plagued by power outages during our stay but I have a feeling it was a village-wide problem and not one of the host's.
Lucia
2015-06-28T00:00:00Z
This was really a cozy, homey place to be with all the facilities available at this NOOK Cabin. It had a small kitchen, private bathroom, and shower. As well as laundry and dryer in the nearby area. This property had multiple places to stay within this complex including what looked like 2 more cabins, and a yurt. There was also a separate bathhouse available i believe for those staying in the yurt. They also had a sauna that we were not able to use. The host was easily available and responded quickly to my texts and phonecalls. I would definitely stay here again
Althea Crystal
2016-03-01T00:00:00Z
The place was exactly as described and I loved the alcove bed. The sauna was an added treat that really made the stay memorable. Marne made no contact which wasn't necessary but would have been nice. Typically I get a text from Airbnb hosts asking how everything is going and is there anything I need. There was not enough toilet paper for 5 people but luckily we had our own.
Linda
2016-05-20T00:00:00Z
Talked a is wonderful and the nook was cozy and clean for the few days we were there. Great stay!
Tori
2015-07-23T00:00:00Z
Typ av rum
Eget hus/egen lgh
---
Typ av boende
Lägenhet
---
Plats för
6
---
Sovrum
Talkeetna, Alaska, USA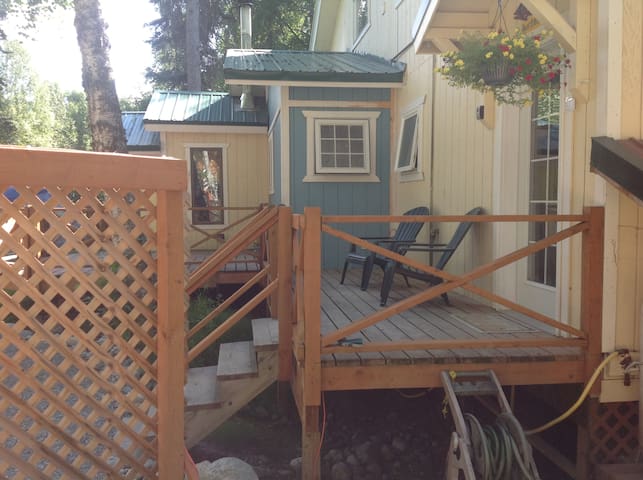 This is the perfect little apartment for a family adventuring, or two couples traveling together. With two bedrooms it comfortably sleeps four, a rollaway is available to accommodate up to two more in the common space. Full bath and kitchenette also.
Located in the heart of downtown Talkeetna this is the perfect spot to rest after a long travel day, or as a comfortable home base for our adventures. Just a short walk from the train depot. The apartment is fully stocked with everything to make you feel at home, and the hosts a
There is a fair amount of noise from the restaurant below, but the location is perfect for walking around town. Many accommodations in Talkeetna including this one use kerosene heaters which leave a horrible smell in the apartment.
Stacey & Matthew
2016-07-03T00:00:00Z
Great property right in the middle if everything. Would definitely stay again.
Dav
2017-01-01T00:00:00Z
The host canceled this reservation 67 days before arrival. This is an automated posting.
Kristen
2017-01-09T00:00:00Z
Super clean, super location! What a charming scene - cafe below has the best food in town. Thanks for a wonderful trip to Talkeetna!
Kim
2016-07-06T00:00:00Z
Great place - the rooms were wonderful, the beds comfy, and the people helpful. Talkeetna is a fun place - the Talkeetna River Guides were amazingly helpful!
Beverly
2016-09-08T00:00:00Z
The place was better than expected. Very clean and comfortable. The location was excellent. I was definitely stay there again!
Ann
2016-08-04T00:00:00Z
Super great location
Katrina
2016-12-04T00:00:00Z
Comfortable, really good location!
Zhang
2016-09-30T00:00:00Z
Typ av rum
Eget hus/egen lgh
---
Typ av boende
Lägenhet
---
Plats för
4
---
Sovrum
Talkeetna, Alaska, USA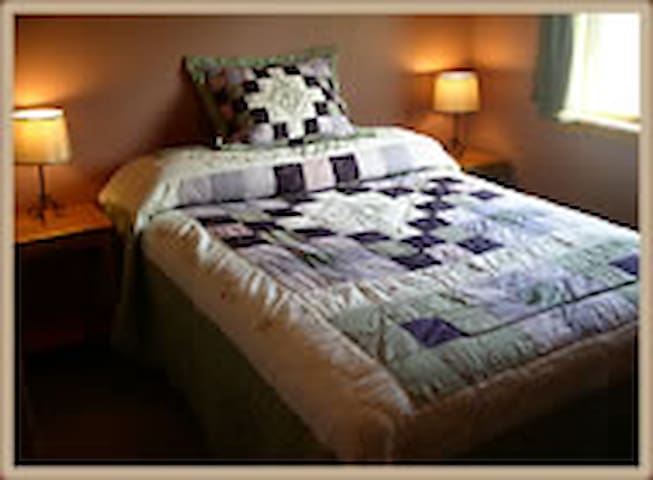 In the heart of downtown Talkeetna, the North Suite at the Wildflower Cafe is a perfect space for a couple on holiday, though a full size hide-a-bed allows for separate sleeping spaces, or to better accommodate a small family.
A spacious suite with a small kitchenette for your convenience and independence. A sunroom and dining nook with views of main street make this an enjoyable spot in the center of everything. Small private bath with a shower.
Cute, charming and in the ideal location. This was the perfect place for us to enjoy our getaway. It's above a fantastic restaurant and in the heart of town. Walk to the river, tourist attractions gift shops, bars, restaurants and shops. The place was nicer than pictures! Very happy with our stay-we wished we could have stayed longer.
Rachel
2016-09-05T00:00:00Z
Great spot right in the heart of town. Complete with everything we needed. Thank you!
Karen
2016-07-06T00:00:00Z
There are 40 beers on tap only steps away from this room!!!! Perfect location, right in the middle of downtown Talkeetna, and very clean. Pictures and description do not do this justice. Did I mention the beer? Zero complaints!!!!!! We will stay here again; 100%.
Rodney
2016-07-18T00:00:00Z
This was a perfect place to crash! Sadly, I only stayed to take an hour nap after a night out seeing the northern lights, but this was the perfect place! Location is right on the main street in town. Would definitely recommend!
Kimberly
2016-08-28T00:00:00Z
It was great being in the middle of town. The cafe that the suite is on top of does not open for service until 11am so that really helped when we wanted to sleep in. Additionally, it closes at a reasonable hour (I think 10pm) so we weren't kept awake by bar patrons either. It was nice to have a fridge and microwave and toaster oven and we did use them for tea and leftovers.
Tre'
2016-08-10T00:00:00Z
Great location, nice accommodation. Could definitely have been cleaner but maybe that's because we had a baby crawling around and you notice more! Communication could also have been better but overall a good stay and would recommend.
Nicky
2016-07-04T00:00:00Z
The host canceled this reservation the day before arrival. This is an automated posting.
Kellie
2016-09-16T00:00:00Z
Very cute, clean space, great location on main street. Easy access to everything Talkeetna has to offer. We would definitely stay there again!
Larissa
2016-08-07T00:00:00Z
Typ av rum
Eget hus/egen lgh
---
Typ av boende
Lägenhet
---
Plats för
2
---
Sovrum
Talkeetna, Alaska, USA