CHAMBRE # 2 pour 2 avec CLIMATISATION L'endroit est très calme et privé car il est un peu loin de l'agitation de la rue principale de Tortuguero et sa vie nocturne des Caraïbes et la musique forte. Cependant, la plage et l'entrée du parc se trouvent à proximité et sont donc toutes les autres attractions. La chambre offerte a une petite salle de bains avec douche chaude et climatisation. La chambre offerte ici pour 2 personnes confortablement (lit plein) ou 3 avec un filet (deuxième lit est un seul), mais les grands partis pourrait louer les 2 chambres et ce serait comme rester à votre place. Autrement dit, il est un endroit magnifique et vous serez heureux d'avoir séjourné à la Place de Taylor!
La courte liste de chose à faire et les visites à faire inclure le Tour Canoë à travers les voies navigables du parc national de Tortuguero, une visite guidée ou explorer sur votre propre Kayak Tour, une nuit guidée de Turtle Walk et pour ceux à elle une certaine Sportfishing sur la océan. Rey peut vous aider à obtenir ces mises en place, mais il y a aussi de nombreux endroits de la ville où vous pouvez
The cabins are clean and in good condition. Good food in a nice environment for dinner. It has to be considered that this is Tortuguero, meaning paths are naturally muddy due to rain, location doesn t matter because it s a small village. I have been at lodges at the same or less standard but for a higher price and without A/C. So, good value for money!
Volker
2015-08-25T00:00:00Z
The accommodation was a disappointment right from the beginning. I booked it because of the aircon and because it looked nice on the pictures. The reality was that the aircon did not work. The owner provided a fan instead. But it only spread the warm air but didn't cool down the room. There was mould on the wall and you could smell it when entering the room. The sheet on the bed had small holes in it and there were ants running over the bed. The room was not cleaned during my stay. The owner promised to have repaired the aircon but nothing happened. I often book on airbnb and this was by far the worst quality price ratio I ever had. This accommodation is not worth the money. I cannot recommend this place. There are better ones for half the price. I was only glad that I was only staying there for 2 nichts.
Kerstin
2015-12-07T00:00:00Z
Warme ontvangst en prima kamer. Schoon. Airco maakt veel geluid en zonder oordoppen konden wij 's nachts niet slapen. Vanaf +/- 16u is er iemand aanwezig en starten de voorbereidingen voor het restaurant. Je kunt er heerlijk avondeten. 's Ochtends en 's middags is er niemand. De wifi heeft een goede ontvangst en je kunt ook lekker relaxen in de hangmatten buiten. Binnen 1 minuut ben je op het 'hoofd'weggetje en dus zijn de eettentjes en de ingang naar het park vlakbij.
Susan
2015-07-30T00:00:00Z
Taylor's place is very well located very close to the beach and close to the center (anyway tortuguero is very small). It is more like a hotel complex than a airbnb sleeping in the host private's place. but the place is nice. however, the garden restaurant was closed which would have been nice to mention. We didn't had many interaction with our host because we woke up very early and came back to the room very late. But he seemed very nice :) and gave us a small wood turtle to thank us for our stay at his place which was very nice of him. the room has A/C but also ants lol you need to be aware that you will be sleeping with them (they are black ants and are not dangerous or anything it is just a little annoying at night because when they are on your face it tickles). So if maybe something could be done to get rid of them? But anyway, we really enjoyed staying there.
Alexandra
2016-01-11T00:00:00Z
Great place. Friendly, clean, comfortable and conveniently located.
Yoav
2015-01-17T00:00:00Z
We had a perfect stay in Taylors Place. The room was clean, quite and close to the beach located. The place is lovely decorated and the Dinner was also delicious. Thanks for having us!
Caroline
2016-02-10T00:00:00Z
Die Unterkunft ist ein absoluter Geheimtipp in Tortuguero. Sauber, gute Lage nah zum Strand sowie Restaurants und Bars. Wir kommen gerne wieder! Der Kontakt mit Rey, seiner Mutter und Alexandra war sehr nett. Wir empfehlen Taylor's Place gerne weiter.
Laura
2015-04-05T00:00:00Z
Taylors place is à good place to stay of you want to visit torteguero. It's in te middle of the torteguero village. Not like all te resort far from al live in the Nice small town. The owner is à Nice gentleman with à Nice restaurant that is located next too your room. The rooms are clean and comfortable. So of you want to visit torteguero taylors place is the place to be!
Auke
2014-07-27T00:00:00Z
Typ av rum
Eget rum
---
Typ av boende
Hus
---
Plats för
2
---
Sovrum
Colorado, Limon, Costa Rica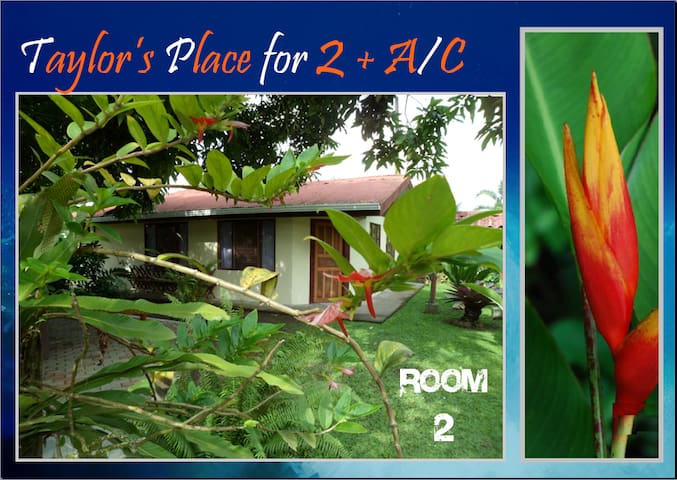 Right in the heart of Tortuguero Village, but hidden off the main road in a private garden setting. With well-equipped kitchen and laundry facilities, you might want to move in! Perfect for families or groups of friends, this house features two private rooms with private bathrooms, and lots of space to stretch out. High ceilings and fans keep it cool, and there is plenty of garden space for dining al fresco on clear nights.
Ein vollständiges 2-Zimmer-Haus mit Wohnzimmern und Küche, jedes Zimmer verfügt über eigenes Bad. Perfekt für Familien oder Gruppen von Freunden. Ein Zimmer verfügt über 2 Einzelbetten, das andere hat ein Doppelbett. Viel Platz zum Ausstrecken, mit Garten in den Front- und Seiten Yards und einem gemeinsamen Wohnzimmer und Küche. Vorgarten ist ideal zum Grillen!
Mitten im Herzen des Dorfes, dieses Haus ist nah an alles, aber bemerkenswert privat für den Standort. Hinter Richards Platz und neben dem Supermarkt Las Tortugas.
Typ av rum
Eget hus/egen lgh
---
Typ av boende
Hus
---
Plats för
4
---
Sovrum
Limón Province, Limón Province, Costa Rica
It does not get much better in remote Tortuguero: beautiful Master Bedroom with Riverview, powerful A/C, Wifi and Sky TV included. Live in Style and be only steps away from the action. Arriving by boat to Tortuguero, we are in the first two story building that you will see and are only a few meters from the entrance to the National Park. Conveniently located in the same building as Tortuguero Adventures, we can help you set up with English speaking guides and enjoy the best tours.
Spacious room with lots of windows and a great view of the river from the room and the deck. Enjoy wonderful sunsets and a unique perspective.
For me Tortuguero is 5 min from any given point A to point B. That is not quite right, as there are miles of beach and lots of waterways to explore. The little village is as quaint and remote as it gets, there are no cars. Isn't that wonderful? Plenty of restaurants, from Taylor's Place just down the little path, to the riverside Bhudda Cafe - check Trip.advisor for more recommendations.
Andres, the tour guide manager, was AMAZING! He truly made our stay memorable and seamless. Tortuguero is an amazing place to visit and their accommodations are the best in the area and right on the river! I would highly recommend any nature lover to stay there!!!
Katelyn
2016-12-21T00:00:00Z
We decided last minute to go to Tortuguero. We found Alexandra's post and it was perfect for us. She responded very quickly and we were confirmed right away. We got the whole package when we reserved this room. We got a wonderful host, wonderful staff, wonderful room, and wonderful location in the village. We had an amazing canoe tour through the National Park in morning and a once in a lifetime sea turtle night tour. Tortuguero Adventures is located on the first floor of the building we were stayed in. Andres and Elena helped us with everything we wanted on the tours. Elena greeted us and helped us settle in - she even gave us a little tour of the village and recommended some restaurants for dinner. Saber was very kind was a terrific guide through the National Park. Then both Saber and Andres took us on our tour to see the sea turtles and it was so so awesome! They taught us all about sea turtle nesting and the research that they are doing on the island for them and other animals in the park. Everyone spoke fluent English and Andres also speaks Italian and Swedish. We'd go back in a heartbeat and go on more of their tours. Check them out at (URL HIDDEN) Thanks so much for a worry free and great experience!
REBECCA
2016-07-24T00:00:00Z
Refreshing AC, strong wifi, fabulous view from the balcony, and kind helpful hosts made our three night stay definitely something to repeat! Andres gave us a bit of a tour on the way from the airport in his boat and then gave us a great excursion in the canoe with the silent motor the next morning. He also had one of his guides take us out for a night walk and a turtle tour. The room is above the office which made it really easy to arrange the tours as well as get advice about other aspects of Tortuguero. Thank you! Alexandra was very quick to respond to my request to stay there and arranged for the water taxi, AKA Andrés, to get from the airport to the room. She also sent a message while we were there saying she was available to help with any needs about the room.
Betsy
2016-09-21T00:00:00Z
Typ av rum
Eget rum
---
Typ av boende
Hus
---
Plats för
3
---
Sovrum
Tortuguero Village, Limon, Costa Rica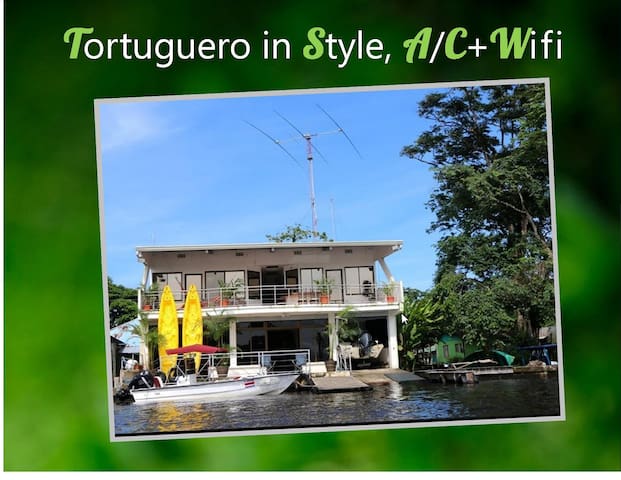 This is a beautiful and tranquil jewel in the heart of Tortuguero, Costa Rica and I'm listing it for my friend Rey, owner and host at Taylor's Place. We offer 2 rooms for lodging on Airbnb and a beautiful garden restaurant surrounded by lush tropical flowers and plants. Amazing atmosphere, very romantic, but dinner service only and strictly outdoors. Taylor's Place is good for couples, solo adventurers, families with kids and small groups. We have a listing for 2 rooms together as well.
ROOM # 1 with AIR CONDITIONING The place is very private and quiet as it is a bit away from the hustle of Tortuguero's Main Street and it's Caribbean nightlife and loud music. However, the beach and park entrance are close by and so are all other attractions. The room offered has a small ensuite bathroom with hot shower, fan and Air Conditioning. The room offered here sleeps 2 comfortably (full bed) or 3 (second bed is a single), but bigger parties could rent all 2 rooms and it would be like staying at your own place. Simply put, it's a beautiful place and you will be happy to have stayed at Taylor's Place!
The short list of thing to do and tours to do include the Canoe Tour through the waterways of the Tortuguero National Park, a guided or explore on your own Kayak Tour, a guided nighttime Turtle Walk and for those up to it some Sportfishing out on the ocean. Rey can help you get these set up, but there are also many places in town where you can book these tours.
Tuvimos una estancia muy agradable en Taylor's place. Alexandra estuvo pendiente para responder todas nuestras preguntas y Ray y su madre fueron perfectos anfitriones. Las habitaciones son básicas pero más que suficientes para pasar unos días en Tortuguero . A escasos 3 minutos de la playa y de la calle principal, cuenta con un magnifico restaurante donde cenamos una de las noches.
Carlos
2016-08-27T00:00:00Z
Very nice place, great host.
Beata
2014-03-19T00:00:00Z
Rey est un hôte qui sait recevoir ses invités ! Cette location est très bien située au cœur du petit village de Tortuguero. Le lieu est propre et sûr... Quand au restaurant du même nom, il offre un cadre très agréable pour le dîner. À recommander pour un authentique séjour à Tortuguero.
Emilien & Lionel
2014-02-12T00:00:00Z
No recomiendo este alojamiento. Se olvidan de ti al instante en que te aparece quien te dé la llave. La comunicación con el anfitrión es nula en el sitio. No les importa que vuelvas o recomiendes. Por muchas razones, no lo recomiendo.
Luis Andres
2017-01-01T00:00:00Z
I went here with my sister. We were welcomed by a local guide in the parking lot where we left the car before getting on the boat to Tortuguero. He showed us to our room where we were given information about the village and how to sign up for excursions. The room was clean and had A/C!! There was a twin bed and a double bed, so it could probably sleep 3, but it the room is kind of small and might feel too crowded with 3 people. Of course, you're not going to Costa Rica to spend time indoors, so 1 or 2 nights would be doable. Overall, it was a great place to stay, clean, safe, in a good location and with friendly hosts. I would return Taylor's Place again!
Sarah
2014-10-09T00:00:00Z
What a great find. We decided to extend our trip in CR last min and scrambled with where to go and finding a place. A cheap 6am flight took us to Tortuguero and at 8 pm the night before we booked at Taylor's Place. Within 30 min Andrea accepted our request for the next day and called us to ask if we needed a water taxi from the airport because otherwise we would be stuck there. Rey arranged it for us and even let us into the room at 7:30 am which was great since we were so exhausted and fell asleep immediately. We stayed 3 days and quickly learned that Taylor's Place is the best hidden spot in town. The restaurant is only open for dinner so we got to hang out in the beautiful garden during the day. We ate there every night for dinner because hands down it was the best food in the village and we tried all but 1 or 2 spots. The room itself is small and basic but the bed is more comfortable then any hostel for that price. Be prepared for a few bugs or lizards but that's anywhere we've been in Costa Rica. There was a fan and AC unit we didn't need to use. We always felt safe with out belongings in the room. Rey's mother lives across. The path and keeps an eye on the place. We were lounging in the room with the door open and she saw and came over to make sure everything was ok. She always said hello and goodbye to us when we left and when we left for good she gave me a big hug. WiFi was broken when we got there but that just made us go check out the other cafés in town and we learned Taylor's Place was still the best. We can't say enough good things about Taylor's Place.
Laura
2014-02-10T00:00:00Z
Really nice place. Basic, but very clean rooms, good airco and WiFi. Alexandra responded on the email right away and Rey was a nice host. Perfect for our stay at tortuguero!
Sanne
2016-01-05T00:00:00Z
Alexandra fue muy amable antes de nuestra llegada porque estuvo atenta y accesible a todos nuestros requerimientos, aunque no la conocimos en persona estamos muy agradecidos! Taylors es un lugar acogedor y que tuvo todo lo indicado en el anuncio. La relación calidad precio nos pareció muy adecuada.
Ana
2016-09-17T00:00:00Z
Typ av rum
Eget rum
---
Typ av boende
Hus
---
Plats för
2
---
Sovrum
Tortuguero, Limon, Costa Rica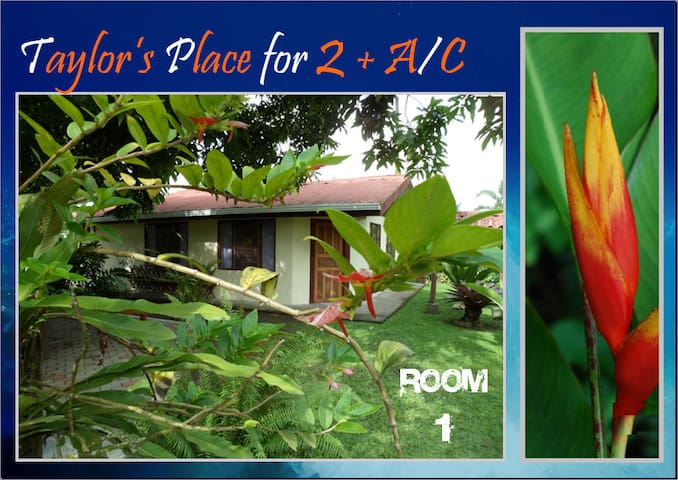 Right in the heart of downtown, this cozy garden home is tucked back from the main street. Kept cool by high ceilings, large windows and ceiling fans, this cute house is an excellent home away from home. Private garden space is perfect for barbecues. Well-equipped kitchen, washing machine and outdoor laundry area are shared between two rooms. Each room has an en suite bathroom.
Right in the heart of downtown! There is a cute restaurant in front (Richard's Place), a supermarket next door, a fruit and vegetable market across the street. Close to everything, but very private because it's behind a garden.
Typ av rum
Eget rum
---
Typ av boende
Hus
---
Plats för
2
---
Sovrum
Tortuguero, Limón Province, Costa Rica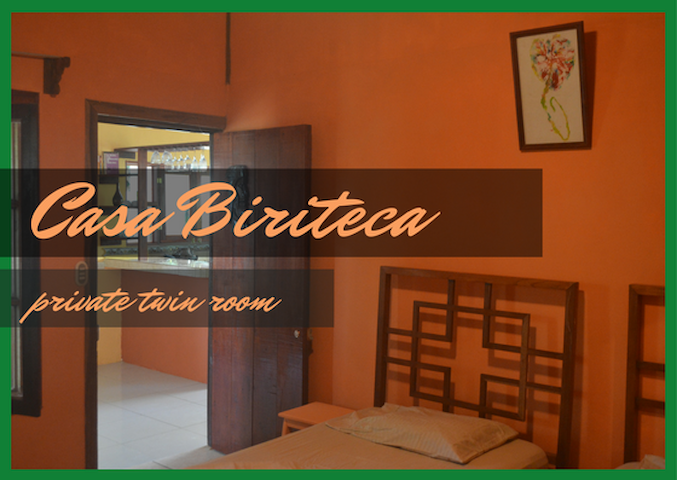 Private room in a cute 2bdrm house right off the main street. Private garden in front provides plenty of privacy and helps keep it quiet. Well equipped kitchen and washing machine make for a comfortable stay. Barbecue available in garden.
Typ av rum
Eget rum
---
Typ av boende
Hus
---
Plats för
2
---
Sovrum
Tortuguero, Limón Province, Costa Rica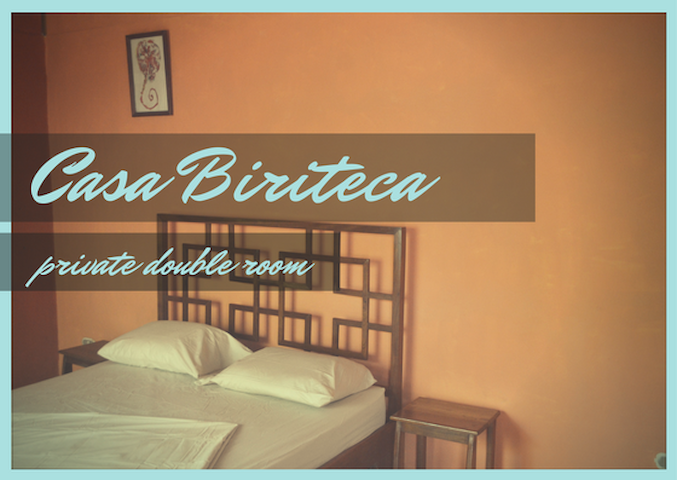 1

–

6

av

6 Uthyrningar av hem
Ange datum för att se full prissättning. Ytterligare avgifter tillkommer. Skatter kan tillkomma.