"Treetoppen 'je norský název pro mou 11m2 treehouse se nachází v lese. Přenocování je fantastický a jiný zážitek, daleko od shonu městského života. Volně žijící ptáci a zvířata je možné vidět hned za dveřmi. Turistické možnosti a jezero pro rybolov s malou lodí jsou v těsné blízkosti kabiny. Ideální pro osamělé cestovatele, páry, přátelé, nebo malé rodiny s dětmi, kteří chtějí "dostat pryč od toho všeho '.
Kabina je ve stromy na malém kopci v Heskjadalen takže strach z výšek se nedoporučuje! Byl postaven s použitím dřeva z lesa, zbylých materiálů použitých oken a hořící krbová kamna. Je 11m2 s terasou na obou stranách, které mají slunce po celý den až do 23:30 uprostřed léta. Neexistuje žádná tekoucí voda nebo síťový elektrický, ale solární panel poskytuje 12V pro dobíjení přístrojů atd. Voda může být vyhříván na terase venkovní použití otevřeného ohně pánev, uvnitř na kamna na dřevo nebo kempování kamna malá plynu, které jsou poskytovány , K dispozici je venkovní WC a zásobená dřevo přístřešek. V kuchyni je veškeré nádobí a příbory, ale je 'zpět k základům' bydlení. Žádný internet, ale můžete dostat 3G telefonu atd. Podívejte se na kabinu na (SENSITIVE CONTENTS HIDDEN)u (URL HIDDEN) Místní tv také navštívil viz odkaz níže kabiny (URL HIDDEN)
Vaše jediná sousedé jsou v lese volně žijících živočichů!
What an incredible experience we had at Margrethe's fabulous tree house... The photos almost underestimate the true beauty of the place. Perfect getaway from the city, it's also the best place to discover the countryside, birdwatching, fishing and relax. Margrethe and her dad were both lovely hosts who made everything possible to make us feel comfortable. We can't recommand enough this (URL HIDDEN) more (URL HIDDEN) ready for the little climb uphill to access the treehut !
Guillaume
2016-09-09T00:00:00Z
Kjempeflott hytte midt i naturen. Perfekt sted for et fredelig og avslappende avbrekk. Hytta har alt av fasiliteter som behøves og vertskapet var veldig samarbeidsvillig.
Eivind Bjoralt
2016-08-21T00:00:00Z
Kjempehyggelig sted, og supert vertskap! Møttes på Shell på Aksdal, så vi fant veien. Margrethe fulgte oss opp til hytta til fots. Stedet er fredelig og nydelig, og alt vi trengte av fasiliteter var på plass (Jetboil, toalettpapir, ved til bålpanne m.m.). Vi hadde en fantastisk overnatting, med middag på terassen ved bålpannen, og selskap av masse småfugler og et ekorn. Vi kommer garantert tilbake!
Maria
2016-07-19T00:00:00Z
Vi hadde to netters opphold i tretoppen i midten av oktober. Hytta har alt av fasiliteter for et vellykket opphold. Den er godt isolert så man trenger ikke å bekymre seg for å fryse. Den flotte plattingen med bålpannen gjør at man kan nyte lange kvelder selv på høsten. Vi kommer igjen!
Dag-Petter
2016-10-09T00:00:00Z
Vi var to store og to små på besøk i Margrethes hytte i tretoppen. Oppholdet vårt var helt supert, og noe vi gjerne anbefaler videre til andre som vil ha en fin naturopplevelse. Spennende for både store og små. Vi ble tatt godt imot og vist veien opp til hytta. Bratt opp dit, men vel verdt det når man er fremme. Hytta er veldig koselig, og terrassen med bålpanna er et fantastisk sted å sitte. Ellers er hytta er godt utnyttet og man har alt man trenger. Vi tok turen til fiskevannet og kan som tidligere anmeldelser si at at det nærmest må være fiskegaranti. 3 stk ørret fikk vi til å grille på bålpanna! Vi hadde en flott opplevelse i Tretoppen!
Elin
2016-08-08T00:00:00Z
En fantastisk oplevelse at bo i Margrethes skønne Tretoppen med smuk smuk udsigt og med meget hyggelig og bekvem indretning - også for 2 voksne og 2 børn. Vi blev taget rigtig godt imod og fik også vist en nærliggende fjeldsø med god søørred fangst-garanti for alle mand. Vi kan kun anbefale at besøge dette smukke sted.
Nina
2016-07-30T00:00:00Z
Superkoselig vert som tok vel i mot oss og hjalp oss med å finne hytta. Vi gikk den "lange" veien på ca 600 meter- og den har ganske bra stigning. Den korte vegen på ca 300 meter tok vi ned igjen. Tror det var en bra løsning både opp og ned. Hytta var primitiv, men lagt til rette så mye som er mulig når det ikke er strøm og innlagt vann. Margrethe hadde redd opp senger, bært opp både vann og ved, så alt lå til rette for både fyring i vedovn i hytta og fyring i bålpanne utenfor. Vi var der 1. oktober, men var veldig heldige med været. Det var sol og stilt. Utedoen var en eksotisk opplevelse, spesielt for ungene. Vi benyttet oss også av båten og fisket fire ørreter som ble grillet på bålpanna. NB- båten er VELDIG lett å velte med. Vi klarte det helt fint. Mye småfugler rundt hytta. Det gjorde hele oppholdet ekstra koselig. Vi var to voksen og to barn. Det gikk helt fint. Det er høyt å falle ned, så barna bør kanskje ikke være for små (våre er 6 & 9) :-)
Liv
2016-10-03T00:00:00Z
Turen startet fantastisk med en hyggelig tur opp sammen med to søte hunder og en lokal kjentmann som viste vei opp til hytten.
Niklas
2016-08-31T00:00:00Z
Typ av rum
Eget hus/egen lgh
---
Typ av boende
Trädhus
---
Plats för
3
---
Sovrum
Aksdal, Rogaland, Norge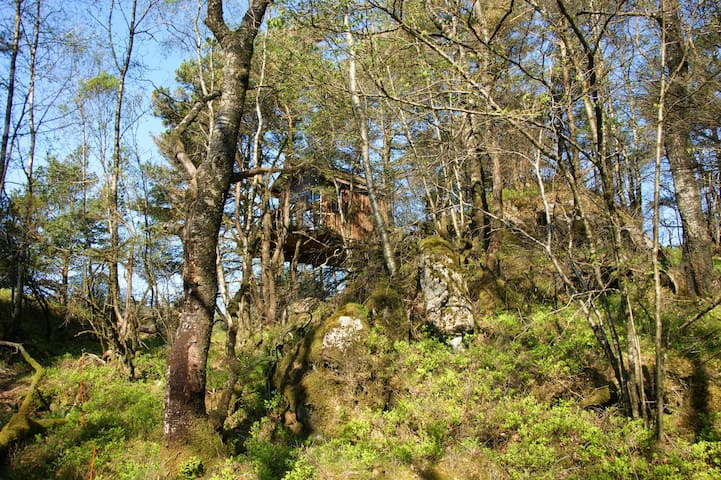 Tusen takk til Birgitte & Edvard - we spent two marvelous weeks in your house. The way you offered us your home gave us an idea how hospitality should be. Respect for your style consciousness - the design furniture in the whole place especially the xxl livingroom was displayed in such a harmonic way. We felt very "hyggelig" (cosy). To stay right at the edge of the fjord not only showed us the varieties of the tides - from the jetty we could start our kajaktours to Förland and down to Tysvaer. Since we were allowed to use the motorboat the "kids" had big fun cruising around. Thanks to your helpful informations and recommendations we explored the countryside around, got to know the german speaking neighbours with the island horses and visited the great cafe at förland (opening times only wednesday & thursday). Our sightseeing trips like the one to the Folgefonna glaciers made us fell in love with norway. Next holiday in this beautiful land is on the agenda.
Rolf
2015-06-24T00:00:00Z
We rented this beautiful house over the winter holidays. The location turned out great and the surrounding area is simply stunning. The house itself is very spacious and modern. We used the fireplace extensively, which was lovely!
Jurjen
2016-01-09T00:00:00Z
We've stayed at Edward and Birgitte's house as a group of 7 friends and we had the best time thanks to this wonderful accomodation. It's extremely cosy, spacious and light-filled. The view from the deck is breathtaking. The house is well connected to supermarkets and nearby towns but we do recommend hiring a car. Highly recommended for a relaxing holiday with family or friends. Communication with Edward has always been very punctual and reliable and he made us feel welcome at all times. Thank you Edward and Birgitte!
Miriam&Filip
2016-05-05T00:00:00Z
Je tiens à remercier birgitte pour son accueil et les conseils tout au long du séjour dans cette belle région et cette magnifique maison. Ce logement est pratique pour une famille et les enfants ont adoré. Un cadre exceptionnelle calme est à proximité de plusieurs sites à visiter.
morad
2015-08-09T00:00:00Z
What a great holiday we had with 8 people in your great, modern and nice house! A super spacious House with lots of sleeping options. A beautiful area and we were allowed to use the motor boat. We have regular dangers in the Fjord. The contact was super in advance. Nothing was too crazy or we could ask you. Very enjoyable how this communication is gone. Edward and Birgitte, huge thanks for the use of your beautiful, modern, attractively furnished apartment! For us a holiday to remember!
Bert
2015-08-19T00:00:00Z
We spend two weeks with our 6-year old daughter. Nothing to add to all the other comments: look at the pictures and what you get is much better than what you see there plus a reliable and nice communication with the host. The spacious living area with the incredible view is absolutely stunning and the house is super clean, perfectly equipped and has design classics mixed in an inspiring interiour design. House is orientated westwards so every sunset is an event by its own. Ah, and there was that boat. Priceless to have the ability to explore all the islands, hidden beaches and fishing spots in the fjord.
Fabian
2016-08-27T00:00:00Z
Our family of 4, including 2 kids, stayed here in July 2015. The house is very comfortable and spacious and located in a beautiful place - the pictures don't lie! We liked being close to nature in a quiet, relaxing place which is nevertheless close to shopping areas and to Haugesund. If you travel there with family to participate in the Ironman 70.3 like we did, we can warmly recommend this place. Before our arrival we got a concise, informative phone call and together with the directions and brochures in the house, this made it very easy for us to get settled and start exploring the area. Thank you for a perfect stay in Norway!
Stefan
2015-07-07T00:00:00Z
Nous sommes restés une semaine à Aksdal avec nos trois enfants et nous avons été très contents de notre séjour. Merci à Birgitte et à Edward d'avoir été présents à notre arrivée. Ils nous ont donné plein d'explications sur la maison et sur la région. C'est une très belle maison, très bien aménagé dans un très beau site. C'est une maison idéale pour passer du bon temps indépendamment de la météo. Merci de mettre à disposition les canoés et le bateau. Notre séjour nous a permis de visiter Haugesund, l'île de Karmoy, le Preikenstolen et le glacier de Buer. Merci encore à nos hôtes pour leur acceuil.
Magali
2015-07-26T00:00:00Z
Typ av rum
Eget hus/egen lgh
---
Typ av boende
Hus
---
Plats för
8
---
Sovrum
Aksdal, Rogaland, Norge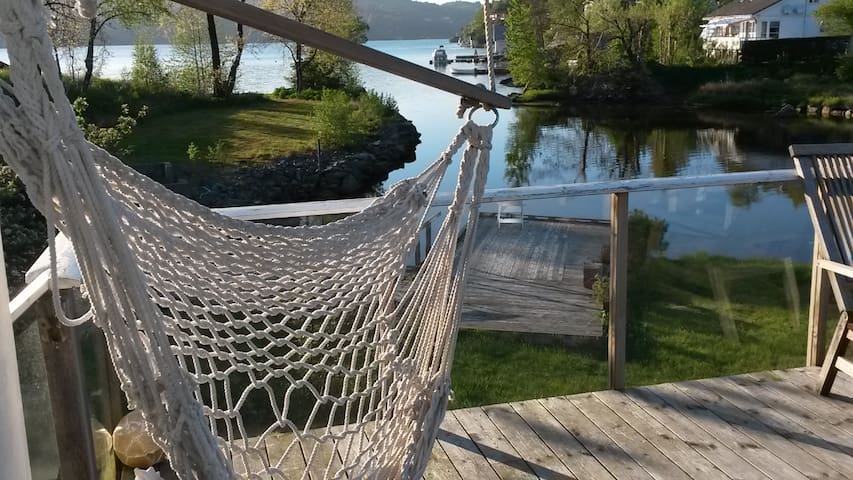 Tysvar - Airbnb
:
I genomsnitt

5

av

5

stjärnor från

24

gästomdömen