Andel av hus i söderläge. Omgiven (eller snö), vacker och som rapporterar till de verkliga rötterna av berget. Upphettningen e'assicurato stor parlour (värme som alstras genom förbränning av trä) och av ekonomiska kök. Öppen spis. Lämplig för dem som älskar direktkontakt med den sannaste naturen.
Stor öppen planlösning bottenvåning med stora, typiskt, salong, kan värma hela huset samt en kamin. Värme anförtros dem: det finns inga radiatorer Men tro mig, kommer värmen inte missa!. Det finns en öppen spis, även visuella bell'impatto. mycket stort träbord inne, kan göra unika är luncher som du middagar. Utanför, om vädret tillåter, det finns en stor grill och en lika stor bord där bara göra din grill! Bottenvåningen klinkergolv är i monokultur, trapporna som leder till första våningen och samma trägolv
Gården är isolerade. Staden, Castello Tesino, mycket vacker, ligger 6 km bort
Typ av rum
Eget hus/egen lgh
---
Typ av boende
Annat
---
Plats för
10
---
Sovrum
Celado, Castello Tesino, TN, Italien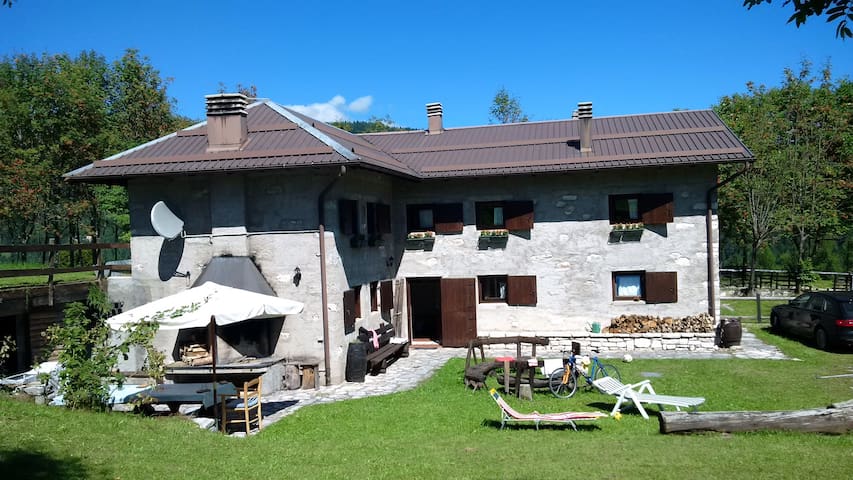 Splendid helrenoverade stuga, nedsänkt i naturen; perfekt för dem som vill koppla av eller ta långa promenader. Huset har anläggningar för utomhusaktiviteter som en öppen spis och solstolar och ett par bordsspel för underhållning. Det är 10 minuters bilfärd från centrala Enego.
Stugan är spridda över fyra våningar, består av bottenvåningen med kök (som har över spisen, en vedspis), stor öppen spis, liten sittgrupp med soffa och TV, duschrum och tvättstuga. Den första våningen uppdelad i två rum, ett med möjlighet till fyra enkelsängar, den andra med en dubbelsäng och en enkelsäng och en balkong med utsikt över bergen; på vinden finns en annan dubbelsäng. Alla tre rum är utrustade med garderob. I källaren finns ett lager utrustat (det finns även stövlar i fall du inte har), med liten källare och badrum med tvättmaskin (endast handfat och toalett). På utsidan av huset finns en grill och det finns möjlighet att äta ute, ta bort bordet, tack vare ett stort parasoll / lusthus. Dessutom på lagret vi har lite sol, som kan användas i trädgården för solbad. För den öppna spisen kommer grillen och spisen hitta allt virke du behöver, tillhandahålls av oss. Webbplatsen är omgiven av skog och vidsträckta ängar. Området är också utmärkt för svamp (speciellt trumpinnar), surkål och andra berg örter. Detta är en plats inte bara för dem som vill koppla av med fågelsång under dagen, underbara stjärnorna på natten, rådjur som ibland kan ses: det är också en plats för långa promenader lämpar sig för unga och gamla.
Naturen är det som omger huset, lämplig för dem som älskar fred och vandring.
Het huis is fijn, we hebben het er goed gehad ! Heerlijk gebbq, en s'avonds hout vuur gemaakt. Prachtig uitzicht lekker gewandeld met de honden. Alleen het lijkt op de foto dat het huis alleen staat. Dit is niet het geval op 20 meter afstand is er een houten huis waar in de weekeinde mensen verbleven. Verder staan er iets verder ( 50 meter rondom) op de berg diverse andere woningen. Sommige worden bewoond of hebben weekend gasten, die soms veel geluid overlast gaven. 2 badkamers is overdreven. het is 1 badkamer en een extra toilet met wasbak in de kelder alleen buitenom te bereiken. daarom vindt ik de prijs per nacht behoorlijk hoog ! Het plaatsje Enego is erg leuk en relaxed. Ga vooral eten bij Sette Teste en la Bionda
Caroline
2016-08-07T00:00:00Z
Era in un posto così che volevamo trascorrere le nostre vacanze in montagna con i bambini! La baita è splendida, il posto è fantastico e l'accoglienza di Fabio e della sua famiglia è stata a dir poco eccezionale. Spero di poterci ritornare. Grazie Francesco e Cristina
Francesco
2016-08-15T00:00:00Z
Fabio a été très accueillant et sympathique avec nous. Son chalet est très beau et parfaitement adapté aux vacances dans les montagnes. Merci beaucoup. Grazie molto.
Jens
2016-08-31T00:00:00Z
Fabio was a Really friendly and helpsome host - we enjoyed the stay in the house in the mountains where nothing was missing. A greate place for a holiday - even if you are into hiking, biking or relaxing!
Nicoline
2016-07-09T00:00:00Z
Fabio was responsive to all of our enquiries and met us in the village to take us up to the chalet. The chalet is in a very beautiful and unique setting but is not easy to get to without a car. The chalet is well fitted out and a very comfortable place to relax and enjoy the scenery or go on a ramble along one of the many walking tracks. It was the perfect way for us to wind up our holiday. Thank you Fabio and family for making our stay such a memorable experience.
Jacqui
2016-09-11T00:00:00Z
Siamo stati molto bene, la baita è immersa nel verde ed è tranquilla. Fabio ci ha accolto con (URL HIDDEN) casa si trova vicino al paesino di Enego nel comune di Asiago e da li si possono fare diverse escursioni e visitare bei posti.
Anna
2016-07-17T00:00:00Z
We had a wonderful time at the house. It was perfect, exactly as in the photos. We stayed here with a 2 and 7,5 year old and even though the weather was not great, we enjoyed ourselves very much. The wood-burning stove worked really well and roast beef & potatoes in its oven turned out perfect. Great mountain house. The area is beautiful.
wieske
2016-06-12T00:00:00Z
Typ av rum
Eget hus/egen lgh
---
Typ av boende
Stuga
---
Plats för
9
---
Sovrum
Grigno, Trentino-Alto Adige, Italien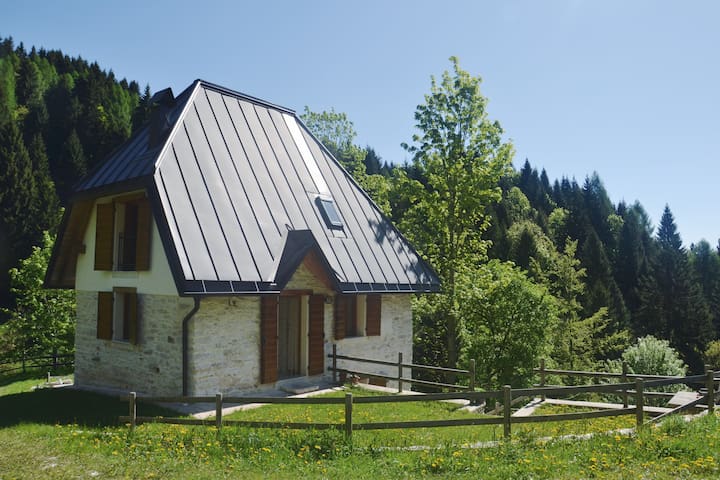 Independent and private house, entirely for yourself, surrounded by nature at 1.100 masl; the house is a typical mountain hut and it is situated in one of the most famous mountain pastures of the area. It is the ideal place for people who love nature and mountain. The house is available from the beginning of May 'till the end of October. In the Winter season (November to April) it is not available, since the access road is close due to high snow.
The house is made of three floors. The main structure is made by: a ground floor, where you can find a kitchen with fireplace and a bathroom with shower; a first floor, where you can find a bedroom with double bed (possibility to add a cradle); a second floor/ attic, where you can find a second bedroom with three beds. All the three floors are communicating, connected by stairs, and are heated by a wood stove. Separated from the 'main structure' described above, there is also a separate room with private bathroom; it is situated at the first floor and it is entirely made of wood. It is a completely independent room or studio, where you can find a double bed, a sofa bed and a private bathroom with shower. Towels and sheets are included in the price. In the back of the house you also have a big terrace in front of the wood; moreover, there are a fully equipped warehouse, a woodshed and plenty of private space to park your car. The house is surrounded by a big courtyard with grass where you can eat or rest.It is the woodland that frames the entire owned mountain pasture reserved for guests. The peace is absolute. You can enjoy the scenery on a fine day, the stars at night, you can hear the rain, wake up with the singing of the birds and if you are lucky, you can spot deer and wild stags grazing in the surrounding landscape. No shortage of mountain, philosophy, art and photography books, magazines and comics. There is equipment for outdoor activities and leisure and a telescope to be used with great care, in the beautiful starry nights.
The lodge and the mountain pasture are on the border of the historic First World War between Italy and the Austro-Hungarian Empire. You will find many consulting historic and geographic guides to explain the Asiago Plateau, the Trentino and Veneto regions and the Dolomites. In addition to detailed maps of all the trails in the area including the famous Trail of Cippi which traces the historic border of the war and runs just a few metres away from the lodge.
Das Haus ist sehr ruhig gelegen am Ende eines Tales, das etwas abenteuerlich in 10 min Fahrt von Enego zu erreichen ist. Die An- und Abreise klappte gut, wir wurden in Enego von einer Bekannten von Giampetro abgeholt. Das Haus hat eine kleine Küche und ist recht gemütlich eingerichtet. Der Warmwasserboiler wird mit Holzfeuer beheizt, da wir im Juni noch etwas Regen hatten, war es angenehm die Küche zusätzlich noch mit Feuer zu heizen, da es noch recht feucht im Haus war. Es gibt aber auch eine kleine mobile Elektroheizung im Haus. Hervorzuheben ist die Ruhe und die Einbettung in die Natur des Hauses. Die Zimmer waren bequem und geschmackvoll eingerichtet, die Betten eher hart. Tipp: bringt viel Lebensmittel zum Kochen mit, dann müsst er das Haus nicht unnötig verlassen. Ein Gasherd ist vorhanden. Wir würden gerne wieder kommen, da wir inzwischen eine kleine Routine im allmorgendlichen Holzfeueranmachen gewonnen haben. ;)
udo
2016-06-18T00:00:00Z
Wir waren begeistert von Giampietros Unterkunft. Die Zimmer sind gemütlich und draußen ist es traumhaft. Der Boiler für warmes Wasser wird mit Holz beheizt, eine Aufgabe, die unsere Männer begeistert in die Hand genommen haben. Das Haus ist so liebevoll eingerichtet und es gibt viel zu entdecken, sogar ein großes Spiegelteleskop! Im Haus fühlt man sich wie zu Gast bei Freunden und nicht wie in einer typischen, eher leeren (nur möblierten) Ferienwohnung. Giampietros Cousin Giacomo hat uns den Weg zur Hütte gezeigt und war sehr freundlich. Danke Giampetro, dass du deine Hütte zur Verfügung stellst!
Joanna
2015-06-12T00:00:00Z
This is a fantastic place if you are looking for a place way out off everything. The house is cozy and warm (if you chop wood beforehand) and its just so quiet since there is nothing around. You do need a good car to come up here though. Enego and the Chalet are high on the mountainrange and you want to have a strong enginge here. There are beautiful walks to do and Giampetro is a very nice host helping out with tips around Eneo (e.g. the famous Mount Grappa is just around the corner). Make sure you have stuff to read with you if the weather is chilly and rainy (which happend to us in mid-october). Its a beautifl retreat for at least two but also small groups might be able to have a weekend-of-friends out here!
Johann
2014-10-23T00:00:00Z
We stayed in Giampietros Chalet for four days and had a wonderful time. Meeting his cousin Giacomo worked perfectly and he showed us the way to the house and the house itself. The rooms are well arranged and the kitchen/living room is very cosy. There are lots of nice details to discover and we felt extremly comfortable there. The kitchen is well equipped. For example, there are Bialettis (Italian coffeemakers) in all sizes, sharp knives, enough chopping boards, pots, dishes and cutlery, and so on. The stove works with gas but the oven electically (ideal combination) and heating the room and water with wood was a nice experience. Moreover, there are some comfortable deckchairs available, which were nice to just sit outside and enjoy the sunny afternoons. And if it gets a bit chilly, there are many blankets available, too. We could also make a barbecue outside, for which we bought some super tasty meat in the village. More recommendations for food are salami and cheese typical for Enego. We bought both in the village, too and were very delighted about it. We were four adults and a little baby and felt the house had an ideal size for all of us. Maybe one or two people more would work well in the sleeping rooms, but I think it would become a little narrow in the kitchen then, especially in case of a rainy day. We definitely enjoyed the relaxing days in Giampietros Chalet and will keep this in our wishlist to come back one day!
Erika
2015-09-08T00:00:00Z
When we told the owner of the B&B in Venice that we would continue our stay in Italy in Enego, she somewhat frowned her eyebrows. We explained that we were looking for some peace and quiet after a few days of Venice touristic busyness . And that is exactly what we found at Ciampietro's mountain house . Beautifully situated in the wooded mountains, a 4 kilometer's drive, of which 2 on a sometimes steep dirt road, from Enego's center. Ciampietro's nephew picked us up at Enego's church and showed us the way to the house since it does not have an official address. We were welcomed with a tasty gift with cookies, honey and jams. A nice way to start our stay. The house itself is, somewhat primitive but well maintained. For example, the water boiler is wood heated. It all works well and for us it adds to the experience of being out in de woods. The house is big enough to house at least 7 people in three bedrooms. One of these is extra luxurious, with a private bathroom. Seemingly only available after consultation with the owner. Other people also referred to this in their reviews. We found the "standard" bedroom to be more than sufficient . We really enjoyed our stay at this secluded house in the mountains. And we would certainly recommend it to everyone looking for a beautiful quiet place to stay a 2 hour's drive from cities like Venice, Padova, and Verona. Best regards Lai and Maarten
Lai
2015-05-17T00:00:00Z
We had wonderful 5 nights at Giampietro's mountain lodge. Ulla met us at the church in Enego and took us to the house. She gave us brief instructions about the technical details of the house. Giampiedro's descriptions on the Airbnb page are very accurate and the house gave us the impression to arrive at home, everything we needed was where we looked for it like the toaster, the citrus press, the towels, the blankets and all the things you need to be comfortable. All equipment in the house has been installed or renovated with great care and we truly had a great deal of respect for the craftsmanship that had gone into the renovation of the historic farm house. It was cold outside when we arrived but the ground floor wood cooker did a good job and also warmed up the rooms above. The hot water boiler also runs on wood and after the first round of heating up the water it became routine. Hot water and shower work very well. We did not use the big separate room with its own bathroom and it was not heated by the wood cooker. In the kitchen there is also a gas stove for cooking which we did not use. The setting of the house is very unique and in the middle of the woods on an open meadow. The only sounds were cuckoos, other birds and deer. For the first 3 days we did not see another person nor a car. On the weekend we met the neighbors and had a nice chat in a wild mixture of Italian, French and English. The Enego village is about 20 min away driving very slowly on a narrow single lane gravel road (in some parts paved). Passing oncoming cars can be very tight. Enego has all you need like restaurants and shops. The village hangs on a cliff some 25 hairpin curves up form the valley bottom. Hiking trails start right at the lodge and we hiked up to Fort Lisser (WW1). Other trips took us on climbing trails in the close vicinity. Giampiedro had sent us web links ahead of our trip but he also has a good selection of hiking trails in the house library. We will come back!
Schaller Family
2016-05-23T00:00:00Z
Die Unterkunft in den Bergen bei giampiedro ist einfach nur der Hammer. Die Hütte steht einsam in den Bergen, 10 Minuten Fahrzeit vom Bergdorf Enego entfernt. Die Anfahrt gestaltet sich zunächst über gepflasterte Wege, die letzten 5 Minuten jedoch Wald-und Wiesenweg. Wer diese Unterkunft wählt, kann sich sicher sein, einen sehr ruhigen und erholsamen Urlaub zu verbringen. Ein Ort, an dem man Vögel fliegen hört. An sonnigen Tagen klappt der Handyempfang vor dem Haus gut, sonst muss man ein Stückchen laufen. Das Haus ist gut ausgestattet. Es war genügend Holz zum Heizen da, der Gasherd stand auch zum Kochen zur Verfügung. Als deutscher sollte man wissen, die Italiener schlafen mit sehr harten Kopfkissen... Also evtl ein eigenes mitbringen. Alles war sauber. Der Kontakt hat gut funktioniert. Wir haben Giampiedro kennengelernt und er war sehr nett. Er hat uns ein paar Wanderstrecken empfohlen. Für eine Woche wandern und etwas ausruhen ist e die perfekte Location, fernab vom Massentourismus. Selbst im Dorf haben wir unseren Käse, Wurst und Fleisch mit Händen und Füßen gekauft. Mit englisch kommt man hier nicht weit. Aber genau das sollte es ja auch sein, Urlaub da wo auch die Italiener Urlaub machen.
Janine
2016-08-28T00:00:00Z
That is what i call a perfect vacation ! We Enjoyed a peaceful, calm, quiet amazing time in Giampietro Chalet. Back to nature. Back to the elements of Earth. Makes you feel connected to yourself again. And without any gadgets, internet. It feels like constant meditation being there in the heart of the wild nature. I was drawing, writing, reading so mush :-) Walks in the wood during the sun rain or fog makes it even more mystical. Definitely will come back for more..! Highly recommended! Thank you Giampietro & Giacomo See you soon. Yotam / Amnon
Yotam
2015-09-28T00:00:00Z
Typ av rum
Eget hus/egen lgh
---
Typ av boende
Stuga
---
Plats för
7
---
Sovrum
Enego, Veneto, Italien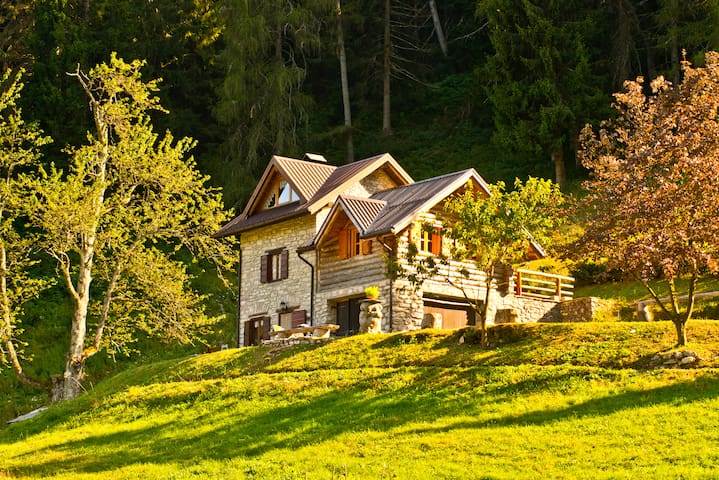 il b&b dispone di due camere da tre letti con bagno privato, con un piccolo suplemento e possibile usare la cucina,gli ospiti devono apettarsi un posto mondano imerso nella natura,
Typ av rum
Eget rum
---
Typ av boende
Bed & Breakfast
---
Plats för
3
---
Sovrum
Valli del Pasubio, Veneto, Italien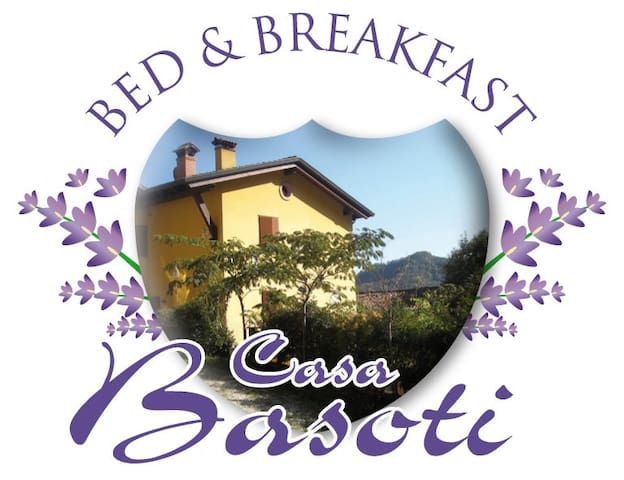 Val Sugana - Airbnb
:
I genomsnitt

4.5

av

5

stjärnor från

29

gästomdömen
Ange datum för att se full prissättning. Ytterligare avgifter tillkommer. Skatter kan tillkomma.