67 Uthyrningar av lägenheter
This is a newly remodeled and appointed 2 bedroom efficiency apartment situated upstairs over a historic house at the bottom of the Ski Valley Road. This property belonged to William Fraser, a mining engineer, whose mines were the forerunner of the Taos Ski Valley in the late 1800's. It's located 8 miles from the Taos Ski Valley and 8 miles from Taos Plaza, and has a private entrance. There are great views of the mountains and pasturelands along the Hondo River.
This efficiency apartment is equipped with a kitchenette which is connected to the main living room area. The kitchenette is not set up for large family meals, but is equipped with an induction cooking set as well as with an electric skillet. Should you need more cooking space you will be welcome to use my kitchen which is a fully equipped kitchen.The apartment is well organized and highly functional to make temporary living comfortable. As an Efficiency the bedrooms and bathroom are separated. The property is 1/4 mile from the Ski Valley Road and the entrance to the National Forest. Hiking, biking, and cross-country ski trails are close by and it's a well-known area for artists who come to set up their easels to capture the inspiring surroundings. The historic and picturesque villages of Arroyo Seco, Arroyo Hondo, and Valdez are close by.
We had a literal 2 minute delay in finding the place because of my own navigating, but the owner answers the phone immediately and is on the spot with any questions or concerns you may have. Beautiful home with a great view of the mountains, deer may come up to your front porch viewing area; we were there for 3 days and saw them everyday. The pictures don't begin to show all of the amenities offered here. We wanted to be able to cook our own meals for our trip and he has everything you'd need right there. Very friendly without intruding, and the place was perfect! All in all amazing experience for us!
Daniel
2017-02-12T00:00:00Z
The host canceled this reservation 25 days before arrival. This is an automated posting.
LINDA
2016-12-04T00:00:00Z
We had a wonderful vacation experience at Charles truly peaceful setting. Charles welcomed us with all his heart, and answered any questioned we had within 1h or even earlier. He was very helpful. We are a family of four and truly found what we were looking for. Charles place had perfect space for all of us, and the kitchenette had everything we needed. If for some reason we needed more, we were offered to use a full size kitchen downstairs. His charming place is at a perfect location!! Just at the foot of the mountain to the Taos Ski Valley Resort about 8 miles, and about 8 miles into Taos. We loved everything about our stay, and would recommend it with 5 loaded stars. We will be back!
Andrea
2016-12-28T00:00:00Z
Outstanding!!! Our stay with Charles was perfect. The unit was immaculately clean and exactly as described. Charles is very personable and seemed genuinely concerned that our stay was top notch. I would highly recommend Charles's place to anyone visiting the Taos area.
Chuck
2017-03-05T00:00:00Z
Charles is a great host! I booked his apartment for my husband and kids. They enjoyed their stay a lot! Thank you Charles!
Jenny
2017-03-17T00:00:00Z
Typ av rum
Eget rum
---
Typ av boende
Lägenhet
---
Plats för
4
---
Sovrum
Valdez, New Mexico, USA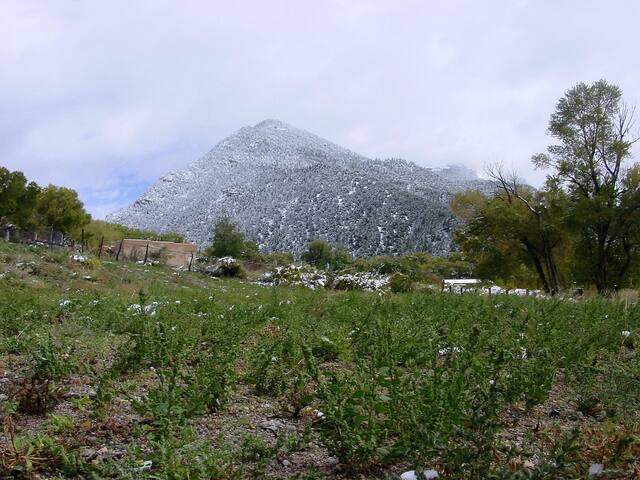 You'll love my place because of Its ideal location at the foot of the mountains off Taos Ski Valley Rd, just minutes from Arroyo Seco, Taos Ski Valley and Taos. It is the perfect blend of convenience to amenities, and the country road feel of Taos that most nightly rentals don't offer. My place is good for couples, solo adventurers, families (with kids), and furry friends (pets). It has lots of great light all day long, with fabulous mountain views and a short walk to the Rio Hondo River.
Located in the rural and scenic Valdez Valley. There are few rentals here and no hotels, so you will be hanging out with the locals.
Typ av rum
Eget hus/egen lgh
---
Typ av boende
Lägenhet
---
Plats för
4
---
Sovrum
Valdez, New Mexico, USA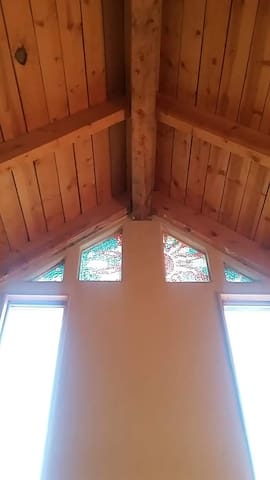 Hi! Thank you for looking at our casita! Our casita is close to art and culture, parks, the city center. Taos Plaza and shops, restaurants and galleries are in walking distance. About 5 minutes away. You'll love our place because of its on a quiet street in the heart of historic Taos. Our casita has a living room/kitchen, full bath and bedroom with a king size bed. Its nice and quite, fully furnished and has a full bath with king bed and a sofa couch.
While the casita shares a common wall with the main house you have complete privacy. You have your own entrance into the fully equipped casita. This is not a space shared with your hosts. Just a common wall In a quiet neighborhood it is a short walk to downtown galleries, shops and restaurants!
Our casita is on a quiet street about a 5 minute walk to the Plaza. There is an adobe wall in the front of the house for privacy and a good size back yard. walking out the back gate leads you to the main street through Taos and there is a new bakery restaurant that just opened up very nearby.
Perfect for us. A couple with 1 child. Plenty of room. Comfortable accommodations. We would stay here again. Really nothing negative
Steaven
2016-12-22T00:00:00Z
Joni's place is just as described in the listing, a very nice base to explore Taos. It is very conveniently located not far from the main street of Taos and the plaza. It was very quiet at night also. It has everything you might need if you want to cook too. We would certainly stay there again. Joni was very accommodating considering we booked the wrong date and arrived one week earlier than the booking! She was very gracious and luckily for us there was no one else arriving that night! Overall it was a very good experience, especially considering our mistake in the booking.
Martin
2016-10-18T00:00:00Z
Very comfortable and cozy! Great location too!
Chad
2016-12-28T00:00:00Z
Great location in Taos. Could walk everywhere. Loved the king sized bed.
Judith
2017-03-23T00:00:00Z
Great little place to stay while in Taos!
Elbert
2017-03-29T00:00:00Z
Joni's house is very comfy and a real taste of the town. Everything you need is provided. And you are within a block of the main drag with shops, restaurants, and museums. We had a great stay.
Mike
2017-02-23T00:00:00Z
This casita is absolutely adorable and centrally located next to Taos plaza. We loved staying here and would definitely return! We didn't get to meet Joni personally, but she was hospitable and very responsive during the check-in process. Thank you!
Danielle
2017-02-14T00:00:00Z
The place was just as described. It is comfortable with plenty of blankets for the pullout bed. It is a short walk to the plaza and centrally located. I enjoy being able to enter a space without having to contact the owner. She had clear instructions to check in and to get access to wifi.
Isaac
2017-01-09T00:00:00Z
Typ av rum
Eget hus/egen lgh
---
Typ av boende
Lägenhet
---
Plats för
4
---
Sovrum
Taos, New Mexico, USA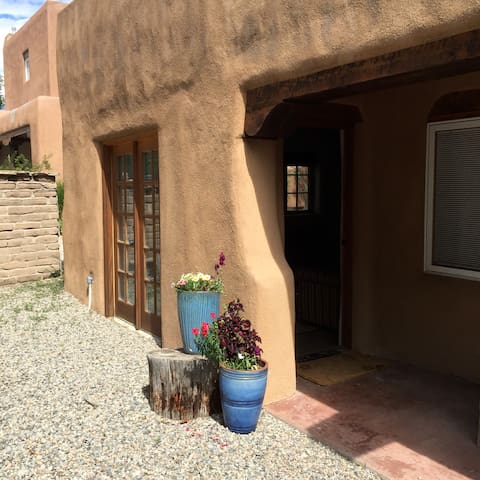 GREAT FOR A COUPLE/SMALL FAMILY. OUR ONE BEDROOM CONDOMINIUM IS SO ADORABLE (And two studio sofas make into single beds). YOU WILL ENJOY THIS COZY PLACE ANY SEASON. COMFORTABLE LIVING & KITCHEN. EVERYTHING YOU NEED. ENJOY SHOPS, GALLERIES & RESTAURANTS TRULY STEPS AWAY. SHUTTLE TO SKI is at the corner. We accept family pets BUT YOU MUST TELL US IN ADVANCE......AND YOU MUST LEAVE $35.00 TIP FOR CLEANING STAFF (cash or check).
COMFORTABLE FOR A COUPLE OR SMALL FAMILY. OFF STREET PARKING. GROCERY IS A WALK TO THE CORNER. BEAUTIFUL TREES AND GARDEN.
GREAT COMMUNITY.
Lilly was wonderful She communicated via text to ensure I had directions and instructions. She was leaving the condo when I arrived. She was there to ensure that everything was in order for my stay. It was! The condo was well stock with anything one would need for a stay. It was comfortable. The condo is in a great location, close to everything and in a very pleasant setting. It could not be better. I will definitely stay there again if it is available.
John
2015-10-13T00:00:00Z
Nancy was a great host. She communicated with us about where the property was, how to get in, and how to walk to the plaza. She also let us know when the cleaning from the prior guests was done so we could get into the property. Everything was great at the actual property. Perfect for us and our dog and a great price for the location! It was very easy to get to the plaza and great places to eat!
amanda
2014-11-06T00:00:00Z
The place is really nice and cozy and Nancy is a really good host. We had a great time here. We would definitely go back!
Gustavo
2016-10-16T00:00:00Z
My girlfriend and I were in town for four nights to meet friends from Santa Fe and Albuquerque and wanted accommodations near the center of things without the hotel tourist feel and prices. Lilly's place was perfect. The condo was as advertised - maybe a bit cuter. The decor is a perfect reflection of Taos's arty, quirky culture. It's small, but perfect for two, and fits four comfortably, if snugly, as we discovered when two friends opted not to make the drive back to Santa Fe one evening and stayed with us. The private patio made morning coffee a treat! A short, quiet walk down a side street or two brought us to the central town plaza, with all the main galleries and restaurants in easy walking distance. We didn't meet Lilly during our stay, but she was a gracious and attentive host via email, from initial booking to sign off at checkout. We'll definitely book here again when we're back in town!
Ray
2015-06-15T00:00:00Z
This one bedroom condo is a convenient few blocks from the square, clean, comfortable, adorned with a collection of southwestern artifacts, and stocked with everything you could need from coffee to hairdryer, iron, etc. We especially enjoyed the bowl of fresh apples in the fridge. Nancy's warmth shone through her welcoming messages and helpful directions.
Rebecca
2015-11-01T00:00:00Z
Nancy was fantastic and her home is beautiful, its filled with great artwork and truly feels welcoming and warm. Great walkability to everything and we enjoyed all the extra touches like quality soaps and the offer of teas etc
Cory
2016-08-01T00:00:00Z
A funky artsy New Mexico feel. Convenient to Plaza and a grocery store. Lovely courtyard. Full kitchen. Large shower. So much clutter. Two futons in the living area were so low it was difficult to get up. The whole place needs attention. This condo is better suited for the younger crowd.
Pat
2015-10-06T00:00:00Z
I highly recommend staying at this charming condo. Nancy Lilly was very helpful sending instructions for check-in and directions well in advance of my stay. (She was also very accommodating and kind when my husband had to contact her on my behalf because I'd locked myself out of the condo, phone inside, within two hours of arriving.) The location is definitely within walking distance of the Plaza, either up the main road, or a back way with less traffic. The condo itself is very cute and has nice outdoor space, with a private little patio out back, or the lovely shared courtyard in the center. All in all, a great base for your visit to Taos!
Bridget
2015-10-04T00:00:00Z
Typ av rum
Eget hus/egen lgh
---
Typ av boende
Lägenhet
---
Plats för
4
---
Sovrum
Taos, New Mexico, USA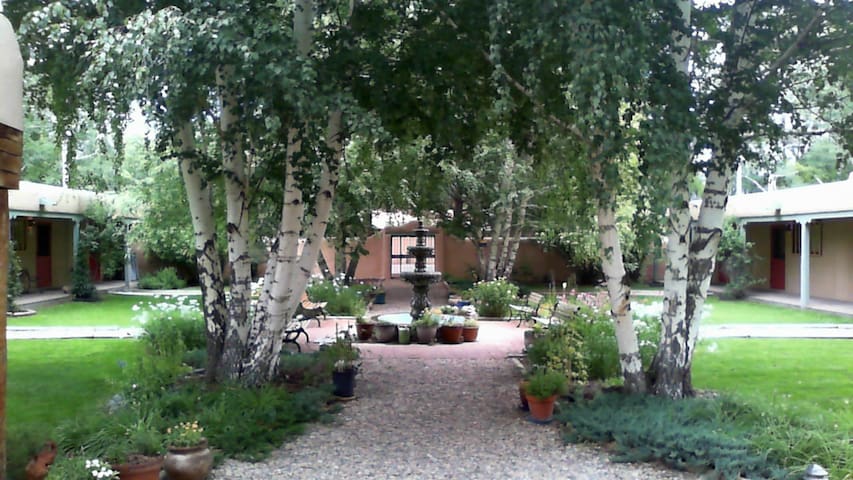 Come and bask in the snow, sunshine and fresh air of Taos, and take in the beautiful light and richness of northern New Mexico. Enjoy the artistry of the intimate studio, and close proximity to the Plaza, the heart of Taos. Hope to see you soon!!
Our private adobe studio has a full bathroom, stocked full kitchen and beautiful architectural features. It is cozy, quaint and comfortable for two people with lovely views! It has a very satisfying and easily operated full-size IKEA pull-out bed with plenty of linens, towels, and a down comforter. Parking is provided on-site, near the casita. Valverde is a quiet neighborhood street, with open-space Sunset Park bordering the western side of the property. It is within walking distance to the Historic Taos Plaza, the world-renown Honuman Temple, and has easy access to shopping, galleries and restaurants. Taos Ski Valley is a 21-mile drive away, or take the Taos Chile Line Shuttle for $1 each way which picks up about 1/2 mile from the Studio. Other nearby attractions include the Rio Grande Gorge Bridge, Twirl Toy Store and Playplace, the Kit Carson Home and Museum, Taos Pueblo, the KTAOS Solar Center, the Harwood Museum of Art, the Millicent Rogers Museum, and thousands of acres of National Forrest and hiking/cross country skiing trails. Cid's Market, a natural food grocery store, is also a walkable distance or a short drive away. We love animals, and allow pets on a case-by-case basis, with a required $15.00 cleaning fee for pet guests. We ask that you respect our space and property and clean up after your pet. This is also a non-smoking environment. Please do not smoke inside, or near any open doors or windows. Thank you!
This is a great, quiet neighborhood, with a classic Taos feel. It is safe to walk around and close to many of the unique sights Taos has to offer!
Wonderful little spot. Great location. Ken went above and beyond to make sure we had everything we needed. Thanks. Def. recommend
Jason
2015-09-06T00:00:00Z
Ken was very accommodating at the last minute. His place was clean and charming! I'd definitely consider staying again!
Andrew
2016-05-07T00:00:00Z
Ken is the best host. He is in contact so quickly and is so kind. The casita? If you are looking for charm, location, accessibility, quiet, a cozy and artistic ambience--all with a kitchen, parking, and privacy,--close to Cid's market for everything you need, this place will make you very happy. I'm sitting here in the late afternoon sun with a breeze coming through the screen door, looking at great art in an adobe cottage with wood detailing, and a very welcoming collection of images of St Francis, Quan Yin, Native American, the animal world, and African masks. Hope to come back!
Tenzin
2014-08-21T00:00:00Z
Perfectly quaint studio. Easy walk to the plaza, restaurants, and grocery store. Fell asleep each night listening to the coyotes! Will definitely be back!
Leawna
2016-09-21T00:00:00Z
I didn't meet Ken, but we communicated about my arrival, and a key was "hidden" for me. The space is small and kind of run-down, but in a way that lends it charm. The location is easily walkable to the historic center of Taos. I think this was an ideal space for one night, but I'm not sure it would be ideal for a longer stay. The sofa converts to the bed (it's a very comfortable futon mattress), and I had to make up the bed myself (linens and blanket were folded up in a pile). When the bed is opened up, there's not a lot of room to maneuver, and I wouldn't want to deal with converting it from sofa to bed and back every day. If you don't mind that, or if you're only staying one night, I highly recommend staying here.
Lane
2015-05-16T00:00:00Z
A great place with tons of Taos charm! Nice and close to downtown. The sheet were fresh and the bathroom clean. Wonderful little stay.
Lauren
2016-03-31T00:00:00Z
Perfect location for exploring Taos area. Everything you need in a cozy small space. Recommended.
Ann
2016-09-02T00:00:00Z
This place was so charming. You can see that thought was put into making the space accommodating and beautiful. I came in after several days of camping in stormy weather and Ken let me check in early and hang my tent in the basement to dry. It was very much appreciated!
Lisa
2016-10-10T00:00:00Z
Typ av rum
Eget hus/egen lgh
---
Typ av boende
Lägenhet
---
Plats för
2
---
Sovrum
Taos, New Mexico, USA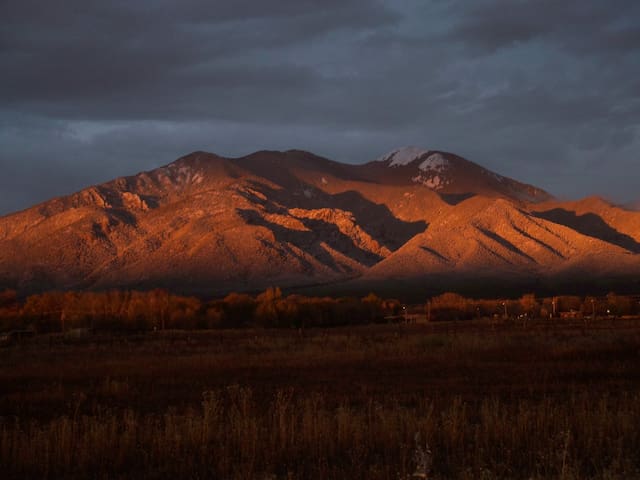 The lilacs meet the second floor bedroom windows of Casita de Lilas. Self contained and cozy this studio apartment is in Taos's Historic District. Shops and restaurants are around the corner and the Ski Valley is 18 miles away; you can catch the shuttle during ski season at the Plaza where, in the summer time, there are concerts and the farmers market. Lilas is great for couples, solo adventurers, and business travelers.
Lilas is a single room with queen bed, closet, sitting area, kitchenette, balcony and courtyard. The kitchenette has a small fridge (no freezer), 2 stove top burners, and sink--- no oven. Also has microwave and coffee maker. It's perfectly sufficient for breakfast and simple meals. Restaurants are all around and you can easily heat up take out meals if you don't feel like dining out. The bed is a very comfortable queen with a pillow top.
You are downtown right in the middle of things. Festivals usually occur at Kit Carson Park or the Plaza or the Paseo. All 1 to 3 blocks away. Shopping is around the corner, restaurants within walking distance. Dancing on the plaza is Thursday evening in the summer and the Farmers Market is on Saturdays. Yet, you are a mere 18 miles from the Ski Valley and the shuttle runs free in the winter from the Plaza.
Lilas was just precious. The decor is simple but homelike and fresh and clean. The bed was comfortable. Great location just a block from the plaza, with food options basically next door and across the street. I'd stay again for sure.
Brooke and Travis
2017-03-28T00:00:00Z
This is an amazing little casita right next to the plaza. Extremely clean and comfortable. Great for a romantic getaway! The host is super helpful and responsive. The dedicated parking space in the area is very helpful.
Garrett
2017-02-20T00:00:00Z
This was such a lovely place to stay. It was pretty and well designed. So convenient being right in town, but still peaceful and private.
Lisa
2017-04-01T00:00:00Z
Such a great spot to enjoy Taos from. We were able to walk everywhere. Having a parking spot was great. And the room! So welcoming and comfortable. Can't wait to come back.
Paskel
2017-03-21T00:00:00Z
The location is perfect for shopping and dining in Toas. Everything we needed was provided, the space was comfortable with obvious attention to details. We recommend it and will definitely be back.
Michael
2017-03-13T00:00:00Z
Typ av rum
Eget hus/egen lgh
---
Typ av boende
Lägenhet
---
Plats för
2
---
Sovrum
Taos, New Mexico, USA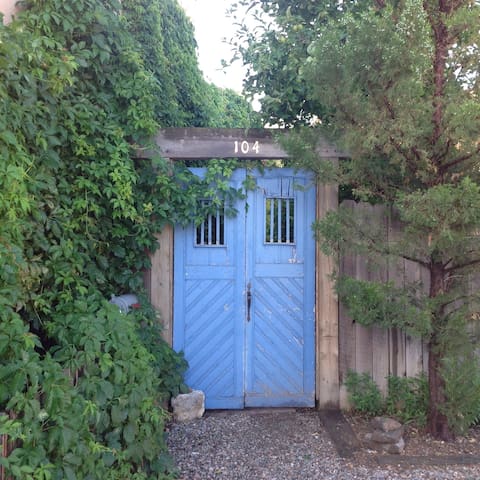 Walk to museums, galleries, concerts, restaurants, shopping, groceries. Catch the ski shuttle. Driving? This is a great central location for exploring the area. Go online to Taos with an org. and plan for an unforgettable New Mexico adventure!
A wonderful retreat, so close to the plaza. Get out and wander. It is a one bedroom condo best suited for two. It is very small. There is a queen size bed in the bedroom, and the second bed is a sleeper sofa in the living room. Let me repeat that--the second bed is a sleeper sofa in the living room. People have said they are both comfortable. It can work for a small family, if you don't mind being really cozy. There is a big basket of helpful information on things to do, with maps and brochures. We have done our best to fully furnish this condo for your comfort and enjoyment. The kitchen is stocked with all appliances, a four burner stove and oven, microwave, full size refrigerator. You can enjoy the remote controlled electric logs in the fireplace, without having to stay up or delay an outing, to let the fire burn out. Enjoy the private patio off the bedroom, or sit in the courtyard and listen to the fountain. If it is the snow season, build a snow man.
This is a quiet retreat in the heart of Taos. The tall trees, the fresh air, and quirky creative vibe just make me happy. It's easy to be yourself here, and maybe even find a better self.
Wonderful little place with everything we needed for a weekend getaway! Incredibly comfortable bed, super cute back patio to enjoy your morning coffee and bagels (and fresh-baked cookies, all graciously provided by Eileen!), and tons of information about Taos. Eileen went above and beyond to provide information about hikes in the area, as I casually mentioned we might do some hiking. I would definitely come back!
Terri
2016-05-16T00:00:00Z
We were so happy to have our neighbor Eileen set us up for our visitor's. Cookies and fruit were there for them. Very comfortable and very good communications all along! We will certainly be renting again!
NANCY LILLY
2015-07-24T00:00:00Z
Eileen was a wonderful host. She made us feel very welcome, and her condo was really nice. She we very responsive and easy to communicate with. Her place is exactly as described and we loved it. We would definitely stay again.
Nick
2015-12-31T00:00:00Z
Sweet little apartment with a great location. The host made sure the place was nice and clean with all the essentials (laundry detergent, clean towels, cooking stuff), which was very much appreciated.
Lucas
2016-02-12T00:00:00Z
The place couldn't have been better!! Eileen was a perfect host and made sure we were settled in. She provided thoughtful touches throughout the entire condo to ensure we were comfortable from beginning to end. I'd recommend this spot to anyone seeking a getaway! We will definitely be back.
Chris
2015-11-02T00:00:00Z
Eileen's apartment is close to downtown and down the street from Smiths grocery. We stayed three nights while skiing Taos and we enjoyed the fire and fully stocked kitchen in this apartment. The small apartment complex has off street parking.
Alec
2016-02-04T00:00:00Z
This unit was perfect. I had to work one of the day while I was there and the outdoor area provided a lovely spot with good access to WIFI. We were also located perfectly to explore Taos. Eileen has taken such care in her hosting and there were so many nice touches from fresh fruit, breakfast burritos, and cookies to making sure there was a flashlight by the door to help accessing the lockbox in the dark. I highly recommend this unit!
Kimberly
2016-06-13T00:00:00Z
Eileen left supplies in the refrigerator, and even had made fresh cookies! The facility is close to the main part of Taos. The furnishings are very comfortable and the decor is pleasing. And it was very clean! The only minor negative is the lack of an air conditioner. Not knowing how safe the area is, we were reluctant to leave the front door and the sliding bedroom door open all night for cross-ventilation.
James E
2016-07-29T00:00:00Z
Typ av rum
Eget hus/egen lgh
---
Typ av boende
Lägenhet
---
Plats för
2
---
Sovrum
Taos, New Mexico, USA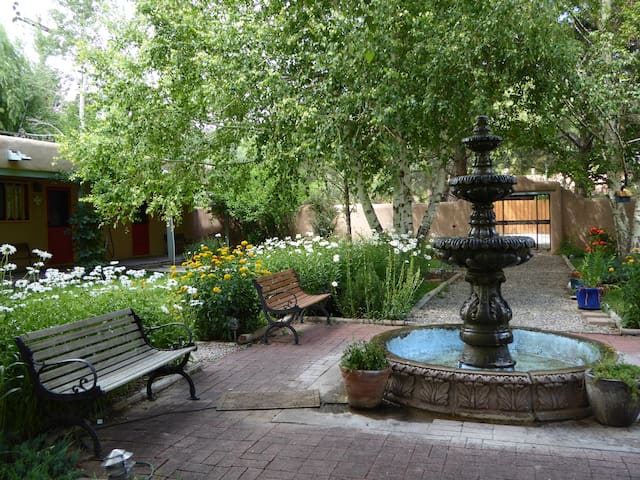 My apartment is a part of a duplex located in the desirable Kit Carson area. It's a ten- minute walk to the plaza and a two-minute walk to the Chile Line bus that can take you to TSV. The furnishings are eclectic, rustic, clean, and inviting. Small back/front yard. Two parking spaces available. Best suited for one person (twin size bed), sleeps up to three (pull out sofa). Bedroom gets lots of light. Living room stays on darker side but cozy. Lots of cook gadgets (Kitchen aid, dutch oven, etc.).
My apartment is extremely cozy. It has lots of books to read and the couch and pillows are comfy. The bathroom is small and bright with a stand-up shower. There is also a closet for extra storage space.
The Kit Carson Area is tree-lined, suburban, and quiet. It's one of the most sought after areas in Taos, NM.
This place is the best. One of the best Airbnb experiences ever. Would gladly stay here again
Trace
2017-03-19T00:00:00Z
Typ av rum
Eget hus/egen lgh
---
Typ av boende
Lägenhet
---
Plats för
3
---
Sovrum
Taos, New Mexico, USA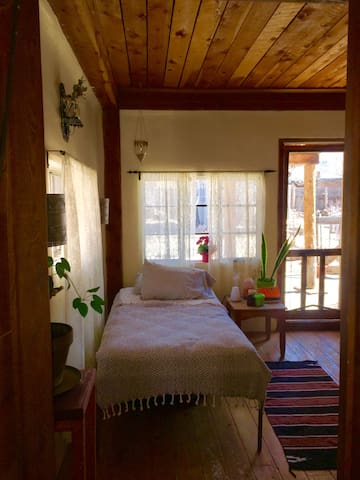 My place is close to Historic Taos Plaza. Only 6 miles away and located 13 miles from the world class skiing and snowboarding at Taos Ski Valley. Art and culture have been a main attraction to the area for over a century. World renowned Taos Pueblo is a continuously inhabited pueblo for the last 1000 years. They welcome guest to most of their celebrations and dances yearly. .
This is the finest sunset view in Taos. Has everything required for a peaceful, enjoyable stay
This is a very private 6 plex
Typ av rum
Eget hus/egen lgh
---
Typ av boende
Lägenhet
---
Plats för
3
---
Sovrum
Taos, New Mexico, USA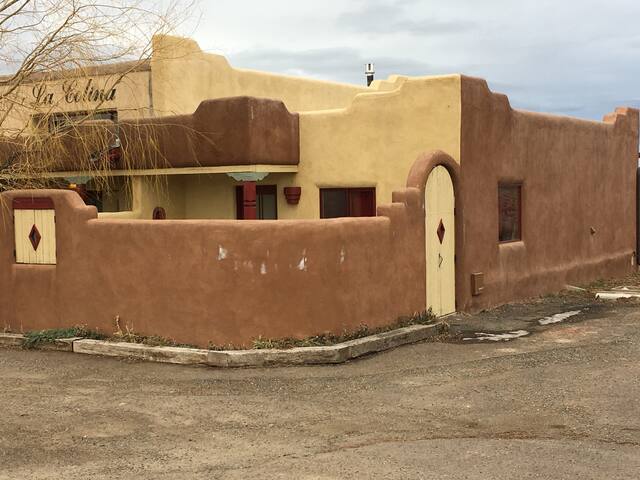 Tucked away on a quiet street a block from the plaza, this charming apartment is the cozy get away you've been looking for: truly a hidden jewel.
Best Casita is a hidden jewel only a block from Taos Plaza. It is part of a historical hacienda style adobe that once housed nuns working at Our Lady of Guadalupe Church. Newly and tastefully renovated, the interior was designed with comfort and convenience in mind, and it features high ceilings, a well appointed kitchen, oak floors, a kiva fireplace, and a cozy living area. An old apple tree and a plum tree stand in a small, grassy courtyard that feels almost Mediterranean in it's serenity. It is located on a quiet one-way street only one block west of the Taos plaza. Gas range and a large collection of cooking supplies. Nespresso machine with milk frother, French press, drip coffee maker. Toaster oven, panini press. French door refrigerator, microwave. Full size washer and dryer, heated bathroom floor, a gas heating stove and a kiva fireplace. Electric baseboard heater in bedroom, ceiling fans. Premium linens and a down comforter and pillows; a comfortable plush/firm queen mattress. Full sleeper sofa with memory foam topped mattress. High speed internet, HDTV, DirecTV, Blue Ray/DVD player, surround sound entertainment system, NetFlix streaming, Pandora/Spotify/Apple Airplay ready stereo system. Small wall safe, hair dryer. Large selection of books and games (backgammon, chess, dominoes, Scrabble, Apples to Apples, Old Maid, Memory, Anomia, Bananagrams, cards). The location of the apartment is one of it's greatest assets. From the front door, a five minute walk will reach twelve restaurants, dozens of galleries, the best coffee in town (The World Cup), Shree Yoga Studio, Smith's grocery store, the Bent Street shopping district, Ledoux Street, and of course, the Taos Plaza.
Marcus responded within a few hours of our initial request. Once he accepted it, he promptly provided all the information we needed and was thoughtful of our schedule. He met us at the apartment, and immediately made us feel at home. The apartment itself was updated, immaculate, well stocked/furnished (we cooked up a couple of our meals), and absolutely charming. The location can't be beat, but feels like you are in your own private oasis once you enter the courtyard of this once large family home.
Stephanie
2014-06-01T00:00:00Z
Marcus, a very amiable person, greeted us at the apartment, showed us around and explained how everything worked. He made excellent recommendations on what to see around Taos and where to eat. The Love Apple and El Meze were the two we tried and can only recommend them highly. He had left a bottle of wine as well as breakfast provisions for the next day. This is a very well appointed, spotlessly clean, stylish apartment. It was very neat ,tidy and uncluttered. As it has recently been meticulously renovated by Marcus everything is in new condition and has everything you would need for an extended stay. We only spent two nights so did not fully utilize all that it had to offer. The full size clothes washer and tumble drier were just what we needed after several days on the road. Very comfortable bed and quality linen. This is the sort of place that makes you feel you should light the Kiva fire and snuggle up with a good book. There are plenty available. The apartment is only a few steps away from the plaza but in a very quiet street. We did not hear any noise from the neighbours and only caught the occasional glimpse of them. Wi-Fi worked without problems. Prior to arrival Marcus responded promptly and helpfully to our questions. We support all the other positive reviews of this apartment and would highly recommend it. We wish we could have stayed longer.
Bruce
2014-03-28T00:00:00Z
One word: Awesome. Marcus has created such a unique, welcoming, relaxing, and beautiful space. The attention to detail is meticulous and appreciated. Everything had been finished and appointed so beautifully and functionally... So much thought and planning was clearly put into the overall architectural flow and design. It must be set apart from anything else -- we set the bar high, and this little place blew away our expectations. Marcus welcomed us into his apartment personally, and pointed out the little details about the space, as well as some of the best places to visit in Taos. We went with his recommendation for "The Love Apple" for dinner and were just blown away by the wonderful food and great service. This was my first time visiting Taos, as well as my first experience with AirBnB. I couldn't have been luckier to choose Best Casa... This dwelling really made our vacation so pleasant and memorable. It truly is a home away from home -- and we'll always remember it as such.
Jeff
2014-03-04T00:00:00Z
The casita was awesome. Stayed over the weekend, it was cozy, in a great location, and Marcus was a great host.
Mellina
2017-01-02T00:00:00Z
Marcus has a great place and is an excellent host. The apartment is beautifully renovated, very comfortable, and in a top-notch location. You can walk to the Taos plaza in just a few minutes. We will definitely be back.
Bryan
2014-07-03T00:00:00Z
What a wonderful experience! I felt like I had visited a family member and he had everything I liked. The space was serene, peaceful, calming, inviting and welcoming. I have heard that, "Silence is the language of God, anything else is a poor translation." The silence was filled with birds chirping, leaves blowing in the wind and fresh air. The ambiance of the home left me feeling as though there was no place else to be, but here. Supplies for anything you could want, for me having a candle near the bath and the Shampoo and Conditioner, the expresso Machine, the washer and dryer, the fruit, the wine, the seasonings, Thank you Marcus for making this stay so beautiful.
Kristine
2016-06-12T00:00:00Z
Marcus was great with making sure we had everything we needed upon check in and during our stay. We came in late so he arranged for us to get in on our own, and he was in touch throughout the week. The place is absolutely lovely and very quiet for being right in town! It has a super comfortable bed and a very functional kitchen. The heated tile bathroom is a wonderful plus, as is the toasty gas wood stove-like heater which is very efficient and makes the place cozy. We didn't get a chance to use the real fireplace, but hope to if we get a chance to stay again. Later in the week we met Marcus and really enjoyed chatting with him about Taos. Thanks Marcus! Looking forward to seeing you again.
Kellyrose & Lion
2015-02-15T00:00:00Z
Holy moly, everyone should stay in the Best Casa! This place is incredible, and Marcus is a deeply generous host. We arrived and met Marcus who is super-nice, and gave us a tour of the place. Everything in this spot is top-notch. It's honestly the nicest place I've ever been. It has everything you need to cook, relax and feel you're on vacation. Marcus even left us some fruits and yogurts for breakfast, and a bottle of wine for the night. He's taking hosting to a whole new level; he's just such a generous dude! The jewel is very close to everything Taos - we walked to the Adobe Bar, had some drinks and heard a band. We wandered into shops and headed back, all without having to think about parking/driving/directions. It's all right there with this place. I can't wait to come back to Taos, and I hope this place is free. Stay here!
Matt
2015-06-09T00:00:00Z
Typ av rum
Eget hus/egen lgh
---
Typ av boende
Lägenhet
---
Plats för
4
---
Sovrum
Taos, New Mexico, USA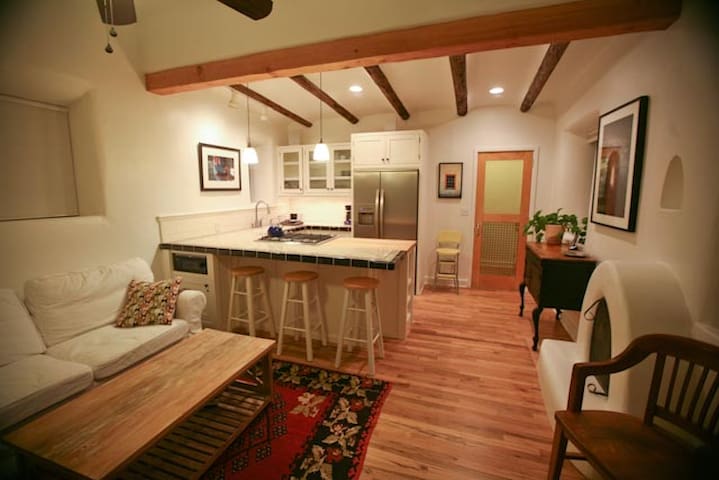 Welcome to the Historic Mill House just off the Taos Plaza. Enter this recently remodeled historic property one block from the plaza through a gate and a lovely courtyard with plenty of onsite, free parking - very hard to find in the historic district!
This unit has one bedroom with a queen bed and another sleeper sofa in the living room with a queen bed.
Location, location, location. We walked everywhere. Harwood museum was across the street as well as the Black Mesa Winery - they have a great wine tasting happy hour. The place was a real delight - thoughtfully put together and very quite. We enjoyed the nice fireplace in the living room.
Alan
2017-03-10T00:00:00Z
It is a beautiful space and so close to town, we loved the kitchen area for hanging and snacking between exploring town. Highly recommend this place. Thank you so much.
ashley
2017-03-21T00:00:00Z
Great place and access to the historic district of Taos. The historic feel of the home adds to the authenticity and ambiance of New Mexico.
Kris
2017-03-05T00:00:00Z
Great spot to stay.
steve
2017-02-19T00:00:00Z
This is truly an amazing find. Very clean comfortable and updated apartment! Fireplace is an exceptional feature. Location is a stones throw from the plaza, really couldn't be better. Will definitely stay here again when we come back.
Matthew
2017-03-07T00:00:00Z
We had a great stay at the Historic Mill House! It was close to the town square and it felt very authentic to New Mexico. The place was very clean and spacious. We cannot wait to make another visit and highly recommend this place for those looking for a central location in Taos.
Nathan
2017-03-24T00:00:00Z
Great place to stay in Taos! Very comfortable, homey and very close to Taos plaza.
Tam
2017-03-14T00:00:00Z
Quaint and rustic with a southwest flare. Exceeded our expectations. We spent our days on the mountain skiing and back to the Mill Place in the eve. Walking distance to restaurants and wine bar with music across the street. If and when we come back to Taos, we will definitely want to rent this adorable casita. Very clean and newly remodeled. Thank you Jeff.
Connie
2017-03-27T00:00:00Z
Typ av rum
Eget hus/egen lgh
---
Typ av boende
Lägenhet
---
Plats för
4
---
Sovrum
Taos, New Mexico, USA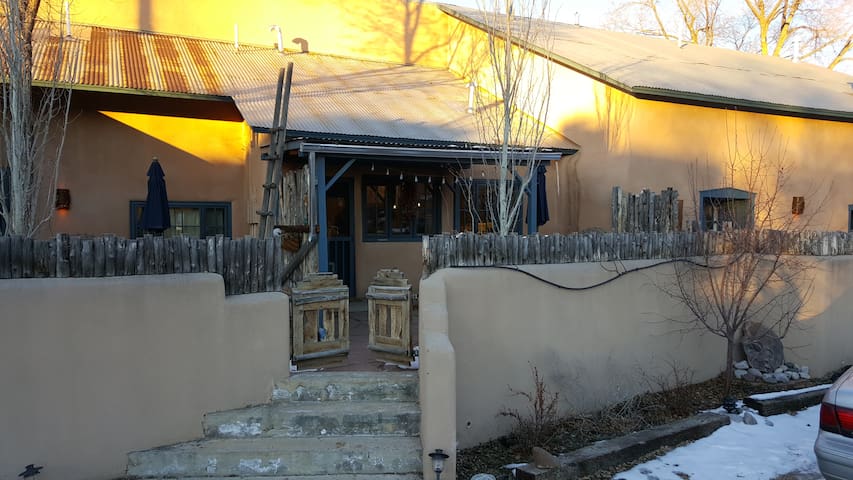 Zia Casita is a recently remodeled, family friendly, studio apartment with a romantic wood burning stove and private entrance. It is located on a cul-de-sac in a quite neighborhood south of the Taos Plaza. Zia Casita is in walking distance to restaurants, coffee shops and grocery stores. With a full gourmet kitchen equipt with everything you might need to dine in, including coffee and cream. Ideal for couples and small families, even those with four legs.
The Zia Casita is a recently remolded studio apartment with new furniture that comfortably sleeps 3. The king size bed is firm yet soft with white clean linens and a thick alternative down comforter. The love seat folds out to a twin size bed with a new memory foam matrice and clean white sheets with an oversized alternative down comforter. The kitchen is fully equipped with a frigerator, gas stove/oven, spices, cooking utensils as well as a crock-pot, toaster, blender, coffee, teas and coffee maker. The Casita has a romantic wood burning stove with wood and kindling provided. The stove is easy to use and recommended for creating a toasty, comfortable atmosphere. There is also a private outdoor seating area on brick patio with a great view of the sunset.
My neighborhood is centrally located in a small, quite area just three blocks from the main road, Paseo del Pueblo Sur and a mile from the Taos Plaza.
We had a very comfortable stay and Sadie was attentive to all of our needs!
Debbie
2016-10-18T00:00:00Z
Great location and a beautiful apartment!
Emma
2016-07-16T00:00:00Z
The Zia Casita was a charming and comfortable space, with nice luxury touches like high-quality towels and linens. The kitchen was well-stocked with basics (olive oil, salt & pepper, seasonings, and even Peet's coffee). Though the casita shares a wall with the main house, it was very quiet and private. I slept in the enormous and very plush main bed, and my friend slept on the sofa, which she said was surprisingly comfortable for a pull-out. All in all, a very good experience and excellent value. I would recommend to anyone staying in the Taos area!
Zia
2016-08-26T00:00:00Z
This place was exactly as described, very clean, and each step of the process was easy. I loved the suggestion to watch the sun set at the Rio Grande Bridge. The only drawback was that we left the windows open at night per the instructions to keep the place cool, and a skunk must have sprayed the window or something. The smell was so strong it woke us up, and the room was kind of warm after we closed the window. But I loved hearing the crickets at night :)
Chelsea
2016-07-26T00:00:00Z
The studio apartment was spacious and clean. The vase of tulips very welcoming, as was the fruit and water, a lovely touch and much appreciated. The neighborhood was nice for a morning walk but not as close to the plaza as I had hoped. It was very quiet and peaceful and easy to find. The bed very comfortable and Sadie was responsive to text questions.
Miranda
2016-04-11T00:00:00Z
Great location and value. Zia casita is super clean and comfortable. The space is perfect, the kitchen space had everything needed for dining in. Man, the bed is sooo comfy!
Rebeca
2016-07-31T00:00:00Z
The Casita was as described and we were pleased with our stay. It was clean and well decorated. The King bed was nice and it had a small but very usable kitchen. The plaza area of Taos is about a 15 minute walk but we felt driving would be easier so we did that. Sadie was helpful and informative to our needs but also respected our privacy.
Lance
2016-08-22T00:00:00Z
The space was just as pictured. It had everything I needed for a night in Taos.
Stacey
2016-08-23T00:00:00Z
Typ av rum
Eget hus/egen lgh
---
Typ av boende
Lägenhet
---
Plats för
3
---
Sovrum
Taos, New Mexico, USA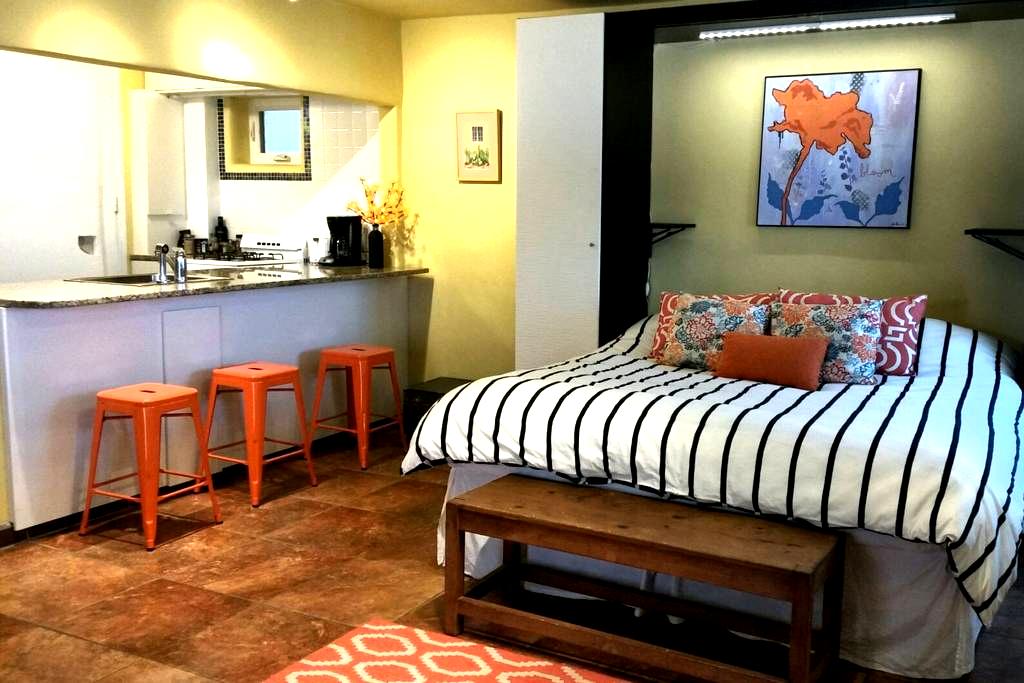 Contemporary modern furnished, Pueblo style flat roofed adobe house built in the 1930s with low ceilings and small windows that keep it cool in the summer and cosy in the winter. Open plan layout with southwest adobe archways instead of doors (there is a bathroom door) and a skylight in the bedroom for extra light. Self contained apartment behind British artist, Elizabeth Jose's home and studio.
Small one bedroom casita in a great location for Taos Plaza, restaurants and attractions. Stay in the self contained casita of a Taos artist with original art work on the walls. wifi, parking, clean, modern furnishings and fully equipped kitchen. Set in a quiet, residential street one block away from Taos Plaza.
I live in one of the older neighborhoods of Taos with large shady trees with older adobe homes mixed with newer developments.
Elizabeth is a terrific host! Great communicator and helpful before, during, and after our arrival. Her place is super cute, had all the amenities we needed for our stay, and is literally minutes from the heart of Taos. Great AirBnB stay!
Bradley
2016-09-26T00:00:00Z
Rustic adobe in a quiet neighborhood with original art. Walking distance to the plaza. The host was easy to work with and welcoming even providing fresh ground coffee and bagels with cream cheese. Good value for the location.
Bonnie
2015-10-05T00:00:00Z
Elizabeth was a very welcoming and good host. The casita was very cozy and comfortable. It was well equipped with everything you would need. It's decorated with the host's nice original artwork and has a very authenticate "Taos feel". The location is great and within walking distance to the plaza, galleries and restaurants. The main reason I didn't give it more stars was, at least on the weekend we were there, the neighbor's two dogs, which live right next to the apartment, barked almost non-stop and most of the night. This had a very negative impact on our experience.
Carl
2016-09-05T00:00:00Z
I stayed for almost a month and while the place was acceptable enough, I would not return. Elizabeth was a fine host and very easy to communicate with, but the place was not up to my standard of comfort. I live and work in New Mexico for 5 months total every year, and I stay in AirBnBs there and around the world. I don't expect hotel perfection, but I found this to be below average in my extensive AirBnB experience. I was a little disappointed to find the apartment was attached to the main house, which means that it does not feel very private. Windows must be open at all times as there is no A/C, but because of the set-up of this attached apartment, this means that you hear everyone coming in and out of the main house as though they were standing over your shoulder. Although this is by no means a requirement, the apartment was not well-stocked with basic kitchen ingredients or cleaning supplies (no extra paper towels, toilet paper, etc.) I am used to AirBnBs having these amenities, so this was also disappointing. It was an average amount of clean, though it needed a good mopping and dusting before my arrival. The shower head should be replaced, as it is very crusted over. The bed is ok, and the futon in the living room is uncomfortable and just barely large enough for an adult. My 5'3" mother slept on it for 2 nights, but any longer or any larger person would not be comfortable. Overall, I felt that the apartment was basic in amenities and furnishings, and that some more care could be taken to make it feel more home-y, clean, and welcoming. I have worked in northern New Mexico seasonally for years, and I did not find the neighborhood for this listing to be acceptable. Like others have mentioned, there are dogs in the yard next door (and also down the entire street) that are kept outside at all times. They bark constantly just a foot away from the windows, and they kept me up many nights. There is little that Elizabeth can do about other people's pets, but please be warned that the noise is truly exceptional. The street also didn't feel safe to walk down at night-- it is not well lit along the walk to the plaza, there are not continuous sidewalks, dogs bark at you from each yard, and there are very few other people walking the route you would have to walk to the plaza. Also, skunks! Because of the less desirable location, the basic amenities, and the semi-private nature of the listing, I can only recommend short term stays for 1-2 people at a low cost. Because I was in Taos for work, I didn't mind as much, but I would recommend finding a better spot for a vacation. This is a fine listing for an efficient stay, but not for your once-in-a-lifetime romantic or family New Mexico vacation.
Valerie
2016-08-28T00:00:00Z
This place is the perfect location to explore Taos and surrounding areas. We walked to Taos Plaza and nearby restaurants often. There are hummingbirds everywhere! Very cute and safe neighborhood. Our hosts were very friendly and helpful, yet unobtrusive.
Somphathai
2016-08-01T00:00:00Z
Great spot for 2 people. We enjoyed our stay.
Ryan
2017-03-31T00:00:00Z
Nice, cozy apartment filled with Elizabeth's artwork. I had a lovely stay!
Chelsea
2016-12-26T00:00:00Z
This is a wonderful place to stay and the hostess is warm and friendly. She makes you feel right at home. The casita is centrally located to all of Taos' important areas.
Carol
2017-02-24T00:00:00Z
Typ av rum
Eget hus/egen lgh
---
Typ av boende
Lägenhet
---
Plats för
4
---
Sovrum
Taos, New Mexico, USA
Fully furnished 1-bedroom apartment within walking distance of the best shopping, galleries and restaurants in Taos. Quiet and peaceful--perfect place to unwind and discover the charm of northern New Mexico.
The apartment is cozy and comfortable for 1-2 people. There's an intimate patio area with bistro table--perfect for your first cup of coffee in the morning. Or if you prefer, take your cuppa to the front courtyard where you can hear the splash of the fountain and watch the birds, bees and butterflies come for a morning bath. It's all about location--you're within a short walk of the plaza yet in a very private and secluded getaway. Many guests remark that they are able to park their cars in the off-street area and do all their exploring by foot. There's a larger grocery just a block away--even a pizza takeaway within walking distance! For skiers, the Taos Ski Valley shuttle stops a short block away on Paseo del Pueblo Sur. If you're visiting in the winter, we have a small and extremely efficient Norwegian wood burning stove that adds to the ambiance as well as the coziness of the apartment. The bedroom has a very comfortable queen bed (new mattress as of April 2014) yet is large enough to accommodate suitcases without feeling cramped. The bathroom is small but very convenient with a large walk in shower with Talavera tile. The kitchen is fully furnished so you can decide whether to take advantage of Taos' numerous first rate restaurants or stay at home and keep life simple. There's a full-size refrigerator and stove as well as the usual smaller appliances (toaster, hand mixer, blender--for the inevitable margaritas in the patio!). There is a shared washer and dryer (free of charge) just 10 yards from the apartment. In the back I have a small Tuff Shed where you can store your bikes, snow shoes, skis or excess luggage--locked and secure!
I love the location of the apartment because of its proximity to the plaza area. And the grassy green courtyard is a great place to relax and unwind.
Perfect location, comfortable studio and truly a little Oasis for our weekend in Taos. Our arrival and visit were meticulously planned by Donna well in advance. We never actually met but everything worked like clockwork and was just as described.
Bob and Angela
2015-09-28T00:00:00Z
I loved staying in Donna's Sonterra condo in Taos! Everything about it was exactly as advertised, from the look and feel of the unit, to the proximity to the main plaza. It was exactly what I was looking for. The kitchen contains the basics so I was able to cook for myself. The unit is cute and nicely decorated - not some anonymous hotel room. It was quiet and yes, tranquil! Donna was easy to work with and responsive when I had questions. I would definitely stay there again.
Christine
2014-04-23T00:00:00Z
Look no further! Donna and her apartment are beyond wonderful. My husband and I got to spend two months in Donna's apartment during our sabbatical. We are already trying to figure out how we can come back as soon as possible! Donna is an extraordinary host—she is responsive, accommodating, on top of everything, and thoroughly delightful. The apartment is clean, quiet, well appointed, and full of character. It is also perfectly located in a quiet neighborhood that is close to everything (so you have the best mix of peace and accessibility). The plaza, museums, art galleries, grocery store, and great restaurants are all a short walk away! Sit in the gorgeous courtyard and relax; drive six minutes up the road and hike/bike one of four magnificent trails that begin at El Nogal campsite (in Carson National Forest); walk to the plaza for a meal and tour of museums or art galleries, hear live music at the Mesa Brewing Company or the park, go antique shopping, visit the Pueblo, ski… There is so much to do and it is all easily doable from Sonterra. At the apartment, you can keep to yourself and/or interact with the local residents, all of whom are wonderful people. We are extremely fond of Sonterra and its residents and caretakers! Thank you, Donna!!! We can't wait to return!
Alisa
2016-03-31T00:00:00Z
The condo in Taos is conveniently located, cozy and stocked with everything you could need to make your stay as comfortable as home. Our host Donna was quick to respond with all of the information we needed to locate the property along with tips on how to make our stay as enjoyable as possible. We had the pleasure of staying here for three nights but felt as if our stay was too short. There is so much to see and do in the area! I highly recommend a stay at Sonterra the next time you visit Taos, NM. Thanks Donna for providing a wonderful home-away-from-home.
Bonnie
2014-05-22T00:00:00Z
Communication was excellent with the host. We initially reserved three days and decided to stay two--she was very fair and gracious about the change. It was a pleasure to stay somewhere where the description perfectly matched the experience. Proximity to the Plaza was important to us and we were pleasantly surprised to learn it was only about two blocks away.
Peg
2014-06-16T00:00:00Z
Cozy, clean, quiet, good instructions and communication, kitchen capable for a couple, welcoming! Very nice stay-thank you!
Douglas
2014-12-25T00:00:00Z
The apartment was exactly as portrayed. It was comfortable and clean. The complex is adorable. We enjoyed our time there, it felt very much like home.
meryl
2016-09-22T00:00:00Z
The condo is within walking distance to nearly everything one would want to see in Taos and just next to a very large and well stocked grocery store. The place was clean with all your basic necessities provided.
Rich
2015-12-27T00:00:00Z
Typ av rum
Eget hus/egen lgh
---
Typ av boende
Lägenhet
---
Plats för
2
---
Sovrum
Taos, New Mexico, USA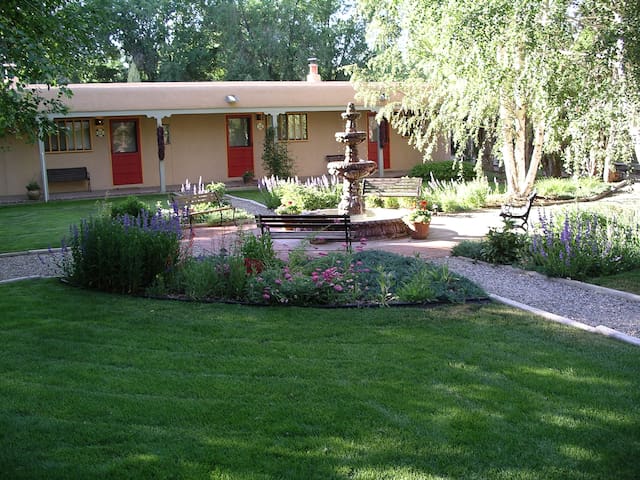 This newly remodeled apartment is close to town and Taos Ski Valley, yet off the beaten path in a retreat like setting. You'll love my place because of the location, the outdoors space, and the ambiance. The property borders Pueblo Indian Land offering stunning panoramic views of the entire Taos Valley. My place is ideal for couples, solo adventurers, artists and writers. Taos is a destination rich in cultural and also great for recreation like skiing, hiking, biking, and rafting.
This newly remodeled studio suite has been thoughtfully decorated with antiques and artwork from local artists to create an inspiring and relaxing atmosphere. Quality linens and towels will make you feel pampered. The brand new kitchenette has granite counter top, 2-burner glass stove top, microwave oven, refrigerator, coffee maker and stainless steel sink. It's equipped with dishes, glasses, cookware and utensils. For your convenience, coffee and tea are provided. The dining table has seating for four. An American Leather sleeper sofa with queen size Temperpedic mattress, in the living room, offers a good night's sleep for additional guests.
Taos is rich in history, culture and natural beauty. Taos Pueblo has been inhabited for over 1000 years and is listed as a World Heritage and UNESCO Site. Artists and writers have traveled to Taos for over a century; some luminaries include Edward Curtis, Georgia O'Keeffe, Ansel Adams, D.H. Lawrence, to name a few. There are numerous museums, galleries and shops in the area. We are surrounded by Carson National Forest and Rio Grande Del Norte Wilderness which offer year-round outdoor adventure such as hiking, mountain biking, horseback riding, rafting, hot air balloon rides, fishing and skiing. There's something for everyone!
A wonderful experience. This was among the most upscale and well-appointed airbnbs we have ever stayed in. The pictures do not do it justice. The bed is amazingly comfortable. Everything is sparkling clean and so beautiful. Maura was friendly and helpful far beyond expectations from the first interaction to well after we checked out. The location is perfect, with wonderful views and close to the mountain and to town. I highly recommend this lovely airbnb!
Stephanie
2016-09-12T00:00:00Z
Maura's little cozy apartment in El Prado was perfect for our trip to Taos. Located perfectly between Taos and Taos Ski Valley, it's close to anything you'd want to do in the beautiful New Mexico mountains including one of the most delicious restaurant's we've been to: The Love Apple. Maura was an extraordinary host, going so far as to leave her New Year's Eve dinner early to help us out! The place is sweet and lovely with fantastic views. Couldn't have asked for a better stay.
Lauren
2017-01-02T00:00:00Z
Maura's place is absolutely wonderful and we really enjoyed our stay. The pictures on airbnb really do not do this place justice, the breathtaking view alone is worth the stay. Maura is a fabulous host and the apartment is very spacious and well stocked with everything you could possibly need to make your stay comfortable and worry-free. Just to give an example: my husband and I went to the local grocery for some wine and he suggested that we purchase a wine bottle opener. I assured him that it wasn't necessary because Maura had graciously provided one. She really did think of everything! Maura also made herself available at any time just in case we needed anything or had any questions or concerns. We enjoyed our stay so much that my family and I would definitely consider booking this wonderful place again in the future.
Lucy
2017-03-15T00:00:00Z
Spectacular indeed. Place is lovely, modern, clean, clean, clean. Love the radiant heat in the floors. Maura put effort into making the apartment comfortable for guests. There were plenty of places to put things, nice hooks, quality dishes and silverware. Great place. We couldn't have liked it more.
Amy
2017-01-12T00:00:00Z
This is a perfect rental for a single person or couple wanting nice amenities in a cozy, private location just out of town. The unit is spotless and comes with all you need to make your stay relaxing and worry-free. The owner even provides a manual that covers all the details on the unit and recommendations for places to eat and do in the area. A five minute drive will have you at a choice of restaurants, a convenience store, and local sights. Access to major road without having to drive through town makes it easy to get to Ojo Caliente, the Rio Grande Gorge or Ski Valley with no traffic. We loved staying at the unit and I will return on my next visit. The owner is onsite making check-in and out easy too.
Kat
2016-12-26T00:00:00Z
Maura put a lot of thought and love into making her studio feel like home. She welcomed us with some banana bread, and her studio was very well equipped. I will definitely stay there again. The view of Taos mountain was spectacular and breath taking.
Alene
2016-09-06T00:00:00Z
Maura's studio suite was great! It was recently redone so everything is perfect. The view from the suite was spectacular. There is also a gazebo just on the side that is very pleasant to sit and watch the sunset. Maura was very nice and communicated well. If I am ever in the area again I will stay at her studio.
Bob
2016-10-23T00:00:00Z
What an incredible home, experience and hostess! Maura and her Spectacular Studio were out of this world! I stay in a lot of AirBnB's for work and sometimes even for vacation.. this was a vacation and this was my best experience yet. Great place, lots of space, extremely clean and well appointed with great views! Maura was incredible in her communication and helped make our stay in Taos the best! I would stay here again without question.
Danielle
2016-10-15T00:00:00Z
Typ av rum
Eget hus/egen lgh
---
Typ av boende
Lägenhet
---
Plats för
4
---
Sovrum
El Prado, New Mexico, USA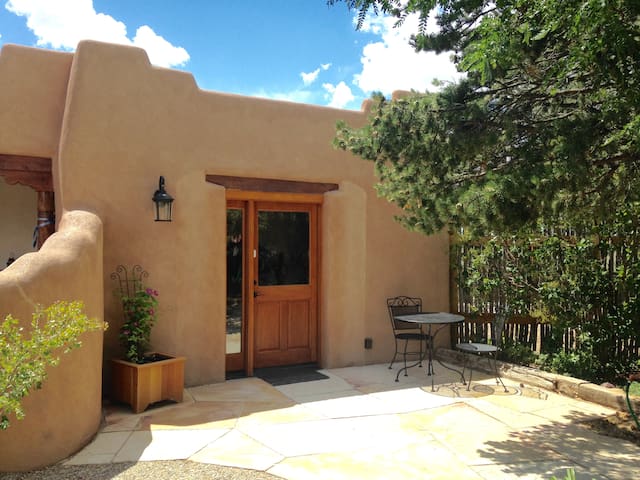 Location, location, Location Enjoy the peace and quiet of this hideaway retreat! Tucked away on a quiet dead-end street only a half mile from the historic Taos Plaza. Enjoy tranquility and convenient access to restaurants, galleries, museums, and shops and all that Taos has to offer.
The Lucky Dog hideaway is located in a small condo complex in a quiet area away from highway noise, yet within easy walking distance to all attractions with the Taos historical district. The sunny upstairs of this 2-story townhome includes a full bathroom, and a large bedroom with a queen sized bed and a cozy reading area by the kiva fireplace. Enjoy your morning coffee on the balcony with views of the communal garden. The open planned downstairs includes a well equipped kitchen, a spacious dining area, and a sitting area by the second kiva fireplace. The walled rear patio has a private hot tub where you can relax and unwind after a day of skiing, shopping, or just enjoying everything Taos has to offer. The whole unit has been newly remodeled and tastefully decorated through out with special touches including vigas, and local folk art, providing our guests with that special Taos atmosphere. Other amenities include: free off-street parking, washer/dryer, air mattress for additional guests, underfloor heating upstairs, WIFI, SatTV and Blueray player, and high quality linens. And we offer lower MONTHLY and WEEKLY rentals!
Great place and convenient location. It was tucked away from Paseo Del Pueblo, so it was quiet, but close enough you can walk to any destination in Taos proper and it's a quick trip to strip of food (Love Apple etc) and shops on Paseo Del Pueblo Norte. Really cute and comfortable with everything you need. Host was super easy to communicate with, too.
Jessy
2016-06-07T00:00:00Z
We were in Taos presenting a workshop, so it was a wonderful haven at the end of each day. It's right in the center of things, so if you like to walk (like we do), you can't ask for a more perfect location. It's at the end of a dead-end street so it's quiet & sheltered from the steady hum of the center highway that goes right through the middle of Taos. The place was clean & well-stocked with everything we needed. Kerry was great about making sure we were settled in with all the info we needed beforehand. Great burgers at the burger stand & if you're a craft beer afficionado, the Taos Mesa Brewing Company has a good selection of interesting beers (a good wood-fired pizza to go with them... All in all, we're looking forward to comingbackl again & we'd quite happily stay with Kerry again. Thanks so much...
Brian
2017-03-13T00:00:00Z
We had an excellent experience with Kerry and her Taos Hideaway! Communication was friendly and prompt, and she did a great job answering all of our questions beforehand. The condo itself is amazing - beautiful, comfortable, and located just a short walk from the heart of downtown Taos. She even took the time to put together an extremely helpful guide with information and tips about restaurants, activities and attractions, the condo's amenities, etc. We had an unforgettable vacation in Taos, and this home away from home made it possible!
Kelly
2016-10-18T00:00:00Z
Such a dreamy condo! Surprisingly close to downtown Taos.
lacy
2016-09-15T00:00:00Z
a nice condo close to Taos plaza, yet convenient to drive to Taos ski valley.
Hachem
2017-03-16T00:00:00Z
The casita was exactly as advertised and Kerry was very helpful. I would recommend staying there to anyone going to Taos.
Nick
2017-04-02T00:00:00Z
Great location! Clean, updated and bright. Quiet serene environment. Great communication with owner. I would definitely recommend this condo!
Joyce
2016-09-01T00:00:00Z
Typ av rum
Eget hus/egen lgh
---
Typ av boende
Lägenhet
---
Plats för
3
---
Sovrum
Taos, New Mexico, USA
My place is close to the city center, nightlife, and family-friendly activities. You'll love my place because of the location.
Great location and cozy spot with fireplace! Thanks Brian!
Brooks
2017-02-20T00:00:00Z
The apartment is cosy and very close to the Taos nightlife. I was very pleased with the accommodations and would stay here again in a heartbeat.
Makeba
2017-03-15T00:00:00Z
Great location.
Jared
2017-03-19T00:00:00Z
Typ av rum
Eget hus/egen lgh
---
Typ av boende
Lägenhet
---
Plats för
6
---
Sovrum
Taos, New Mexico, USA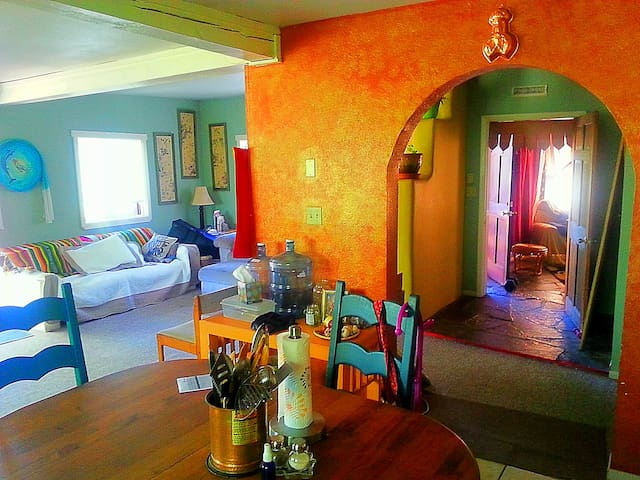 Walk to the Plaza, galleries, and the many festivals at Kit Carson park. Located in the heart of majestic Taos - a few doors down from the Mabel Dodge Lujan home on beautiful Morada Lane, this 2 bedroom 1 bath is a peaceful / fun place to stay within the historic district.
Upstairs fully furnished in the Historic District. Quiet 2 bedroom overlooking Kit Carson Park and the area. Be a part of the neighborhood - walking distance to everything. This is not rustic or roughing it, more like a modern loft This is the as close to the pulse of Taos as you can get in the town. The place comfortably fits four to six - so it's probably ideal for a couple or two couples traveling together. The back entrance to Kit Carson Park is seconds away. Watch a baseball game or hear live music from the deck weeknights in the summer, go for a morning run, or just stroll to the cemetery.
This neighborhood is steeped with history and interesting characters. It is also very beautiful and the home is perfect for those who want to spend some time away from it all (or not there is wireless internet!) The space is also perfect for someone who wants time to think, write a dissertation or escape the pace of modern life for a while. I find minimalistic decoration is the best backdrop to focus on whatever is important at the moment. Have coffee or do yoga in the living room at sunrise or watch the sunset from the back porch with a glass of wine. All modern conveniences in a very historic area - warm and cozy in the winter, breezy and cool in the summer.
Erin made us feel welcome and gave us all the information we needed. This location is really great for Taos- close enough to walk to everything. Very clean and lots of room.
Joan
2015-08-08T00:00:00Z
Erin's place was perfect. It was just as described and the location was great. We enjoyed the short walk to shops and restaurants. Beds are comfortable and kitchen has all of the basics. It was nice to have a parking spot as we were driving to Taos Ski Valley each day. We were glad we chose to stay at Erin's rather than the ski valley. It gave us the opportunity to enjoy the town of Taos in addition to the skiing. Erin's communication and directions were very helpful and thorough.
Erik & Jen
2015-12-21T00:00:00Z
Our stay in Taos with Erin was lovely. We were close to everything and we had everything we could passively need. It was clean well appointed and comfortable. Thank you!
Mark
2016-07-05T00:00:00Z
Quiet, bright, airy - - the stay at Erin's place was easy, comfy and pleasant, and the location is perfect.
Douglas
2016-07-10T00:00:00Z
Very nice, clean, convenient place to stay. Erin was helpful with emails and greeting us on arrival. It was also a very pretty setting, kind of rural feeling even though very close to plaza. Very tastefully and simply appointed. Highly recommended!
April
2016-05-02T00:00:00Z
We loved this place! Such a quiet street but such a short walk to the hot spots. Everything was as pictured or better.
Theo
2015-08-31T00:00:00Z
The place was perfect - clean, comfortable and in a great location. Erin made a great host and even gave us some suggestions about the town. Nice people, nice place, we would stay again if we could.
Matthew
2015-07-19T00:00:00Z
Walking distance to the plaza. Upstairs townhouse that overlooks Kit Carson park. The owner, Erin, is very easy to communicate with and personable. Great location. Only downside is limited parking and narrow street.
Will
2017-03-11T00:00:00Z
Typ av rum
Eget hus/egen lgh
---
Typ av boende
Lägenhet
---
Plats för
6
---
Sovrum
Taos, New Mexico, USA
1

–

18

av

67 Uthyrningar av lägenheter
Ange datum för att se full prissättning. Ytterligare avgifter tillkommer. Skatter kan tillkomma.