This beautiful Goan home offers self-contained accomodation; a generous light-filled master bedroom with leafy outlook, one double bedroom and private verandah overlooking lush gardens. 'The Pereiras' is an elegant, restful home away from home. You also have authentic Goan and Indian Cuisine available at the homestay. The villa is situated in the Port town of Vasco-da-Gama, which is the centre of Goa and is just 7 kms from the Airport and 3kms from the Railway Station.
The spacious air conditioned master bedroom has a King side bed and two wardrobes. The second bed room has a queen side bed. This room is also airconditioned. Both the rooms are on the first floor of the villa. There is direct access to both the rooms from the rear of the house Home cooked Goan meals (Veg and non veg) is available on request at a additional charge. We do not serve pork or beef dishes. We can also arrange for transportation. And also bikes and cars for hire available on prior request. Please ask for more details.
It is a very quiet neighborhood. Since there is a lot of greenery and there is a lake nearby , this area is frequented by various birds. The area is cut in between a hill so there is excellent privacy!!! There is ample place in-front and behind of the house for children to play. It is also a ideal place to have your own barbecue, however you will need to make your own arrangements!!!
Lovely place, Nice getaway. The place was very clean and very nice. I unfortunately could not stay the entire duration, would totally stay here in the future, if things work out.
Karthikeyan
2016-11-24T00:00:00Z
I had a great time at this cute place in Vasco. The location was perfect IMO, literally minutes from the city centre and yet you will never be disturbed by anything or anyone. Our caretaker Shalaka was great as well, and catered to everything we needed. All in all a great place to stay in South Goa.
Abraham
2016-11-13T00:00:00Z
Absolutely adored staying here, such a wonderful way to start out visit to Goa! From the moment we were picked up from the airport, we were made to feel at home. The villa is stunning, the room very clean, light, and a with a beautiful view from the balcony. We were served the most delicious home cooked meals - a must if you are visiting! A very peaceful and relaxing place to stay, and we were overwhelmed by the warm hospitality we received. Thank you so much for letting us stay!
Isobel
2016-07-03T00:00:00Z
Our stay at the Pereira's villa was very comfortable. The room is tastefully decorated, clean and maintained well. The caretaker is very helpful and cooked us a lovely breakfast. All in all a great experience!
Ephrem
2016-11-11T00:00:00Z
Good food and nice room.
Sasidharan
2016-07-20T00:00:00Z
A fantastic place close by to the airport - perfect for getting over my flight before going off to explore Goa.
Josie
2016-12-28T00:00:00Z
Amazing and comfortable stay, very clean and exactly as it is in the photos. The beautiful blue Portuguese style Villa was colorful and pleasant surrounded with garden. The rooms were neat, clean and spacious. Located in Vasco da Gama just 10 minutes from the Airport enables one to hire out a 2 or 4 wheeler and explore both sides of Goa (North & South). Mr. Renvik was very helpful, who had accepted to come to Airport to pick us up at 01:30 am. He responded to all our queries while booking the property. Hosts were friendly. Ms. Shalaka was lovely and made her best efforts to provide an excellent service in providing food, amenities and arranging bike for three days stay and also she easily arranged an Auto for us to depart to Bus Station as well. I would definitely recommend this if you are planning to stay in Vasco.
Ajay
2016-11-20T00:00:00Z
Good stay good healthy food. Value for money
Sasidharan
2016-07-22T00:00:00Z
Typ av rum
Eget hus/egen lgh
---
Typ av boende
Hus
---
Plats för
4
---
Sovrum
Vasco da Gama, Goa, Indien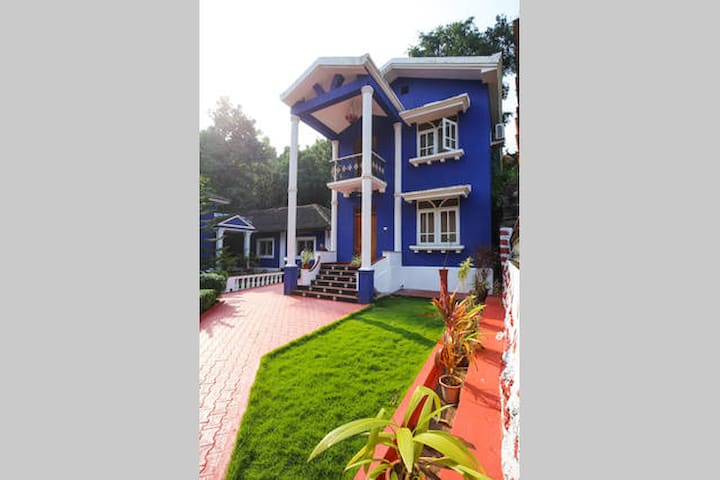 The 2 Bedroom house (top floor) is located in a verdant village of Majorda. 10 minutes walk to the Majorda Beach, 5 minutes walk to Carpe Diem and close to some of the best restaurants in the area.
The house has two floors. On the ground floor lives my folks. The top floor is up for grabs. The layout of the top floor is as follows - Separate entrance to the top floor - You enter the living room. The living room has a Sony television and has a cable connection. - Connected is a dinning room, consisting of a dinning table & 6 chairs and showcases on the right. - Two bed rooms are accessible through the dinning room. The bed rooms have air conditioners and built in cupboards - There is one bathroom and a separate toilet in the house. - There is also Kitchen, with a gas stove. - Behind the kitchen there is a balcony overseeing the rear of the house property. A good place to sit back and relax. - Free Wireless WIFI available (please take note the connection & download speed is basic and can be unreliable)
The calmness, warmth and the nature
The home is very cozy.We loved the Chikoo trees with fruits which were a direct view from the (URL HIDDEN) hosts were very responsive to any requirement that we had. It was really nice of Mr Socrates to get us local Goan bread after we mentioned it to him. The beach is a 15 min walk from the house. Overall it is a perfect place to spend a relaxed vacation. We will visit again for sure...
Ameya
2017-03-13T00:00:00Z
A memorable stay. Looking forward to visiting again.
Russell
2016-12-29T00:00:00Z
Nice house, good place, 10 min walk to the beach. Very nice, friendly and helpful host.
Anne Sophie
2017-02-08T00:00:00Z
One thing that I can say about our stay at Clinton's place is that it was perfect. Be it the proximity to the beach and good eating places or the hospitality extended to us by Aunty and Uncle. Because our taxi driver ditched us the last moment, uncle himself came to pick us up. The greenery and peace that you get while staying here is the best part. The place is perfect in terms of being peacefully secluded and at the same time close enough to a lot of great places. I would definitely recommend this place to anyone looking to go to South Goa.
Nupur
2017-01-01T00:00:00Z
This is an incredible, cute, house hosted by a wonderful couple. The apartment is spacious, clean and seems quite new(the pans and knives had not been used before). It has a big living room, dining table, kitchen with sufficient utilities, a nice balcony and two bedrooms. The location is a bit away from the main tourist attractions, but these are easily reachable by cab. Around the corner is small place with a couple of restaurants and shops. On walking distance is an incredible, quiet, neat beach. Overall this has been one of my best stays, and it far exceeded my expectations. I would most certainly recommend this wonderful apartment.
Timo
2017-02-21T00:00:00Z
The house is just perfect! Spacious, well located, equipped, with all you need to cook and live there for as many days as you wish. The house is located in the town of MAJORDA, this place is perfect to relax and also to move around the different beaches around the area, taxi is available on the roads and also a mini market where you can buy all from food to shampoo. If you want to experience the real Goa away from tourist and only enjoying your local beaches and some very hidden ones, this is the perfect place! Beach is walking distance with some nice little restaurants on it. If what you are looking for in Goa is NOT the nightclubs and the parties, this is the PERFECT PLACE. Peaceful and beautiful.
David
2017-03-05T00:00:00Z
This was my first visit to South Goa. Wanted to have a peaceful vacation during this holiday season. The house is located close to Majorda and Utorda beaches (must go beaches.. Absolutely calm, neat and beautiful) did just that. For anyone who wants to enjoy Goa yet be away from the Hustle bustle, this is the right place. A lovely 2 bedroom house which was spacious and well kept with all facilities in a quiet neighborhood makes you feel nothing away from home. Our hosts were so warm and welcoming that we experience a positive vibe at the very first meet. Moreover, all of this is not too hard on your pocket as well. I will surely go for a second time and highly recommend this home away from home.
Deepak
2017-01-29T00:00:00Z
Cliton and Socrates were great, super accommodating and helpful with food and everything we needed. Peaceful place amongst some of the chaos in india
Corey
2017-01-21T00:00:00Z
Typ av rum
Eget hus/egen lgh
---
Typ av boende
Hus
---
Plats för
6
---
Sovrum
Majorda, Goa, Indien
Featuring free WiFi, Selfia Guest House offers accommodation in Majorda. Guests can enjoy the on-site restaurant. Every room comes with a TV with satellite channels.
Typ av rum
Eget rum
---
Typ av boende
Hus
---
Plats för
2
---
Sovrum
Majorda, Goa, Indien
Welcome to Jes Guest House. Good Quality Rooms well ventilated with each room having independent balconies providing homely accommodation just 5 minutes walk away from the famous Majorda beach in South Goa. Jes Guest House is owned and managed by the friendly and charming young Pereira couple who live exactly below their 4 well maintained spacious guest rooms above their home. They also have a guest room with kitchen and balcony on the ground floor.
Typ av rum
Eget hus/egen lgh
---
Typ av boende
Hus
---
Plats för
16
---
Sovrum
Majorda, Goa, Indien
The room facing towards the palm trees farm, a start of a new day with fresh toddy fragrance.
Mira and Anthony are the LOVIEST hosts you can hope for. They're generous, caring and would do anything to make your stay in their guesthouse as perfect as possible. The room was spotless and the view on the coconut trees pricesless. The guesthouse is located in a quiet, remote-ish area. It takes about 20 mins to get there from the aiport and the fare is of about 400/rs. (Make sure you book your taxi from the yellow pre-paid booth inside the terminal). The beach is 5 mins away from the guesthouse and it's big and nice. If you plan to stay several days at Mira and Anthony's, I suggest you rent a scooter, as this makes travelling so much easier in Goa. Nice kitchen too where you can cook your own meals if you don't feel like going to the nearby restaurant. Oh... And don't forget to go and have a look at the two beautiful colonial mansions, located at a stone's throw from the guesthouse. One looks pristine, is gigantic and still manages to convey the colonial grandeur of the Portuguese times. The other one is in state of disrepair and looks a bit creepy from outside - but it's very photogenic. I recommend this guesthouse 100%. Love to Mira and Anthony. :-)
Renaud
2015-09-27T00:00:00Z
Typ av rum
Eget rum
---
Typ av boende
Hus
---
Plats för
1
---
Sovrum
Velsao, Goa, Indien
Room with en suite shower and bathroom, five minutes to the Velsao - the beach in Goa where you feel maximum privacy - just you, the sun and whole ocean! A shack with food and drinks, and a few fishermen and lifeguards nearby!
The Macapal guesthouse has only 3 rooms with double beds. Located in the most exclusive part of Goa surrounded by coconut palm trees. If you want to get away from the noise and crowds but still be just a short ride from all the attractions - this is the place to be! 250 meters to the white sand beach!
Ours is a small closely knit community - we don't lock doors and drop by each other places for a cup of tea! We love Goa and are very proud of our traditions and way of life. We say hello to everybody we meet on the trails. It is very safe at day and night! Velsao is a fishermen village. So on our beach you will not be surrounded by crowds of other tourists! Just a few quite fishermen with their boats and their long fishing nets.
Vår vistelse hos Mira och Anthony var helt perfekt. Vi kände oss väldigt välkomna speciellt som vårt värdpar gick upp vid fem-tiden på morgonen för att guida vår taxichaufför och hälsa oss välkomna! Beskrivningen av boendet stämde fint och Mira och Anthony är väldigt rara och gästvänliga. Härligt med djungeln och den genuina indiska byn som omgivningar. Underbar öde strand med fiskebåtar och härliga Peters shack (rekommenderas!). Nina&Dan
Dan
2016-01-16T00:00:00Z
we loved very much our days in Anthony's and Mira's house. They are very friendly and nice and their place is like a paradise. They helped us for all our needs. We stayed with our son and he loved too, so we suggest their house also for family :)
emily
2016-09-24T00:00:00Z
Wernick was out of town during our stay but his parents took great care of us. For example, at one point the water went out - a municipal issue, not a pertinent with the house - and they immediately started bringing buckets full of water so we wouldn't be inconvenienced. They also made us a delicious dinner and showed us around town, in addition to arranging taxis and a guide. This place isn't for everyone - if you want the loud, party, tourist part of Goa, MA CA PAL is a bit isolated. If you're like us and you just want a chill, calm spot near the beach and good food, then this place is perfect. I would definitely stay here again.
Ian
2015-10-20T00:00:00Z
The good: -Close to a quiet beach (5min walk) -Friendly and helpful hosts -Very excluded if you like that - rent a motorbike - nice to interact with other guests in the common area -distances: Small grocery markets 25min walk away, one restaurant 8 min walk away, Closest beach restaurant 35min walk on the beach The bad: - the place was very dirty when we arrived, especially floors, all the tables, bed, fridge utensils and the kitchen. So much so that you didn't really want to use the kitchen and the place was full of ants and bugs. -wifi only works ok in the kitchen, moving the router upstairs would help - The booking was maintained by other than the hosts so they don't answer questions through it. We didn't get any answers to our questions how to get to the place from busstation. Overall: Throughly cleaning the place atleast weekly would help - or if you dont clean: provide cleaning gear for the visitors. When we complained about it, they got a cleaner, but can't say that she cleaned very well. The place needs good scrubbing. We tried to clean the kitchen, fridge and room ourselves but there isnt really anything to clean with as the cleaning gear is missing if the place would be kept and cleaned it would be good, now it wasn't that enjoyable that it could be and we hope they do so in the future.
Jyrki and Johanna
2016-01-31T00:00:00Z
Beautiful spot, our hosts were helpful while still allowing us privacy. It was a wonderful stay and we'd love to come back soon!
Katie
2016-11-10T00:00:00Z
Words really don't describe how beautiful this place is! I stayed at the Ma Ca Pal Guest House for a month. Mira and Antony are the most loveliest and welcoming hosts I've had the pleasure of staying with. Mira's cooking is sublime to say the least. They helped me with everything I wanted to know about South Goa. The house itself is on the outskirts of a quaint village called Velsao, located a 10 min walk to the village shops, most supplies can be found here. The guest house is surrounded by beautiful greenery, palm trees. Butterflies often lingering throughout the day. It's a two minute walk to a peaceful, white sandy beach. If you're looking for sometime to relax and be amongst the beautiful scenery.... This is the place for you! Highly recommended
David
2015-09-30T00:00:00Z
Mira and Anthony are warm and friendly souls who made me feel perfectly welcome. Mira picked up my call from the airplane at the first ring, and then called back when I hadn't showed up within a decent time. She then guided my taxi driver to where Anthony was waiting to show him the "last mile" in (mine was a late night flight). My room was very spacious, very cool for the tropics and very conveniently appointed with an ensuite bathroom. The house is in a coconut grove and within walking distance of shops. The scooter that Anthony arranged with one phone call the next morning showed up within 15 minutes. Anthony gave me a lesson on the making of bibinca and a sample as well. Loved it all - hosts, home, surroundings.
Chris
2016-01-08T00:00:00Z
Accueil tres chaleureux et contact facile, un endroit à l'abris de l'agitation, tout près d'une plage tranquille. Bon petit resto à quelques pas et location de scooter à proximité. Merci
Eric
2016-11-19T00:00:00Z
Typ av rum
Eget rum
---
Typ av boende
Hus
---
Plats för
2
---
Sovrum
Velsao, Goa, Indien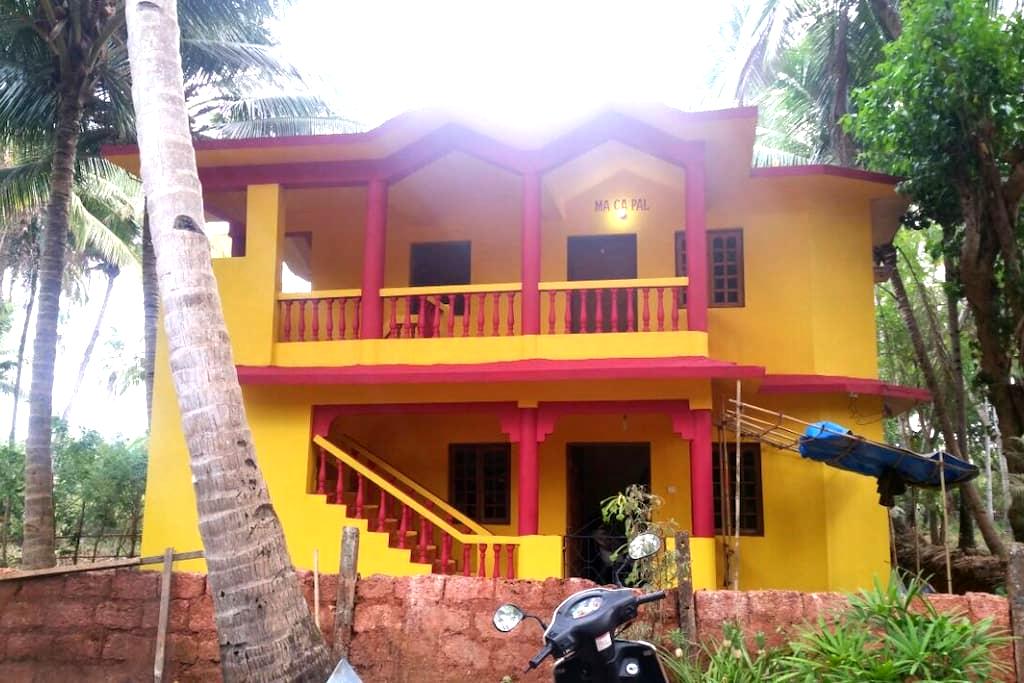 The beautiful 3BHK villa has been carefully designed to receive the soothing breeze of the ocean. It offers picturesque views of the expansive Arabian Sea worth waking up to. The 3 bedrooms include bathrooms and patios while the kitchen is fully equipped. Enjoy a calming session of morning yoga or a cheerful breakfast in the wide cosy courtyard. This stay has been fashioned and equipped for a group of 6 individuals and is secure and gated.
Great location, amazing property, lovely hosts... Had a great time at the Azul Villa. My wife and I visited with our dog, who had the best time running around the property and playing in the sea. The property is well taken care of - the caretakers are amazing. Sit back on the porch, enjoy the sound of the sea and stroll to the beach just 50 mts away. Far away from the party madness of north goa - this place is a Must Visit!!!
Atin
2016-10-11T00:00:00Z
This was an excellent place to stay. It's a cute little villa about 50 mtrs from a small secluded beach. No shack on the beach, just some fishing boats. If you want to feel like you have your own private stretch of beach this place is perfect. The house has a nice courtyard with trees so it does not get too hot even in the day. The hosts had kept some supplies in the kitchen for us to make breakfast and they had also arranged for someone to come clean the place everyday. We were a group of 6 who just wanted a peaceful place near a beach and that is exactly what we got. If you are looking for a serene holiday this is the place for you.
Nazim
2016-05-30T00:00:00Z
Very nice property .
Gaurav
2017-01-10T00:00:00Z
We were 6 of us who visited Azul Beach Villa for two nights. It is located in close proximity to the beach a min walk from a gate and you have amazing views of the sea and sunset from the two balconies. The rooms are right sized and the house was very well kept and clean. The kitchen was well stocked and complete in all aspects which really helped us. However the sit out and the premises were the star attraction for us. Great place to sit down and have a meal under open sky. Ideally you would want to bring a vehicle along with you given that the villa is located in a residential place. Although call taxis were available we did not need them. The market is a five min drive and majorda / utorda / arrosim beach are close by, all within a 15 / 20 min drive. The service was also great and prompt. Pappu and Sangeeta (villa staff) were always a call away and helped us when required. All in all the area and villa are ideal for a quite relaxing / bonding trip with friends and family
Suhas
2016-12-12T00:00:00Z
What a house and what a garden. We are a family of 6 staying here for 8 nights. For us as a family it was great. We wanted a guiet holiday close to the beach. Only 100 m to the beach and no other tourists. Only a few local fischerman early in the morning after been out all night catchin Sardines. The maintenence man Pappu and his wife did a great job cleaning the house every day and maintaining the garden. We got to meet Ishita and her lovely dad and mom. You need a car when you are staying here. Its a couple of kilometers to the nearest restaurant. And I suggest you hire a driver. Takes away a lot of stress. All in all a great stay for us. Thank you
Kolbjørn
2017-01-02T00:00:00Z
Azul is a beautiful, secluded, well-appointed villa which sleeps five to six people comfortably, with most facilities that help for a relaxed holiday. The caretakers, Pappu and Sangita, are very welcoming and helpful and made our stay more comfortable than we expected. There are two double air-conditioned bedrooms and one single with a ceiling fan, all en-suite. There is a washing machine and hot water in the kitchen sink. The hot showers are solar-powered so having showers during the day is a good idea. There is plenty of space to sit outside. If you don't have your own transport, Pappu can help you organise a private taxi, which is what we did when we arrived, but you will need transport as it's a bit of a hike to the nearest shops and market. Although we did not meet Ishita, she and her father called to ensure that we were comfortable, which we appreciated. Unfortunately, we were unable to spend as much time as we would have liked to at Azul, but can now look forward to returning for a longer more relaxed stay. Highly recommended.
Beena
2017-01-08T00:00:00Z
Good place for a peaceful vacation
Naveen
2017-03-12T00:00:00Z
It was a long pending vacation with loved ones. Wanted it to be private and in a calm, serene and close to nature place. Azul ticked all my boxes. If one is looking for to take in the beautiful and romantic side of Goa especially during monsoons, this should be it. Home is located right next to the beach where one can hear the soothing sound of the waves around the clock and the swinging coconut trees. Walk in a beach barefooted, which, would make you feel as if it has been made exclusively for you. Sit out side in the large open verandah, enjoy the stars shine and bring out the real you sipping a beer. This is a great place for some "me" time to discover yourselves and bring the necessary calm to the chaotic routine of life. Helping hands nearby and a call away can take care of needs. Be ready to find solace in nature, there is plenty of it. This place is not for the party hungry and for the crowd loving bass music thumping in their ears. Of course, there is plenty of space if you would want to create a private party under stars and near to the beach. Hosts are extremely friendly and they have gone beyond their boundaries to help find relevant information. Provides to nostalgic memories and would crave one to go back. Heard a saying in Bali that the place would haunt in ones dreams to pull you back again. I think this one will surely do so. Thanks to the hosts for their warmth and friendliness.
Amrith
2016-06-25T00:00:00Z
Typ av rum
Eget hus/egen lgh
---
Typ av boende
Hus
---
Plats för
5
---
Sovrum
Velsao, Goa, Indien
Casa Dsouza a holiday home situated amidst Mother Nature that will give you a true Goan experience, situated just 3kms away from the beach & 11 kms from the airport.
Typ av rum
Eget rum
---
Typ av boende
Hus
---
Plats för
2
---
Sovrum
Velsao, Goa, Indien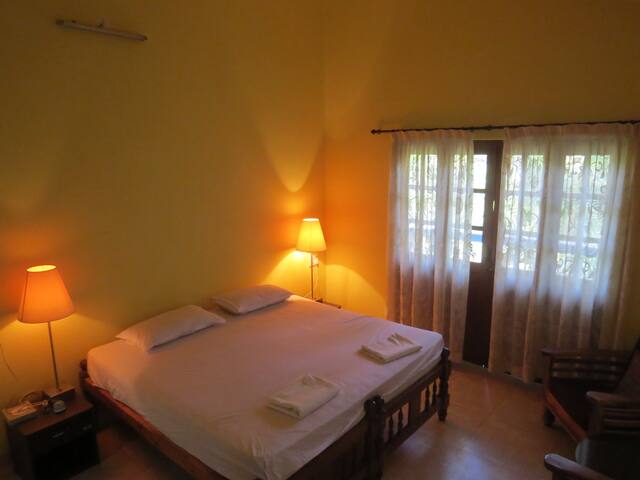 A comfortable air-conditioned room in my bungalow in Margao with a beautiful garden, just 5 mins from Margao station and 10 mins from the Margao bus station.. Home made authentic goan food will be served as per order.. Kitchen is accessible to people who are staying for long term. My place is good for couples, solo adventurers and business travelers.
Bedroom - Double Bed, AC, Cuboard and LCD TV Bathroom - En-suite and has a bath tub
Nice and quite neighborhood in the city
Typ av rum
Eget rum
---
Typ av boende
Hus
---
Plats för
2
---
Sovrum
South Goa, Goa, Indien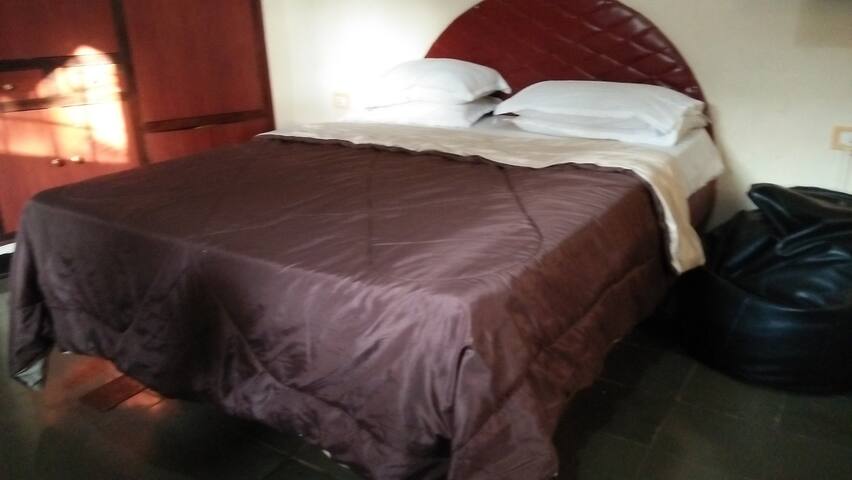 We were a group of friends and we spent a weekend in southern Goa. The place was very nice and calm, it is a local village in a nice area, not really on the beach but in 10 minutes walking distance. The house was nice and clean, and we rent the upper floor. In the basement floor, the owners of the house live. They hosted us in a very welcomed and open way! We really enjoyed and it is a good pace fr who wants relaxing and enjoying the quiet and wild charming of south Goa.
Laura
2016-11-13T00:00:00Z
Wernick and his wife , gave us a very warm welcome to their place, always available to for any questions or needs, they are a wonderful..... the place meets the basic needs, private bathroom in each room, but not toilet paper or soap, the sheet looks like it had been used before and not washed for the next guest, the refrigerator supper/supper dirty..... and the beach is about 10 mint walk, is not visible from your window ..... no towel were available until we ask for it..........
Guadalupe
2015-01-29T00:00:00Z
We only stayed at Macpal for one day. But having said that the pictures and the descriptions of the place on the internet are accurate. The accommodations are clean and each room has an ensuite modern washroom. The hosts Anthony and Mira are such loving, helpful, patient and personable hosts who offered us some authentic and delicious goan sweets and juice on our arrival. The grounds are so scenic and the home is just a 5 to 6 minute walk to a pristine and secluded beach. The sand and waves were amazing and there is no one there begging or asking you to buy anything. There is a shack on the beach that is run by a Mr. and Mrs. Carvallo where you can buy nice cold beer, drinks and excellent tasting seafood dishes. I visited many beaches in Goa. If you enjoy a quiet and clean beach like I do then this will be your favorite beach in Goa. I would definitely recommend staying here if you are looking for a peaceful and tranquil vacation. I would love to return to Macpal in the future.
Nikita
2017-01-15T00:00:00Z
House was neat and in quiet residential location. You need to have your own transportation to stay here. The host was very helpful.
Vipin
2016-12-31T00:00:00Z
First of all Valsao MACAPAL it really a best deal in goa.A quintessential that ticks all the boxes. Nice cozy rooms, great environment, all basic amenities and above all great hosts. Had travelled with my office friends We loved every bit of our stay. Wernick place is located at a picture perfect spot nestled surrounded by Greeneries that only betters the experience. Interweaving nature into the property at every occasion, the place was absolutely perfect for a getaway from the hustle and bustle of city life. It was a fabulous stay. Well kept, clean property. Better than expected. Accommodates 6-7 person spaciously. Mr. Wernick and Mira was available when needed and provided a prompt reply and even on are early arrival at 5 am they answered our phone within 3 rings and i was amazed that they are waiting for us and even Host came half way to receive us as it was 5am in morning. I suggest others too. And my team is already planning to visit again. Thank you Wernick & Mira.
Selvin
2016-10-02T00:00:00Z
The place was great. Rooms were clean and well maintained. Hosts were too good. They guided us on what to do and what to visit. We felt like we were at home.
Choudhary
2016-08-15T00:00:00Z
Private but easy to reach from the Airport, about 1/2 KM from the Valsao Beach, Nice restaurant and bar Caji Square within 1KM, Cansaulim Market within 2.5 KM Basic facilities, with hot water in both the bathrooms (water is really good soft water) Functional kitchen with top loading washing machine and refrigerator. Very friendly and helpful neighbours, Caji and Abdul (from Caji Square) dropped us back home after a very late (very tasty) dinner. Our stay was made more happy by our cab service providers - Menino DMelo, and Andrew Rodrigues. They took us to all the best food and shopping places in Goa Mira is a good cook, she made Bebinca and Prawn curry for us Mr Antony, is a soft spoken gentleman who made us feel at home Overall great place for a Family. - will strongly recommend to anyone travelling to Goa for a laid back family weekend with the occasional drink
Simon
2015-08-01T00:00:00Z
Listing was as per the description. If you are visiting Goa in off season, opting South Goa is not a good option at all, especially if you're group of bachelors planning to have good time. There's not much to do in South Goa, other than visiting few old churches. And finding good food near by is a tedious task.
Freddy
2017-03-12T00:00:00Z
Typ av rum
Eget hus/egen lgh
---
Typ av boende
Hus
---
Plats för
8
---
Sovrum
Velsao, Goa, Indien
Casa de Dona Telma is an Old Heritage Portuguese Architecture Home stay or Guest house. It is situated in the heart of the commercial capital, Margao (South Goa). C.D.T welcomes you and your family for a pleasant HOME stay. Its a Home away from home.
In the heart of the city, so close to the railway station, market, bus stop, restaurants veg/non.veg. Hired Bikes, Self driven Cars & Tourist Taxis too available or can be arranged, close to the guest house. !!!! The house can comfortably accommodate 6-8 people on beds provided in 3 different rooms, but can also fit in more people on mats/mattresses if required at extra cost. February time... is Carnival time, lots of merriment around the house, so its time to enjoy the floats.
Besides the Friendly neighbours, the house is located bang opposite Cafe Coffee Day outlet, Pastry & Sweet Mart shop in the vicinity. The bus stand, Garden and the local market is very very close to the Guest House
The place was marvelous, very big and spacious. Well-equipped with all comforts. Savio was a gracious host. Always checked on us if we needed anything. A good experience.
Vishal
2016-12-26T00:00:00Z
Savio was a great host and he was always there to cater to every need of ours. He made sure of every petty thing to make us feel at home. Thank you so much for that. You are the best host we could have ever had smile emoticon. He was very friendly and didn't have much of restrictions. The Location was great and was easily accessible. The house looks exactly same as shown in the pictures the furniture, beds evertything are so well kept that it felt i never stepped out of my house in the first place. So! if you are looking for a place away from the hustle and bustle of beaches, Savio's place is the best you can get at this price
Bhupender
2015-12-27T00:00:00Z
The house is huge and well maintained... Overall the experience is value for money... Savio is a very good host. He suggested a lot of good places to visit and answered all our queries promptly. The house is 15 mins away from Colva beach and around 38kms from palolem beach. Bike rental place is close by and you get all essentials at walking distance. We enjoyed our stay very much. Thanks savio for all the help
Ajinkya
2017-01-22T00:00:00Z
The Casa De Dona Telma is much better and spacious than it looks in the pictures. It is kept very nicely and is ideal for 3 couples. It's close to most of the things in South Goa and convenient for a perfect vacation. Savio has been a very good host and goes out of his ways to ensure your comfort.
Nishant
2016-03-30T00:00:00Z
Savio's fantastic as a host. Made us feel very welcome. Helped us in everything. The house is great. Maybe needs a few fixes and maybe some trims. But great place for a group.
Abhijeet
2016-11-06T00:00:00Z
Villa location is superb if you really want to explore south Goa thoroughly. Ambience was too good & very well maintained as well. It was pleasant stay & comfortable stay. Room size in actual was felt bigger to that of shown in picture. My kids enjoyed a lot as they got ample of space to play. Overall the experience was wonderful & I recommend at least to try once. I found "Savio" as a host is very helpful & supportive. Thanks buddy. looking forward in near future.
MANDAR
2016-11-22T00:00:00Z
Its an ideal place for experiencing small city life in Goa (if you dont mind not staying on the beach). The house is large, so there is no shortage of space. It provides a very good feel of staying in typical Goan house. The stay was very comfortable and the amenities provided were adequate for enjoying the stay. Its a quiet and calm neighbourhood and at the same time the city market is walking distance away. Would like to come back again to this place.
SAILESH
2014-10-05T00:00:00Z
Charmante maison avec beaucoup d'espace et ambiance rétro-Portugaise. Meublé façon minimaliste mais suffisante. La seule remarque négative est que la maison est assez sombre en intérieure même à midi. Les hôtes Monsieur Savio et sa femme sont adorables. Note séjour a été très agréable.
Pertti
2014-10-30T00:00:00Z
Typ av rum
Eget hus/egen lgh
---
Typ av boende
Hus
---
Plats för
8
---
Sovrum
South Goa, Goa, Indien
Välkommen till vår familj pensionat "Casa de Antonio. Arvet hemvistelse är en home away from home och behåller sin portugisiska arkitektur med dess ursprungliga kungliga interiörer i kombination med alla moderna bekvämligheter. Min plats är nära staden, restauranger och en kort bilresa till den berömda Benaulim & Colva stränder. Du kommer att älska min plats på grund av grannskapet & coziness. Par, solo äventyrare, affärsresenärer, familjer med barn, stora grupper och husdjur är alla välkomna. Slappna av och föryngra här!
Hemmet är mycket rymlig och mysiga; hela platsen är er utan delning. Det finns 3 sovrum, som har två king size, en drottning storlek och 2 enkelsängar. Det finns en balkong, vardagsrum, allrum, matsal, kök, en innergård och 2 nya toaletter. Hemmet är fullt möblerad och har en TV, kylskåp, mikrovågsugn, smörgåsgrillen, gas matlagning och en gejser. Det finns massor av parkering som skulle rymma över fyra bilar.
Området är lugnt och säkert, men ändå mycket nära stadens centrum. Det finns en snabbmat center precis utanför detta hem.
This is a very nice, large house, well stocked and clean. We really enjoyed our stay and the host was very helpful. I would definitely recommend Antonio's house to other travellers.
Vanya
2017-01-03T00:00:00Z
awesome place . Great hospitality and lovely host with wonderful heart. A must try place for group of 5 to 10 people. rent car shop , fast food shop on walkable distance. all basic need on walkable distance. A big thanks to host.
Vikas
2017-03-22T00:00:00Z
Great place to stay. Like they said it's vintage and awesome you know the Ancestral culture that prevailed in Goa. Super place
Bhavin
2017-01-15T00:00:00Z
We had a lovely stay at this beautiful heritage Goan home. My family and myself, 8 of us were comfortably accomodated in this house. We had the whole house to ourselves. The host and his son were very helpful, they welcomed us and gave us directions to all the places. The rooms were large, beds were comfortable. The house was very spacious. We spent time relaxing in the balcony, we played board games and cards. There was abundant parking space at the property and also a fast food place just next door. We will be definitely be coming back for a long stay next time. Thanks a lot Antonio.
Pearl
2016-12-27T00:00:00Z
Best place to stay in Margao. Grate hospitality and we enjoyed the stay here.
Pandu
2017-02-12T00:00:00Z
A very clean and spacious home; situated in a very nice neighbourhood. The place is a short drive from the beautiful beaches around Benaulim and we enjoyed there. The host is very helpful and friendly and we would very much recommend this place for a fabulous holiday/experience
Xavier
2017-03-23T00:00:00Z
A nice historical house that is quite roomy. The beds are typical Indian beds (read hard), but this place is geared more towards Indian travelers rather than us soft American types. If there are just a few of you staying then you can stack the mattresses to make the beds softer. The owner is doing quite a lot to update the house and has made good improvements to the bathrooms and is now working on the kitchen. We would like to see more couches and comfortable furniture to sit on. We hope he has a lot more of the upgrades done next time we go.
Andrew
2017-03-17T00:00:00Z
Amazing house, very clean and too spacious even for a group of 10 people. The rustic charm about the house give a true cultural feel of Goa. The most helpful and sweetest host we have seen so far. A definite go.
Krithika
2017-02-26T00:00:00Z
Typ av rum
Eget hus/egen lgh
---
Typ av boende
Hus
---
Plats för
10
---
Sovrum
Margao, Goa, Indien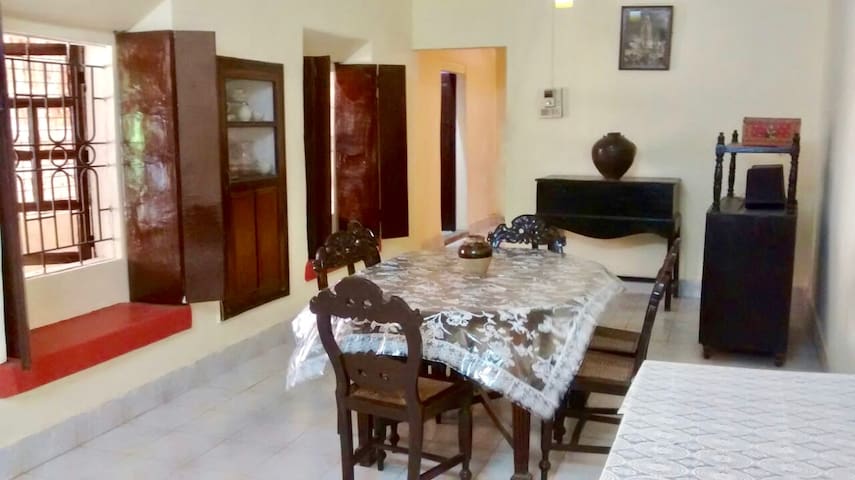 Farm House in Navelim (south Goa) 1 bedroom with two single beds 1 bathroom with western toilet 1 cupboard in bedroom Parking space available Care taker for house keeping Hot & cold water provided Accommodation Accommodation for 5 guests with bed & linen Can accomodate 5 extra guests with mattresses Food Traditional Goan food on request Distance 3 kms from Margao city 1 km from railway station 7 kms from Benaulim beach 9 kms from Varca beach 9 kms from Colva beach Tariff Tariff (from 01 Sept – 20 Dec 2012) Rs 2000/- per night (5 guests) Tariff (from 21 Dec - 06 Jan 2013) Rs 3000/- per night ( 5 guests) Tariff (from 07 Jan – 31 Mar 2013) Rs 2000/- per night (5 guests) If the accommodation is required on a weekly on monthly basis some consideration on the daily rental will be made
Dennis is a great guy... You feel like home at his place. Very Peaceful place and close to railway station. Amazing place for budget stay.
Nishant
2016-12-30T00:00:00Z
This is a separate guest house, so not much maintained. Don't go with much expectations as you are getting the room in Goa at this affordable price.
Yashish
2017-01-01T00:00:00Z
Typ av rum
Eget rum
---
Typ av boende
Hus
---
Plats för
7
---
Sovrum
Margao, Goa, Indien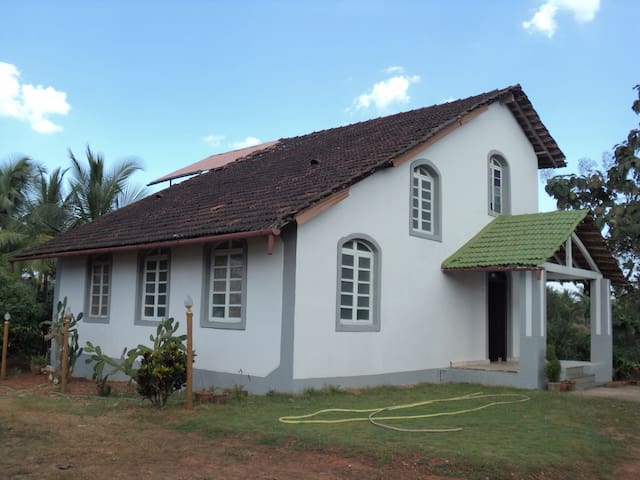 My place is close to the beach,has great views, restaurants and dining, and family-friendly activities. You'll love my place because of the views, the location, the ambiance, and the outdoors space. It is good for couples, solo adventurers, and business (URL HIDDEN) can hire bikes to move around at your convenience.The airport is about 25 kms away and you can get prepaid cabs at the airport. If you are travelling by train,the nearest station is Madgaon which is about 12 kms from my place.
The space is on the first floor and has a beautiful patio where guests can sit and view the garden around.They are also welcome to indulge in a bit of gardening if interested.The friendly dogs are ever ready to be pampered and petted.There is a library of sorts in the rustic-style living room and guest are free to browse through the books which are EXTREMELY PRECIOUS and need to be handled with care and returned to their place.The entrance to the first floor is separated so that the guests can come and go without disturbing the occupants on the lower floor.A cctv camera is installed in the grounds for security.
The house is in a typical village with rooster going cock-a doodle doo in the early hours of the morning.Paddy fields and coconut trees are the hallmark of the place.The people have a relaxed lifestyle so unique to Goa far removed from the noisy metros.
Very good experience in this house. Many spaces, four balcons and a very kindness owner. All the first stair for us with our own keys and locker. A very good feeling with geeta and the dogs . Vert easy To rent some bikes or cycles to discover the beautifull places and beaches all around colva Many choices of restaurants near the house and it was very confortable To make the breakfast in the villa. We recommand this home very well
VIRGINIE
2016-11-03T00:00:00Z
We had a good, relaxing holiday and our baby enjoyed the space to crawl and the company of the dogs
preethi
2017-01-24T00:00:00Z
Wonderful space just 5min from the Banaulim beach in a quiet goan locale.Geeta and the dogs make you feel more than welcome at their place. Be it for a cup of coffee or a delicious breakfast on a Sunday morning, their company is always pleasurable.And she has a good collection of books perfect for those lazy afternoons.
Dhanusha
2016-12-25T00:00:00Z
The apartment is huge. Tv was nice to catch up on some shows. Lots of dogs in the area which were mostly friendly. And Geeta's dogs were very sweet and gentle. Great stay for long term and you must be vegetarian or vegan. Even the dogs are ! Quite and private upstairs with nice breezes overlooking a village scene of fields and quaint homes
Caroline
2017-02-25T00:00:00Z
I loved the place and the host as well. The stay was really comfortable. The place is well accessible and clean. Truly recommend this place. And thank you for everything.
Stuti
2016-12-30T00:00:00Z
We loved the place and the host. Our stay was comfortable and Geeta ensured we were taken care off. The place is well accessible and clean. She has 3 cute dogs who are playful and friendly. Thank you for everything. :)
Angad
2016-12-12T00:00:00Z
Typ av rum
Eget rum
---
Typ av boende
Hus
---
Plats för
4
---
Sovrum
Colva, Goa, Indien
Welcome to "Beach Village Holiday Homes", The full service holiday home have a large living room with an attached dining and kitchen with spacious bedrooms with balconies. We are located in Colva, South Goa, 1.5 kms from Colva beach.
Welcome to "Beach Village Holiday Homes", The full service holiday home have a large living room with an attached dining and kitchen with spacious bedrooms with balconies The apartment can accommodate 4 people. We are located in the quaint Goan village of Madel in Colva, South Goa, 1.5 kms from Colva beach. Apartment has 2 bed rooms with attached bathrooms and balconies. The whole house is air conditioned and is aesthetically done up using wicker furniture including beds, cupboards, tables, sofa chairs etc. The houses have a well-equipped kitchenette for those who wish to do their own cooking while on holiday. The Villa, though in a serene and tranquil locality away from the hustle-bustle of the main road, is in a gated secure complex 1.5 K.m from Colva beach. The Fully furnished Villa with the following amenities should definitely make your stay at our villa a comfortable one. •Free Internet WIFI •Free Room Service which includes house cleanup. •We have electricity backup(Inverter). •All rooms have Air Conditioning •Dish TV •Attached Bathrooms to the bedrooms •Well-equipped Kitchenette with gas connection •Refrigerator •Parking for your private or rental car •Beach is 1.5 kms away (5 minutes by local transport) •Local shops close by •Bars & Restaurants close by. •10 min drive (6 kms) from Margao Railway Station. •25 min drive (21kms) from Dabolim Goa Airport
Colva is located in the South side of Goa. The villa is off the main Colva-Benaulim Road, in a quiet and peaceful residential area. The villa is flanked by coconut trees and the vista is breathtaking. Colva beach is only a 15 min walk form the Villa. Other beaches like Benaulim, Sernabatim are 10 minutes drive away. There are plenty of shops and restaurants in the vicinity.
It was a nice place and Brian was very helpful. We had no problem at all. Would definitely Italy recommended to friends. Thanks Brian
Manjunath
2016-07-25T00:00:00Z
The host Brian looked after us well despite our landing up early! The house is well looked after and we were very comfortable! Well located and nice to relax in when u need a break
Vinod
2016-06-27T00:00:00Z
It was amazing)) Brian has a wonderful house not far from a beautiful colva beach. We had all we need and Brian helped us a lot, he is very hospitable and polite person. We don't know what we would do without Brian) also we wanna thank Shobha for keeping house clean) we will miss you!!))
Виктория
2016-01-14T00:00:00Z
We stayed here from 4 Feb to 8 Feb. One of the best accommodation in Goa I have had so far. It was my first visit to South Goa and Brian and his Villa made it worth experiencing. 2 spacious bedrooms, each with attached bathrooms, large living room, equipped kitchenette, AC, Hot water, ample parking, Gated property, helpful Shobha aunty, all was just right. I travelled to North Goa on Friday and Saturday, however preferred to retain this accommodation in S Goa vs getting a room in N Goa for last 2 days. Price was decent as well. Would definitely love to stay again.
Avinash
2016-02-07T00:00:00Z
Very well kept and clean place, priced really well and is 15 minutes walking distance from the beach. Has a few grocery/wine shops close by which is perfect for an extended stay. Brian is welcoming and showed us around the house. Had some issue contacting him, but airbnb ftw, and he eventually came where we were and led us to the place.
Karan
2015-12-06T00:00:00Z
We had a wonderful stay at Maison Encore. The villa was very well maintained and spacious. It is conveniently located and close to the Colva beach and essential eateries and grocery (URL HIDDEN) is neither too close to the traffic and noise of the main road nor it is too far from basic amenities. It was just perfect !! Brian was a very helpful and a gracious host. He was very approachable and attended to all our needs. We would definitely love to stay here again for our future Goa visits.
Ajo
2015-11-28T00:00:00Z
Our Stay there was really pleasant and very good and peaceful location. We really loved the house and accommodation. We were welcomed well and briefed about each and every thing really very well. Apart from being away from the famous Calangute and Baga Beach everything was perfect. But that's marginal as everyone rides on own hired vehicle. A tremendous home away from home
Sumit
2015-08-25T00:00:00Z
We had a small reunion with our friends from Hyderabad at Brian's place. We stayed for four days and had a wonderful time. Brian was very helpful and communicative during our check in and ensured that we were able to locate the property. The location is exactly as described and is hardly a five minute walk to the Colva market. There are a bunch of restaurants and stores nearby where you can get your food and groceries. Also, the apartment has a fully functional kitchenette with all appliances and utensils. Overall, we had a great stay at Petite Maison and we would love to be back on our next Goa trip.
Abhishake
2016-10-24T00:00:00Z
Typ av rum
Eget hus/egen lgh
---
Typ av boende
Hus
---
Plats för
8
---
Sovrum
Colva, Goa, Indien
The house is in a peaceful green Colva Village at a pleasant walking distance from Colva open market & beach (1.25 km to 2km to the beach depending on the route). The room, with balcony & bathroom overlooks garden, green area and local colour. We: Easygoing Scotsman & Goan writer with 2 cats & 2 dogs.
Colva Beach - a touristic paradise; Colva village sussegad (laid-back) green and traditional. Unspoiled beaches within bicycling or biking distance.
When Airbnb was initially created, it was for Denny and Shibani's hosting vision. Guys, thank you so much, we had a terrific time with you two. Amazing food, lovely conversations, great location as you can walk everywhere... As soon as we are coming back to Goa, we are staying with you again right away!
Manon
2016-08-14T00:00:00Z
Had a wonderful 6 night stay! You could not ask for better Hosts, they made you feel right at home and I also enjoyed some amazing home cooking as well! Room was large, clean and comfortable with private bath and hot shower. Villa is located in a quiet well treed area of Colva. It's a bit of walk to Colva Beach, but I rented a bicycle for my stay and scooter rentals are cheap and lots of tuk tuks as well to get you around. All in All, a lovely stay and highly recommended for those seeking a delightful Homestay at one of the most beautiful beaches in South Goa.
Robert
2016-12-01T00:00:00Z
I did a lot of traveling and this has been a unique experience. The location was absolutely calm and peaceful in a typical Goan Village and within budget. The hosts were easy going & matured couple along with a friendly attitude. They are ready to provide assistance in any way possible and make sure that they also give you your privacy. We had decent conversations on various things on Goa and life in general. Although I was on an abrupt and unplanned vacation with heavy monsoons hitting the Goan Coast, the experience has been super cool and pleasant. I would definitely visit the place again!
Amar
2016-07-02T00:00:00Z
Great stay with Denny and Shibani, very accomodating hosts with a depth of helpful local knowledge
Keyan
2016-12-28T00:00:00Z
Shibani and Denny are a warm and welcoming couple, with plenty of interesting stories and experiences to share. Their home is, for want of better phrases, very homely and guests are made to feel free as soon as they step in. The pets in the house add to the charm, with the dogs and cats seemingly always on the lookout for a cuddle! Shibani also cooked us a nice Goan meal on the eve of our departure - tasty, with the bonus of good company. I'd definitely recommend a stay with Denny and Shibani if one wants to experience the real Goa behind all the touristy overloads.
Sudeep
2017-01-06T00:00:00Z
Denny and Shivani were the best hosts you can imagine. We felt home from the moment we arrived. We had great conversations and they were very helpful with everything.The house is very peaceful and not far from the beach (we walked there). We could had stayed longer there, but we had to continue our trip... next time!
Carina
2017-01-29T00:00:00Z
We were thinking about not to write a review in order to keep Shibani and Denny's place a secret only known to us. :) but when I returned for a second visit, they had already their second guest. So here is the truth: It was just like coming home - true Goan style. The room is really nice and provided privacy, if needed, including your own bathroom and balcony. You can have your morning coffee while watching squirrels in the tree. But the best thing about our stay were Shibani and Denny. They are wonderful, inspiring, open-minded people - never tired of pointing out places to visit and cooking heavenly dishes. They know a lot about how to use all the local spices, plants and produce and will happily share their knowledge. We were there during coconut season and were invited to watch their coconuts being opened, dried and finally visited the local coconut press together. Leaving was like saying goodbye to family and good friends combined. We would always come back when in Goa. Thank you dearly, Shibani & Den! You made our trip to Goa unforgettable.
Lea
2016-04-03T00:00:00Z
Denny and Shibani are a warm and a friendly couple, and they make great hosts. My husband and I stayed with them for 2 nights in April 2016, and had a comfortable stay. Their place is just the way it has been described as: in a peaceful village. The guest room's balcony opens out to a view of coconut and other green trees. Talking specifically about the guest-room and the attached bath: they were comfortable and clean, with fresh linens, towels and basic toiletries. If we had some time to spare during the day, we would have loved to take up Denny's offer to take a tour to the nearby coconut-oil pressing unit. We did have some very interesting conversations with Denny and Shibani though, which was the highlight of our stay with them. So was the little time we got to spend with their friendly pets. Good luck to you both, Denny and Shibani! You will hear from us whenever we are back to Goa! :)
Chinar
2016-04-23T00:00:00Z
Typ av rum
Eget rum
---
Typ av boende
Hus
---
Plats för
2
---
Sovrum
Colva, Goa, Indien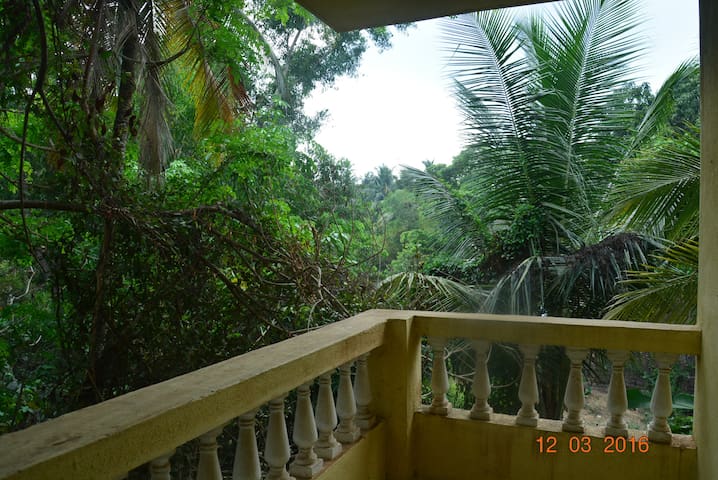 AC and Non AC rooms with mini kitchen, fridge, locker, LED Tv and free wifi. 100 meters from the Colva Beach with popular restaurants nearby.
Aston Ajoy is a walkable distance . the property has 8 rooms and operated by the family. the kitchennet in the room is convenient for people with children to preapre small meals.there is a fridge. Air conditioning. 24 hoursWi-Fi and hot running water. Aqua water filters . LED tv. and most of all the cosy mattress to have a sound sleep. all the lenin provided are white and spotless .the breakfast is served in the room. so come enjoy the tranquillity at Aston Ajoy home comfort
colva is fishing village with a clean and specious beach . since colva is centrally located the guests can get to most of the ancient Portuguese monuments in a short time.
Typ av rum
Eget rum
---
Typ av boende
Hus
---
Plats för
2
---
Sovrum
Colvá, Goa, Indien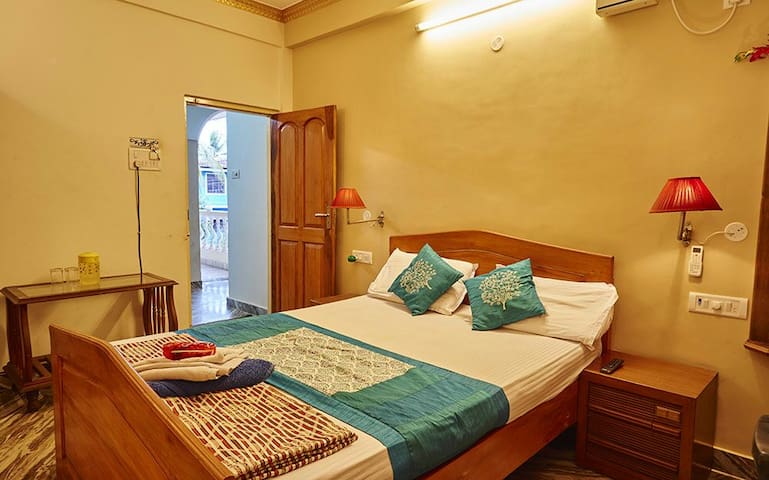 Private villa with 2 bedrooms, 2 bathrooms. Located near the coastline (300 m) in a residential area in the Colva comfortable private residence for nine houses. Architectural layout creates a pleasant coolness in the house. On average, 1 bedroom is nearly 30 square meters As well as bathroom also large. For 2-4 people. Vacation in villa suitable beach holiday lovers who value comfort.
Typ av rum
Eget hus/egen lgh
---
Typ av boende
Hus
---
Plats för
4
---
Sovrum
Colva, Goa, Indien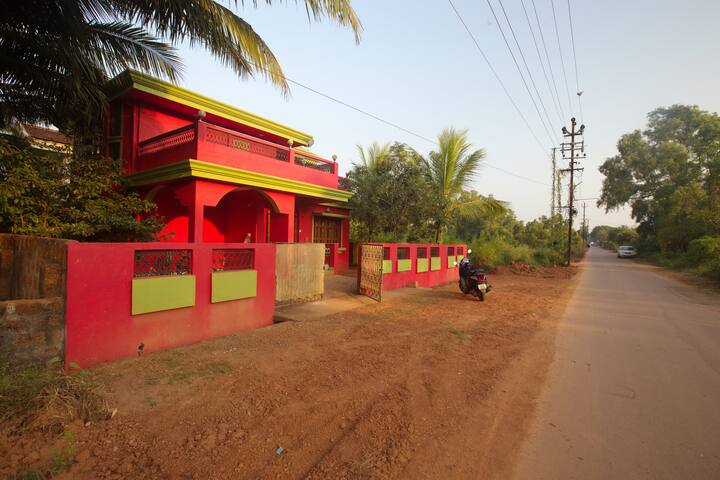 Vasco da Gama - Airbnb
:
I genomsnitt

4.65

av

5

stjärnor från

196

gästomdömen
1

–

18

av

221 Uthyrningar av hem
Ange datum för att se full prissättning. Ytterligare avgifter tillkommer. Skatter kan tillkomma.