44 Uthyrningar av lägenheter
Ο χώρος μου είναι κοντά σε νυκτερινή ζωή και αεροδρόμιο. Λόγοι που θα σας αρέσει ο χώρος μου: ο εξωτερικός χώρος, η πρόσβαση στη θάλασσα, η πρόσβαση σε νυχτερινή ζωή. Ο χώρος μου είναι κατάλληλος για ζευγάρια, οικογένειες (με παιδιά) και κατοικίδια.
Typ av rum
Eget hus/egen lgh
---
Typ av boende
Lägenhet
---
Plats för
3
---
Sovrum
Nea Kamarina, Peloponnisos Dytiki Ellada ke Ionio, Grekland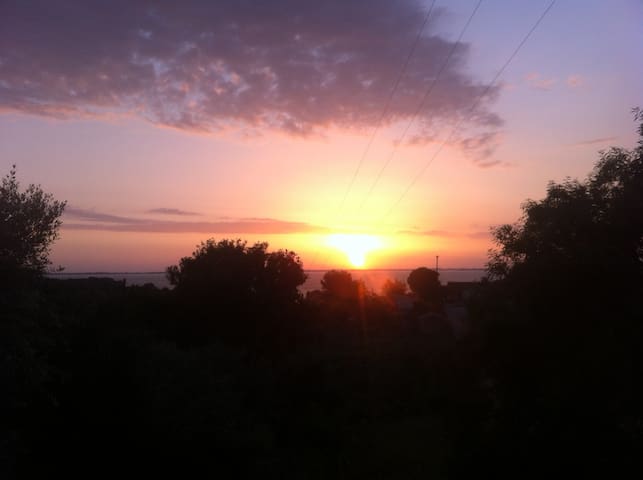 Το διαμέρισμα είναι μοναδικό στην περιοχή λόγο της θέας του, του σχεδιασμού του και της Ελληνικής φιλοξενίας του!
Typ av rum
Eget rum
---
Typ av boende
Lägenhet
---
Plats för
5
---
Sovrum
Άγιος Νικόλαος, Πελοπόννησος Δυτική Ελλάδα και Ιόνιο, Grekland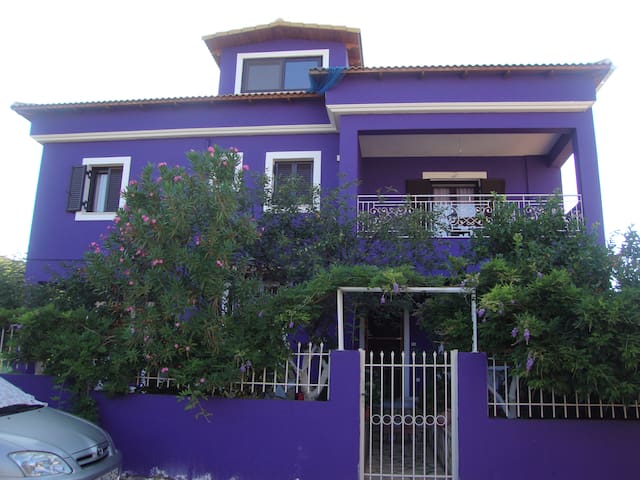 Our apartments are decorated with a lot of care. You will feel their warmth from the first moment and settle yourself "at home"! Inside they include TV, air-condition, fridge and
We had a great time here. There is wifi and air conditioning. Its clean and cozy. Nice porch shaded by plants. Cute island get away. Konstantinos responds quickly. Konstantinos's mother was so welcoming despite how late we arrived. She was accomodating all around. Definitely recommend this hotel.
Nolian
2016-07-15T00:00:00Z
We had a nice expercience At Costantino place. He and his Mother had both been Very nice with us. Costantino mom also cooked Good stuffed tomatoes for us
Claudia
2016-08-20T00:00:00Z
Nous avons été très bien accueillis par la mère de Konstantinos (par des sourires et le langage des mains) et une amie qui parlait anglais. L'environnement est original! L'appartement est bien tenu, simple, les lits sont confortables. À l'extérieur, une tonnelle qui fait le tour de la maison permet de profiter de l'ombre. Ambiance familiale et sympathique.
Corine
2016-08-04T00:00:00Z
Семья с двумя детьми провели здесь два дня. Маленькая, очень живописная деревушка на море, до пляжа 3 мин пешком, пляж чистый, очень долго мелкое море, в воде много водорослей, мелких рачков. В деревне нет магазина, но есть несколько таверн. Сам отель аккуратный, чистый. Мебель довольно старая, но функциональная. Матрас на двуспальной кровати удобный, но скрипит. В ванной есть мыло для рук. На кухне вся необходимая посуда, сахар, кофе, масло, джем.
Nikolay
2016-07-24T00:00:00Z
Cet endroit est splendide. Un petit havre de paix au bout d'une route magnifique. Un peu de nature et de calme ne fait pas de mal ! Nous avons été très bien accueilli par Konstantina, très souriante et très gentille. L'appartement est très bien pour deux ou plus, assez fonctionnel et agréable. Et en plus, le café grec est offert ! Si on avait su, on serait resté plus longtemps :)
Estelle
2016-07-29T00:00:00Z
Bon accueil. Hôte charmant dans une région de la Grèce à découvrir
Christophe
2016-07-27T00:00:00Z
Konstantinos y su madre están absolutamente pendientes del bienestar de sus clientes. El lugar es precioso y muy tranquilo; la gente muy amable y confiable y el apartamento es tal y como sale en las fotos.
Montserrat
2016-08-16T00:00:00Z
Typ av rum
Eget hus/egen lgh
---
Typ av boende
Lägenhet
---
Plats för
4
---
Sovrum
Koronisia, Ipiros Ditiki Makedonia, Grekland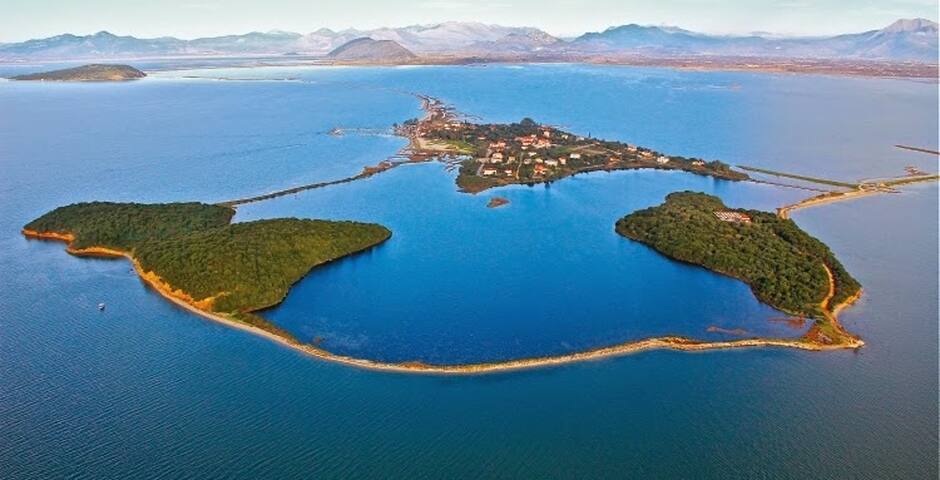 A comfortable flat for those without a car and plenty of parking space for those that have one!Everything is next to the appartment, supermarket, shops, taverns and the beach! Availability 24/7!I am also the perfect tourist guide!IT-ES-DE-EN speaker!
The house in located in the second floor and has an elevator. The kitchen has all comforts, a cosy sofa, a bath with a bathtube, a washing machine, a room with king size bed, new matress, fresh sheets, a closet and two balconies.
Next to you there is gelateria, kiosk, traditional grills, a stadio, the underwater bridge that takes you to Lefkada island, Kyani Akti beach, the castle that looks into the Ionian, the new port...
Ioanna is a great host. She was very helpful arranging everything I needed and even ordered a taxi for me to get to the airport.
Ivan
2016-06-20T00:00:00Z
Definitely my favourite AirB&B experience. The flat was great, with things like fresh fruit on arrival showing a lovely (and unexpected) attention to detail. Ioanna was wonderful, and very generous with her time. This massively exceeded my expectations; I was loathe to leave. Thanks hugely.
Tom
2016-06-03T00:00:00Z
Die Unterkunft war super, sauber und sehr zentral gelegen. 2 Personen können hier bestens die Zeit verbringen. Die Küche ist mit allem notwendigen ausgestattet, Handtücher und Bettwäsche gab es ebenso. In 5 Minuten ist man zu Fuß in der Altstadt und am Hafen. Wer nicht kochen möchte, kann hier in den unzähligen Tavernen Essen finden und in den Bars lokale Weine oder Bier genießen. Ioanna war eine super Gastgeberin und hat uns mit vielen Tips versorgt, und war abends auch für den ein oder anderen Drink zu haben. Wer seine Ruhe haben möchte, den lässt sie aber auch in Ruhe ;) Wir können aber nur empfehlen, wenn sie Zeit hat, mit ihr die ein oder andere Stunde zu verbringen und in Gesprächen viel über Griechenland zu erfahren. Sie ist eine lustige, aufgeschlossene und stehts sehr bemühte Gastgeberin. Danke für die tolle Zeit und wir kommen bestimmt wieder.
Sebastian
2016-05-22T00:00:00Z
Booking this listing was a very good choice, everything in the description was accurate and more. Preveza is a beautiful place, perfectly located between Parga and Lefkada, so it is a very good start for exploring this part of Greece. Ioanna is the sweetest host there is. Communication with her was excellent, she was very frendly and generous and always available. In short, the host that everyone would love to have. So lucky to found her! Hope to see Ioanna and Preveza soon :))
Katarina
2016-07-29T00:00:00Z
I really enjoyed staying at Ioanna's. The apartment is very cozy, the bed is comfortable and has everything you need inside. Bathtub was great after one week on the sailing boat. Also, Ioanna was very kind and helpful with information and picking me up by car from the marina during heavy rain. The apartment is less that 10 minutes away walk from the marina.
Ralu
2016-05-23T00:00:00Z
nous avons été reçus comme des princes. Notre hôtesse a eu plein de gentilles attentions à notre égard. Les quelques petites imperfections ont été corrigées rapidement. L'appartement est dans un quartier tranquille et près de toutes les commodités. vraiment, c'était parfait.
Pierre
2016-05-03T00:00:00Z
Where do I even begin when describing my perfect week in Preveza? Everything about my stay at Ioanna's place was just perfect beyond measure. Not only will you adore this apartment, but you will also adore Ioanna. She will do everything possible and go out of her way to insure that you have the most wonderful stay in the gorgeous town of Preveza. The apartment has absolutely everything you might need for cooking, bathing and relaxing, and you can walk to the town center in 5 minutes flat. Stunning beaches are just around the corner as well, so get ready for absolute bliss! Enjoy the gorgeous fruit and flowers Ioanna will provide for you, and feel comforted knowing that she will always be available to answer any questions you might have about your stay. This was my first ever visit to Greece, and it certainly will not be the last - it was, indeed, the most magical week of my entire life - thank you, sweet Ioanna, for being the most wonderful host I could have ever asked for. See you again soon!!! X
Emma
2016-06-25T00:00:00Z
Nice apartment literally minutes away from the historical center of Preveza, with plenty of basic services just around the corner such as grocery store, chemist's, etc. Everything at the flat was in the right place and Ioanna was a very kind and helpful host, providing to every necessity widely in advance and was plentiful of advices and informations on where to go and what to do in the area too! I would definetely recommend her and her particular location, not to mention that I would pick this place anytime for any possible Preveza stay in the next future!
Germano
2016-08-29T00:00:00Z
Typ av rum
Eget hus/egen lgh
---
Typ av boende
Lägenhet
---
Plats för
2
---
Sovrum
Preveza, Ipiros Ditiki Makedonia, Grekland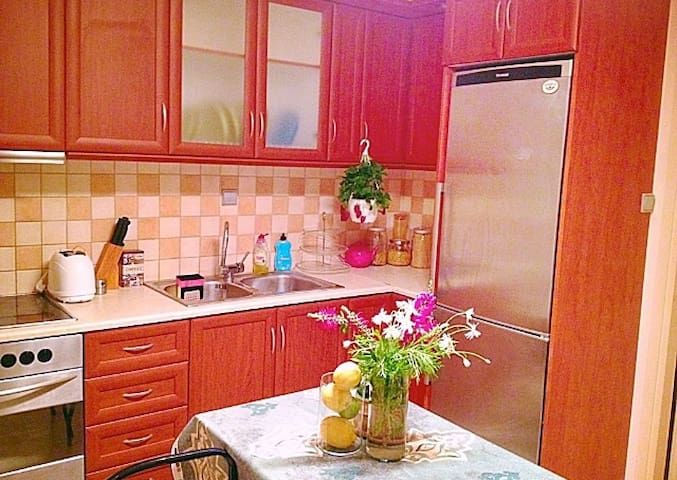 Ο χώρος μου είναι κατάλληλος για ζευγάρια, οικογένειες (με παιδιά) και κατοικίδια.
Very nice host, lovely apartment. We felt like home. Thank you a lot, and sorry for the late check out ;)
Ludwig
2016-09-06T00:00:00Z
Typ av rum
Eget hus/egen lgh
---
Typ av boende
Lägenhet
---
Plats för
4
---
Sovrum
Preveza, Grekland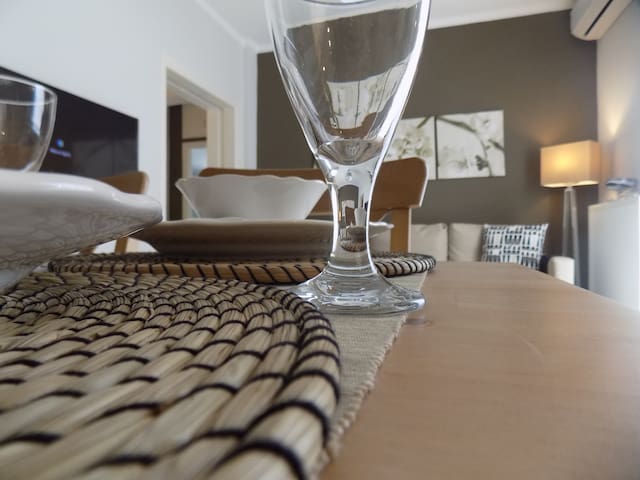 This brand new 120 m2 great & fully equipped apartment has 3 bedrooms with each balcony,2 bathrooms,living&dining room & a big kitchen. Also, is just 5 minutes walk from the sea (swimming), 5 minute walk from the city centre:restaurants with traditional seafood,boulevard,small alleys with a lot of shops & bars. My apartment is an ideal place to explore the area:Preveza,Parga,Syvota,lefkas & paxoi islands. Perfect for couples, business travelers,friends & families. *5,7 km away from (PVK)Airport.
The apartament is amazing and has all the amenities you need. Is 10-15minutes walk from city center and after a tasty meal you can relax on the balcony. Also the neighbourhood is really nice and quite and there is market close to the apartment. Panos is a great host. He welcomed us with homemade sweets and bought us some breakfast snacks. Cotte d'Azzur is the perfect place if you want to explore both Parga and Lefkada.
Alexandra Elena
2016-08-04T00:00:00Z
The pictures do not do justice to the apartment. It is much nicer than it looks, and it is amazingly clean. We were a party of 5, but it can accommodate more if necessary. It is in a great location with easy access to the supermarket, coffee shops and restaurants just minutes away. The neighborhood is very quiet. Panagiotis was expecting us upon our arrival. He was very helpful with directions around the town, he drove us around showing us the area and giving us pointers on where the best places were to go. He was nice enough to have left us water, refreshments in the fridge and certain products for breakfast. He was a great host. We are definitely recommending the apartment to our friends and we hope to have the opportunity to stay there again.
Nicole
2016-08-13T00:00:00Z
Panos Apartment is really Perfect! It was excactly as described and we did not miss anything! I really can recommend staying at Panos Apartment! Panos was such a great host! As we arrived the fridge was filled and he took us with his car for a short ride through Preveza! If possible we will come back to Preveza and Panos Apartment!!
Kim
2016-08-30T00:00:00Z
Απιστευτο!!! Πολυ καλος και φιλοξενος ο Παναγιωτης με αμεση ανταποκριση σε ολα! Μας υποδεχτηκε και μας εκανε να αισθανθουμε σαν φιλοι του! Το σπιτι ηταν ακομα καλυτερο απο κοντα, συγχαρητηρια για την ολη διακοσμηση! Πεντακαθαρο και ολοκαινουριο! Κοντα σε ολα και πολυ ευκολο για να το βρεις! Η πρωτη μας εμπειρια στο Airbnb εβαλε πολυ υψηλα τον πηχη! Ολα ηταν τελεια!!! Ευχαριστουμε πολυ!
ΟΛΥΜΠΙΑ BRENDA
2016-08-20T00:00:00Z
As per all other reviews Panos was a kind and a hospitable host. Ensuring that the fridge and kitchen pantry were fully stocked. Bathroom amenities available if you had forgotten to pack all of your toiletries. The house was very clean, modern and equipped with all the creature comforts of a beautiful home. Location is perfect. Walking distance to the local port, town centre and beach. Would highly recommend this house and if travelling to Greece again would definitely visit Preveza again and if available stay at Panos' house again.
Helen
2016-08-25T00:00:00Z
ο Παναγιωτης απαντουσε αμεσα σε ολες τις ερωτησεις που ειχα πριν επιβεβαιωσω την κρατηση. Το σπιτι ηταν οπως ακριβως το ειδα στις φωτογραφιες, μεγαλο, μοντερνο, με ωραια διακοσμηση και καθαρο. Δεν ελειπε τιποτα που να μας δυσκολεψει στη διαμονη. Η περιοχη που βρισκεται το σπιτι δεν εχει κατι αξιολογο να δεις ή να κανεις σε πολυ κοντινη αποσταση. Παρολα αυτα, σε λιγοτερο απο 10 λεπτα με τα ποδια εχεις φτασεις σε μια παραλια για μπανιο, εχει Super market σε πολυ κοντινη αποσταση και το κεντρο της Πρεβεζας ειναι 5 λεπτα με το αυτοκινητο. Επιπλεον, υπηρχε παντα θεση παρκιν εξω απο το σπιτι. Οποτε χρειαστηκαμε καποια συμβουλη, ο Παναγιωτης μας βοηθουσε αμεσως και μας προτεινε καποια πολυ ωραια μερη για φαγητο. Το συγκεκριμενο σπιτι το προτεινω σε ολους οσους θελουν να μεινουν στην Πρεβεζα. Το μοναδικο πραγμα που θελει βελτιωση ηταν το σημα του Wifi. Ολα τα αλλα ηταν πολυ καλα.
Dimitris
2016-07-08T00:00:00Z
Everything was all right! The big clean apartment, the frendly host, the beach is so close. It's pleasant and quiet place!
Марина
2016-09-19T00:00:00Z
An incredible apartment a short walk from the heart of Preveza. The interior of this place is stylish, confortable and super clean, with great bathrooms and bedrooms, everything you will need during your stay and more. An added bonus was having some complimentary food and drinks in the fridge and beach towels. Panagiotis was very professional and he made it very easy to coordinate our arrival. An incredible way to experience Preveza, Lefkada and Parga. We really enjoyed staying there and would truly recommend!
Despina
2016-08-18T00:00:00Z
Typ av rum
Eget hus/egen lgh
---
Typ av boende
Lägenhet
---
Plats för
6
---
Sovrum
Preveza, Grekland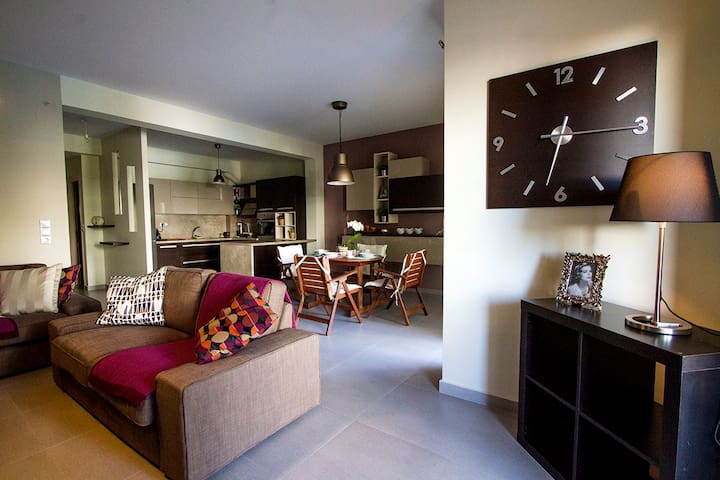 In the center of Preveza with access to all points endiaferontos.Vrisketai 200 meters from the beach of the blue aktis.sta located 100m bus stop.
Located 2.5 km from the property, after exiting the undersea tunnel of Preveza, is the international airport of Aktiou.Exallou residence is in the city center just 200m where visitors have several options during imeras.Paradosiakes restaurants for delicious food, cafeterias background Amvrakikos, nightclubs, carefree walks in the narrow streets, visiting historic sites (such as the museum of Nikopolis), excursion to the river Acheron are some of them.
The property is located in a peaceful neighborhoods in which there has never created the slightest (URL HIDDEN) minimum distance there are taverns with excellent (URL HIDDEN) 300 meters there are sports facilities ideal neighborhood for safe play toddler.
It was my first experience on airbnb and it was really great! Tassos was very polite and made sure everything was okay. He picked me up from the airport and gave me a ride after I left. The appartment was really nice and cozy with a very good location and price. The only inconvenience was in the bathroom. The toilet seat was a bit broken and the shower could use a shower curtain and a shower holder. Other than that everything was great! Recommended!
Alex
2016-06-24T00:00:00Z
A very bad experience. We don't reccomend anybody that house. The host is not reliable.
Maurizio
2016-08-29T00:00:00Z
Anastasios was very caring and helpful host. He showed us around town and told us about the sightsing we could see and restaurants to visit. The apartment is quite centrally located, close to everything. It is a small, clean with simple decor apartment. My daughter and I liked it! We would gladly recommend accommodation for other guests.
Eugene
2016-07-02T00:00:00Z
A nice place to stay for a few days in Preveza, close to the sea and near the centre. Tassos was very welcoming and helped with all my questions very quickly.
James
2016-09-04T00:00:00Z
Typ av rum
Eget hus/egen lgh
---
Typ av boende
Lägenhet
---
Plats för
4
---
Sovrum
Πρέβεζα, ηπειρος, Grekland
Beautiful furnished apartment 90sqm. 2 bedrooms and 2 WC, bright with large terraces on the 3rd floor, ready to accommodate up to 6 atoms, has a parking. Located in the center but also quiet. At 50meters is the attitude of the bus to get around. In less than five minutes walking you arrive in Preveza beach where are the cafes shops and taverns. The nearest beach is the Côte d'Azur and you can get parpatontas in 15 minutes. Ich spreche Deutsch, Sie können Mir fragen stellen. I speak English and Italian to feel free to make questions.
The flat (apartment) is located in the center of town, has all the necessary appliances (dishwasher, refrigerator, oven, TV), 2 double bedrooms, a sofa bed, a Raja, there's playpen, and there is private parking.
The provider quietness in the center
Typ av rum
Eget hus/egen lgh
---
Typ av boende
Lägenhet
---
Plats för
7
---
Sovrum
Πρέβεζα, Πρέβεζας, Grekland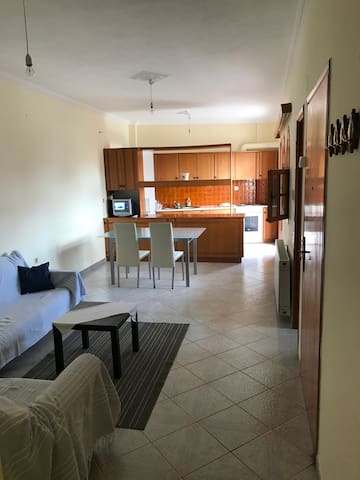 A cozy downtown apartment in the heart of Preveza and next to the marina. In just a few steps from the main attractions of Preveza.3rd floor with big balcony on both sides of the house. Really nice and relaxing enjoying the sort Distances.
This illustration- styled apartment consists of two bedrooms, an open-plan lounge kitchen, a bathroom and a balcony. Each bedroom provides double beds and direct access to the balcony whereas the living room has a comfortable sofa that can also be turned into a double bed, providing accommodation for two more visitors. The kitchen offers the necessities for breakfast, cooking and dining. All in all this apartment is nicely equipped with all the amenities you could need (air- conditioning, a plasma tv, a washing machine etc).
Typ av rum
Eget hus/egen lgh
---
Typ av boende
Lägenhet
---
Plats för
6
---
Sovrum
Preveza, Grekland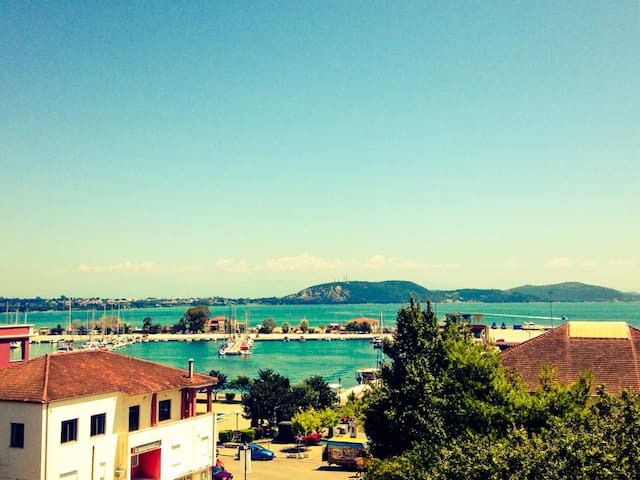 40 τ.μ. κλιματισμός - θέρμανση κοινόχρηστη αυλή με κήπο 700μ από το κέντρο, την αγορά και την παραλία της πόλης 500μ από την πλαζ "Κυανή Ακτή" 5χλμ από το διεθνές αεροδρόμιο του Ακτίου
40 sqm fully furnished air conditioned studio apartment with garden view. It consists of a living room / bedroom with a double bed and a sofa, bathroom with shower, kitchen and a dining table. The kitchen comes with an oven, a fridge/freezer, microwave as well as a kettle and a sandwich grill and offers all the necessary kitchenware and tableware. Here you will also find: free Wi-Fi, a 32'' flatscreen TV, washing machine, iron, hairdryer,shampoo and shower gel, fresh linen and towels.
The apartment is located in Preveza, on a quiet and peaceful street, 500m from the nearest beach as well as 700m from the city center. There are plenty of restaurants/ taverns, cafes, clubs and supermarkets nearby. 5km from Aktio airport
Typ av rum
Eget hus/egen lgh
---
Typ av boende
Lägenhet
---
Plats för
2
---
Sovrum
Preveza, Grekland
A beautiful and cozy apartment for 5 persons in the center of Preveza surrounded by balconies. You will find a big living room with two sofas, dining area and fully equiped kitchen, two bedrooms and the bathroom. Is just 5 minutes walk from the sea (swimming), 5 minute walk from the city center. 5,2 km away from (PVK)Airport
Typ av rum
Eget hus/egen lgh
---
Typ av boende
Lägenhet
---
Plats för
5
---
Sovrum
Preveza, Grekland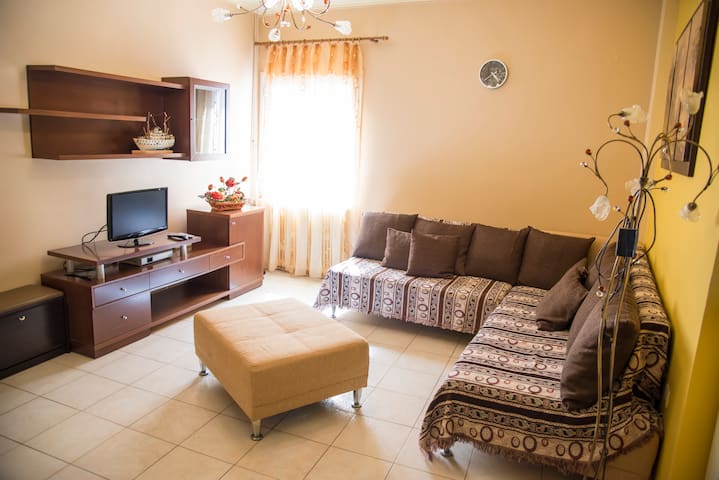 The studio is located in the historic center of Preveza. It is just a 2 min walk from the main square of the town where you can find numerous coffee shops and restaurants. You can easily walk around and explore the area.
The studio includes a Queen bed, desk and a leather sofa. A large flat screen TV along with a PS3 and a separate media player are also available. The kitchen includes a cooker, fridge, juicer, toaster and a Nespresso coffee maker.
A quiet neighbourhood where you can find anything you need in walking distance.
Κλείσαμε το δωμάτιο με την κοπέλα μου για εφτά ημέρες. Το δωμάτιο ήταν ακριβώς όπως το δείχνουν οι φωτογραφίες. Συμπεριλαμβανει τα πάντα για μία ευχάριστη και άνετη διαμονή; νιωθαμε σαν το σπίτι μας. Έχει υπερδιπλο κρεβάτι με πολύ άνετο στρώμα. Το καλύτερο με το δωμάτιο είναι ότι βρίσκεται πάρα πολύ κοντά στο κέντρο ( 5 λεπτά με τα πόδια ) αλλά ταυτόχρονα είναι και σε μια πολύ ήσυχη περιοχή. Επίσης έξω από το δωμάτιο έχει χώρο να καθίσεις με μερική θέα στο λιμάνι. Ο Στάθης είναι πολύ ευγενικός και εξυπηρετικος, με ιδιαίτερα διακριτική παρουσία. Το συστήνουμε σε όλους ανεπιφύλακτα!
KONSTANTINOS
2016-08-27T00:00:00Z
Stathis was very kind and his studio was really nice. The studio was OK, with all the needed facilities. We had a great time. Very good value for money!
Anduela
2016-08-11T00:00:00Z
Typ av rum
Eget rum
---
Typ av boende
Lägenhet
---
Plats för
2
---
Sovrum
Preveza, Epirus, Grekland
Peaceful and relaxing neighborhood...near "kyani Akti" beach.. 2 minute walk..
very big room located in a relaxing area near Preveza. Friendly and kind owner.
gabriele
2016-08-18T00:00:00Z
Beautiful house, lovely room and kind, helpful hosts. A few seconds from beach in a quiet spot with lots of trees, a beautiful, quiet little hideaway spot in preveza!
Amy
2016-08-29T00:00:00Z
Typ av rum
Eget rum
---
Typ av boende
Lägenhet
---
Plats för
2
---
Sovrum
Preveza, Epirus, Grekland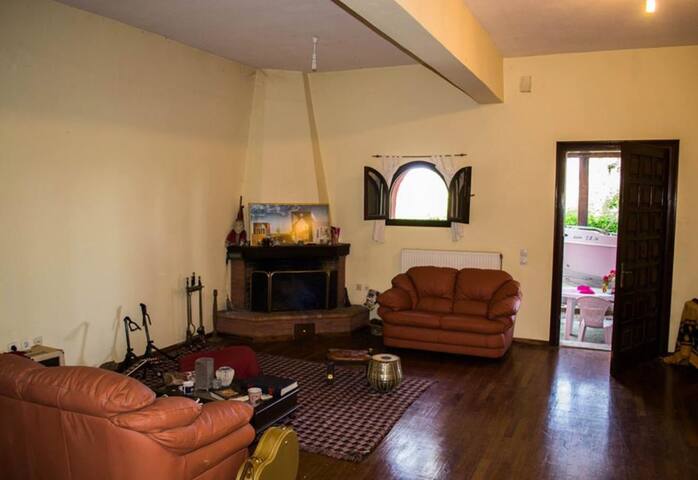 The property is on the outskirts, 10 min walk from the city center but in a very quiet residential area, nevertheless you can here have your fun with the neighbors, 10 min. walk you reach the cafe bars, restaurants, shops, etc. outdoor space for barbecues etc. My property is good for couples, lone adventurers, business travelers and families (with children). You can arrive by car or by plane to Preveza-Lefkas, from there we organize to get there.
The apartment is on the 1st floor in a quiet area
Quiet Neighbourhood
The apartment is much better than the pictures tell. Cozy neat house is in a quiet area. The landlord is very friendly and helpful. He
Heikki
2017-03-06T00:00:00Z
Our stay in Preveza was faultless, the accommodation was very welcoming, clean, modern and spacious. Siegfried and his family were most accommodating, friendly and gave us hints and tips about the surrounding area and places of interest regarding food and travel. Would highly recommend staying at Siegfried apartment.
Natasa
2016-07-15T00:00:00Z
Absolutely fantastic location, apartment and hosts! Flawless!!
chris
2016-08-31T00:00:00Z
Calme, pas trop loin du centre, tres propre et quasi tout neuf : que du +++
Michel
2017-01-15T00:00:00Z
Le logement proposé par Siegfried est spacieux,propre,confortable et bien équipé côté cuisine. Deux très grandes terrasses avec tables et fauteuils sont très appréciées.
Jp
2017-02-13T00:00:00Z
Excellent communication with the host, the house was nearby the center of Preveza, with all that you need for a pleasant stay. Quiet neighbouring.
Konstantinos
2016-08-20T00:00:00Z
Siegfried made us feel welcome upon our arrival. His home is quite and comfortable. With the essentials to have a pleasant stay.
Terry
2016-11-10T00:00:00Z
We were made to feel very welcome. Siegfried was very helpful. The flat was really nice and clean. Close to the city and tennis courts as we came for a tennis tournament.
Elena
2016-07-01T00:00:00Z
Typ av rum
Eget hus/egen lgh
---
Typ av boende
Lägenhet
---
Plats för
5
---
Sovrum
Preveza, Ipiros Ditiki Makedonia, Grekland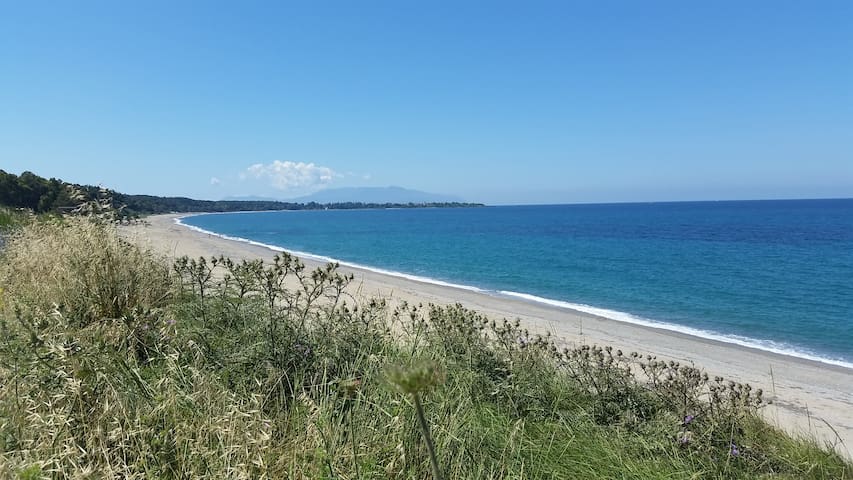 Lavender Flat, είναι ένα διαμέρισμα 50m2,το οποίο μπορεί να φιλοξενήσει από ένα έως τέσσερα άτομα. Είναι φτιαγμένο με πολύ μεράκι, αγάπη για τον τόπο μας και σεβασμό για τους επισκέπτες. Η διακόσμησή του είναι εμπνευσμένη από το λουλούδι Λεβάντα!
Typ av rum
Eget hus/egen lgh
---
Typ av boende
Lägenhet
---
Plats för
4
---
Sovrum
Préveza, Grekland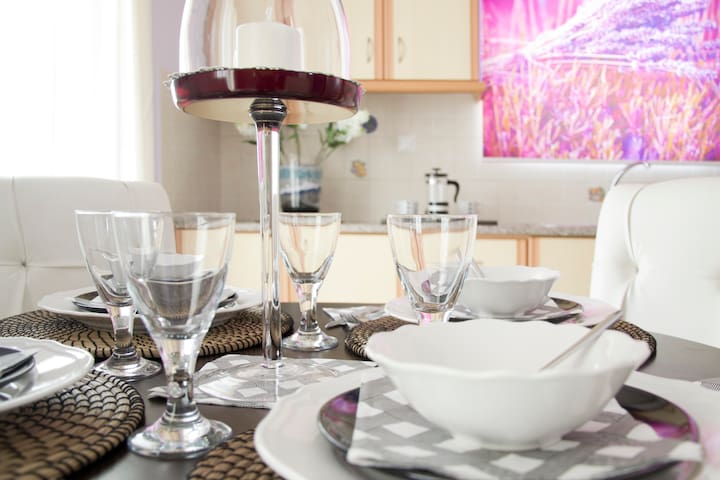 The flat is cool & a practical base to your night outs to the port (only 10min walk from the taverns) and to your adventures to the sea (15min by car to many sandy beaches).Fresh fruit and vegetables can be supplied or picked from the family orchard.
The apartment is about 50sqm and located on the 1st floor in a quiet one-way street very close to the pedestrian center of Preveza. It consists of: a large bedroom with a double bed 1,6 x2 meters (anatomic, new), a living room with a double sofa bed, an open space hall kitchen with double sofa bed, desk, kitchen table for 4-6 persons, a fully equipped kitchen (refrigerator, oven, dishwasher, microwave, coffee maker, etc.), a bathroom with shower and washing machine. There is air conditioning, central heating. TV and wi-fi can be available on request. Sheets and towels are changed once a week and a bike, a baby cot, baby bath, beach items can be made available upon request. There is parking in the building.
In Preveza there are three Turkish/venitian fortresses and it is the main port for yachts crossing the Ionian Sea. The exceptionally important archaeological museum and the ruins of the ancient roman city of Nicopolis absolutely worth a visit. The ancient greek city of Kassopi offers an excellent insight into the planning of an ancient city and an wonderful view of the entire region. Across the coastline north of Preveza, Epirus offers several amazing beaches with relatively few visitors. In just a few kilometers away there are excellent hiking trails, the descent through the river of Acheron, the Zaloggo site, Zagoria, Lefkada and Paxoi islands and many other attractions.
casa completa di qualsiasi accessorio compresi accoglienza, disponibilità, gentilezza e discrezione. adatta x 4 persone che vogliono visitare Preveza e dintorni. ubicazione dell'appartamento rispetto al paese in zona bruttina ma centrale. rapporto prezzo qualitá elevato. consigliato si
Maurizio
2013-08-21T00:00:00Z
Typ av rum
Eget hus/egen lgh
---
Typ av boende
Lägenhet
---
Plats för
4
---
Sovrum
Preveza, Ipiros Ditiki Makedonia, Grekland
Möblerad Duplex Preveza centrum med parkering, salong och ett sovrum, wc, stor gård. 50 meter från en busshållplats och taxistation. sovmöjliget för 5 personer. 2-Zimmerwohnung im Stadtzentrum bis 5 Personen mit garage. Två-rumslägenhet i Citycenter för 5 Person med parkering.
Centralt läge, lätt tillgång till busshållplatsen och taxistation bredvid den historiska stadskärnan och stranden i Preveza och enkel tillgång till stränder.
Enkel åtkomst, tyst
The host was great, welcomed us properly. Told us about all the places that we need to know, helped us whenever we asked.. All in all, great communication and response. All recommendations.
Bojan
2016-08-19T00:00:00Z
We had a lovely time here, stayed 2 nights :) Didn't meet Maria but her husband was there to greet us and gave us the key. Thank you!
Maiju
2016-09-28T00:00:00Z
The host canceled this reservation 29 days before arrival. This is an automated posting.
Oleh
2016-07-05T00:00:00Z
s very central apartment close to the shops and within easy walking distance to the old town, the seafront and beach. Bus stop nearby and taxi rank. The apartment was spacious with s great sofa! Christos was really welcoming, friendly and helpful.
Ginny
2016-07-02T00:00:00Z
This apartment is spacious and is centrally located right off the main street. It is on the bottom floor and while I was there during a rainy period, it is very damp in the apartment.
Kenneth
2016-11-11T00:00:00Z
Typ av rum
Eget hus/egen lgh
---
Typ av boende
Lägenhet
---
Plats för
5
---
Sovrum
Πρέβεζα, Πρέβεζα, Grekland
Spacious and cozy apartment located in a nice quiet area close to the city (URL HIDDEN) features two shiny bedrooms which are suitable enough for a family or a couple.The big fully equipped kitchen is more than comfortable for dining after a long summer day .Don"t forget to deploy the huge balcony or the garden where you can have your cocktail under the stars.Its" minimal style will help you to relax and have some really quantitative time for you and your beloved ones.
Typ av rum
Eget hus/egen lgh
---
Typ av boende
Lägenhet
---
Plats för
5
---
Sovrum
Πρέβεζα, Πρεβέζης, Grekland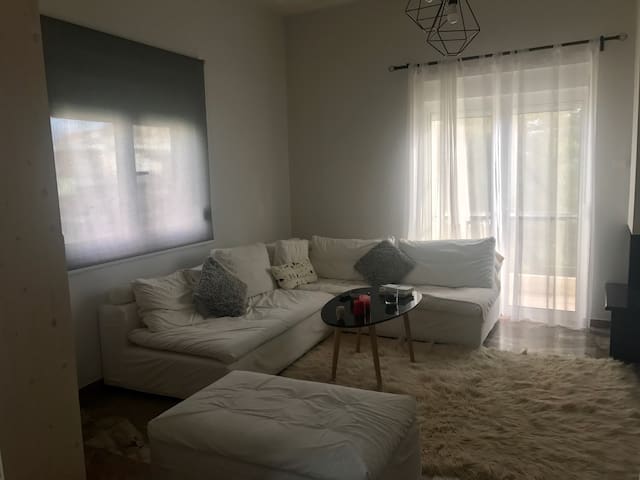 Vonitsa - Airbnb
:
I genomsnitt

4.21

av

5

stjärnor från

56

gästomdömen
1

–

18

av

44 Uthyrningar av lägenheter
Ange datum för att se full prissättning. Ytterligare avgifter tillkommer. Skatter kan tillkomma.