93 Uthyrningar av lägenheter
Unsere Wohnung befindet sich nördlich des historischen Waits Dorf in einem 1850 Bauernhaus nur 10 Minuten von Sugarbush und Mad River Glen entfernt.
Zwei Schlafzimmer, ein Bad, für vier Personen.
Wir sind auf der Route 100 von Bio-Ackerland umgeben.
Susan's apartment is beautiful. The place looked exactly like the pictures. Clean, very comfortable beds and sunny living space. My husband especially liked the bathroom! We were in Waitsfield for a wedding at the 1824 house which was the next farmhouse down the road, so I would recommend this place if you are going to a wedding there! It's also convenient to the "downtown" where we went for a dinner and breakfast out. Otherwise we enjoyed the fresh farm eggs from the chickens, and hubby said the granola was the best he's ever had! I enjoyed the Greek Yogurt that Susan had left for us as well. Thank you for a great stay. If we are ever in the area again, we will definitely consider "Steadfast Farm" again!!
Sheila
2015-10-05T00:00:00Z
Susan's place is amazing! It was exactly as described. The farm is gorgeous and the house was very clean and comfortable. The washer and dryer were really helpful as we were in town for a half marathon and it was so nice to be able to wash our clothes. Susan was very responsive and I would recommend her place to anyone!
Annika
2016-07-12T00:00:00Z
Susan was terrific at promptly e-mailing us. She even made up extra beds for our sons! Ted and Susan were friendly and helpful (they directed us to a wonderful farmer's market). They provided fresh eggs from their hens at breakfast. The apartment is really, really nice and makes a fabulous retreat at the end of the day. There is a washer and dryer, which was much appreciated after we were soaked by rain. Really, everything you could need is right there!
Elizabeth
2015-07-20T00:00:00Z
We had a wonderful stay in this comfortable, spacious and well-appointed property. The suite is located within the main house, with a private entrance and separate facilities, including your own laundry room. The kitchen is well-supplied for all types of cooking and a mason jar full of delicious homemade granola was waiting for us at our arrival. Our hosts were friendly, gracious and helpful. In addition to giving us access to their garage, we received helpful advice on local attractions and were invited over to a social gathering in the main house. We highly recommend this property to anyone wanting a getaway in the Vermont countryside. Thank you Susan and Ted!
Jacques
2015-09-09T00:00:00Z
The Steadfast Farmhouse was the perfect weekend getaway ! Susan and her family were the most amazing hosts! They made us feel right at home with homemade granola and farm fresh eggs from her chickens that roamed the grounds. The apartment was picture perfect for us and our family. It was even more amazing than the photos ! The bead rooms were very spacious and the bathroom was beautiful. Each room had large windows with breathtaking views of the little town of Waitsfield. If you're headed to Vermont this is the place to stay !
Maxie
2015-10-19T00:00:00Z
I recently stayed at Susan's place with my husband and a couple of friends. We had a wonderful time in this lovely house. The apartment was exactly as it looked in the pictures- it was clean and spacious with a beautiful view. We appreciated Susan's thoughtfulness-- fresh farm eggs, granola, and a collection of DVDs and games were cherry on the top. Susan was very friendly and gave us some great suggestions about exploring the area. We also met her adorable dogs and chickens! I would definitely recommend this place to others!
Asmita
2015-10-12T00:00:00Z
The apartment was the perfect spot for our summer trip. We had four adults and there was plenty of room for us to stay comfortably. It was so clean and bright, and the view from the bathroom was unreal! My husband and I already talked about staying here again when we come up in the winter.
Stephanie
2015-08-31T00:00:00Z
Susan's place fit our needs perfectly. It was stocked with everything we needed (plus yoghurt and homemade granola).The apartment looks out onto a lovely vista: a pond surrounded by birch trees and a beautiful old barn. The layout is perfect and everything can be found easily, which made it a fast, comfortable adjustment to staying there. The main room is beautiful and open, with beams overheard and a gorgeous old spinning wheel. Makes me want to go back for longer next time!
Elizabeth H
2016-07-31T00:00:00Z
Typ av rum
Eget hus/egen lgh
---
Typ av boende
Lägenhet
---
Plats för
4
---
Sovrum
Waitsfield, Vermont, USA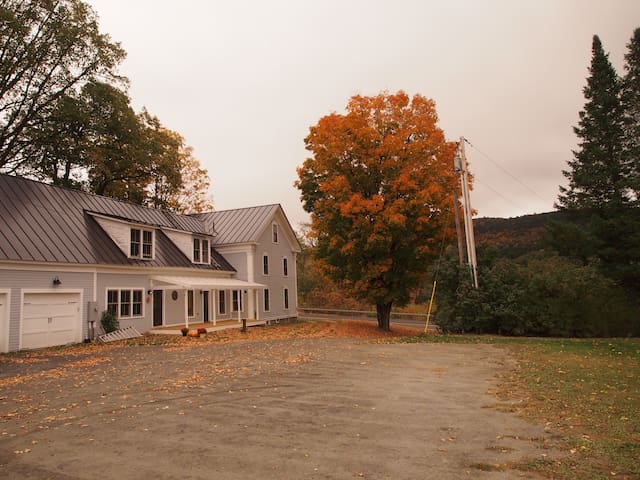 The studio was private, clean, and comfortable. My husband and I took a class at the Yestermorrow Design and Build School which was only minutes away. I would absolutely recommend this studio, it was just what I was hoping for.
Deirdre
2016-08-15T00:00:00Z
I stayed in Elizabeth's lovely studio apartment while attending a friend's wedding nearby. The location is so convient - it was very close to the wedding and festivities and there is a lot to do nearby. The studio is so cozy and charming. Elizabeth and her family were nothing but kind and welcoming. They even had bottles of water and apple cider donuts waiting for us upon arrival. I would highly recommend staying here to anyone who is interested!
Lila
2016-08-29T00:00:00Z
Quiet neighborhood and very quiet in the room. The apartment is above the garage and was very private and quiet (a little noisy when the garage door went up - only happened once in our stay). Elizabeth communicated with us and made arrangements for our arrival. Room was very nice with water chocolate and apples to greet us. Bed is comfortable. Took a little time for the hot water to come in - patience.
Ed
2016-10-11T00:00:00Z
60 Joslin was excellent. We arrived to chocolates, water bottles, and a very clean and cozy space. We were there to go skiing at Sugarbush and the apartment is a convenient 10 minute drive to both Lincoln Peak and Mt. Ellen. We would definitely recommend and will hopefully be back soon!
Meredith
2017-01-01T00:00:00Z
We felt so welcome arriving here - Graham and Beth went above & beyond the essentials. Gorgeous, large, and cozy space that's full of Vermont charm. The location is very convenient and quiet, it was just 5 minutes from the wedding we were attending and had super easy access to town and hiking. Would love to come back in the winter for skiing!
Amie
2016-08-07T00:00:00Z
We arrived and found a beautifully picturesque home. We were greeted with a warm welcome from our host to this delightfully unique space. They provided several hospitable touches of coffee and treats which added to our joy and ease of our stay. We hope we have other opportunities to travel to the Waitsfield area again, because we would be graced by goodness to return.
Cameron
2016-07-25T00:00:00Z
Typ av rum
Eget rum
---
Typ av boende
Lägenhet
---
Plats för
2
---
Sovrum
Waitsfield, Vermont, USA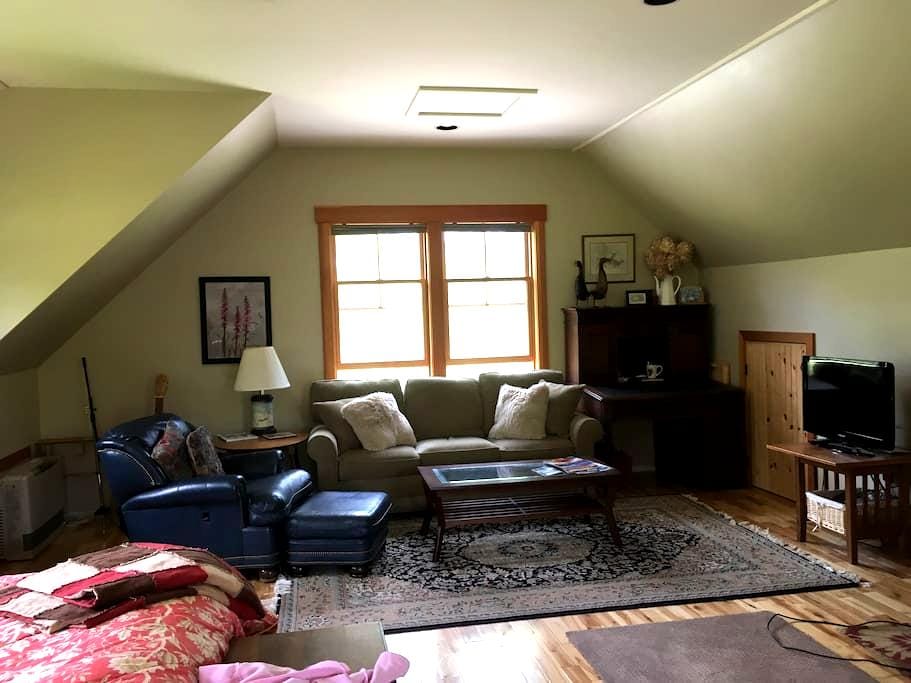 great condo, close to the slopes! can't beat it
Justin
2015-02-28T00:00:00Z
We had a fantastic time! The condo is great, close to everything, well thought out, clean, tastefully decorated, and with all the amenities you need for a ski trip. Way more bang for your buck than the area hotels! We will definitely be coming back!
Noah
2015-02-25T00:00:00Z
Absolutely wonderful experience. Dan has created a welcoming, well-appointed condo perfectly located between Lincoln Peak and Mt. Ellen. Very clean, creatively decorated, brand new feeling. He really thought through how to set up the space for guests starting with the 'mud room' through the living space, kitchen and bedroom. The linens, beds and furnishing were new and excellent quality. Everything worked perfectly and we can't wait to go back!! Highest rating possible!
Gail
2014-12-29T00:00:00Z
We had a wonderful time in the condo. Very clean, cozy and perfectly set up. Would highly recommend this place/ will go again!
Willis
2016-01-31T00:00:00Z
Daniel's condo is exactly as described in his posting as well as in the pictures. It is in a perfect location between Sugarbush South and North and not too far to Mad River Glen. If we need a condo in the Mad River Valley I will be sure to reach out to Daniel. Thank you!
Harry
2015-03-15T00:00:00Z
We had a great experience. The condo is very well kept and clean!! It sleeps 6 but better to have 4 bc not much space to hold your stuff. One full size bedroom but the loft for the other couple is snug!! Very cozy beds!! Really easy to communicate with Daniel. He is very responsive and helpful!! We had a great stay!! Enjoy!
Jenna
2015-08-23T00:00:00Z
Easy to book and communicate with Daniel.
Harry
2015-03-22T00:00:00Z
Daniel's condo could not have been more cozy and perfect. The condo was very clean and well cared for. The beds were very comfortable.
Kristie
2015-10-18T00:00:00Z
Typ av rum
Eget hus/egen lgh
---
Typ av boende
Lägenhet
---
Plats för
4
---
Sovrum
Waitsfield, Vermont, USA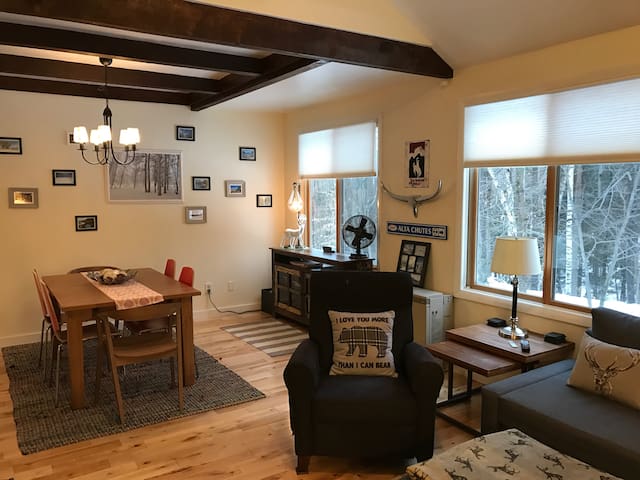 Hi. Nice apartment. Very clean. Jean and Kevin very nice.
Neal
2016-01-19T00:00:00Z
Typ av rum
Eget hus/egen lgh
---
Typ av boende
Lägenhet
---
Plats för
4
---
Sovrum
Waitsfield, Vermont, USA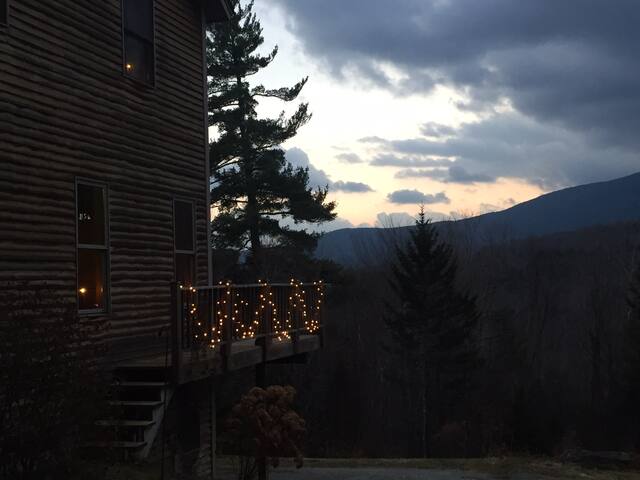 Clean, warm and spacious apartment made for a great stay. It is in a basement so the layout is a little funny, but the apartment is very well-equipped and comfortably-furnished. The appliances seem nearly new and having a washer and dryer is a big bonus. The property is in a beautiful location at the end of a road and is a few minutes drive from the center of Waitsfield and close to Mad River Glen and Sugarbush. In warm weather it would be great to sit on the terrace.
Adam
2017-01-16T00:00:00Z
This was a very nice spot for our family to stay while we spent a few days skiing! Harvey was incredibly responsive leading up to our visit, met us when we arrived, and even had the kitchen stocked with a few essentials so we didn't have to run out to the store. The apartment was clean and comfortable for the five of us after a day of skiing. Great restaurants nearby within a 5-10 minute drive. We had a great time playing games from the well stocked game cabinet and loved playing bumper pool. We would definitely stay there again!
Jacquie
2016-12-30T00:00:00Z
Lovely landlords, very available. Left us juice and milk for our stay. Clean, plenty of towels. A little tight for five of us. Bedrooms were fine, but with the bumper pool table, not quite enough seating in living room and a bit tight to get around. On the other hand, the bumper pool table was a plus.
Wendy
2017-02-27T00:00:00Z
We had an amazing stay! Harvey is the best host you can ask for! We loved every second we spend there.
Rani
2015-08-16T00:00:00Z
We had a great stay. Harvey was a terrific host. He was flexible with our arrival time and greeted us warmly. He was helpful in every possible way getting us settled in, then let us enjoy our stay in peace. His home is exactly as described. Only more spacious and with pleasant surprises like a bumper pool table, great selection of board games and full kitchen with large appliances. Great heating too. It was -20 degrees fahrenheit outside and we slept comfortably. Location to Sugarbush and Mad River Glen is ideal, a short drive away. Terrific restaurants nearby in Waitsfield. We enjoyed our stay and recommend it.
Anton
2016-02-17T00:00:00Z
Harvey and Miriam were wonderful hosts. Harvey met us at the door to show us around and also invited us to his New's Year's eve party. The apartment was very comfortable and well appointed. Our family enjoyed many rounds of bumper pool- something none of us had played before. We were warm, had plenty of hot water, towels etc. They even made sure we had milk, OJ, coffee and tea for the morning. I would definitely come back again!
Lori
2016-01-03T00:00:00Z
We had an amazing stay over New Years weekend on our ski vacation to Sugarbush. The place was clean and spacious, Harvey even made sure the fridge was stocked with milk and oj! The location was perfect for us, less than a 15 minute drive to the mountain. The bumper pool was so much fun! Harvey and Miriam were great hosts. They made sure we felt at home and even invited us to their New Years Eve party where we enjoyed great food and conversation. We definitely recommend this place and will be visiting again!
Erin
2017-01-02T00:00:00Z
We stayed with Harvey for 2 nights in March while we visited Sugarbush for a family ski vacation. The apartment downstairs was spacious, as promised, and modern, as well. The kitchen is well equipped and there is a nice TV and sitting area where we relaxed at night. Harvey was a great host. He even worked with us to change the dates of our trip when an unplanned health issue popped up. Would definitely recommend and hope to visit again.
Brian
2016-03-06T00:00:00Z
Typ av rum
Eget hus/egen lgh
---
Typ av boende
Lägenhet
---
Plats för
5
---
Sovrum
Waitsfield, Vermont, USA
Húsgögnum Ski Condo á SUGARBUSH Resort í Vermont fyrir jólin Dec 19 Þröstur des 27. Tvö svefnherbergi með 1,5 Baths sefur 4-6. Mínútur frá skíðalyftur. $ 2200 nær utilities. Hringdu (PHONE NUMBER HIDDEN) fyrir frekari upplýsingar.
Á dauðum enda vegi. Mínútur frá Sugarbush skíðasvæðinu lyftur.
Quiet engin umferð Í skóginum
Typ av rum
Eget hus/egen lgh
---
Typ av boende
Lägenhet
---
Plats för
6
---
Sovrum
Waitsfield, Vermont, USA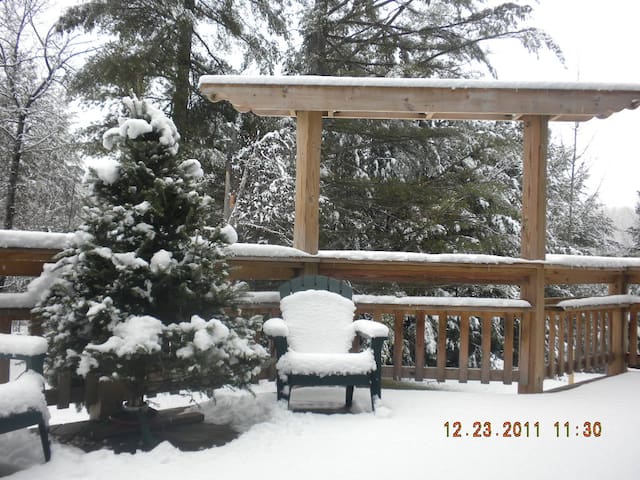 Peter and Karen are excellent hosts! The location is perfect, right near everything we wanted to do in the Mad River Valley. Peter gave us some excellent recommendations and every place he told us about was outstanding. The studio is just as described in the listing and everything was very comfortable. The dogs Lilly, Violet, and Wilbur are adorable. We hope to be back!
Amanda
2016-07-31T00:00:00Z
My husband and I stayed at Peter's studio apartment for 3 nights while in town for a Norwich graduation. Everything was exactly as listed and was perfect for our stay. Peter was extremely welcoming and friendly, as were their 3 dogs that we enjoyed seeing when we would come and go! The breakfast items were a nice touch and the studio was convenient to Sugarbush and a couple of delicious restaurants right in Waitsfield (we recommend The Mad Taco!). We would stay again if we are ever back in Vermont!
Lorinda
2016-05-17T00:00:00Z
Great stay! Private, cozy, and convenient!
Erica
2017-01-16T00:00:00Z
We had a great experience staying in Peter's studio apartment. The kitchen was fully stocked with everything we needed to make dinner and even to bake! The apartment is very close to downtown Waitsfield so we found great places to eat out as well. The apartment was incredibly cozy and the perfect place to stay for a ski weekend.
Laura
2016-02-18T00:00:00Z
We enjoyed our time at the Mad River Valley Studio. Nicely decorated and well accommodated studio in the Vermont Mtns.; Great location for leaf-viewing or skiing. Everything you could need for a get-away was there; equipped kitchen to get the generous breakfast kit cooking, warm room heater, great art books and even a toothbrush in case your forgot yours. Peter was very good at saying hello and suggesting a few places to check out - while still leaving us secluded. With our car we were able to drive all around the amber colored countryside [fall trees] and check out the farmers market and a number of micro breweries and cider places. We wish could have stayed longer. J&J
Jennifer
2016-10-23T00:00:00Z
First off, this place was simply wonderful. The room is private ( and quiet) space above a garage and has every amenity needed for a nice getaway. The bed and pillows were very comfy and the view was perfect. We came up to ski the Bush which is minutes away from the home. Very close to restaurants and bars as well. Out of all the Airbnb places I have stayed in this was by far my favorite.
Stephen
2017-03-19T00:00:00Z
Nice little spot. We had a great stay.
Erin
2017-02-05T00:00:00Z
Peter's apartment was just as described, very quiet, cozy, and had everything we needed for making lunches and breakfasts. The apartment was even closer to Sugarbush than expected, also close to the Hyde Away Inn for drinks after skiing. Would definitely stay here again!
melissa
2017-02-20T00:00:00Z
Typ av rum
Eget hus/egen lgh
---
Typ av boende
Lägenhet
---
Plats för
2
---
Sovrum
Fayston, Vermont, USA
This was our second stay with Peter, and it was just as great as the first. The space is very wide open and quiet. My kids and I feel totally comfortable in the unit. The bed is comfortable and the wifi works really well. I hope to stay again in the future.
Geoffrey
2016-05-16T00:00:00Z
Wow! What an unimaginable way to start off 2016. The apartment was the perfect cozy escape when we were looking for time to lay low off the grid, and was also located no more than 30 minutes from tons to do in Burlington, Stowe, Middlebury... The apartment was warm and cozy while at the same time being open with beautiful, high ceilings and amazing lighting. The smell of the wood in the apartment greets you at the door and was one of my favorite things. Peter was an excellent host, providing a list of things to do and places to eat well before we got there. We had the pleasure of meeting him and his son very briefly. The rest of the trip, Pete left us to our vacation and checked up occasionally to make sure there wasn't anything else we needed. Just perfect. We were weary at first about staying for 5 days without a kitchen. It was not a problem at all. In fact, we ate a number of meals at the apartment. Pete has a microwave, refrigerator, and freezer for guests to use. He provided silverware, plates, glasses, bottle openers...we honestly had everything we needed. We will definitely be back. While the snowy, winter atmosphere was beautiful and what we were looking for, I can't wait to see what it looks like green and lush. Thank you, Pete and family!
Shelly
2016-01-05T00:00:00Z
My husband and I were going to be traveling to VT the first week in August and instead of staying at the usual hotels that we go to, I decided to check out the listings of properties on this site. We wanted to go out towards the country for some peace and quiet and found this beautiful post and beam barn that is located off a long winding country dirt road. The apartment is beautiful, cozy, and decorated with an eclectic mix of rustic, modern and antique furnishings. There are plenty of brochures, magazines, and papers to help you decide what you would want to see and where to eat. The options are endless! The property is well maintained and has a lot of pretty plants and flowers. A picturesque Vermont country setting. It is the perfect retreat to get away from it all! Peter made sure that we had everything we needed and was a terrific host! One thing I must mention is make sure to check out the stars if it is a clear night. It is pitch dark and absolutely no light pollution to obscure your view. We have never seen the sky so beautiful! We saw more stars in the sky than we have ever seen in our lives and were even able to see the Milky Way! Just amazing! I also can't forget to mention the friendly cat and the adorable dog, Elsie who loves to play fetch with any stick you can find! I highly recommend staying at this property. You will not be disappointed!
Kristen
2016-08-10T00:00:00Z
Great Vermont retreat: beautiful space, spotless, and very cozy on a snowy New England weekend.
Ryan
2016-12-03T00:00:00Z
We were so thrilled with our stay in this cozy post and beam! The pictures do not do justice to the beautiful space, complete with a fresh, natural pine scent from the wood. The decor included varied personal touches, which gave a warm ambiance to the space. Linens were plush and crisply clean. The views of their beautiful garden surrounding the house are not to be missed. Many small, thoughtful additions really made us a feel special and welcomed. The location was perfect for us, easily accessible but well situated in a quiet country side setting. If you're looking for a space to feed your soul on your travels, look no further!
Gustavo
2015-08-04T00:00:00Z
Peter made the trip very easy and enjoyable. Helpful recommendations as well as being a perfect retreat.
Eliot
2016-08-01T00:00:00Z
This is an absolutely amazing apartment! Everything from the tasteful decor to the beautiful wild flowers and walking trail is perfect. Peter is an excellent host and communicated with me frequently to ensure I had everything I needed and that the accommodations were comfortable. The apartment is perfect for a quiet country escape!
Vanessa
2015-07-23T00:00:00Z
What a great experience! The rental is so charming, cozy and spacious. Peter was timely with communication, provided excellent directions to the property, and everything was clean and lovely. We were enraptured by the stars at night, the smell of fresh wood, the gas stove -- really a great find and would highly recommend!
Natasha
2016-06-14T00:00:00Z
Typ av rum
Eget hus/egen lgh
---
Typ av boende
Lägenhet
---
Plats för
5
---
Sovrum
Hinesburg, Vermont, USA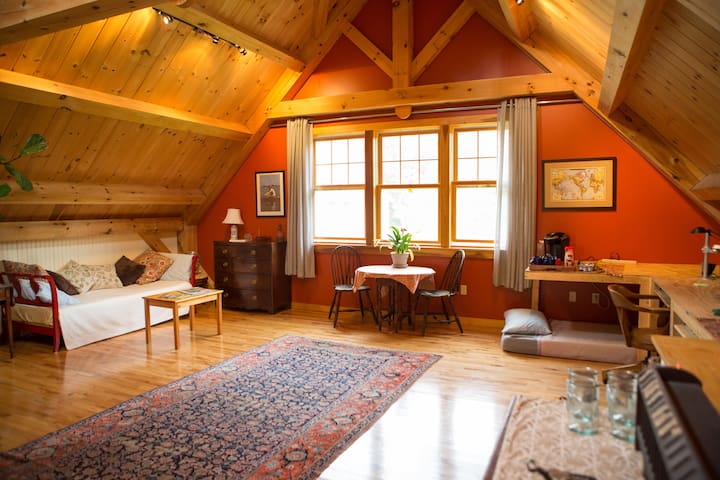 Privada suite de un dormitorio con amplias vistas a la montaña y al valle. Esta unidad se encuentra a doce millas al sur de Burlington, con fácil acceso al lago Champlain, Montpelier, Middlebury, varias zonas de esquí, y otras atracciones de Vermont. La unidad incluye una cocina totalmente equipada, sala de estar, dormitorio, baño y un porche de entrada. El piso es una excelente opción para parejas, aventureros en solitario, y viajeros de negocios.
What a beautiful spot! The apartment is clean and so cozy. The property is beautiful, with a sweet trail nearby and stunning views of the mountains. The fresh baked scones on Sunday morning were beyond amazing. We were so comfortable and relaxed in the quiet country side. 11/10 would recommend to a friend.
Melanie
2017-02-20T00:00:00Z
Woot Woot. Good times.
Andy
2016-12-28T00:00:00Z
Michael was a great host and offered cozy and incredibly charming accommodations. The barn was perfect for enjoying the chilly Vermont weather in a warm peaceful way. We highly recommend this stay and will be back soon!
Daniel
2016-11-29T00:00:00Z
Michael and Lee were great hosts. They provided a lovely suite, made sure the place was ready for our arrival, and checked in periodically to make sure we were ok. I never met them in person but that was fine as everything worked out well. The suite is cosy and warm. The kitchen is fully loaded. The bathroom is nice with a sink, toilet and shower (no bath, which we prefer). They provided coffee and tea, fruit and nuts and some treats, which was nice. The location is good, as it's close to Burlington and Montpelier. We were there in November so didn't make use of the screened porch, but I'm sure it'd be lovely in the summer. Would recommend as a good place if you're in the area.
Abe
2016-11-13T00:00:00Z
Michaels place was clean, cozy and comfortable. Everything you'd look for in an airBnB. Would highly recommend for anyone looking for a Vermont getaway that's a short drive away from Burlington.
Joe
2016-11-27T00:00:00Z
Michael's place is perfect for a weekend away from Burlington without having to drive too far. It feels enough away from it all and the walking trails and forest were so fun to explore, with lots more in close driving distance if you so choose. It was cold and snowy during our stay, but we still enjoyed the screened in porch, and the barn was the perfect cozy place to enjoy the setting. Coffee, tea, and other snacks provided, and the kitchen was great to cook in.
Jenny
2016-12-04T00:00:00Z
Michael was an incredible host. This amazing private barn was everything we were looking for in a place. The location is central to so many different towns and things to do, but still rural and quite. Michael was great with communication for check in and check out. The pictures are spot on and it was impeccably clean. Michael even brought us home baked, delicious scones before check out. We would stay in this air bnb again in a heartbeat! Our best(of many) air bnb experiences yet! We cannot wait to visit VT (and the barn) again!
Yvette
2017-01-22T00:00:00Z
Great location, seculded and scenic. The space was great for a weekend away with my girlfriend. Close drive to Burlington and to some great hiking spots. Michael was helpful and responsive to any questions we had. Great place with great hosts
Patrick
2017-01-15T00:00:00Z
Typ av rum
Eget hus/egen lgh
---
Typ av boende
Lägenhet
---
Plats för
2
---
Sovrum
Hinesburg, Vermont, USA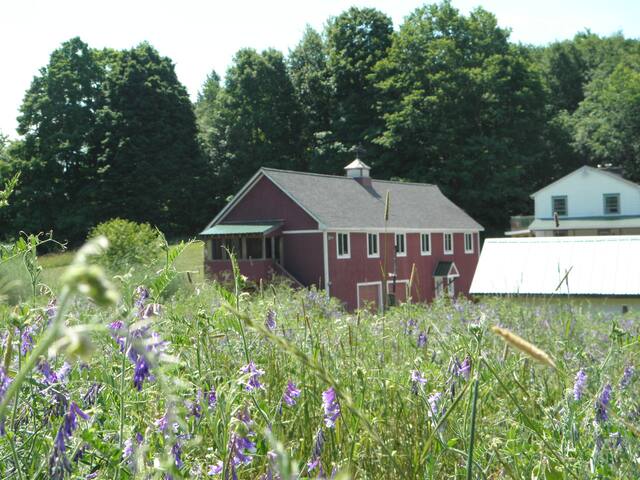 Ubicado en las montañas sobre 160 acres. Es un apartamento con energía solar fuera del estudio rejilla por encima de nuestro garaje. Te encantará nuestro lugar debido al sereno bosque, cubierta de sol impresionante con excelentes vistas, estanque de baño, y rutas de senderismo. Usted puede disfrutar de la música de los pájaros cantando en la mañana, tomar un poco de ranas en el estanque, caminata por nuestros muchos senderos, disfrutar de un cóctel en la terraza panorámica, y asar malvaviscos en una fogata! A sólo 3 millas al centro de Waterbury!
Nuestra estancia de montaña se accede por un camino de tierra privada que puede estar lleno de baches y es empinado en lugares. Es el más adecuado para los conductores cómodos navegando hacia arriba y abajo de una carretera de montaña de largo milla. Va a encontrar nuestro espacio tranquilo y acogedor. La cocina tiene todo lo necesario para hacer una comida casera.
3 millas al salto de Waterbury de Vermont! con los mejores bares y restaurantes de la cerveza! Permitir a los 15 minutos más o menos para desplazarse arriba y abajo de los caminos de tierra hasta el pueblo de Waterbury. Estamos perfectamente situados entre el valle del río Mad, a pocas millas de distancia del parque del depósito Estado Waterbury y 30 millas a Burlington.
The host canceled this reservation 27 days before arrival. This is an automated posting.
Sharon
2016-07-05T00:00:00Z
Host was very welcoming and let us do our own thing. The property is beautiful and the stay was comfortable. Would do it again next year
Nick
2016-08-29T00:00:00Z
The space was clean with an incredible view. Very quiet and peaceful.
Cassie
2016-08-16T00:00:00Z
Jamie's place was so adorable! Her family was very friendly and welcoming when we arrived. We went during the fall, so the foliage scenery was seriously amazing, and the view from cottage was simply breathtaking. The drive up was an adventurous journey, but definitely well worth the visit. The fact that they had a little pond, a garden, and hiking trails around the property also made the visit much more memorable. I definitely recommend this for anyone looking for a retreat/getaway.
Hoey Chyi
2016-10-10T00:00:00Z
This was our first air bnb and we loved it. The hosts were super friendly and the space was very nice and clean. I would definitely recommend it to anyone!
Calise
2016-07-11T00:00:00Z
What a wonderful stay with a great group of people!! The property is gorgeous and Jamie was extremely helpful in giving suggestions of things to do in the area.
Jon
2016-08-01T00:00:00Z
Anyone with an outdoor spirit and a sense of adventure would love Jamie's place! The studio is clean, quiet and very private. There is a gorgeous view from the deck. Far enough away that you can feel relaxed and unplugged, but only 3 miles to Waterbury center where you can eat at great restaurants and sample Vermont's tasty local brews. We have been to the Waterbury area many times and it was perfect for the kayaking, biking and hiking we had planned. Jamie and her family were terrific hosts- extremely laid back and easy to communicate with. We will definitely be back!
Sara
2016-07-06T00:00:00Z
We went there with my boyfriend for a romantic getaway and it was PERFECT! We loved everything bit of the loft. It beautiful, cosy, clean and well equipped. I love the privacy of the place. Jamie was an amazing host, she prepared everything for us, and gave us tips for local restaurants as well as maps of the surrounding city. Her adorable daughter even draw a welcome card :) The surrounding is peaceful and quiet. We got a little bit worried the first time we took the dirt road (up up up) to Jamie's house but our car (a standard berlin) didn't have issues to get there. I would recommend having a SUV or a big car if you are coming in winter thought. There is plenty of things to do in the area (Ben & Jerry factory, local shop and producer of all kind of food, hiking, kayaking, restaurants etc..) My best airbnb experience so far!!
Juliette
2016-08-21T00:00:00Z
Typ av rum
Eget hus/egen lgh
---
Typ av boende
Lägenhet
---
Plats för
4
---
Sovrum
Duxbury, Vermont, USA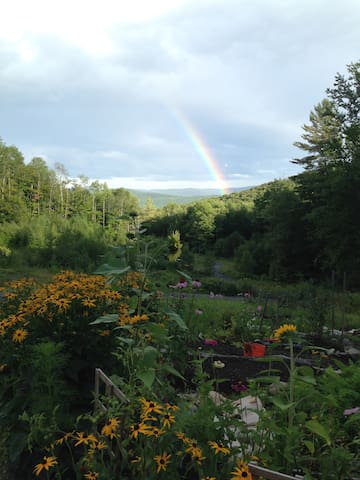 The host canceled this reservation 30 days before arrival. This is an automated posting.
Brian
2016-02-13T00:00:00Z
Super experience!!! Vacation on a working farm!!! Kids absolutely loved it! Katherine was gracious enough to take the kids for a ride on her tractor!!!! They have not stopped talking about it! Was great to wake up to mist rising over the mountains and the pigs and cows out in the field! Katherine walked us around the farm pointing out points of interest and getting yummy veggies fresh from the garden!!! Great dog Boo who the kids loved! Nice 2 bedroom apartment over their farm office. Plenty of space! Very welcoming couple! We had a great time!!! Also gave us great ideas for the area. Took the kids to splash in a creek and probable was another life memory!! Will definitely come back! Also had yummy organic chicken and eggs from their farm!
Michelle
2016-07-24T00:00:00Z
Katherine was wonderful and sent pictures to us prior to our arrival which greatly helped us find our way to the property, and to the apartment. We arrived late at night, and the apartment was opened and welcoming to us as we were weary from traveling. The next morning, we met Katherine and she graciously showed us around the farm, and encouraged us to explore on our own. Our kids really enjoyed seeing all the animals and especially the bee hives. The second morning of our stay, we enjoyed farm fresh eggs, compliments of Katherine. We have already told many people about our first airbnb (URL HIDDEN) was perfect.
amy
2016-09-25T00:00:00Z
We had a wonderful weekend at Katherine's place. The place is big, quiet and well furnished for the guests. Katherine made sure we were all set there and very helpful. We could even enjoy some of the farms products which was great. The location is excellent since very close to all northern Vermont's attractions.
Justin
2016-08-16T00:00:00Z
Beautiful place! Not only is the farm property beautiful, but so is the apartment. We loved our stay here. It was about 20 mins from downtown Barre and Montpelier, which was perfect. We will definitely be back. Awesome hosts as well, very friendly and helpful.
Brandon
2016-06-06T00:00:00Z
The directions to the house were very clear and Katherine came to greet us with fresh eggs and notes about the home when we arrived. The house had a great layout and we felt right at home there!
Angad
2016-11-26T00:00:00Z
First of all, we are sad that our stay has ended, but happy that we got to stay here. Katherine is one of the friendliest and funniest Airbnb hosts we have ever met! The farm was beautiful and the location was perfect...just a short drive to Montpelier and many other attractions. Take a walk around the farm and visit the animals! Katherine is always around to answer questions and share knowledge. The apartment was awesome and the views were great, overlooking the farm! The kitchen was well equipped and the beds were quite comfortable too. Also, because we stayed three nights the hosts prepared a chicken dinner for us with the freshest ingredients one could ever ask for. I will miss waking up to the fog rolling over the mountains and then clearing up to sunshine and oinking pigs. Definitely worth it, so if you are contemplating...just do it!
Dan
2016-09-06T00:00:00Z
Katherine place is spacious, and good for families and friends. There is a great collection of films, and great books as well! The kitchen has everything you need. We prepared our Christmas dinner there! The farm is pretty close to Montpelier, which is very convenient. Katherine was a wonderful host, easy to communicate with, and super kind. If I come to this region again I'll stay here for sure!
Lívia
2016-12-25T00:00:00Z
Typ av rum
Eget hus/egen lgh
---
Typ av boende
Lägenhet
---
Plats för
6
---
Sovrum
Northfield, Vermont, USA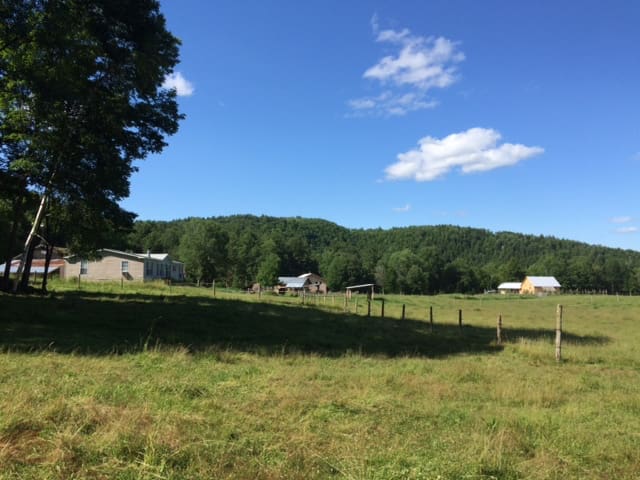 Amueblado, de buen gusto designados confortable apartamento de dos cuadras de centro de la ciudad, cerca de la Universidad, tranquilo barrio estable con todas las comodidades y equipamiento. Veinte minutos a Montpelier, diez a la Interestatal 89. Sugarbush y zonas de esquí Mad River Glen están a 35 minutos. Una hora a Stowe.
Muy tranquila zona residencial y en el pequeño pueblo de Vermont. Universidad de Norwich se encuentra en Northfield.
Typ av rum
Eget hus/egen lgh
---
Typ av boende
Lägenhet
---
Plats för
3
---
Sovrum
Northfield, Vermont, USA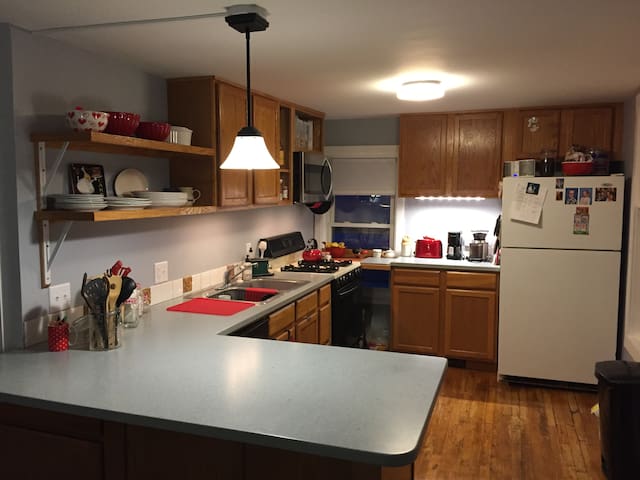 The apartment looked beautiful in the photos, and seeing it surrounded by lush Vermont scenery made it even nicer in person. The view off the deck is lovely and perfect for stargazing. The apartment is spacious, clean and cozy with everything needed to cook in the full kitchen. Our only regret was not staying longer because once you come you will not want to leave!
Jessica
2014-09-21T00:00:00Z
Lots of fun! The house was really nice, the area is beautiful, and the hosts were very welcoming
Theo
2014-12-31T00:00:00Z
James and Laura did an excellent job in every respect: they made us feel welcome from the moment we arrived and were flexible in adjusting to our arriving later in the day than we'd expected. The apartment was clean and cozy, very welcoming. We needed an extra desk/work table, so James immediately brought one in. The family welcomed us to their campfire one evening and were always happy to chat, and also happy to give us privacy. We had a little mishap (a bicycle fall) and the hosts were very warm and caring in the aftermath. Overall, we'd come back here in a heartbeat. The deck has an excellent gas grill and the backyard in huge and very nice to explore, with a little pond about fifty paces from the house. The animals are beautiful and it's extremely still and peaceful. Advice: if you plan to cook seriously, consider bringing a set of cooking knives (there was one small one in the apartment, though the hosts offered to lend us some). The night sky is lovely - no light pollution, so the milky way looks like a cloud.
Ben
2015-08-13T00:00:00Z
Our recent stay at the Perry Family Farm was wonderful. It was tranquil, beautiful and the apartment was as described. The apartment was cozy and well appointed. We also enjoyed a lovely conversation with James, our host about the farm. Many places to go and visit just a short drive away. We will definitely return!
Ashley
2016-02-07T00:00:00Z
We had a fantastic time at the Perry Family Farm. It's a perfect place to stay for a Vermont getaway. The room was lovely and came with a beautiful view. James gave the guests a very charming tour of the farm, sold us some great bacon, and even let me in on tips for what to do in England (where he's from and I live).
Ben
2014-07-07T00:00:00Z
The listing was accurate all the way around. The place is beautiful, everything needed is provided, and the hosts are accommodating. They were very friendly, happy to give a tour of the animals, and answer any questions. Readily available through email while there, and the housing was the perfect size for 2. Four people can sleep there and I believe it would be comfortable in that instance too. Wish We could have stayed longer.
warren
2015-07-13T00:00:00Z
Asbolutely stunning property, lovely accommodations just recently completed. The photos do not do the space justice. The hosts are gracious and impeccable in their hospitality. It's a working farm with piglets and chicks to boot. If you are looking for an experience, this is your stay.
Andrea
2012-10-30T00:00:00Z
This was a perfect winter getaway from the city. James and Laura were wonderful hosts. We can't wait to come back in the summer. And the bacon was amazing!
Noam
2014-02-18T00:00:00Z
Typ av rum
Eget hus/egen lgh
---
Typ av boende
Lägenhet
---
Plats för
2
---
Sovrum
Northfield, Vermont, USA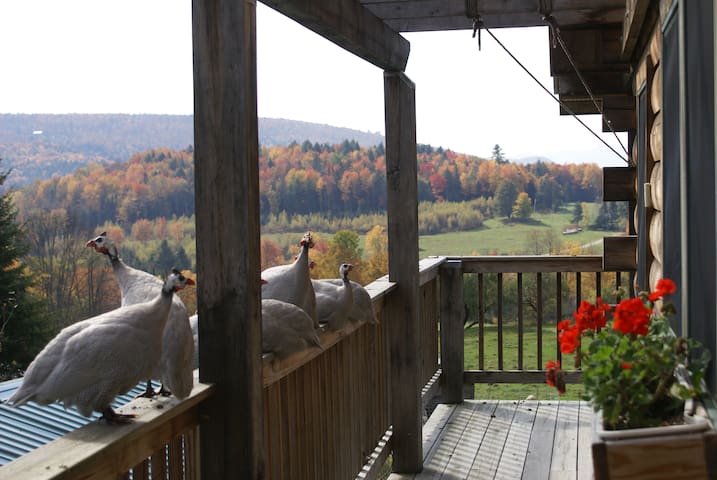 1

–

18

av

93 Uthyrningar av lägenheter
Ange datum för att se full prissättning. Ytterligare avgifter tillkommer. Skatter kan tillkomma.