Situated in Morris County, 1 mile from Rockaway Townsquare Shopping Mall & Route 80, less than an hour to New York City or the Delaware Water Gap. Home has a large yard, covered porch with swing and old stone walls and mature landscaping. Parking for several cars in driveway. Great for a Fall visit...near leaf-peeping in the NJ Highlands!
Christina was a great host. Instructions were clear and simple.
Colin
2015-10-26T00:00:00Z
Christina was a great host. She responded to my emails promptly and helpfully. She was very welcoming and is quite an interesting person.
Richard
2014-10-02T00:00:00Z
Christina was great, thanks so much!
Sam
2015-03-22T00:00:00Z
Christina was very helpful, place was adorable and clean. Very conveniently located in a nice neighborhood.
Anna
2016-02-08T00:00:00Z
Typ av rum
Eget hus/egen lgh
---
Typ av boende
Hus
---
Plats för
2
---
Sovrum
Wharton, New Jersey, USA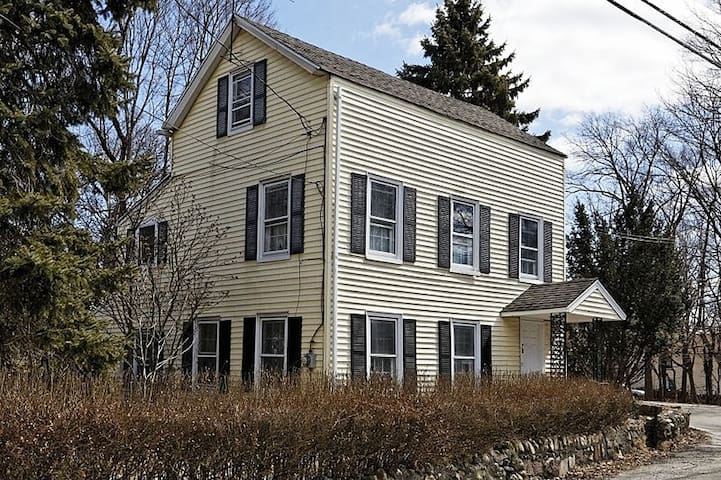 花园州北区,靠近纽约、费城。环境优美、交通便利。同时可接待四口之家,提供中西混搭早餐。房主爱好旅游,足迹遍布美国各地,可为客人提供旅游、购物咨询。
Wenbin and her husband were fantastic! Very welcoming, friendly and accommodating. Their home is very nice, spacious and clean. The room was suitable for my needs. They even accommodated my son and his friend joining me (last minute) for 2 of my 3 nights. I would recommend staying with them if you are in the area and want a warm and inviting home.
Amy
2016-09-22T00:00:00Z
Great host. Everything was clean.
Phil
2016-12-02T00:00:00Z
Jay was a great host. Very friendly, very helpful. The house is beautiful and in a great area. My room was clean and beautiful and I shared a bathroom with Jay's stepdaughter but rarely saw her. Very pleasant stay!
Barry
2016-05-17T00:00:00Z
This was the second time I stayed at Wenbin's place. Everything was fantastic. Wenbin and Jay make you totally comfortable and are great hosts.
Sumant
2016-11-18T00:00:00Z
It was a great stay and would definitely stay again. Beautiful house. Clean. Host & hostess very welcoming.
Bethany
2016-08-22T00:00:00Z
Nice, clean place as described. Wenbin and Jay were great hosts.
Byron
2016-08-04T00:00:00Z
Excellent stay. The room was very clean and tastefully furnished. Wonderful dinner with plenty of choice and our hosts couldnt have been more friendly and helpful ! Would recommend without hesitation.
Nepali
2016-04-03T00:00:00Z
Wenbin has a beautiful home and was very welcoming and accommodating!
Katie
2016-12-29T00:00:00Z
Typ av rum
Eget rum
---
Typ av boende
Hus
---
Plats för
2
---
Sovrum
Randolph, New Jersey, USA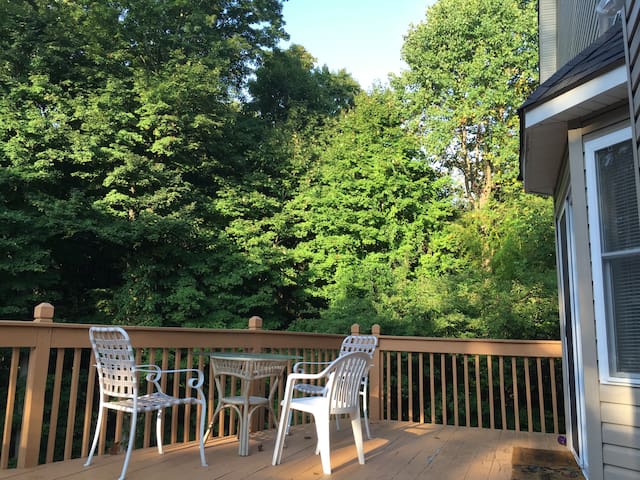 well lighted by two windows
Typ av rum
Eget rum
---
Typ av boende
Hus
---
Plats för
2
---
Sovrum
Rockaway, New Jersey, USA
My place is close to restaurants, dining and public transport. One hour west of midtown NYC and one hour east of the Delaware Water Gap, PA. Close to major highways: 80, 10 & 46. You'll love my place because of the location, clean open environment and the outdoor space. My place is good for couples, business travelers, and families (with kids).
This home is open and exceptionally clean. Several rooms recently updated.
Very quiet family oriented neighborhood.
The stay was great. The home was very clean and spacious. It was located near many local restaurants as well as some shopping. Rockie was also a great host and had the place very nicely set up for us when we arrived.
Joseph
2017-02-20T00:00:00Z
Great location, beautiful home, super comfortable. I definitely will be staying here again.
Roland
2017-01-22T00:00:00Z
The home was clean and in great shape. One of the best we have seen. The host was very accommodating and went out of his way to help us.
Jake
2017-03-06T00:00:00Z
Great location! Surprising lots of deer close to the house. We came to celebrate a birthday so were busy with that & could not spend a lot of time exploring around.
mohan
2017-02-17T00:00:00Z
Typ av rum
Eget hus/egen lgh
---
Typ av boende
Hus
---
Plats för
5
---
Sovrum
Mount Arlington, New Jersey, USA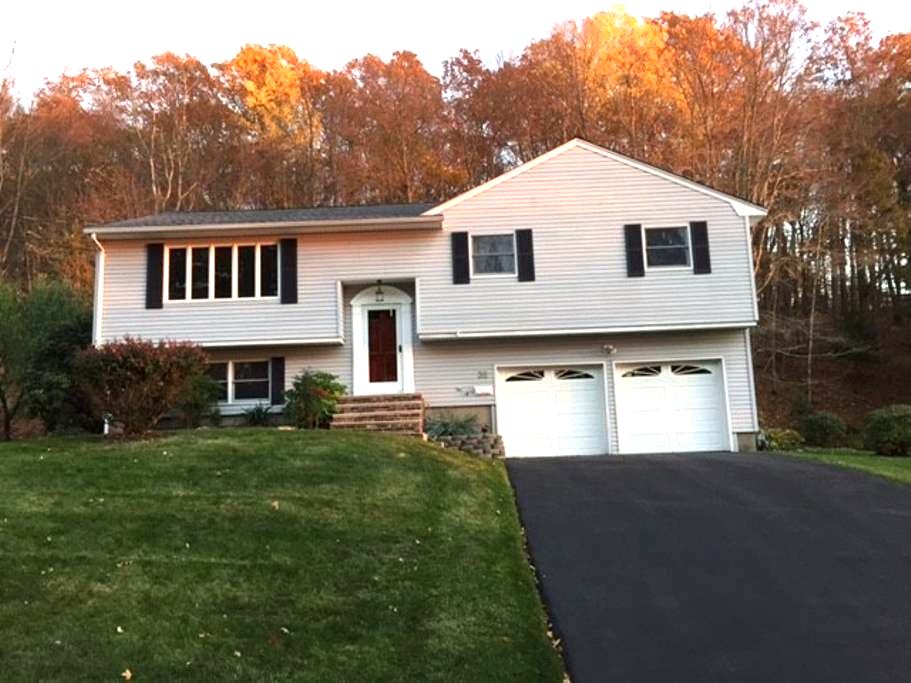 Bedroom for 1 guest or couple in first class villa. A lot of space and access to other rooms in the villa. 1 bathroom. Bath / Shower may be to share in peak time (if the second room is rented) but toilets are separate. Parking space. Access to private garden as well with terrace. Kitchen is free of use. Separate fridge for longer stays if needed. You can access a separate living room and a separate dinner room if you wish to keep your privacy. Access to office room with printer if needed.
Quiet, green and beautiful.
Typ av rum
Eget rum
---
Typ av boende
Hus
---
Plats för
1
---
Sovrum
Randolph, New Jersey, USA
花园州北区,靠近纽约、费城。环境优美、交通便利。同时可接待四口之家,提供中西混搭早餐。房主爱好旅游,足迹遍布美国各地,可为客人提供旅游、购物咨询。
Kétágyas szoba: egységár 50 $, minden további személy hozzá 10 $. Egyágyas szoba: egységár 50 $, minden további személy hozzá 10 $. Élt hét nap: 5% kedvezmény Élt 30 nap: 10% kedvezmény Razzia díj: $ 10 Ház betét: 100 $
Vannak nagy áruházláncok, speciális élelmiszer piacokon, drogériákban, bor üzletek, bankok, ékszer üzletek, templom, posta, benzinkút, kínai és a nyugati éttermek és gyorsétteremben gyalogos színes terület. Sok közösség Zhou Bian a park, játszótér és híres történelmi sétaút.
My nights with Wenbin were extremely relaxing and comfortable. I work 100 miles from home and their house was a wonderful oasis in Northern NJ. I give Wenbin and her husband my highest recommendation. I truly enjoyed my stay!
Stephen
2017-03-03T00:00:00Z
This location was perfect for my friend and I to reside in for the weekend. It is right on the main road that leads to Morristown (where our weekend convention was) but was still very quiet and was beautiful. Everything was very clean. Our host offered us coffee and fruit in the mornings and also helped with our bags. The house is very well kept and we felt very welcome.
Robyn
2016-11-20T00:00:00Z
We were welcomed with water and slippers and a comfortable place!
Brent
2016-12-06T00:00:00Z
The hosts Wenbin and Jay are friendly and great with communication
John
2017-01-19T00:00:00Z
We had a great stay with incredibly kind hosts. We had accurate and quick communication and had everything we needed!
Shelby
2017-01-17T00:00:00Z
I had a great stay. Wenbin and here family were very nice and accommodating.
Allyson
2017-02-24T00:00:00Z
Very friendly and very easy. Private bathroom was nice
Jenni
2017-02-21T00:00:00Z
Great host, asset to Airbnb. It was my first experience and it was such a great stay. So clean and homely, i will sure come again when I am in the area.
Bayo
2016-09-03T00:00:00Z
Typ av rum
Eget rum
---
Typ av boende
Hus
---
Plats för
2
---
Sovrum
Randolph, New Jersey, USA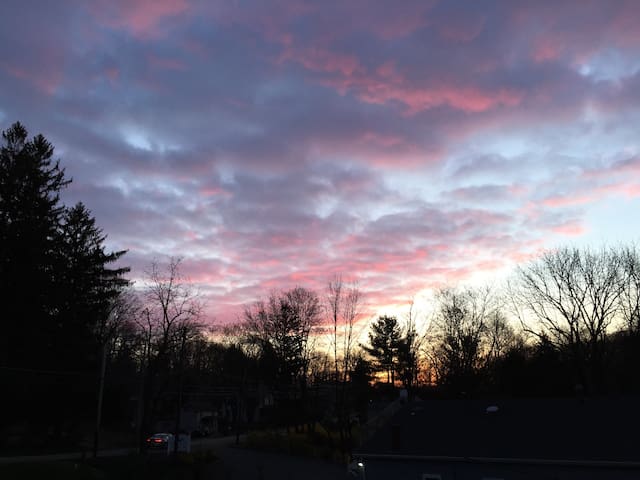 Close to Mt Arlington Train. 1 Q bdrm, full bath, laundry, full kitchen with dishwasher. Electric FP, hot tub faces lake. Dock may be avail. Two night min stay. Fire pit, games, books, puzzlemovies, kayaks, paddle board. Plan ur fun weekend away!
Bright and every window has lake view of cove. Swan egrets duck lots of Wildlife peaches from the peach tree flat and only a couple steps to the lake
Quiet neighborhood with plenty of birds wildlife nice place to walk nearby shopping for small groceries
Typ av rum
Eget hus/egen lgh
---
Typ av boende
Lägenhet
---
Plats för
2
---
Sovrum
Roxbury Township, New Jersey, USA
This well-appointed suite is attached to our family home on an acre lot in a quiet neighborhood close to the Morris Plains train. 44 miles from NYC. Private kitchen, private entrance, and full size living room. In-ground pool available in the summer.
This well-appointed mother-in-law suite is a separate wing on my primary, ranch-style home. It has separate access, separate basement, and separate heating and air controls. The basement has a washer and dryer and an extra exercise or multi-purpose space. There's an outdoor, fenced dog run for your pup. Please note: The suite is attached to our family home. We live on this property. Television is Dish Network. Package is 200 channels, NFL Network, HBO included. HDTV.
Quiet, wooded neighborhood. Beautiful setting. Apartment is attached to my home on a 1-acre lot.
I spend here 3 weeks with my colleague. The apartment is very spacious and comfortable. We had all we need. It is located very close to some groceries (only a 5-10min ride) and surroundet by a quiet lovely neighborhood. We appreciated our stay here, would come back and recommend this apartment to all future NJ visitors. PS: Thanks for the delicious christmas cookies:-)
Felix
2015-12-10T00:00:00Z
Great Air BNB venue! We were fortunate enough to be one of this host's first guests, and we loved it. The picture here looks just like the space! The host was very easy to communicate with. I hope they get lots of future air-BNB customers. The host was very flexible and willing to work with our arrival/departure time. Loved the extra touches such as the notepad/pen like a hotel, and snack bars left out on the counter!! Internet worked wonderfully. And having the convenience of stove/toaster oven, and such amenities was so helpful. Just be prepared to walk around the house to the back to enter the apartment portion of the house. It is in a beautifully wooded area, so wear proper shoes. I loved it. Would love to come back if ever in Morristown again. Thank-you
cecil
2014-11-10T00:00:00Z
Had a great 2 weeks at Karla's home. Very nice house, quite private and all basics provided. The pool is fantastic. My only issue was the absence of private outdoor space--it would have been nice if there had been somewhere to sit outdoors without encroaching on shared space. Otherwise, everything was super.
evelyn
2016-08-17T00:00:00Z
This place is as shown in the pictures, very spacious and clean. Before we arrived, our host texted detailed guidance to access the house. The surrounding environment is quite safe and relaxing. Inside the house, our privacy was respected. An ideal place for a vacation of a few days.
Junfeng
2015-07-04T00:00:00Z
Karla was very accommodating and welcoming while still managing to be a discrete host. The apartment is spacious, clean, and offers everything one would need. The pool is nice and a great plus for summer visitors. We had a great stay! And we'll most probably book again.
Tiffanie
2016-09-05T00:00:00Z
The apartment was as described and served our needs as we had a pet and we did a lot of baby sitting. In addition we were able to do some entertainment. I definitely would use the apartment again.
Peter
2016-07-11T00:00:00Z
Experience was great. The place was cozy and we had everything we needed. The house itself is nestled in a beautiful neighborhood. Karla was a gracious host and replied quickly in all communications. Thanks!
Neala
2016-02-08T00:00:00Z
The house is just as pictured & described; it was comfy and cozy and perfect for our needs. The main bedroom has a walk-in closet that's large enough for 2 pack-and-plays, so we were very pleased to be able to have the kids sleep in the closet instead of the living room (which was our original plan). The neighborhood is safe and quiet. Max was very responsive on email; we didn't interact with him much when we were on-site (which is my preference, as an introvert).
Anastasia
2014-12-01T00:00:00Z
Typ av rum
Eget hus/egen lgh
---
Typ av boende
Lägenhet
---
Plats för
3
---
Sovrum
Morris Plains, New Jersey, USA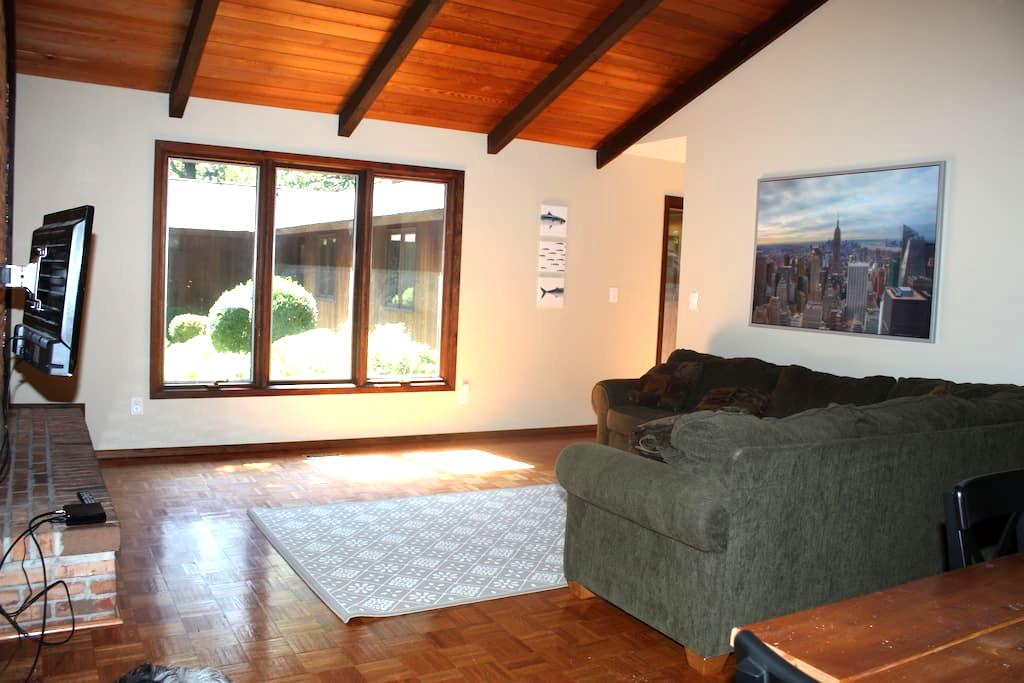 Enjoy this large, updated, comfortable mansion on a quiet street, located only 12 minutes from Morristown. Home featured on HGTV twice, complete with a gym, pool, and plenty of space for a large family to enjoy. Just ordered gorgeous new daybeds for the summer (picture included).
Lots of space for events and family gatherings.
Kerry was extremely inviting and communicative, going out of her way to make sure we were set up well. She also checked in to make sure all was good during our stay. The house had plenty of space and was warm and comfortable. The kids loved the game room! It was a great place to spend a holiday visit, and we hope to return in the future.
Paul
2016-12-30T00:00:00Z
We really enjoyed our stay! The neighborhood is great and the house is exactly as listed - plenty of space and things to do! The best part of our stay was Kerry! She was very responsive and communicated very quickly, always willing to help us and give us tips about our stay. She was also very accommodating to an extra couple coming with us for one of the nights. We'd love to come back and stay!
Michael
2017-02-20T00:00:00Z
Even though we never actually met Kerry she communicated with us constantly and answered all questions! We felt very well taken care of. The house was great, especially for kids. We found everything we needed and all rooms were very comfortable. I can only recommend the house!
Tamara
2017-03-26T00:00:00Z
The photos do not do this place justice. It is an amazing place. We booked it to host a rehearsal dinner, and there was ample space for everyone. We had about 35 people in the house. The host, Kerry, was very attentive and available to communicate via text/email. She kept me informed prior to checking in, and the checkin process couldn't be any smoother.
Adony
2017-03-18T00:00:00Z
We had an awesome stay at the mansion! Nothing was lacking for any of the members who stayed; the house was very spacious and had everything we needed. Kerry was an excellent host who immediately responded to all of my questions and provided us with pretty much anything we needed and more. We all enjoyed our stay and would like to come again in the future!
Tommy
2017-01-29T00:00:00Z
Huge space, and lots of dining space and kid games. Great place to stay! would definiatly do it again. Cant wait for the summer when the pool is open!
Kenny
2016-12-18T00:00:00Z
Had an awesome time at Kerry's house! There was PLENTY of room for our large group of 9. The kids loved the downstairs and the adults also loved playing pool. The kids were able to all stay downstairs with plenty of room. The master bedroom is huge and the bed is very comfortable, as were all of the beds. Kerry kept in contact enough to make sure that everything was OK, but not too much that it was bothersome. Any questions we had (such as garbage day, etc) were answered promptly. The house was very clean and had everything we needed for our stay. We will definitely be contacting Kerry again for another stay!
Kelly
2017-01-08T00:00:00Z
From the moment that I requested Kerry's place, I had a extraordinary experience. Kerry is an amazing host, with a beautiful home that was very spacious, with the capacity to sleep a large group of guests. This home was clean, tidy, modern and very well maintained. Kerry was the absolute best, very understanding and had a very sweet manner of receiving myself and my family, we couldn't have had a better host. It was an absolute pleasure to stay at this home, I hope to one day return. I would absolutely recommend this place without a doubt.
Lina
2017-02-26T00:00:00Z
Typ av rum
Eget hus/egen lgh
---
Typ av boende
Hus
---
Plats för
16
---
Sovrum
Denville, New Jersey, USA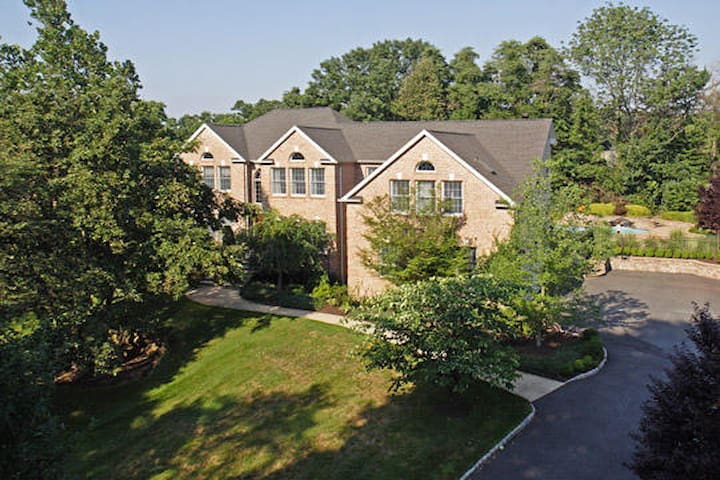 My place is close to restaurants and dining, under 10 minute drive to Dover and Morristown train station to NYC (45+ minute ride). Easy access and close to Highways (PHONE NUMBER HIDDEN) and 53. It's very close to County College of Morris (under 3 miles). There is a library within walking distance (5 min walk). It has one of the top-rated hospitals, Morristown Memorial, on Madison Ave, located 10 min drive. This is a great location. My place is good for solo adventurers and business travelers.
Furnished bright and airy room with large closet space, new hardwood floors, two large windows, ceiling fan, laundry, shower, bathroom, and ample storage space. Has private entrance, private bedroom and private bath. There is free parking. Includes heat, hot water, electricity, and WiFi.
Typ av rum
Eget rum
---
Typ av boende
Gästsvit
---
Plats för
1
---
Sovrum
Randolph, New Jersey, USA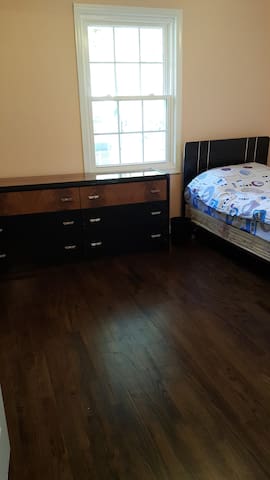 The house is located on Lake Hopatcong on he south east shore, close to many major highways including Route 80. Only 4 miles from a train station.
Mike is a good host and keeps the place clean and neat. You are right on the Lake here with a great view.
Dave
2017-02-09T00:00:00Z
It was a beautiful place! Loved the view in the pier. The bed was comfortable and the room was clean and neat.
Gilberto
2016-11-06T00:00:00Z
Mike is fantastic. He made me feel his home was my home!
Carolyn
2016-06-18T00:00:00Z
Mike is a friendly and helpful host. The house is beautiful, located on the lake. The room was clean and the bad very comfy.
Jagoda
2016-08-03T00:00:00Z
Mike was an excellent host and I felt safe and welcome from the beginning. The bed was very comfortable and I was pleasantly surprised that it a private 1/2 bath and only shared shower. Everything worked out great the only thing I would've done differently is spend more time enjoying the view at the house.
Emily
2016-09-10T00:00:00Z
Mike was a great post. He was warm and welcoming even though I arrived late. The bedroom is very comfortable, and the house is in a gorgeous setting. It would make a nice city get away for a few days, or a good one night stop.
Erik
2016-09-17T00:00:00Z
Mike was a fantastic host. I just needed respite after a day of travel and needed to leave early and he was overly accommodating. Bedroom and bath were immaculate and I had such a great nights sleep. I would go out of my way to stay here again. Thanks mike!
Kurt
2016-09-04T00:00:00Z
Mike is helpful and respectful. I arrived late and he was accommodating with check in time. Location is beautiful. house is super clean and well kept. Bed is comfortable and there is personal half bath which is an added bonus. Overall a nice experience.
Ashish
2016-10-04T00:00:00Z
Typ av rum
Eget rum
---
Typ av boende
Hus
---
Plats för
1
---
Sovrum
Roxbury Township, New Jersey, USA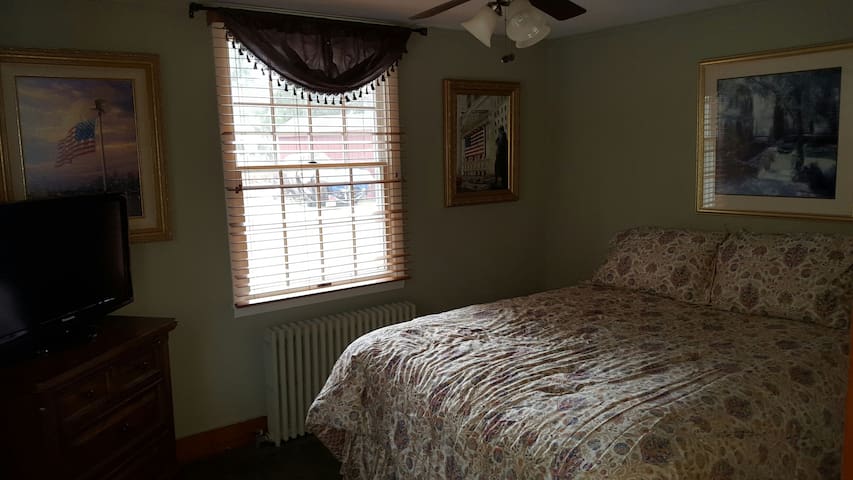 Private, quiet studio in back of home with own entrance. Stone fireplace, mexican tile, french sliders that walk out to patio and gardens. Kitchenette. 1/2 bath. Full bathroom with rain shower & sun lamp available for use upstairs. Double bed, comfy deep couch. Refrigerator filled with yummy organic beverages.
Cooled by geothermal, this apartment is always nice and cool!
Town of Denville has wonderful coffee houses, a large health food store, boutiques, yoga studio, organic meat shoppe, sushi restaurants, Walgreens, Mexican & Italian restaurants, diner for breakfast.
Sara was an excellent host! She is welcoming, friendly and very accommodating. Her place is beautiful and very clean. I would recommend this place to anyone in the area!
Samana
2015-09-08T00:00:00Z
Sara was so wonderful and always made sure that I was comfortable and happy. She invited me to do fun things with her which made us become friends! I will definitely be coming back to stay and visit with her.
Rubina
2015-09-07T00:00:00Z
Sara's house is on a hill overlooking one of Denville's many lakes. Her bottled ChiaStar drinks are very good.
Eliot
2017-01-22T00:00:00Z
Sara is a truly awesome host! She's very personable and has 3 wonderful dogs that are a bunch of fun. The place is vast and spacious and I truly felt at home with her hospitality and kindness. I would definitely recommend this place to anyone looking to stay in the area. Also, her ChiaStar drink is amazing - definitely pick it up at a local Whole Foods.
Howard
2015-08-23T00:00:00Z
Typ av rum
Eget hus/egen lgh
---
Typ av boende
Hus
---
Plats för
2
---
Sovrum
Denville, New Jersey, USA
Tastefully appointed home on highly desirable deep water Davis Cove with stunning views of Lake Hopatcong. Fully updated home offers spacious bedrooms, three bathrooms, premium furnishings, beautiful landscaping, 50 Ft dock, lakeside deck/seating, hot tub, wood burning fireplace, game room, fully equipped kitchen, large outdoor grill, swimming, fishing, boating. Quite side-street neighborhood. Outstanding guest service from your hosts. Don't just stay anywhere... make it memorable!
This is a new listing in 2016! Our lovely updated and upscale lakeside home offers three levels and is tastefully decorated and furnished. The meticulous landscaping offers many varieties of ornamental shrubs and flowers. We think you will agree that this is one of the best locations on the lake in the deep water Davis Cove amidst the multimillion dollar estate homes. There are three spacious bedrooms upstairs including our large master bedroom with a comfy king size bed, sliders that open to a balcony, and stunning views of the lake even as you lay in bed. Bedroom #2 features charming antique furniture and paintings and a full-size bed. Bedroom #3 has two very comfortable single beds. There is one full bath upstairs and also a newer high capacity washer and dryer (detergent and bleach provided). A covered front porch leads to the main level. The open floor-plan on the main level offers a fully appointed kitchen, with microwave, dishwasher, toaster, two coffee machines (a drip and a Keurig), gas range/oven, wine cooler and higher quality cookware/cutlery/accessories (i.e., Wustoff professional knives, Caphalon cookware, etc.). The main living has a large wood burning fireplace (a limited amount of wood is included), large HDTV Smart TV with Blu-Ray DVD (and a library of movies), Netflix access, all the premium movie channels and premium on demand and a bluetooth sound system that will play music off your smart phone. Complimentary WiFi is available. The main level also features a full bath and a 4th bedroom if you need it with a trundle bed that sleeps 2. The dining table comfortably seats 6-8 with 3 more seats at the kitchen counter. There is a spacious deck off sliders that overlooks the lake with a table/chairs/lounge and a new Weber Genesis gas grill (available for our guests). A walk out game room (professional grade Foosball table, board games) is on the lower level which is also equipped with a small kitchen and a bathroom. A few more steps down and you are on a large 50x20 Ft. deck right on the water which features a sofa, chairs, umbrellas and a guest favorite - a 5 person Thermospa hot tub right on the water that is available year around. The 50ft dock is perfect for fishing or you can tie-up your own boat or jet ski (or rent one from the many marinas on the lake). I can also provide my motorboat as a rental thru Boatbound - its a Sea Ray 180 sport and I offer daily rentals at a very reasonable rate and complementary use of waterskis and a 4 person tube. A staircase leads down into the water for swimming in the largely sand bottomed lake. We can provide flotation devises, swim rafts, water-skis and a 3-4 man towable tube with all the riggings. Bring your own Kayak or you can use our Kayaks - one is a 14 ft. Necky Manitou for the more experienced paddlers and one brand new, lovely fiberglass Hurricane Skimmer 116 which is a sit on top for all levers of paddlers. Paddles provided. And don't forget your fishing poles - Lake Hopatcong is one of prime freshwater fisheries on the East Coast. The property is lovely all four seasons a year. Great for a family vacation or a romantic get-away. I keep the house immaculately clean, all the beds will be made with fresh linens, and there are both beach and bath towels provided. I even provide two bath robes for the Hot Tub. Discounts available for weekly and monthly rentals.
Deep-water Davis Cove is one of the nicest spots on Lake Hopatcong with 180 degrees lake views. The Lake itself has a long and rich history, discovered by the Lenape Indians 14,000 years ago, this was the chic destination for New York actors and socialites at the turn of the century and the roaring 20s. Today, the Lake is knows as the largest in New Jersey with 43 miles of shoreline and is very popular for fishing, water sports and restaurant-hopping via boat. Our home is on a quiet side street with little traffic and the neighborhood is perfect for walking, running with side roads and hills. There are numerous restaurants in the vicinity and also all around the lake.
Bob is an excellent host. His house very clean, extremely well-equipped and very comfortable. We have absolutely no complaints and would highly recommend Bob's property to anyone! Our stay was perfect! Thanks!
Peter
2017-02-02T00:00:00Z
We enjoyed our stay at Bob's house. The house is well furnished with good quality kitchenware, linen and etc. You just need to bring your clothes. The lake view is beautiful from the deck and master bedroom especially the sunrise. Bob is very responsive and accommodating to our needs. We will return one day.
carmen lee san
2016-11-06T00:00:00Z
Our family had a wonderful stay at Bob's lakeside home. The home itself was perfect for our family and being right on the lake, in beautiful Davis Cove, was fabulous. Our boys loved fishing off the dock every night. And we all enjoyed spending time swimming in the lake. The house had everything we needed and Bob was always available to deal with any issues. Thank you for a great stay!
Tara
2016-07-10T00:00:00Z
This lake house was just as beautiful as the pictures on the site. Everything we needed or wanted was there for us. Aesthetically pleasing and easy to be in, from fireplace to hot tub!
Joseph
2017-02-13T00:00:00Z
Bob was a pleasure to work with from the moment we requested our vacation dates. He was flexible with check in time, and in the days leading up to our vacation he let us know he would provide robes and extra firewood given the sub zero temperatures that would occur during our stay. We appreciated the extra thought and felt taken care of before we even arrived! Upon arrival, Bob made us feel at home quickly by showing us around the property. Bob provided take out menus and a map of the lake as well, little touches that we appreciated. The house is incredible, the photos are only a glimpse into the beautiful view and pristine condition of the house. We cooked every meal at the house, and had everything we needed to do so. The bed was extremely comfortable, linens wonderful as well. The hot tub was where we spent most of our time, even in the cold weather! We were greeted by swans who love to hang out by the rock, and enjoyed feeding them bread that Bob had left for us. Overall, the weekend we spent at Lake Hopatcong was incredible. The house was perfect, and we truly can't wait to visit the house again.
Jordan
2016-02-14T00:00:00Z
I had a fantastic time when I stayed here for my birthday. I came with family to enjoy a relaxing time away from the city busy life. This is a great option! The views an beyond beautiful. Bob was great with giving us a detailed tour around the house and left us with restaurant recommendations. You will have everything you need! I will definitely come back. It was a simple and nice drive also. I had the best birthday of all time mainly because this house is so breath taking.
Maev
2016-04-02T00:00:00Z
such a beautiful place. . . the time we spent on the lake was wonderful. We just wished we had more time. Anyone looking for nice place to spend a peaceful vacation . . this is the place.
Brenda
2016-04-20T00:00:00Z
What a spectacular weekend. This place is simply stunning. The interior is impeccably clean and beautifully furnished. The views of the lake from the wonderful outdoor patio are gorgeous. And the cherry on top was the hot tub, a awesome place to sit and soak as the sun sets. The host Bob is readily available for any questions and communicates extremely well. He greeted us upon arrival and made sure we were comfortable with the best experience possible before leaving. We seriously felt like we were in suite at a 4 star hotel. Will definitely stay here the next time we are in the area.
Mark
2016-05-02T00:00:00Z
Typ av rum
Eget hus/egen lgh
---
Typ av boende
Hus
---
Plats för
7
---
Sovrum
Hopatcong, New Jersey, USA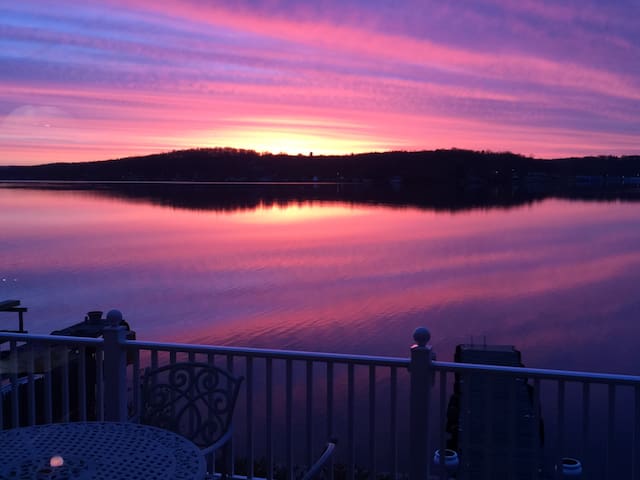 Spacious bedroom in a beautiful lakefront craftsman-contemporary retreat home. Private balcony off the room facing the lake, king sized bed, flat-screened TV, desk, etc. Easy drive to NYC or many shops, restaurants, cinema.
This is a beautiful contemporary lake front home with easy access to NYC and many shops and restaurants in NJ.
Our neighborhood is peaceful and quiet.
It is a very Beautiful home, Nice Lakeview. Amy is very friendly and helpful. This is my business trip, I may plan to stay again.
Ge
2016-09-15T00:00:00Z
Beautiful, quiet home and yard on gorgeous lake. Spacious, comfortable bedroom. Charming, down-to-Earth family. Organic breakfast. A perfect fit for my night away from home.
Beebe
2015-03-13T00:00:00Z
Typ av rum
Eget rum
---
Typ av boende
Hus
---
Plats för
1
---
Sovrum
Rockaway, New Jersey, USA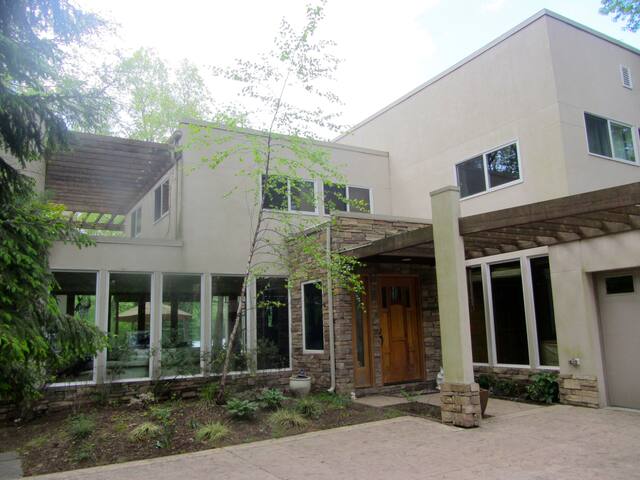 Large bedroom with king's size bed for one guest or couple, bright and with closet. Spacious bathroom next door. Bath / Shower may be to share in peak time (if the second room is rented) but toilets are separate. Parking space. Access to the private garden as well (with terrace). Kitchen is free of use. Separate fridge for longer stays if needed. You can access a separate living room and a separate dinner room if you wish to keep your privacy. Access to office room with printer if needed.
Quiet, green and beautiful.
Typ av rum
Eget rum
---
Typ av boende
Hus
---
Plats för
1
---
Sovrum
Randolph, New Jersey, USA
A perfect, affordable little lakeview apartment in a gorgeous house on the water only 45 minutes from Manhattan NYC, 20 minutes from Newark Airport, and 20 minutes from Mountain Creek Ski & Snowboard Resort or Action Water Park in the summer.
A perfect, affordable little lakeview apartment in a gorgeous house on the water only 45 minutes from Manhattan NYC, 20 minutes from Newark Airport, and 20 minutes from Mountain Creek Ski & Snowboard Resort or Action Water Park in the summer. Also 30 minutes from the Poconos Mountains and Resorts. The home is set on Lake Hopatcong, the largest lake in New Jersery, with sunset lake views from the windows in the home and beach access only steps away, if you want to go for a swim in the warmer weather, or an ice skate in the colder months, or just sit and sip hot chocolate. Close to a quaint Main Lake Market with cozy lounge area and seating. Nearby are some great restaurants, Alice's and The Windlass, take a cruise on the Lotta, or play some lakeside miniature golf, convenient stores like Target, Walmart, Christmas Tree Shop, a large mall, farmers market and supermarkets. Beautiful state parks with beachfront and picnic areas to relax and have fun with the family and friends. Right on the lake are 4 restaurants where you can dock your boat, or rent a paddleboat, canoe, pontoon, or bicycle. Our property is absolutely old world Charming, with a beautiful stone entrance into the water and a dock slip to park your boat. The home has 1 queen size bed and a twin bed in the bedroom and a twin daybed in the living room, with ample room for a large aerobed. The kitchen is fully stocked and has everything you need for your vacation. Equipped with heat, wifi, streaming Netflix, piping hot water for a nice shower after a day of skiing make this affordable spot one of the most sought after places to be. Please contact Alissa with any questions and interest!
I love being directly on the lake with sunset views
When we arrived, they were having a birthday party. Lissa and her husband were very welcoming and even brought us plates of food from the party! The apartment was very cute and plenty spacious enough for the three of us. I unpacked and went directly down to the water. I'm disabled and recovering from major surgery, so the trek back and forth to the house/water was a little rough for me. (Very steep and rocky). My 17 year old son had no problem running back and forth for us whenever we needed anything. We swam, floated and fished for three days, which is exactly what we wanted to do. The fishing was excellent. It was too hot to cook, but there are tons of restaurants nearby. We would definitely stay here again!
Susan
2016-07-27T00:00:00Z
It was a very nice place with good indoor/outdoor space and we really enjoyed the space!
David
2016-10-10T00:00:00Z
The reservation was canceled the day before arrival. This is an automated posting.
Michael
2013-04-12T00:00:00Z
Great stay!
Radu
2016-12-18T00:00:00Z
Such a charming little house with a beautiful view of the lake in the back.. Wish we had more time to spend.. Lisa and her husband were easy to get in touch with and flexible for our last minute trip. Def recommend this for a little getaway.. they have a firepit in the back and can also rent kayaks or go fishing. The house itself was very clean and lovely... my favorite part was the whimsical hobbit-like entrance :) Thanks for letting us stay here!
Tejal
2016-08-24T00:00:00Z
Lissa and Sal were extremely welcoming, flexible, warm, and kind! Sal helped bring the paddle board down the hill to the lake, they provided everything we needed for a fire in the fire pit, and just really made us feel at home the entire time. The apartment was so cozy, the location fantastic, the lake views (and yes, the sunsets!) were stellar. If you like being on the water (oh, they offered use of their two-person kayak, too!) you can't go wrong with their place. Fabulous people and a fabulous get-away that we hope to come back to again soon!
Jef
2016-06-25T00:00:00Z
There area is beautiful. We especially loved cozying up to the firepit in the evening after the sun went down. The apartment is just the way it shows in the pictures. The sunset is fantastic. We enjoyed our stay here.
Frank
2016-09-25T00:00:00Z
Had a smooth and nice experience. The apartment was just as it was listed and really made for a smooth transition to get away for the weekend. Would totally stay by one of these places again. We were very pleased with the experience.
Eli
2016-08-07T00:00:00Z
Typ av rum
Eget hus/egen lgh
---
Typ av boende
Lägenhet
---
Plats för
5
---
Sovrum
Mt Arlington, New Jersey, USA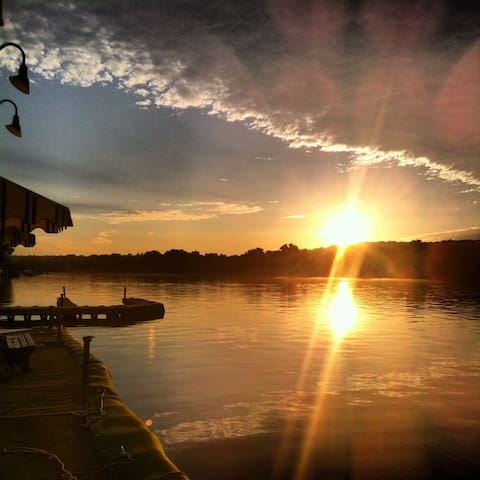 Beautiful bright one bdrm Q has wifi, full laundry and full bath. 3 french doors facing lake. Level property swim, kayak from dock or walk in easily. Full kitchen with DW. Movies, games, books, kayaks, paddle board or rent motorized fun.Train nearby
One bedroom open full private entry with private parking. Full kitchen full bath and laundry. TV and board games. Books and puzzles. 1-2 off street parking spots available.
Great for singles or couples who want to get away.
Typ av rum
Eget rum
---
Typ av boende
Hus
---
Plats för
2
---
Sovrum
Lake Hopatcong, New Jersey, USA
Our home is in a great community, one mile from the lake with ski resorts within driving distance. Great space for a friends or family to gather.
Typ av rum
Eget hus/egen lgh
---
Typ av boende
Hus
---
Plats för
4
---
Sovrum
Roxbury Township, New Jersey, USA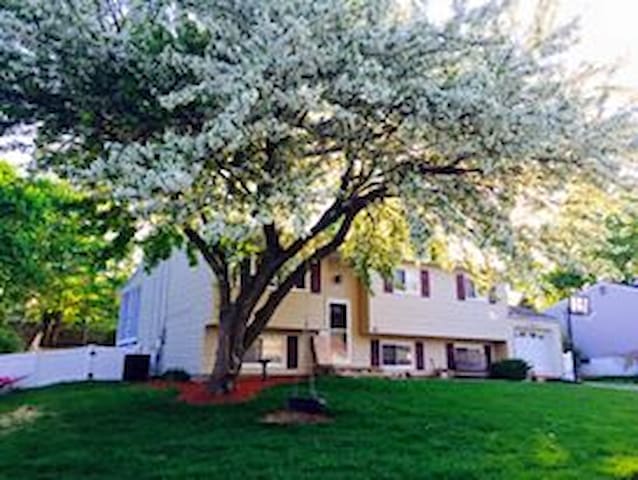 Wharton - Airbnb
:
I genomsnitt

4.86

av

5

stjärnor från

170

gästomdömen
Ange datum för att se full prissättning. Ytterligare avgifter tillkommer. Skatter kan tillkomma.