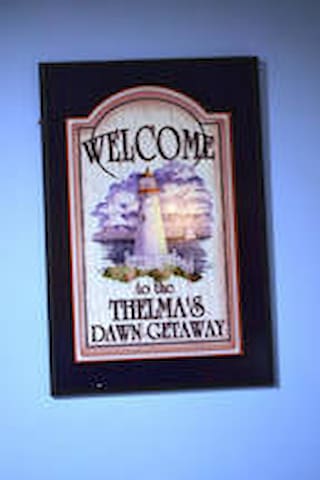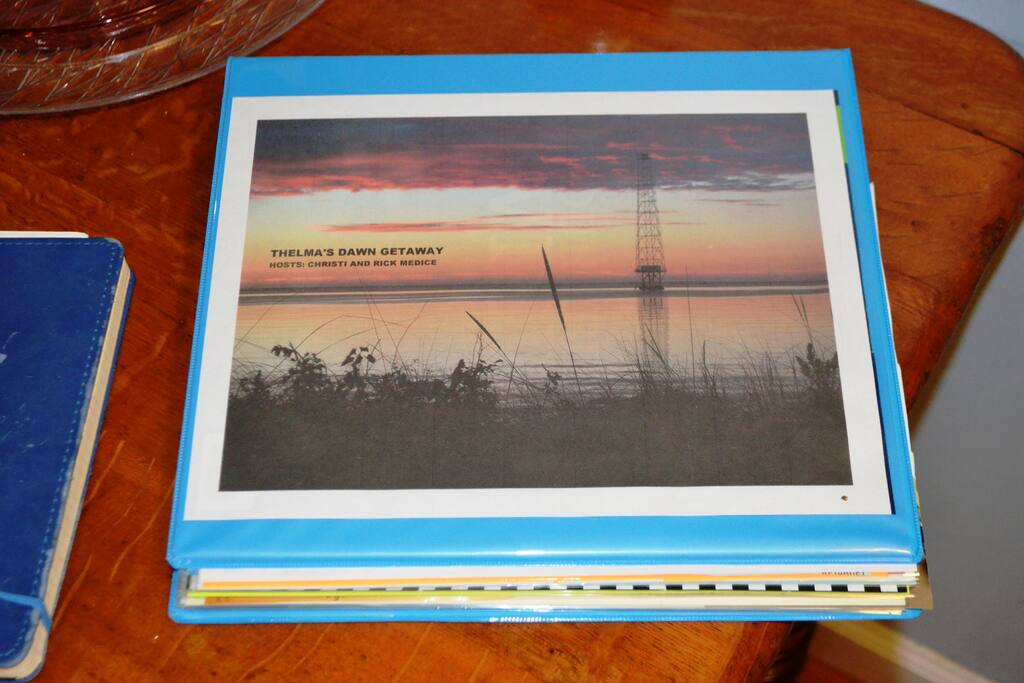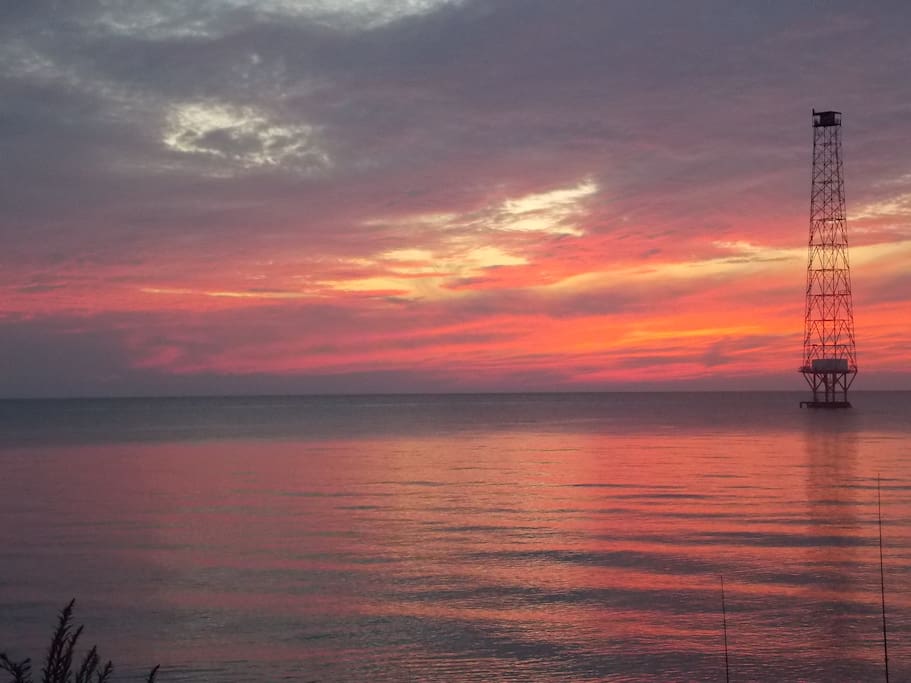 I want to explain, more in depth, the property and things you can expect. The property is located on the Eastern Shore of Virginia and is surrounded by Salt Water. We run WELL WATER at this property and there are times when it will smell a little funny, because of the minerals in the water. We also have BUGS around this property and I ask that you bring BUG REPELLENT with you. There will be bugs found at the beach, so do not be surprised if you see them. We do treat the yard and apartment!
Utrymmet
There are bugs on the beach, but please do not let this deter you from coming and enjoying your vacation! There is nothing around here that you are not familiar with, so please bring your Insect Repellent!
Private Beach, Fishing, Bon-Fires, Beautiful Sunsets,
The efficiency apt. has all the comforts of home, including washer and dryer. Wonderful community! You will see nature all around you! .
(The apartment comfortably sleeps 4 people}
PETS WELCOME
This efficiency apartment offers A QUIET and SECLUDED stay.. It is larger than a hotel suite, PLUS, You can fish right from the beach and filet and fix your catch for dinner! There have been many various treasures found on the beach, from drift wood and sea shells! You can. take these home with you if you would like!
The apartment is an attached garage (to my house), that we have remodeled into the apartment, but offers complete privacy to our guests.
There is a stove, apt size refrigerator, microwave, coffee pot and dishes, glasses, cups and silverware. There is also a full size refrigerator/freezer located in the laundry room. Bath towels, wash cloths and face towels are provided, along with soap, shampoo and conditioner.
We ask that you bring your own food and drink.
You can use the washer/dryer in the laundry room.
The TV also plays DVD's
There is a key for you so you can lock up if you leave.
I do offer WIFI and also satellite
There is information giving you the passwords for WIFI and computer access
CELL PHONE SERVICE DOES NOT WORK AT THE BEACH, BUT YOU CAN DRIVE THE GOLF CART .3 MILES TO GET ACCESS
YOU CAN USE THE HOUSE PHONE TO MAKE OR ACCEPT CALLS AT NO EXTRA COST! JUST LET US KNOW.
(URL HIDDEN)COMFORTABLY SLEEPS 4!
You will have the freedom to do whatever you want. We will go over certain things when you arrive.
You will have access to the grill on site and can set yourself up with a fire on the beach or the back yard.
This location brings a new definition to the term "Blanket of Stars".
The Main thing....HAVE FUN!!!!!!
Please View my website at
(URL HIDDEN) and (URL HIDDEN)
These sites will give you more information and pictures to view and enjoy!
We are here to make this experience one of the best vacations you have had. We will stop at nothing to assist you with whatever you want or need to spoil you.
Of course we realize when you are on vacation, you want to spend time alone with the family and we are here if you need us or just simply want to ask questions about the area.
This community is very friendly and helpful. We are all peaceful and quiet. There are a few neighbors who come in on the weekend, so there might be a small party in the area.
There are a few dogs, but are well behaved and friendly.
If you decide you want to have cocktails, by all means, please come here and relax! My husband and I both are known to have a drink on occasion.
We both also smoke cigarettes. We smoke outside on our back porch and request our guests also smoke outside.
We have a golf cart to get around.The golf cart is available for our guests to drive.
All drivers must beat least 16 years old. It is legal the to drive the golf cart on the road and through the neighborhood.
Walking and bike riding are also used often. You will see that there are very few cars on the road in the neighborhood.
The golf cart needs to be charged as it is electric. This is something that we will take care of, so please let us know if the cart is getting low on the charge. We will show you what to look for.
We do have fishing poles that can be used by our guests and we also have the bait . Please do not worry if your line should break. This happens and we expect it. There is NO EXTRA CHARGE!
Paddle around in the boats! You can take the boat to the tower and see Osprey in their natural habitat!
SUNBATHING on a private beach!
I have been asked by most who have come to visit "Thelma's Dawn" where I came up with this name. It is a long story, but to keep it short, my mother's name was Thelma and she passed away in 2007. Dawn was my sisters name. She passed away in 1988. I named it after these 2 women because of everything they mean to me. They will always be with me.
DO NOT BE AFRAID TO ASK QUESTIONS, COMMENT ON ANYTHING OR ASK FOR ASSISTANCE!
Gästers åtkomst
While you are here, you are treated like family and the only places you will not have access to are the garage, the other rental and the main house. You have access to EVERYTHING ELSE.....beach, back porch, golf cart, laundry room, anywhere in the yard and you can drive the golf carts on the road! We also have bikes that you have access to if you would like! The grill is for you to use whenever you would like!
Umgänge med gäster
Please View my website at
(URL HIDDEN) and (URL HIDDEN)
These sites will give you more information and pictures to view and enjoy!
Did I mention......PETS ARE WELCOME TOO!
We are here to make this experience one of the best vacations you have had. We will stop at nothing to assist you with whatever you want or need to spoil you.
Of course we realize when you are on vacation, you want to spend time alone with the family and we are here if you need us or just simply want to ask questions about the area.
Annat att notera
I am asking you to PLEASE, PLEASE let me know if there are any problems with ANYTHING while you are here. I do take offense to being told that things are great and then see, in the review, that there were issues. I know that things can go wrong and will do everything I possibly can to fix the problems, but YOU need to let me know if something is wrong. All I am asking is please give me the opportunity to fix the issue, before you have me read it on the review. That is actually placing me at a great disadvantage. I try to make your experience, while here, one of the best vacations you have had. Please be considerate to us and give us a chance to fix anything that might make you unhappy. We really do not like having unhappy people here and will do everything we possibly can to make you laugh and smile! Remember....you are on vacation!
Kommunicera alltid genom Airbnb
För att skydda din betalning bör du aldrig föra över pengar eller kommunicera utanför Airbnbs webbplats eller app.
Incheckning när som helst efter 14:00.
You can smoke on the property, but we ask there is no smoking in the apartment. My husband Rick and I smoke cigarettes also. We do not do drugs.
It is fine to bring alcohol. It does not offend us in any way! Just drink responsibly of course.
Please clean up your trash from the room, beach and yard.
Simply place your trash bags on the back porch and we shall dispose of it. If you need help with this, please let us know.
If you use bait when you fish, please put what is left back into the freezer. I will show you where it is.
If you use the kayacks or row boat, please wear life jackets when on the water.
Please put any equipment you use back where you got it.
We know there is no cell phone service here and will be more than happy to let you use the house phone to make calls. You do not need calling cards as the phone has free long distance.
Du måste också godkänna
Katt(er) och andra husdjur bor i boendet
Thelma's Dawn Getaway is a great find. Christi could not have been more welcoming for us and our dogs. The accommodations are clean and comfortable. She had a fire pit all set up for us and a golf cart ready for us to explore with. In the morning, a neighbor had caught some fish and which she taught us to filet and cooked up for our breakfast. The beach is right there and this time of year it's perfect for long walks and letting the dogs explore. We will definitely be back!
It was great that you brought your dogs for your vacation! They were great! I am happy to know that you were able to get out on the cart for a quick run around and it was perfect that you got to see the net brought in and get FRESH FISH! It was my pleasure to show you how to filet them and cook them! The best part was eating them! I am glad you attempted my idea of sushi. It actually is pretty good! I am looking forward to you return visit! I am sure I can find some more interesting things for you to try! Hurry Back!
---
This place is a little slice of heaven and Christi could not be more attentive! There are so many things to do. Fishing, kayaking, paddle boarding, golf carts for exploring and most importantly DOG FRIENDLY!! Christi loved my pups like they were her own. We had the best weekend and can't wait to return!
---
Where do I begin? Christi's place is equivalent to a resort facility without the crowds or cost. Entertainment options for guests that we took advantage of during our 24 hour stay were plentiful ranging from 2 kayaks, pedal boat, paddle board, fishing, quiet walks along her private beach, fire pit with s'mores, and just relaxing on the bridge crossing her coy/gold fish pond. The "tiny house" accommodations were beautiful, all encompassing, and only 10 yards from the bay with serene sunsets. Alternatively, you can take one of her golf carts on a more leisurely track with the same end result; equal parts relaxation and fun. Thanks for entertaining our seven year old daughter, Olivia, and making us all feel like family. We definitely plan on staying at Christi and Rick's place again.
I have found that having fun and exciting guests really set the stage for a great vacation! I really enjoyed having you all here and feel in love with all of you! Your daughter is great and I cannot wait until you get back here! I am sure I will have a few more fun things lined up for you! It was my pleasure kicking around with Olivia! She is so much fun to ride with and play corn hole! I had a blast!!!!!
---
A peaceful and beautiful spot. Our hosts were gracious and helpful and worked hard to make our stay as wonderful as possible. Beautiful beach. If you're looking for a place to unwind, that's down home this is it.
I really enjoyed having you come and stay! The conversations were so interesting! Thank you for sharing your babies with me! Since I do not have a dog of my own, I really enjoy it when families bring their babies here to enjoy the beach too. :) I look forward to your next visit! I was not kidding when I told you I might have to find you one day to experience the job you two do. That would be so much fun!! Thank you for sharing your stories about that!
---
Christi goes out of her way to make sure you are comfortable. It is a great location to stay if you want to do things on the eastern shore or just stay and enjoy the beach and all they toys that are provided to use.
Thank you for this Stuart! I was glad that you both were able to use a few of the toys and were able to enjoy the sunsets! That is my favorite part! :) would LOVE for you to come back and visit! I really enjoyed the time I got to spend with you and will look forward to your next trip! Any time you would like.....the Tiny House will be yours!!!!!
---
Christi and Rick were the perfect hosts. They went above and beyond to make sure everything was perfect during our stay. Not many people can make you feel like family from the moment you say hello but they most certainly did. We had such a great time fishing, kayaking, had a bonfire on the beach, and our four legged family member Harley enjoyed it the most! I definitely recommend staying here and I know that we are already planning our next visit. Thank you again for having us and for sending us home with fresh veggies and crabbies, nothing could have made this more perfect. Such a relaxing getaway!
I have to tell you....I was so impressed that Chris took the kayak and set the light for our night fishing! You two really were great to have here and we are looking forward to your return! Of course the cats are looking around for your baby. :) That was to funny! The bananas have already started swelling up a little more than they were! I will be posting the pics in a little while on Thelma's Dawn page! We do have a few more things to do the next time you come!!! I will not forget!! :)
---
Great place to spend the night - quiet and off the radar with a fantastic beach.
Roger, thanks you for you kind review! It was great having you and your pup here with us and thank you for sharing him! What a sweet pup you have there! I am glad that you were able to get away from the city life and noise and come here for some well deserved rest and relaxation! Thank you for doing such a banging job cleaning up the apt before you left! I really appreciate it! I hope you will think of us again when you need to just take time for you!!!! We will be here!!
---
I am a retired Paramedic and Lieutenant Firefighter for the City of Hampton, VA. I live with my husband, Rick, and our two parrots, Joey and Nikko. I am an outdoors lover and love to fish. We have bon-fires often and just enjoy the evenings and the sound of the waves as they crash along the shore line while looking at the stars above us. We have a fish pond in the yard, but these fish are just for admiring. I love to get around to talk to my neighbors and make sure they are all doing ok. I try to exercise as much as I can by walking on the beach and kayaking. There is a garden in the yard that Rick and I tend to. I love to can the vegetables for the Winter.

So I have been asked how I came up with the name "THELMA'S DAWN". Well, my mother passed away from cancer in 2007. Mom was 68 years old when she was called home. I had a sister, Dawn, who was called home at age 28. She was murdered in January1988. It was fitting to name this beautiful place after the two of them.

I have lived in this home since I was born, except for the 25 years I moved to Hampton, Virginia, in 1985, to take a job as a professional firefighter and went to school to become an Emergency Rescue Diver and Nationally Registered Paramedic. I was diagnosed in 1995 with Multiple Sclerosis, but continued to work in the fire department as an instructor of various Fire, Emergency Medical, Driving, CPR and Water Safety courses. I retired from the fire department in 2006 and moved back to the Eastern Shore, which I have always called my home!

Having MS, I can not enjoy things the way I use to. I love the beach and the water, but due to MS, I cannot stay in the heat long. With this being said, I have felt that this property was being wasted, so I made the decision to renovate the attached garage into the apartment in the hopes that people could come and enjoy everything "Thelma's Dawn" offers!

I have only been hosting since June 28, 2014. This is when I accepted my first family through Airbnb. It was a glorifying experience and Rick and I decided to continue. There have been many guests come to "Thelma's Dawn" and we have enjoyed them.

We do have a motto here at "Thelma's Dawn". It is a NO DRAMA ZONE, yes, but we also live by these words "WHAT HAPPENS AT THE BEACH STAYS AT THE BEACH"

There is a certain closeness that we have with most of our guests and we have built many lasting friendships that have continued to this day!
I am positive that you will love it as much as I do! I look forward to meeting you soon!
Utforska andra alternativ i och runt Exmore
Fler platser att bo på i Exmore: